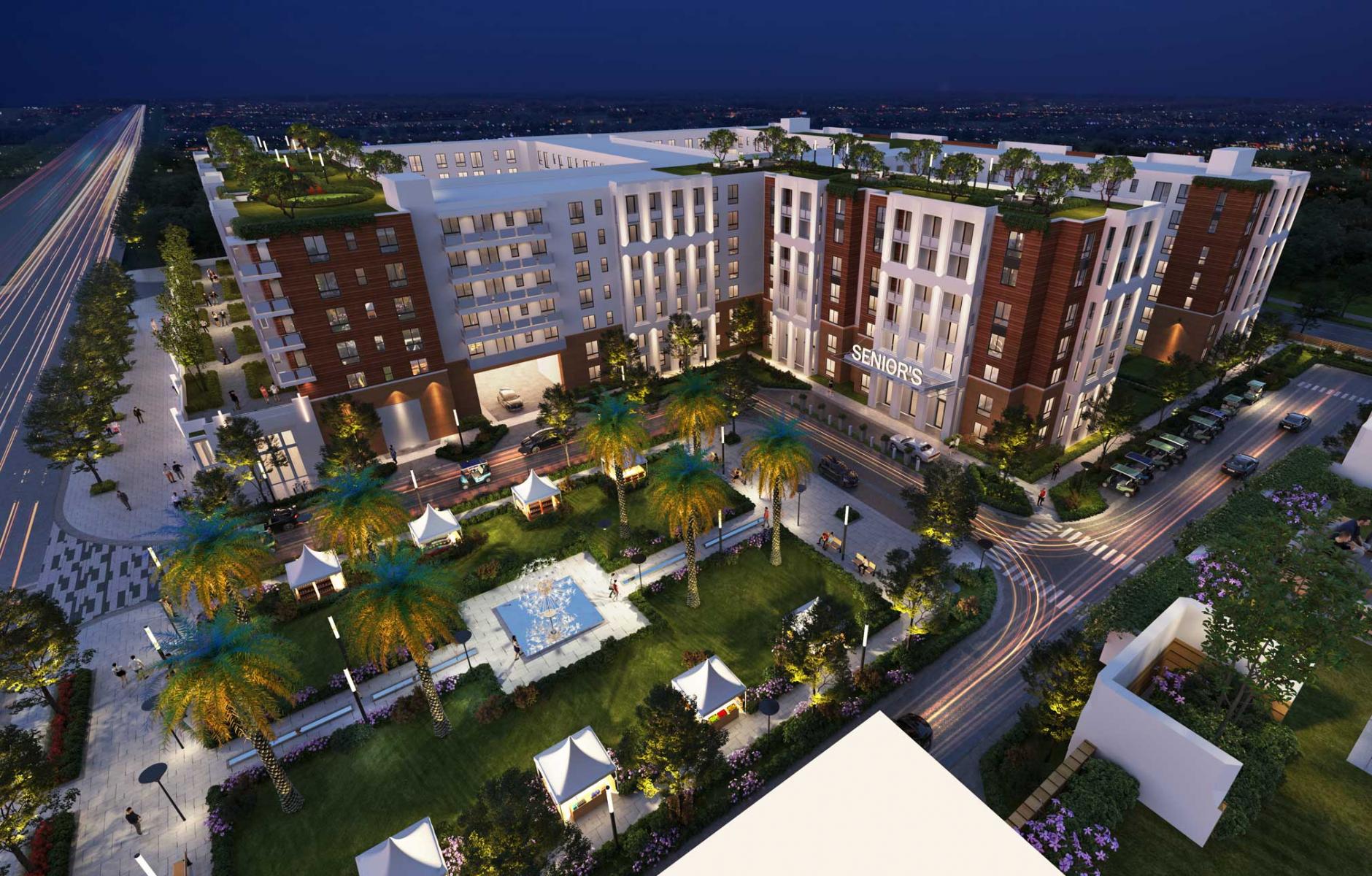 Public square on Route 1. Source: Valle & Valle
US 1 is getting a public square
Generous public space amenities, including a square and wide sidewalks with trees, are key to transit-oriented suburban retrofit on Route 1 in South Florida.
US Route 1 is the primary federal highway south of Miami (where I-95 ends), and consists of a 5-7 lane suburban arterial on the 25 mile stretch to Florida City, Florida. There's nothing like a human-scale public space on that corridor, but that reality is changing. 
Developers A&E Partners are proposing a 10-acre mixed-use development with a public square facing the highway. Designed by Valle & Valle Partners, town planners and architects, the development is going through approvals with the Town of Cutler, enabled by transit corridor district zoning. The town recently updated that zoning category near three bus rapid transit (BRT) stops on the South Dade TransitWay, a $100 million, 20-mile transit line which broke ground in 2021. The BRT extends the existing Metrorail from South Miami, linking to the regional transit system.
US Route 1, the nation's longest north-south highway, goes from Key West to the Canadian border in Maine. It was designated in the 1920s from what used to be called the Atlantic Highway. It was the main street of the Eastern Seaboard, replaced in importance by I-95 in the 1960s. Increasingly, it took on the characteristics of a classic "stroad." The introduction of placemaking could be called a return to the roots of US 1, as the highway originally had a much stronger sense of place. The width of the thoroughfare, however, requires placemaking techniques on one side of the highway—and that's where the square comes in. It will be a protected public space, bounded on three sides by buildings, and yet visible from Route 1.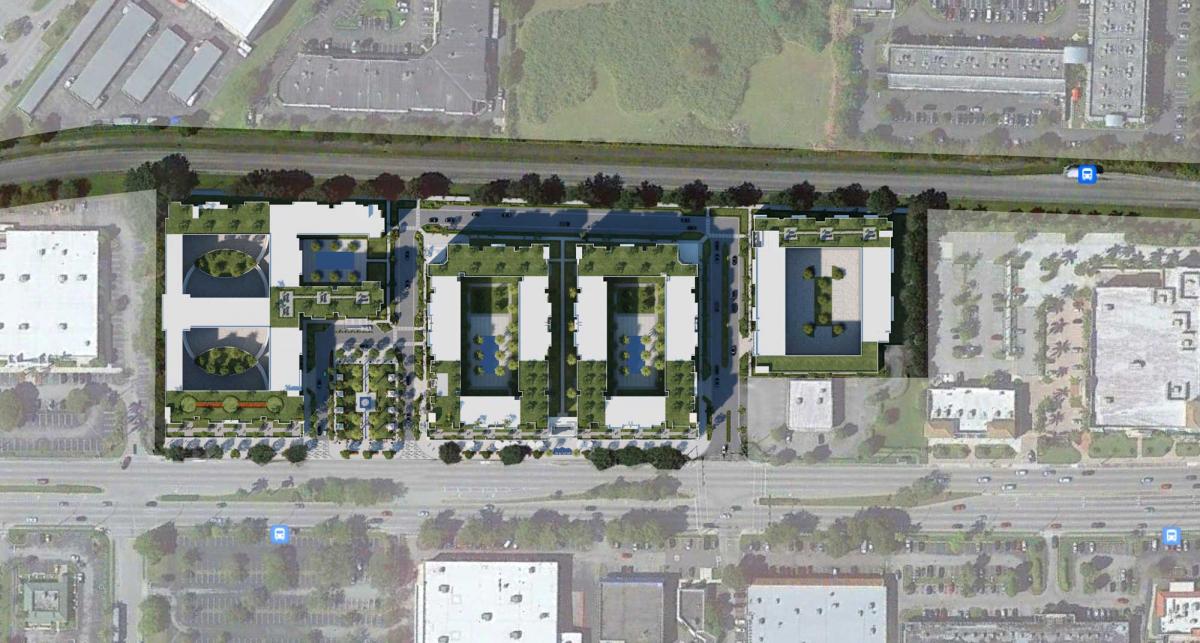 The site is bounded on one side by the highway, and the other side by the busway, which will include an iconic station. "The site today is another big box with tons of parking, as you can see along the entire stretch of the US 1 corridor; completely unmemorable," notes designer Erick Valle.
The site is large enough to include a diverse development program. A seven-story building will have 274 units of senior housing with about 10,000 square feet of first-floor commercial space. Another two buildings include 338 market-rate living spaces, and 19,000 square feet of commercial space. A courtyard building will have 162 units of workforce housing. The project is very compact, with 774 living spaces in total—even while providing the new public square.
"The proposed design will be introducing the first publicly visible square off US 1 corridor," Valle says. "It will be also be creating an urban edge with 30-foot wide sidewalks full of shade trees with continuous retail for a two-block stretch. This transit-oriented development will be providing desperately needed housing for the nearby Homestead Airforce Base, seniors, young families, and for people who made the choice not to rely on the car for transportation."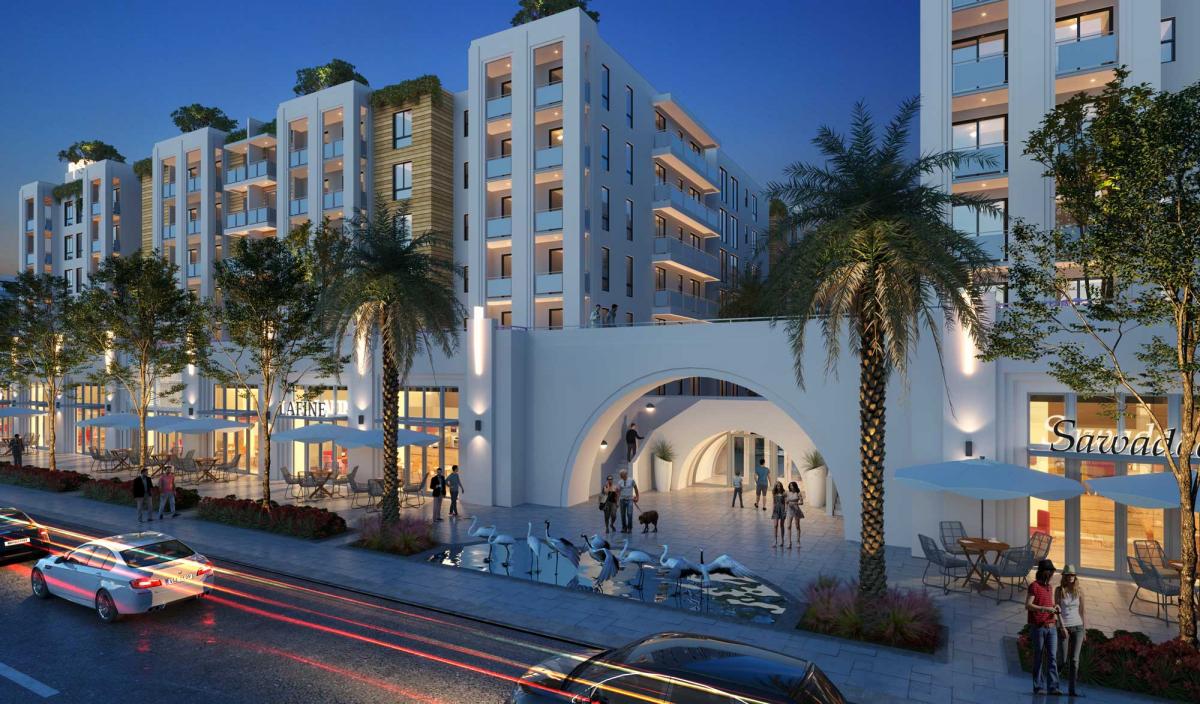 Cutler's transit corridor zoning grew out of a 2008 charrette, but had never been used. With the construction of the transit line, town commissioner Robert "B.J." Duncan recognized an opportunity to modify the ordinance to make it more viable for development, Valle says. Modifications include higher density and reduced parking requirements, leading to this development proposal.
This project is designed to demonstrate suburban retrofit, a future trend that makes sense as cities continue to handle growth, he adds.