2002 plan, and Frisco City Hall and square at the center.
Visionary leadership creates new downtown
Frisco, Texas, has been one of the fastest growing cities in the US over the last three decades, going from a small town of 6,000 in 1990 to more than 200,000 today. In the 1990s, when the city north of Dallas began to boom, officials acquired land for civic buildings like a city hall and police station, to be built in a typical suburban fashion adjacent to the old downtown.
Through far-sighted leadership at the turn of the millennium, a pedestrian-oriented plan was created for 150 acres, with civic buildings anchoring a new downtown, adjacent to a historic main street area. The $1 billion, 4.4 million square foot Frisco Square development plan established a street network with connections to the old downtown. A new code governed street sections and pedestrian orientation for buildings. 
The idea is that the larger city needs a larger downtown that serves many purposes—with a high-quality public realm open to all citizens in a diverse community (more than half of the population is not white). Frisco Square construction began in the mid 2000s, was set back a few years by the Great Recession, and is now nearly three-quarters built. When finished in about 2030, Frisco Square will include 2,000 living spaces, including townhouses, condominiums, live/work units, and apartment buildings—in addition to 2 million square feet of mixed-use commercial space.
The city was already seeing modern-style new buildings on other sites, so design criteria call for five historical styles: American Classical, Spanish Mission, Depot Warehouse, Texas Mercantile, and Texas Art Deco.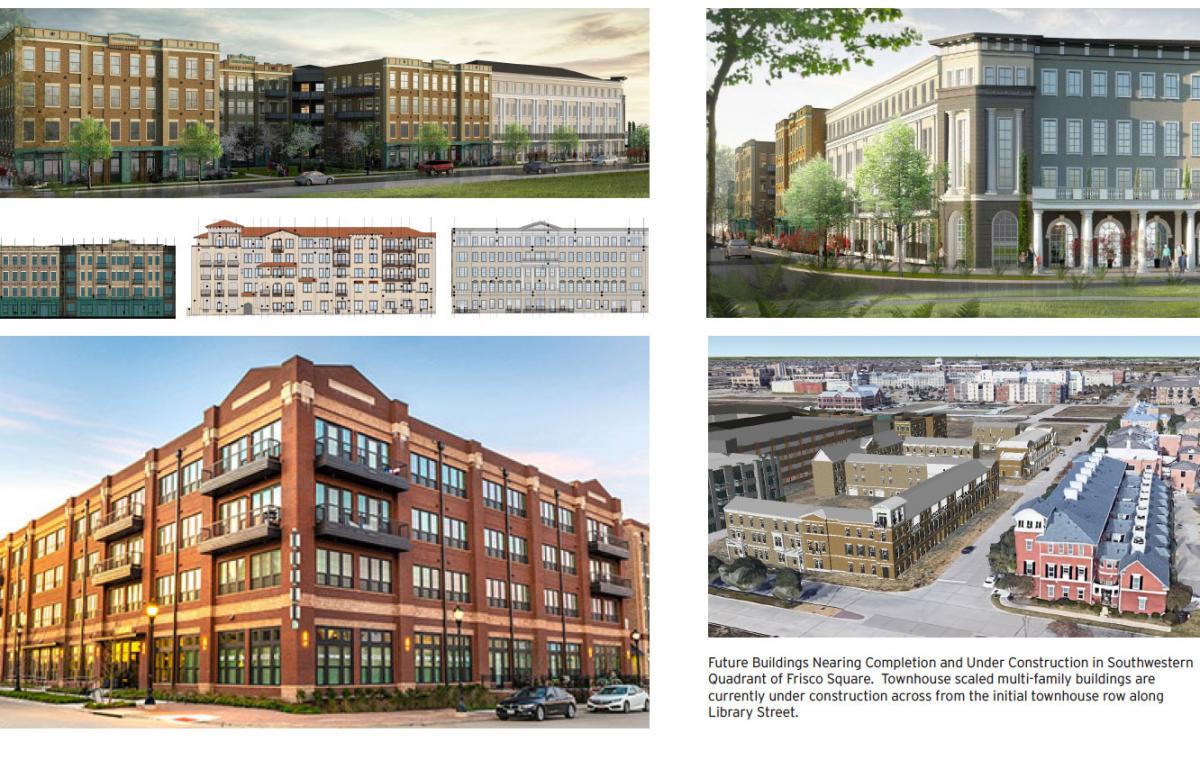 "In 2019, the Texas state legislature, through House Bill 2439, outlawed local jurisdictions from imposing regulations that control facade materials and forbade cities from establishing aesthetic methods in construction," notes Torti Gallas + Partners. "Frisco responded by approving private regulation of materials and aesthetic building styles through a Town Architect/Pattern Book system overseen by the Property Owners Association."
The historical styles contribute aesthetic diversity, but also relate to the city's core. 
"When we did the zoning of Frisco Square in 2000 it was very important for the city that we do not turn our back to the historical downtown," Director of Development Services John Lettellier said. "So, we had to figure out a way to make [Frisco Square] an extension of downtown because downtown is part of the roots of the city."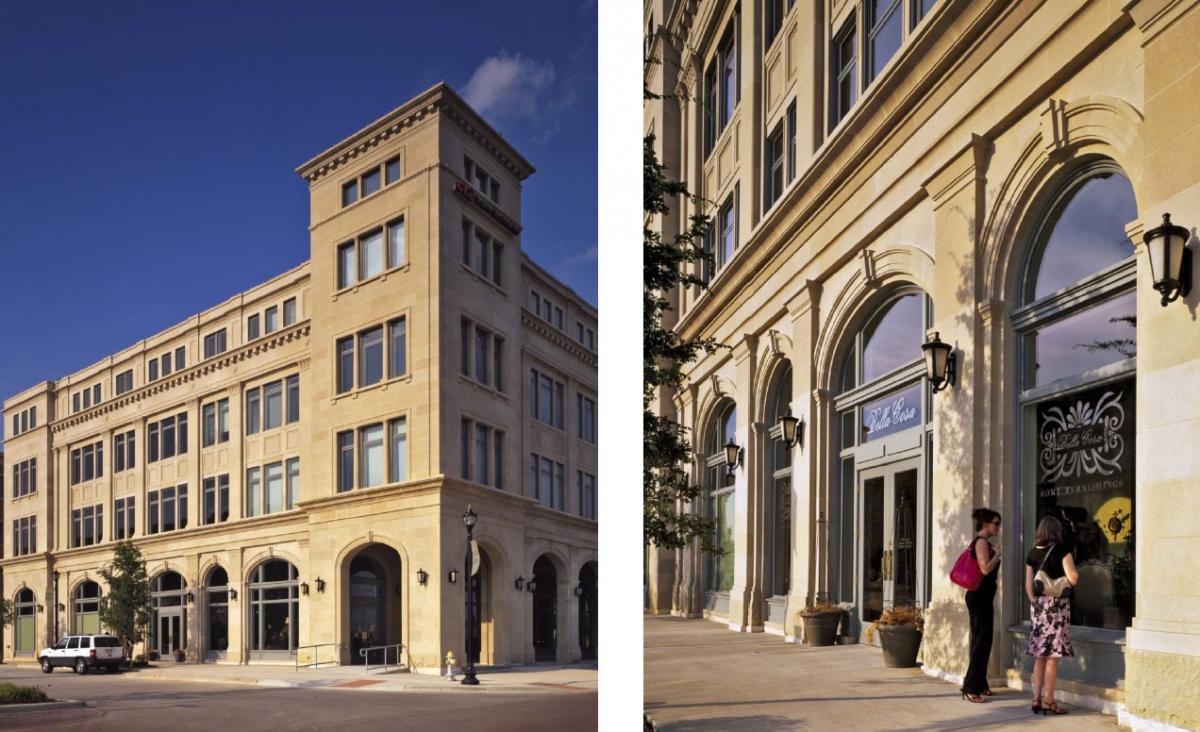 While retaining the basic structure and purpose of the 20-year-old plan, the specific urban design and architecture have evolved over the years in response to changing conditions and new ideas brought on by personnel and investors. Good urbanism is about a diversity of designers, and many firms have contributed to Frisco Square, in addition to Torti Gallas: David Schwarz Architects (which completed the original 2002 plan), RTKL, TBG, Opticos Design, and various developers and architects of individual buildings. The development partners include the City of Frisco, BK Development, Five Star Development, and Arcadia Realty Corporation. 
Torti Gallas describes the combination of features that make Frisco Square unique:
Civic green and core created to anchor City growing from 6,000 to 200,000 in thirty years. 
Civic buildings integrated within pedestrian-oriented downtown district, doubling the size of the existing walkable downtown and increasing density from primarily one- and two-story buildings to four- to six-story buildings. 
Original Masterplan withstood test of time and challenges to viability, with five separate planners reinforcing initial masterplan vision through two recessions.
Plan framework proves flexibility of masterplan to accommodate different program/density decisions – to allow densification over time. 
Innovation and creation of process in Texas to promote high-quality design and regulate exterior envelope after Texas made it illegal for jurisdictions to do so. 
Establishment of a Town Architect/Pattern Book process which successfully achieves excellence in scale and architecture from merchant builder developers of Type VA Texas Wrap/Donut buildings. 
High quality architecture delivered at a developer price point.