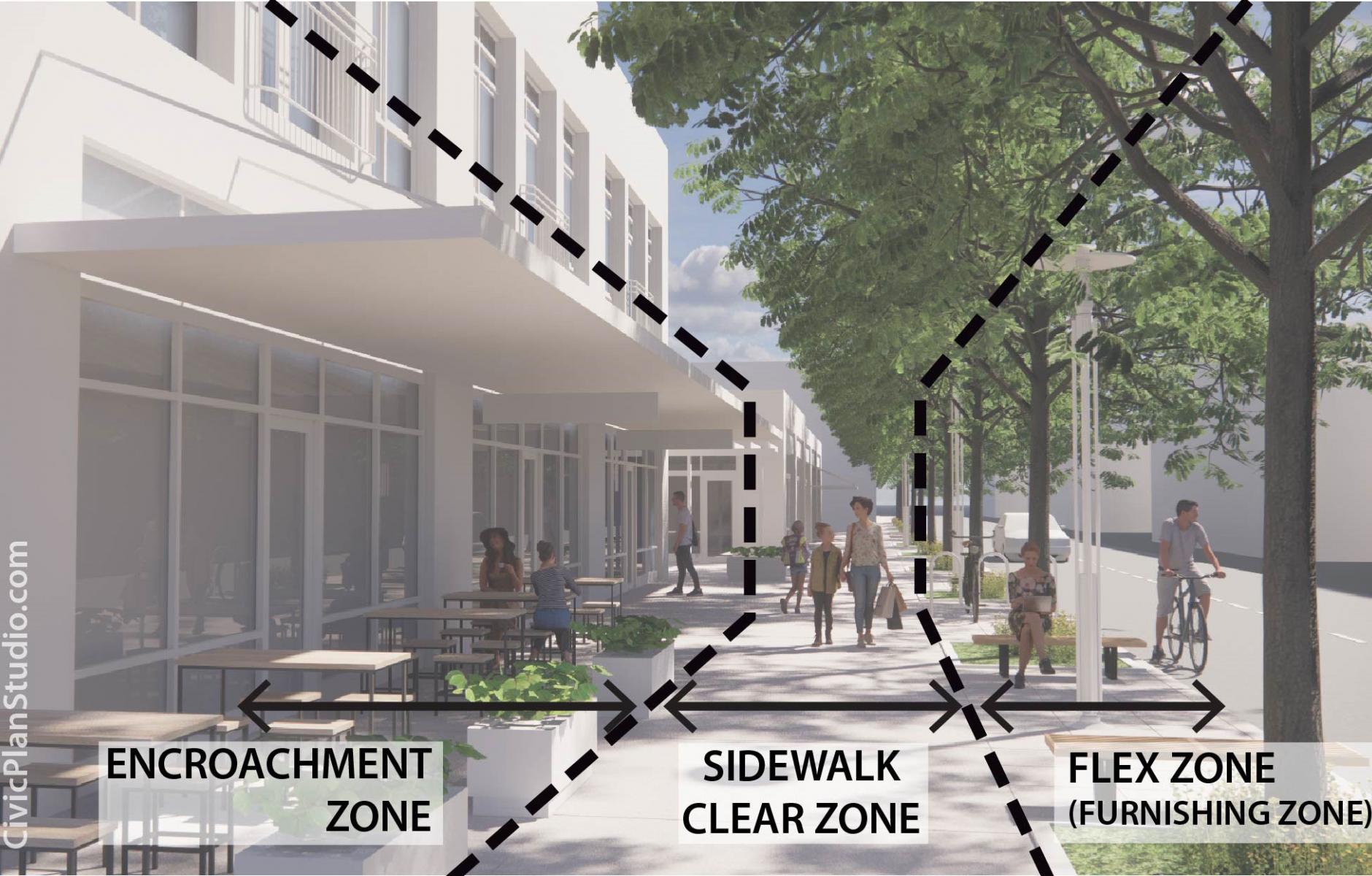 Three zones of urban sidewalk make for excellent wheelchair access. CivicPlanStudio.com
Why Universal Design is critical to CNU
Too many architects, planners, transportation engineers, and urban designers reduce the ADA to some kind of onerous hurdle that must be leaped.
As a reporter, marketer, and planner, I have been involved with the Congress for New Urbanism since its founding.
I started writing about urban design, growth, development and how cities work and fail in 1988, the same year I married a brilliant attorney and writer who has used a wheelchair for mobility since she started college in the early 1980s.
The merger of what I work on and who I love should be perfect. The CNU advocates for so many things that make life better for people with disabilities. Transit, walkability (same as rollability for the most part), mixed-use, connectivity, a range of housing types are but a few of the core values of the CNU that create compact, easily traversable urban centers.
While speaking at the International Making Cities Livable Conference in Paris, I thought about the CNU and my desire that it do more for people with disabilities. I thought about the frequent pushback from CNU member who have said the ADA is the enemy of historic preservation, urban housing types, organic placemaking, and aesthetic design.
I'm baffled why the ADA's design standards are an unmovable roadblock to so many CNU-affiliated practitioners. Is their creativity crushed by flood plain, fire safety, windstorm, setback, height limit, and myriad other building/zoning code requirements?
More than one CNU leader has even been asked how a person could go about getting an ADA variance—in the context of both building and town design. I've explained what my brilliant wife (Heidi Johnson-Wright, a lifelong public servant in her third decade as an ADA coordinator) does: While it impacts the built environment, the ADA is not a building or zoning code. It is federal civil rights legislation. As such, it can no more be waived than a firm could ask for a variance to discriminate in hiring practices based on race, gender, etc.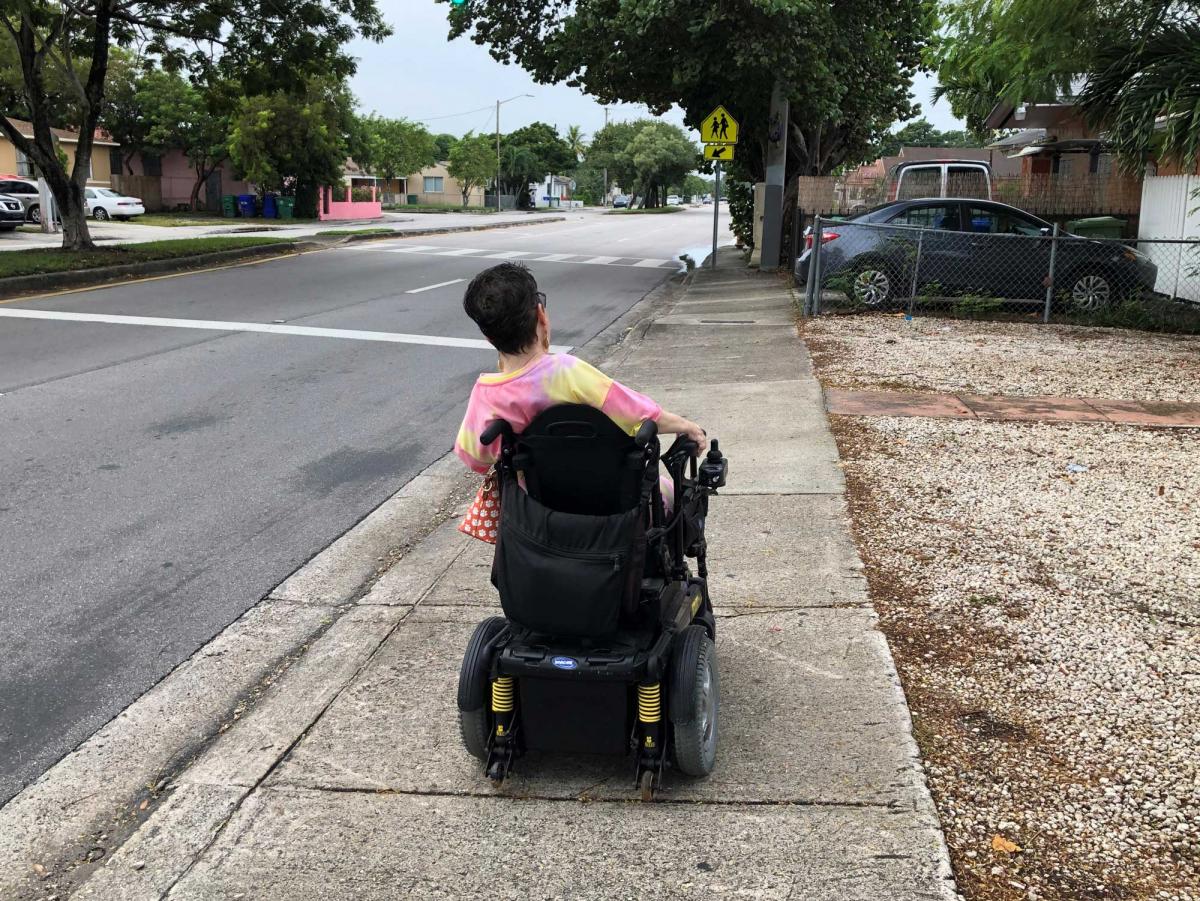 Design for people with disabilities is far from special interest design. The CDC has calculated that one in four people will experience some degree of disability in their lifetime. The UN has documented more than one billion people with disabilities globally.
Too many designers look at the ADA as a checklist only. Add this ramp at the last minute. Make that bathroom a square foot bigger to meet ADA. Call the CADD and 3D modeling folks to the table at the 11th hour to widen that hallway and draw a lift into the plans we're about to submit.
I believe far too many architects, planners, transportation engineers and urban designers reduce the ADA to some kind of onerous hurdle that must be leaped—lest the attorneys get involved.
That is why I tell my clients and students to comply with the ADA, but think in term of Universal Design. The term was coined by the late Ron Mace, a fellow of the American Institute of Architects, educator and planner. He used a wheelchair for mobility but was very deliberate in not naming his creation "disability" or "wheelchair" design.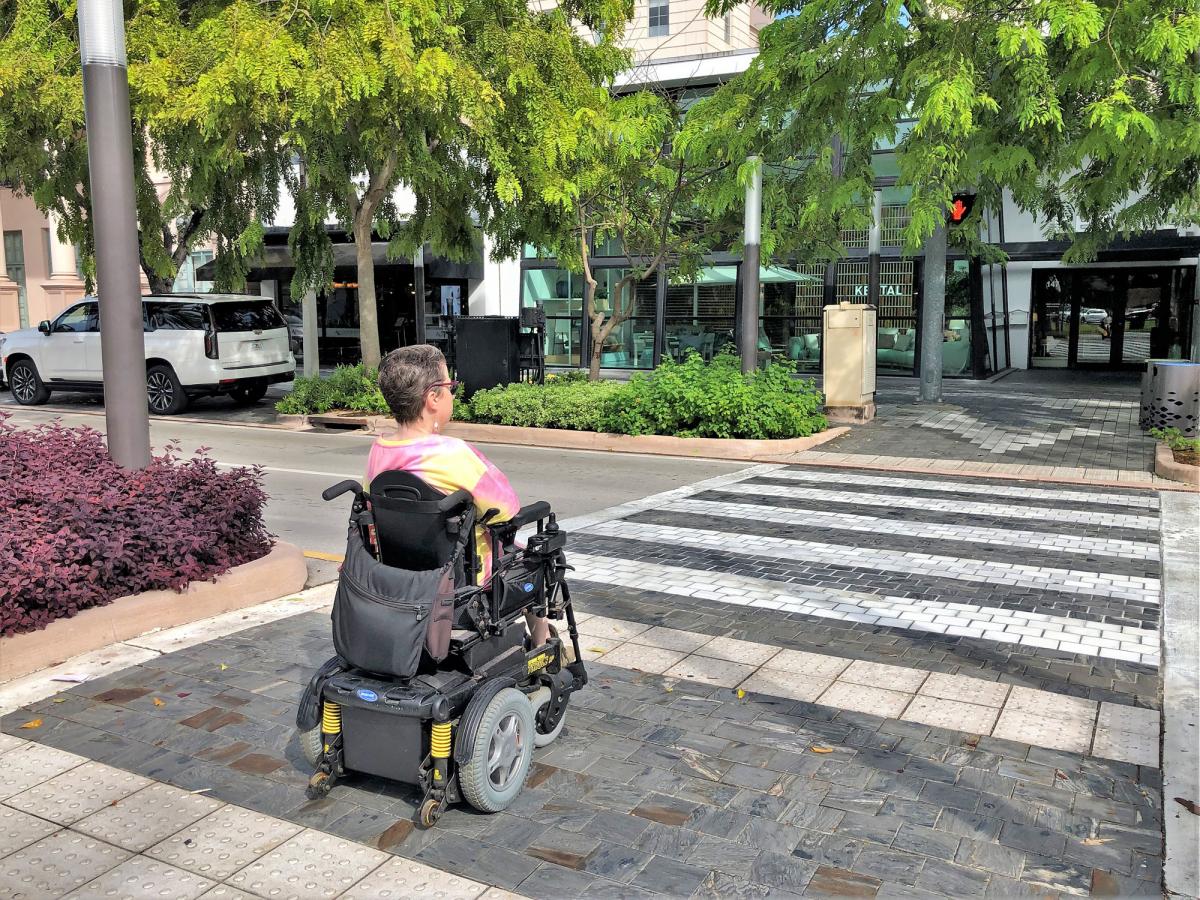 Mace did so because he knew that good design was useful and beautiful—for all. Take a curb ramp or a well-protected crosswalk. Yes, it makes mobility possible for my wife. But it's also great for infants in strollers, kids on bikes, elders using walkers/crutches—not to mention Miami gals that love high heels to thousands of delivery people rolling millions of goods that keep our economy functioning.
A classic example of a failure occurred because the designer obsessed on the pure numbers of complying with the ADA versus creating Universal Design. A festival marketplace style mall in Miami underwent a total renovation to reposition for current restaurant-retail trends. The main open-air space is up a few steps from the sidewalk—perhaps for sea level rise reasons. The plaza has plenty of space to use topography to make a gentle grade. Sure enough, there is a narrow ramp that makes the space compliant. But most of the frontage has a few small steps. People trip over the steps and crowd the ramp. There is no reason why the entire approach could not have been gently sloped.
It amazes me when I visit a new urbanist beach town and find, almost always, a long ramp over protected nature and dunes—that ends in stairs down to the beach. The ramp is already there. No one is freaked out by it. No waterfront experiences are ruined. So why not ramp the beach part of the walkway? I could fill a room with people who have limited mobility but swim, surf, sun and otherwise use the beach.
Expense is often cited as a reason to shun Universal Design. This is odd. The up-front cost of building LEED sustainable is more than conventional/wasteful building—but the value, both in operations and when large institutional investors buy huge office or apartment buildings, is recouped and then some.
I would argue that Universal Design is the most efficient, durable, sustainable and flexible approach to town design. Aging in place is one of the biggest topics today, as America not only is aging but also has tens of millions of well-heeled, newly-retired Baby Boomers trying to figure out whether to age in place, downsize, or move to a senior community. Housing types accessible to all enable aging in place much better than those built only for able-bodied people. Eleanor Smith, who attended a few CNU national gatherings, created the concept of visitability. It's simple. One level entrance, wide doorways, one bathroom on the ground floor and enough space to get around in the kitchen and bath.  Most of these features are 100 percent desirable for all people—especially more than one bath and a roomier kitchen.
I look at design for dignity, design for all, design for people with disabilities—as a belief, a guidepost, a best practice—not so much a begrudging checklist.
It is like any other approach to diversity. You rely not simply on code alone to make your city welcoming to people of all races, genders, incomes. You listen to them and value their opinions and incorporate their diverse cultural and other needs to make a place where all can thrive.
I believe Universal Design and equity/inclusion for people with disabilities works the same way. Ensure input from people with disabilities at workshops. Better still: educate, recruit, hire, retain and promote people with disabilities who create and regulate the built environment. Conscious efforts to boost the numbers of women and people of color in planning has reaped fabulous benefits. The time has come to do the same with people with disabilities.