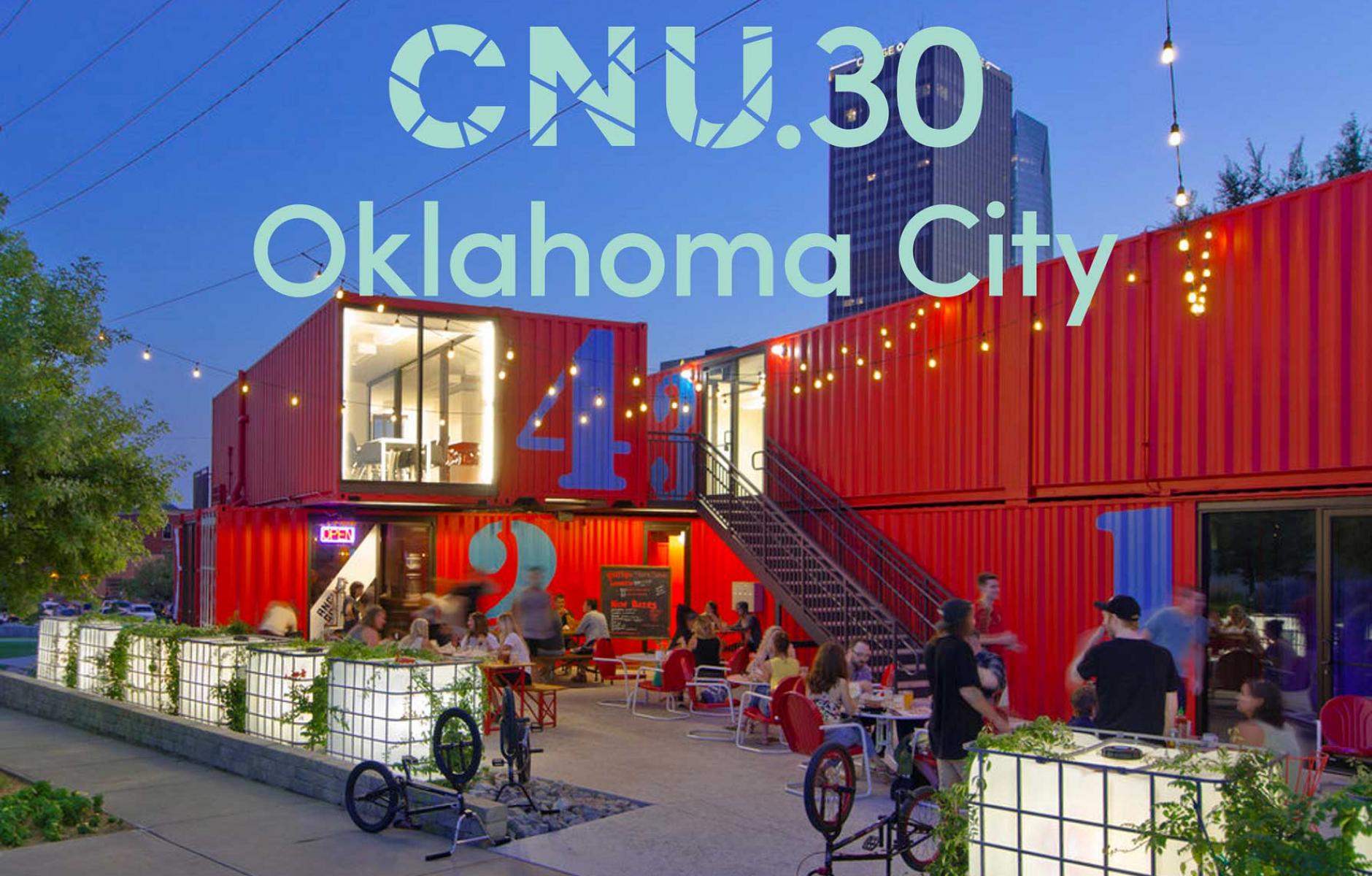 CNU 30 program stresses affordability and equity, mobility, climate, and more
Connect with and learn from fellow New Urbanists at our first in-person Congress in two years!
The 30th annual Congress for the New Urbanism in Oklahoma City is right around the corner—just five weeks away. The program has been designed to maximize the conversation, collaboration, and learning that we have all been craving after two years apart. 
We received nearly double the session submissions compared to recent years and we organized sessions around the themes of affordability and equity; transportation and mobility; climate change and the built environment; coding innovations and urban economics; and development and design. Beginning Wednesday, March 23, each day will feature an opening plenary introducing one of these topics, sessions expanding on the topics throughout the day, and a concluding plenary discussion. This format is designed to make the Congress experience full of evolving and deep conversations—something we heard has been sorely missed from the virtual events. More information on the plenary topics and speakers can be found here. 
We have also baked-in many opportunities for conversation and connection—whether it's the longer lunch, daily happy hours, social events, or areas to lounge.
On Friday and Saturday, we are bringing back two staples from previous years: Friday night debates are back, featuring conversations with Andres Duany, Doug Farr, Dhiru Thadani, and others. In these parliamentary style debates, the audience will be able to participate—contributing their own arguments, rather than sitting on the sidelines. Saturday morning provides the opportunity for a congressional conversation, harkening back to the earliest CNUs. 
Below are just a handful of the sessions in each topic area. Our full, evolving, program can be found here. 
Hotel and travel information can be found here along with a list of Congress FAQ and information about pricing and registration.
We also have a full suite of tours to show you all that Oklahoma City and the surrounding area has to offer. We can't wait to see you in Oklahoma City March 23-26.
Affordability and equity:
Will YIMBYism or New Urbanism infill the suburbs?
Large-scale infrastructure and investments: Are they the cause of gentrification in our most vulnerable urban neighborhoods?
In Our Midst: Historic Neighborhood Patterns and Missing Middle Housing
Supercharging Your Local Ecosystem of Incremental Developers 
Leveraging Land Banks for Strategic Small Scale Infill
Transportation and mobility:
2TOD: How Trails and Transit are Changing Development in Cities and Towns 
Taking Our Foot OFF the Gas
A Citizen's Guide to Restoring Community Before and After Interstates
Tulsa Highways to Boulevards Design Charrette
A New Era of Active Transportation
Street Design Dialogue
Climate change and the built environment:
Climate Change Financing
Drought and Fire
Nature's Silver Bullets
Coastal Adaptation Planning
Receiver Cities
Coding Innovations and Urban Economics:
Stress testing a code to allow Missing Middle Housing
Deep Dive Coding
Designing and Coding for Effective and Usable Live-Work Spaces
Urban Economics Workshop
Development and design:
Building Cultural and Economic Resilience: OKC's Commercial Districts Revitalization Program 
A Vertical Transect: The Next Urbanism
Great Places = Exceptional Value 
Inner-block Development - The Next Frontier of New Urbanism