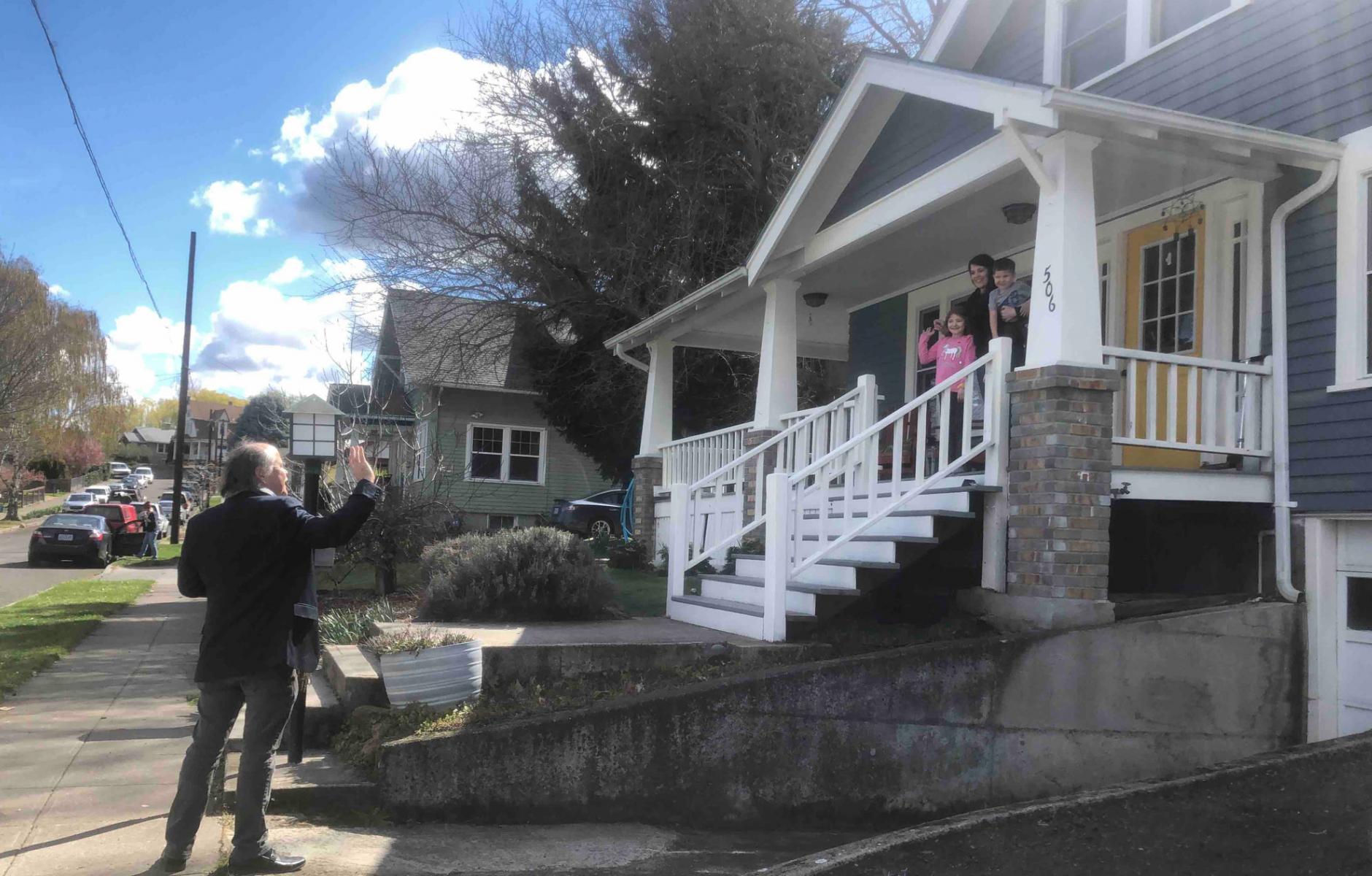 The author visiting his daughter and grandchildren in 2020 as they gather on their front porch, remaining safe while still connected—an example of what we might call "sociable" distancing.
Five urban lessons from the COVID pandemic
As we learn to live with COVID-19, it's time to draw important lessons for city-making. We can do so at CNU 30 in Oklahoma City, and at the 58th IMCL in Paris.
Toward the end of 2021, the Omicron variant roared onto the scene as a most unwelcome holiday guest—just as many of us thought the world was returning to something like normal.  We may have forgotten about COVID, or wanted to, but it seems COVID didn't forget about us. 
Thankfully, we are in a much better position than we were a year ago. Evidence suggests that the variant produces significantly less severe disease, and moreover, many of us are now well-vaccinated, or we've already recovered from COVID.  Treatments are also more effective, so that even if we get breakthrough or second infections, they're proving to be much less life-threatening. (Though still enormously challenging for hospitals and other institutions.) And the current surge now seems to be declining almost as fast as it came on, suggesting that we may be back to something more like normal in the coming weeks and months.
But the Omicron wave has taught us that we can't take safe public spaces for granted, and that we have to do a better job preparing our cities and towns for this and other similar shocks in the future. To that end, a number of researchers, civic leaders and journalists have offered assessments of the urban lessons from this pandemic, and the steps we need to take now in response. Here are five of mine, offered as a researcher, urban designer, and NGO organizer:
Good quality walkable public space really matters. We miss it terribly when we are unable to go outdoors and connect with others. Moreover, the isolation we experience is actually a threat to our physical and mental health in its own right, as work by the sociologist Eric Klinenberg and others has shown. In his seminal work on the Chicago heat wave of 1995, Klinenberg observed a critical connection between the survival, health and well-being of residents during such a time of crisis, and the presence, or absence, of what he termed "social infrastructure"—the web of connections that exists across public and semi-public spaces, right down to neighborhood sidewalks. In this and other research since then, the picture has become clear: good quality public spaces can be a matter of life and death. 
There are ways to be protected as well as connected in public spaces. We've all seen ingenious innovations that have allowed us to repopulate public spaces, like dining parklets, outdoor gathering areas, and separated shelters that keep people safe even as they are able to gather and interact. These innovations will be useful long after the pandemic has passed, protecting us from seasonal flu, weather discomforts and even future pandemics. Moreover, they remind us that good public space must always protect us as well as connect us—and must also afford some control to us as users over our degrees of contact, so that we can protect ourselves. That has always been the case with the great urban spaces—right down to the humble front porch (as illustrated in the photo at the top of this article).

A safe dining parklet in Hood River, Oregon.

COVID has exacerbated some of our worst urban problems. The pandemic has clearly put an unfair burden on disadvantaged neighborhoods, those without adequate resources or social infrastructure. It has further disrupted already troubled institutions like schools. It has created enormous hardship for the elderly, the infirm, and the poor—particularly because they are unable to drive to access daily needs and resources. For everyone else, it has made an already encapsulated lifestyle even more problematic, especially in the capsules of the car and home. Suburban and exurban growth has surged, creating new stresses for smaller jurisdictions. Those in suburban environments have become more isolated than ever before, with serious impacts on physical and mental health. The pandemic has also been accompanied by an unprecedented surge in home prices, and with it, soaring rates of displacement and homelessness. This is not a sustainable condition.

Drive-through COVID testing—great if you have a car and have the means to operate it.

Yet the COVID pandemic has also opened up new opportunities. The virus is a classic example of a "disruptor," causing many new problems, but also prompting innovative new solutions to both new and old problems. It's forcing us to get more serious about many of our perennial challenges, and find effective ways to deal with new and coming threats to well-being. The aforementioned street changes, more emphasis on live-work-play neighborhoods, new financial models, and new approaches to housing affordability and homelessness, are just a few examples. We need more of these innovations, and more of the tools and strategies to put them into place—and to build a new generation of safer, more equitable, more livable cities, towns and suburbs.  

An urban intervention in Portland, Oregon, keeping a bike lane but converting the surrounding area to safe outdoor dining.

It's more important than ever before that we collaborate to share these new tools and strategies. We are not powerless in the face of COVID, or other shocks to come. As Jane Jacobs famously observed, we have the capacity to understand, and to address, "the kind of problem a city is"—and that a better city is. There are things we can do now to be safer in public spaces, to build resiliency, to provide alternatives to the car, and to create more walkable mixed urban environments. There are ways to address the crisis of affordability and homelessness, which is not a simple problem of neoclassical economic supply and demand. (Location matters—and so does polycentrism, and land cost.)   
This year, the Congress for the New Urbanism is partnering with the International Making Cities Livable (IMCL), holding sessions in both Oklahoma City (March 23-26) and the Paris suburb of Le Plessis-Robinson (May 18-20). This paired event is an excellent opportunity to share lessons of what is working not only in the US but in Europe and around the world—to "think globally, and act locally." A number of internationally active allies will participate, including several chapters of the International Network for Traditional Building, Architecture and Urbanism (INTBAU), the Council for European Urbanism (CEU), The European Placemaking Network, PlacemakingX, The Conscious City Design Group, and others. Representatives of local governments and their planners will also participate, including Sorbonne Professor Carlos Moreno—developer of Paris's much-discussed "15-minute city" plan. 
This is a "big tent" approach, suggesting that we can accomplish more in collaboration with other national and international partners—and working across disciplines and sectors too, bringing together mayors, planning officials and researchers (the particular emphasis of the IMCL). This year's IMCL Paris conference is focused on "architecture and the edges of public space"—sharing the tools and strategies to improve public spaces in the wake of COVID. 
The Congress for the New Urbanism has always been focused on driving systemic change to build a new generation of walkable, diverse, livable cities, towns and suburbs. Thanks to our partners at UN-Habitat and many others, this "New Urban Agenda" has now been formally adopted by acclamation by all 193 member states of the United Nations, including the USA. Now we need to focus on sharing the tools and strategies to drive implementation at even larger national and international scales. The COVID pandemic is surely a wakeup call, reminding us that this collaborative work has taken on a new, global level of urgency.
Michael Mehaffy was asked in 2019 to become Executive Director of the International Making Cities Livable (IMCL) conference series. Following the successful 2021 conference in Carmel, Indiana, he and partners are finalizing plans for the IMCL 2022 conference. In addition to Moreno, the conference is slated to include George Ferguson, first elected mayor of Bristol, UK (and Past President of the Royal Institute of British Architects); Laura Petrella of UN-Habitat; old INTBAU and Prince's Foundation friends Paul Murrain and Ben Bolgar; original CEU organizer Peter Elmlund; and many others. A number of CNU colleagues will participate, and they will have many case study tours and breakouts. Email Mehaffy to find out more, or go to the conference link here.