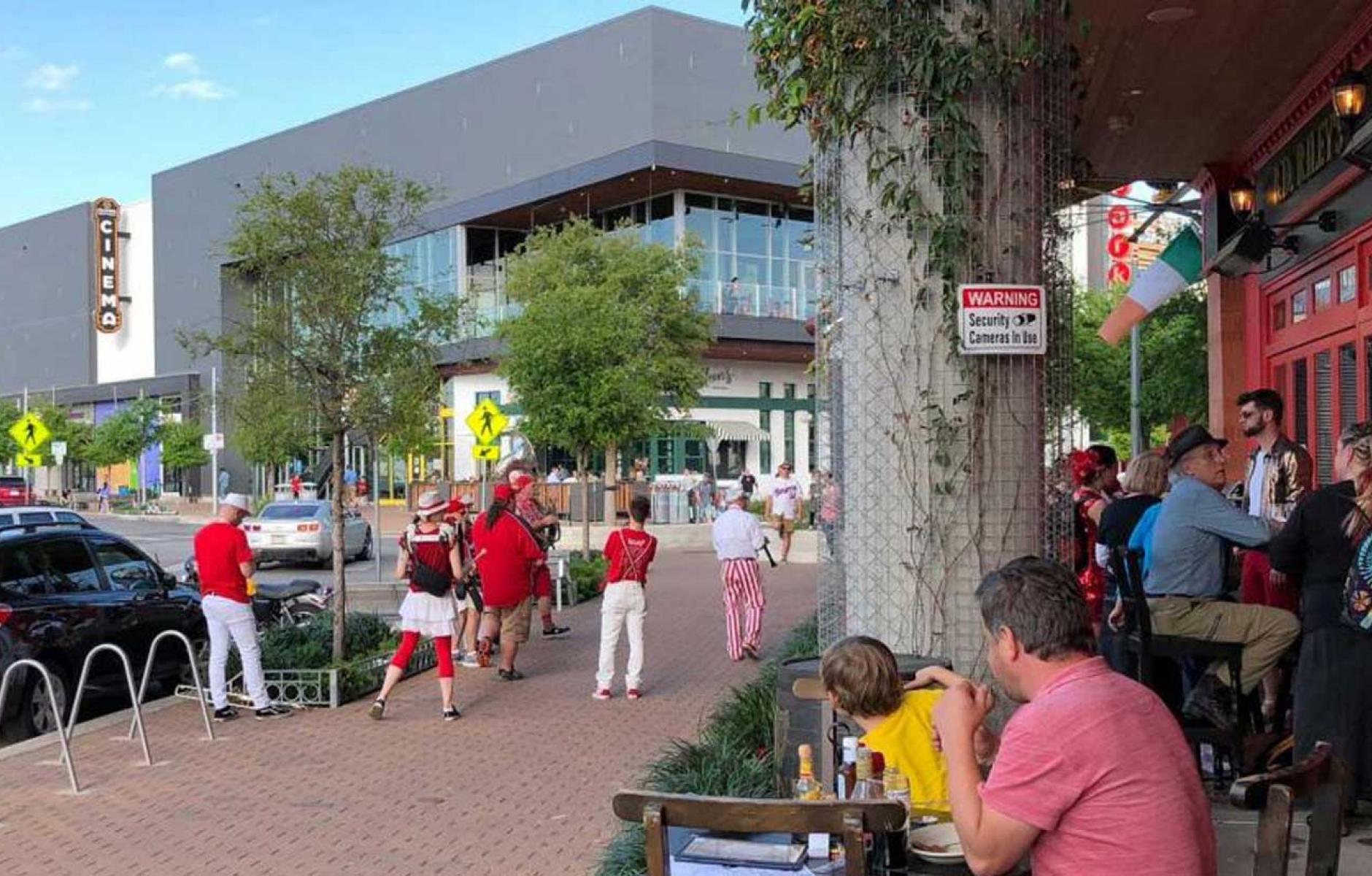 Downtown in the Mueller development in Austin, Texas.
Shift to the suburbs not your grandfather's sprawl
Core cities are losing population to the suburbs, but the 2020s will not repeat the last half of the 20th Century. The suburbs are bound to urbanize.
News reports over the past year have indicated that sprawl is returning with a vengeance in the 2020s. The latest article to make the claim is "How the pandemic supercharged sprawl," in Bloomberg News. 
There is little doubt of movement out of core cities since early 2020. The extent is of the trend is not yet clear, because we don't have data from the US census to confirm it. It looks substantial, however (details to come).
This trend is coming on the heels of two decades of core city revival. Traditional cities—those built on interconnected street grids set up for walkability and multimodal transportation—had their best decade in 70 years during the 2010s.
On the surface, current development trends appear to reverse gains of the last decade. The continued shift outward is "clearly going to continue," said RCLCO executive Adam Ducker, in the Bloomberg piece. "What happened to the voice and forces working against this kind of growth?" he said. "Seemed like smart growth and regionalism had become part of the religion of the development community. How did the discussion turn so quickly?"
That interpretation begs the question of the character of suburban development in the 2020s. Are we seeing a rerun of 1950s patterns? Or is it something different entirely? 
There is reason to think the latter. Attitudes toward development—and the land-use regulations—have transformed substantially in recent decades. Adoption of form-based codes has been widespread since 2000 in cities, suburbs, and rural towns. Zoning reform continues to make inroads, especially at the state level—as does the movement toward complete streets. The demographic shift out of core cities will not manifest solely as old-style sprawl, but will include substantial walkable urbanism. Christopher Leinberger has the big-picture right when he tweets:
"The urbanization of the suburbs is THE major trend in the post-pandemic world. Only about 5-10% of the land needs to be up zoned for the higher density and mix of uses but this will be the economic salvation of the jurisdiction wise enough to implement."
Evidence of suburban growth
Despite a lack of census data yet, the evidence is strong that people are moving out of core cities.
Walkable urbanism thriving before pandemic
At the same time, long-term trends favor walkable urbanism.
I developed a list of the nation's 25 biggest "traditional cities"—places like Philadelphia, San Francisco, New York City, New Orleans, and Detroit. I defined cities that had a population in 1950 of at least 75 percent of the 2010 population—and did not greatly expand their boundaries in this period—as "traditional cities."
In the last decade, traditional cities grew by nearly 6 percent—their largest growth since the 1940s. This group of cities mostly shrank in every decade since 1950—the exception being the 1990s, when they grew by 2.2 percent because New York City's growth was strong. Outside of New York City, these same cities shrank by 3.4 percent in the 1990s. By contrast, these cities grew broadly in the 2010s. Eighteen, nearly three quarters, of these cities gained population last decade. Outside of New York City, growth in traditional cities was 4.6 percent.
I also measured growth in "sprawling cities" like Houston, Phoenix, San Jose, and Columbus, Ohio. These cities are defined by their era of growth—in 1950 they had less than 50 percent of their 2010 population. Borders have expanded substantially through annexation and consolidation. These cities grew by 11 percent, nearly double that of traditional cities. That's not surprising, because sprawling cities have the capacity to grow in every direction—upward, inward, and outward (their boundaries are expanding). There is reason to believe that even in sprawling cities, walkable urban growth was strong. Many of these cities invested in rail transit and organized growth around rail stations. Downtowns and adjacent neighborhoods experienced substantial growth.
America, as a whole, also saw a return to development on street grids in the last two decades. "Since 2000, the grid index and its components have risen back to levels not seen since the mid-20th Century," notes Geoff Boeing, assistant professor in the Department of Urban Planning and Spatial Analysis at USC. Boeing's paper "Off the Grid … and Back Again? The Recent Evolution of American Street Network Planning and Design," was published in the Journal of the American Planning Association in the fall of 2020. Boeing notes that planners, developers, engineers, and public officials have moved toward more mixed-use, compact development over the last 20 years for a variety of reasons.
That trend is not confined to core cities, but also includes suburban retrofit, planning of large redevelopment parcels, and laying down street grids on greenfield sites. Although urban infill development may be slowing down, walkable urbanism is likely to continue.
The prospects for cities are mixed. Crime is a concern, as the homicide rate has risen substantially for both traditional and sprawling cities since 2015. Homicide is an indicator of other violent crime. Patrick Sharkey, Princeton professor of sociology, cites "strong evidence that rising violence contributed to out-migration from central cities in the era of extreme urban violence from the late 1960s through the 1980s; and, alternatively, that the decline in violence from the early 1990s to the mid-2010s brought people back into central cities." If that trend continues, it will have a bigger and longer impact on cities than the pandemic.
That said, cities in the 20th Century experienced an onslaught of damage from the planning ideas of the day—urban renewal that leveled neighborhoods and highways that plowed through cities. Those ideas are unlikely to return, and we are seeing a reversal of these damaging ideas. A growing number of cities are considering taking down unnecessary highways and reknitting the urban fabric. 
One silver lining of a movement toward the suburbs could be an easing of rents in some high-priced cities, which have limited the opportunities for many would like to live in cities.
"You're oddly seeing an increasing embrace of urbanism at every level, in suburbs as well as central cities, but you're also seeing the continued outward march of conventional sprawl development," Rick Cole, CNU's executive director told Bloomberg. "The very real conundrum is that even if people like urbanism, they can't afford it. The housing crisis is real. That's an Achilles' heel of urbanism that smart growth advocates and urbanists are increasingly grappling with." 
As many have pointed out, cities will also be impacted by the work-at-home trend during the pandemic, which is likely to continue to a degree. Downtowns are unlikely to see significant office development in the 2020s. And we don't know what downtown retail will look like until the pandemic is far behind us. Are shuttered shops going to reopen? Or will downtowns and main streets be plagued with vacancies for years to come?
Despite these uncertainties, I expect the trend toward walkable urbanism, in both cities and suburbs, will continue in the coming decade. The market still wants walkable urbanism—although this demand may be reduced in some in-city neighborhoods. The land-use industry and culture also operates on ideas. Smart growth and New Urbanism are still best practice—imbedded in comprehensive plans and, increasingly, in zoning codes. We are not heading toward a decade of supercharged sprawl.