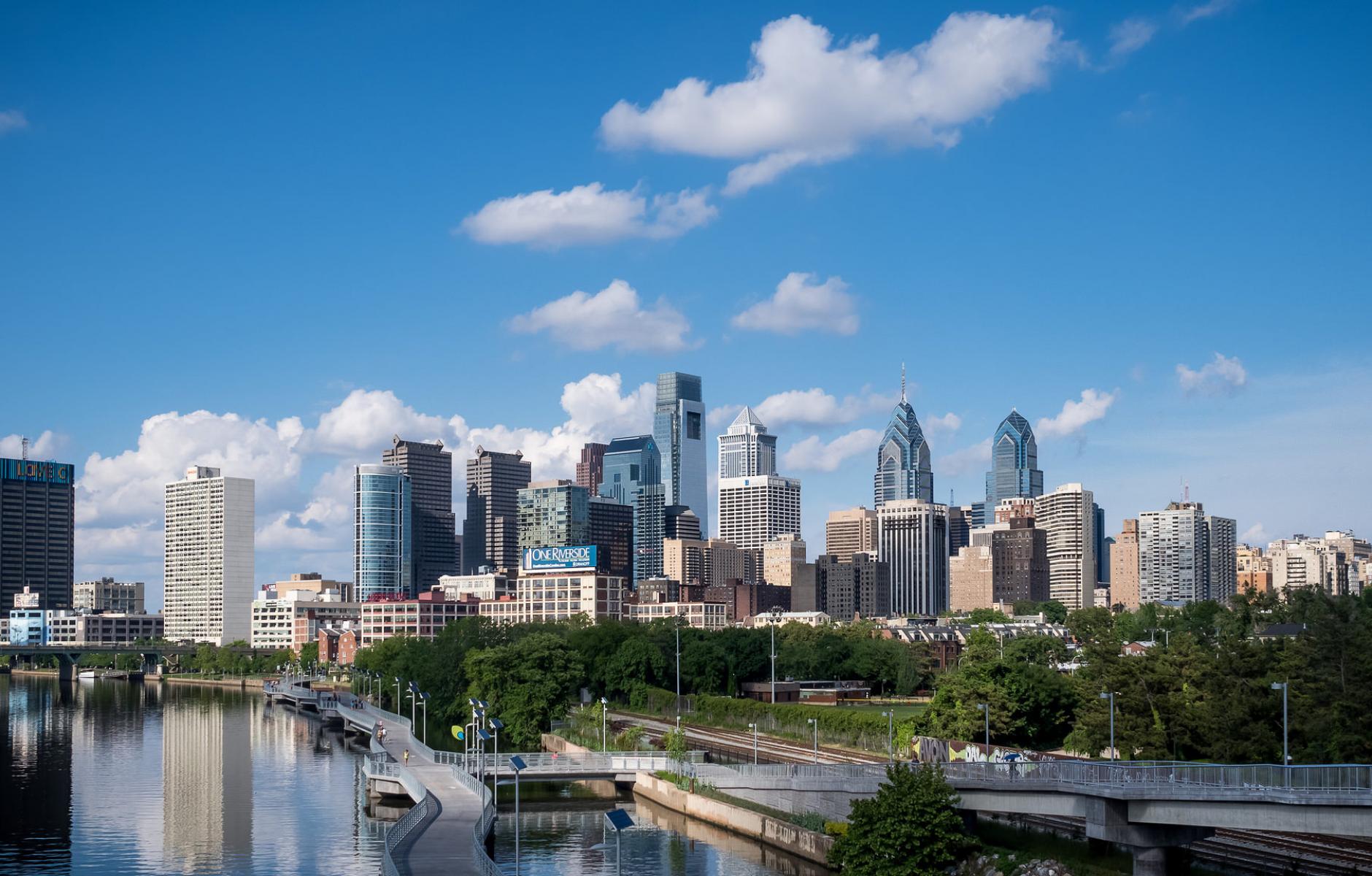 Philadelphia from the South Street Bridge. Photo by Mike Boening
The infrastructure bill's promise for cities
To federal government this week adopted a roughly $1 trillion infrastructure bill (the Infrastructure Investment and Jobs Act), which is going to pay for a lot of machines moving dirt over the next few years. To what extent will they make better cities?
Streets, transit, and other infrastructure are the bones around which cities are built. The New Urbanism movement began partly as a response to infrastructure geared solely to automobiles that contributed to poor urban design in the second half of the 20th Century.
The bill will partly maintain the status quo, and partly set the US on a new course that is more compatible with human scale cities that are resilient and sustainable. 

It provides $110 billion to repair the nation's aging highways, bridges and thoroughfares. A lot of that money will maintain the system that we currently have. No one wants bridges or highway sections to collapse.
Within that pool, however, is $6 billion for "Safe Streets and Roads for All." That portion will focus specifically on pedestrian and bicycle safety, officials explained, contributing to "complete streets" that function for many users, not just cars. 
That money is needed for cities and towns to build back better. Automobile-oriented throughfares are a major barrier to revitalizing main streets and neighborhoods, and retrofitting suburbs. Put to use wisely, that funding could do much to promote walkable communities and more sustainable development patterns. Complete streets go hand-in-hand with form-based codes, and both need to be part of a rational response to climate change.
Here's another interesting provision: "The legislation requires at least 15 percent of a state's highway safety improvement program funds to address pedestrians, bicyclists and other non-motorized road users if those groups make up 15 percent or more of the state's crash fatalities." That will apply to most states—since the national average of bike-ped fatalities on US roads is higher than 15 percent of the total—and could shift still more funding to complete streets.
This Safe Streets and Roads for All earmark creates incentives for state and county road and transportation departments to re-examine long-held priorities. The name puts streets first, making clear that this is about the kind of local thoroughfares where people live. The top priority on most thoroughfare spending for more than 70 years has been to move automobile traffic fast. That sets the foundation for the single-use suburban places that are so ubiquitous today.
Starting in the 2000s, 35 states and more than 1,500 local jurisdictions responded by adopting "complete streets" policies. Those policies are often ignored by engineers in transportation departments, who still consider walkable, human-scale design to be a "non-standard" approach. Now a large pool of funding has been established, along with a requirement that a certain percentage of programs go specifically toward bicycle and pedestrian safety. Monetary incentives are more effective than words alone, and more departments of transportation (DOTs) should be looking for complete streets opportunities rather than resisting change.
Highway removal
The Reconnecting Communities program in the infrastructure bill directly addresses one of CNU's top priorities—its Highways to Boulevards program. The $1 billion allocated was reduced from $20 billion in the first draft. While $1 billion may seem paltry to remove (unnecessary and harmful) in-city highways, this provision could still have a significant long-term impact.
Of the total, $750 million is set aside for construction, intended as seed money for projects that leverage local and state funding sources. More generously, $250 million is targeted for feasibility studies of removing highways in favor of boulevards and street grids. Individual grants are capped at $2 million each. These studies typically cost less than the maximum—so this program may fund more than 200 such studies around the US. "Any city that is remotely considering removing a freeway should apply for this money," says CNU's Ben Crowther, the Highways to Boulevards program manager—because the grant is very likely to be approved. Part of the intent is to demonstrate overwhelming demand for in-city freeway removal, so that in five years Congress will increase funding, says Crowther.
Public transit
The bill includes $39 billion for public transit to expand transportation systems, improve accessibility for people with disabilities, and help localities buy zero-emission and low-emission buses. Expanded transit systems are a catalyst for transit-oriented development, helping to expand density and mixed-use centers across many regions. TOD has been a focus of new transit systems since the 1990s, often accompanied by land-use code reform and new urban planning.
Electric vehicles
The bill includes $7.5 billion for electric charging stations to accelerate the use of electric vehicles to curb carbon emissions. While EVs can be used anywhere, this funding may help spur the use of small electric vehicles that are especially compatible with 15-minute cities. There is also "$5 billion for the purchase of electric school buses and hybrids, reducing reliance on school buses that run on diesel fuel," notes the Associated Press. Replacing noisy and polluting diesel buses has beneficial secondary impacts on urban places.
None of these earmarks represents a massive investment in human-scale cities. Yet taken together, this infrastructure bill is compatible with continued progress on the priorities of those who are working toward better community design.