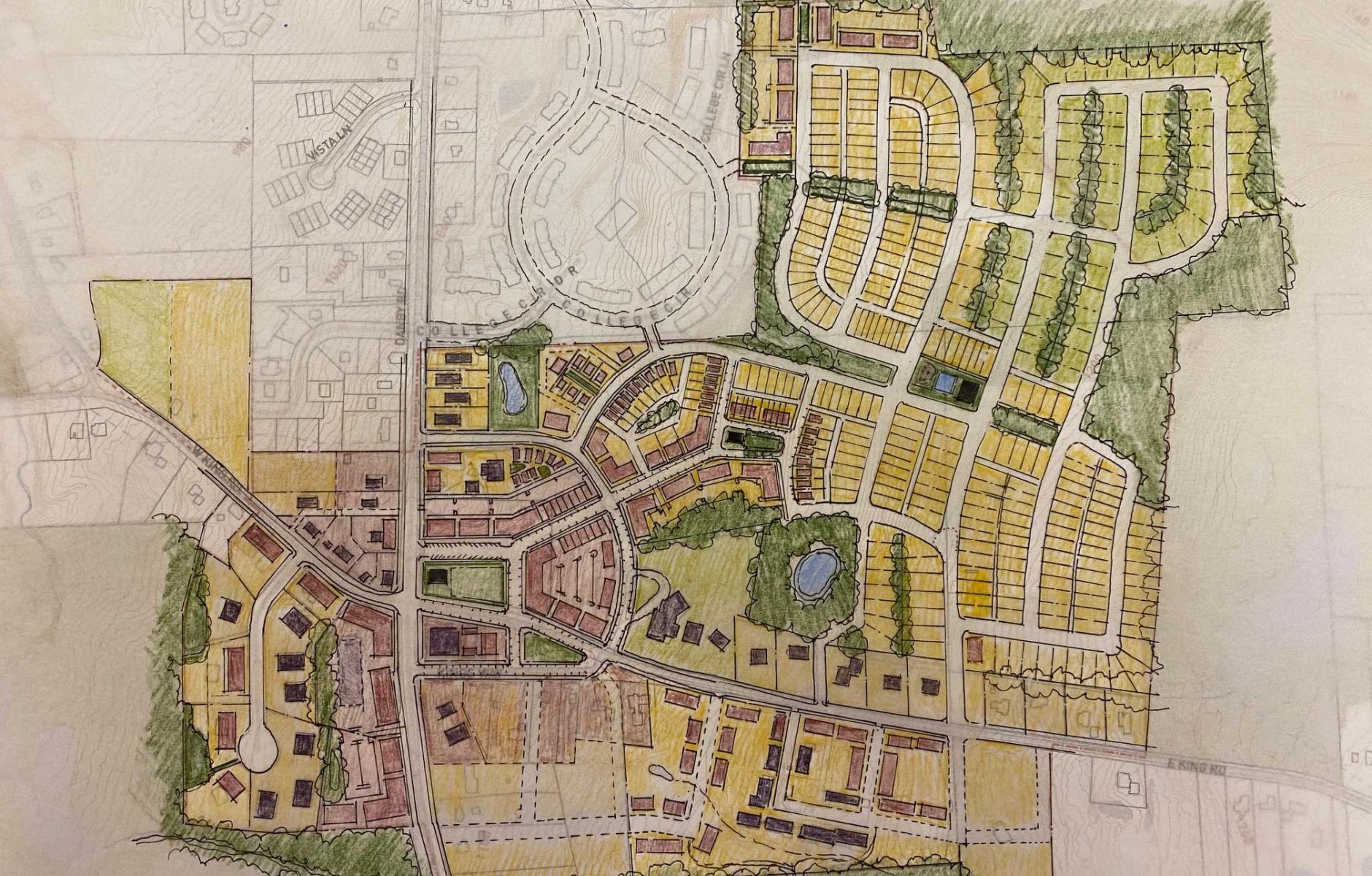 Plan for new village on South Hill, Ithaca. Danby Road (96B) is main vertical thoroughfare at center left of plan. Plan by Geoff Dyer.
Plans for a sustainable village center and neighborhood
South Hill village in Ithaca, New York, combines walkable greenfield development with suburban retrofit to offer a new model for growth.
A design team presented a plan for a new village center and neighborhood just south of Ithaca, New York, on October 27. If implemented as envisioned, this project could be a model for sustainable suburban growth in Upstate New York. 
The design focuses development on South Hill, one of three hills that surround the City of Ithaca, into a compact, walkable neighborhood. South Hill includes Ithaca College and the South Hill Business Campus, two significant employment centers (Cornell University is on East Hill, about three miles away; downtown Ithaca is just two miles away). 

The plan is centered on the key intersection of Danby Road (State Route 96B) and King Road. A village green is planned, surrounded by mixed-use, to create a sense of place and an "outdoor room." A neighborhood would connect to the village center, mostly extending to the northeast. That neighborhood is planned for a variety of "missing middle" housing, including public spaces and streets that preserve views across the valley. 
Although the site is near the top of the hill, it still has rising topography. The blocks and streets follow contour lines and are designed to facilitate stormwater drainage through greenways and ponds down the hill. The plan also wraps around an existing private Montessori school that is buffered by vegetation.
The plan consists of about 120 acres of new development, but also wraps around current development—mostly conventional suburban in form. The plan is a combination of suburban retrofit and greenfield development.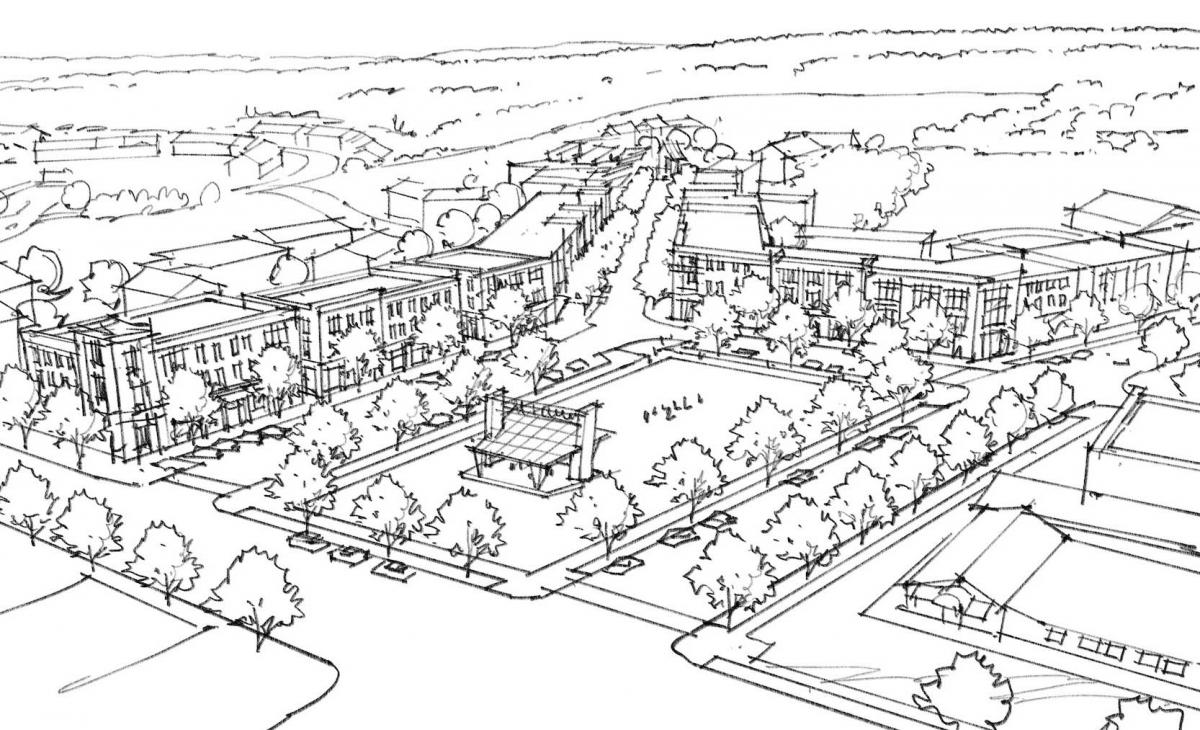 The site is adjacent to Buttermilk Falls State Park, a regional amenity, and on the other side abuts natural areas owned by Ithaca College. The location enables connection to nature in addition to the proposed walkable urbanism. That's an ideal and rare combination, notes Nathan Norris, a member of the team that also included lead designer Geoff Dyer and urban designer Howard Blackson.
The team was hired by the Town of Ithaca, which in 2020 adopted a form-based code. The code builds on the town's 2014 Comprehensive Plan, which proposes compact development on this site and preservation of the countryside on much of the rest of South Hill. The Town recognized that development is occurring—the question was whether it should spread out all over the hill, or be concentrated in one area where it can be walkable and connected to transit. Town officials wisely chose the latter.
That choice of continued sprawl or walkable neighborhoods is one that confronts cities all over Upstate New York. Infill development inside of cities is most sustainable. Even so, growth will still occur outside of cities like Buffalo, Rochester, Syracuse, Binghamton, and Ithaca. South Hill village may be a prototype for a better kind of suburban development. In New York State, New Urbanism has rarely occurred at the scale of a complete village—so this project could set an important example.
During Wednesday evening's presentation, some viewers expressed concerns about traffic. Blackson pointed out that the village pattern will not solve regional traffic problems, but it will help to better manage them. The village plan proposes to slow the design speed and speed limit on 96B for a short distance—about a quarter mile. The intersection already has a traffic signal, and the development is looking to create no new signals.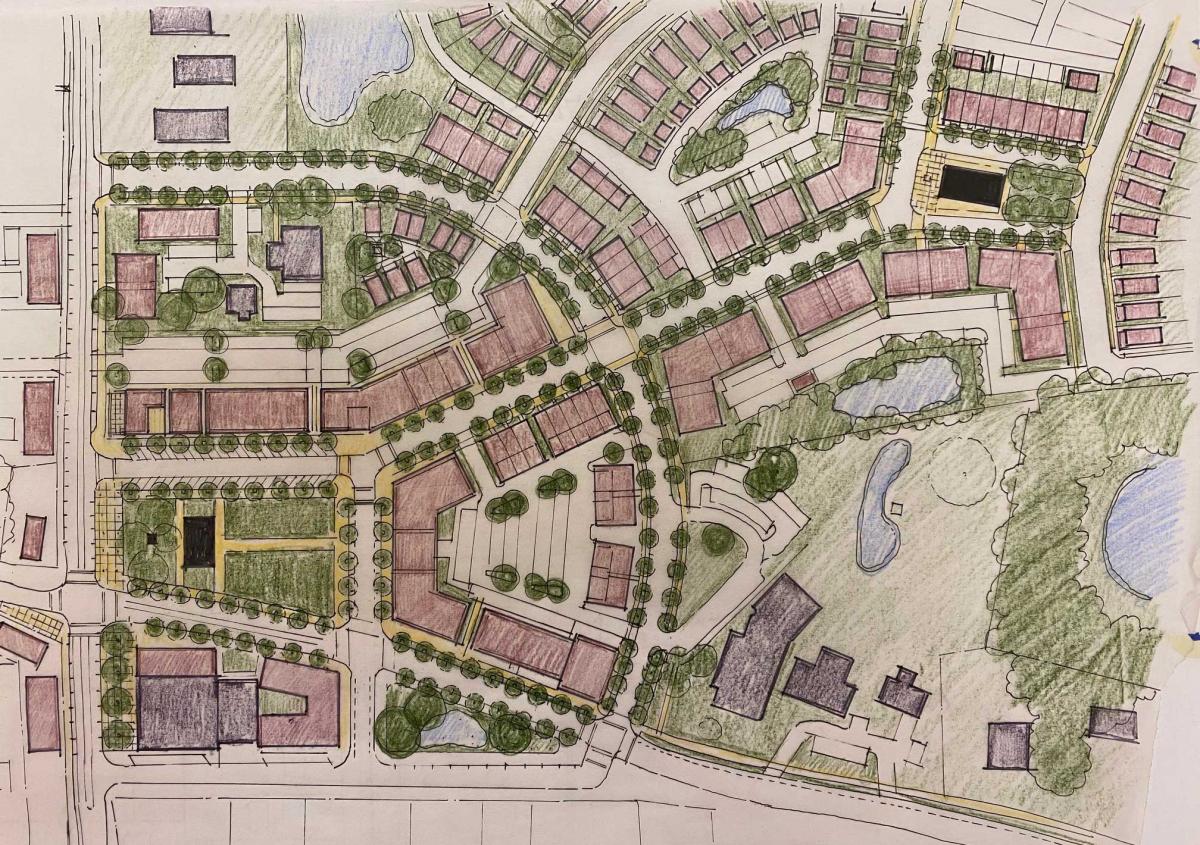 Slowing traffic on the state highway, even for a short distance, will require the Town to work with the state Department of Transportation (DOT). The Town and design team met with DOT officials early in the week to begin a discussion. A more immediate opportunity may be to calm traffic on King Road from the main intersection to the Elizabeth Ann Clune Montessori school and a little beyond (less than a quarter mile), a proposal that offers safety advantages. Changes to King Road would require cooperation with Tompkins County. The area is identified by the County as a favored node for mixed-use development, so the County has reason to be supportive.
A new village center would include services and amenities, possibly a grocery store, that could enable South Hill residents to avoid some trips down the hill. Residents of the neighborhood would not have to drive on the main roads to reach the village center. 
Norris described target qualities of the plan: Walkable, drainable (a need highlighted by heavy rain in the region this week), grow-able, flexible, attainable, and connectable. A number of residents had questions about affordability, which relates to the "attainable" goal. The designers focused on a variety of "missing middle" housing types. "We paid a lot of attention to buildings types that allow people to live in a smaller amount of space in exchange for having amenities outside of their dwelling," Norris says. Also, the plan presents opportunities for subsidized housing. The site already has affordable housing built by the Ithaca Neighborhood Housing Services, located near the intersection of Danby and King. These living spaces would be better connected to services and transit when this plan is built.
The team also addressed connections to surrounding properties, now or in the future. Such connections must be planned at the outset, or ownership patterns will prevent them in the future. A connection to Ithaca College to the north, for example, would enable many trips to avoid the main road, reducing congestion and potentially boosting safety.
Flexibility is addressed through the potential of small blocks to be used for many building types, adaptable to future changes in the market. The "grow-able" quality relates not to agriculture, but to incremental development. The build out of the vision would take several decades. This could be done a little at a time, with each new part adding to the whole. At the outset, the project is likely to add very little to traffic, school students, or the need for other services.
The village center and green are designed not just to serve the new neighborhood, but South Hill as a whole—and even the region. Currently, residents of the Town rely on the City for culture and services located in a walkable urban core. The City will always be the main regional urban center, but the Town may get its own village center on South Hill that could be a destination in its own right.
"We don't want to create a place that people are only driving through," says Norris. "We want it to be a place that is worthy of driving to."
The project is in the early stages. Landowners are expected to make proposals to go forward and the Town needs to approve a regulating plan or plans to apply the code to the site.