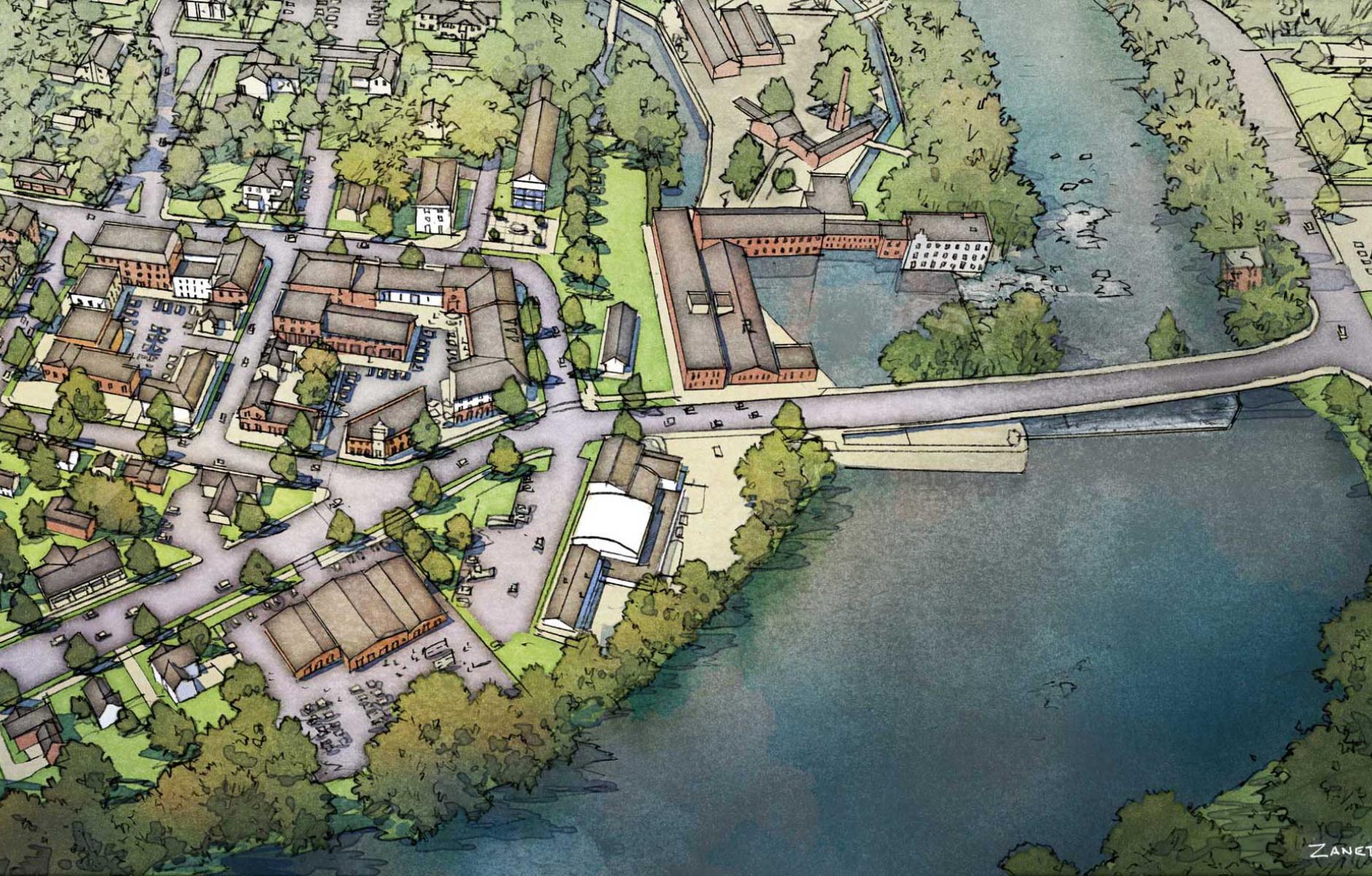 Aerial rendering of Canton, Connecticut, form-based code area. Source: FBCI
Form-based codes boost tax revenue and construction, don't catalyze gentrification
New report aligns with other recent research that form-based codes have not translated to gentrification.
Form-based codes generate economic benefits without significantly altering the racial makeup of communities—and while keeping rent increases down—according to a new report and study called Economic Benefits & Shared Prosperity with Form-Based Codes, by The Form-Based Codes Institute and Smart Growth America.
The study examined four geographical areas with form-based codes in various parts of the US, in comparison with four similar areas with conventional Euclidean zoning. Although the case studies were selected and not random, the findings align with a comprehensive and academically objective University of Chicago study earlier this year, which found little evidence that FBCs lead to gentrification. 
Along with more incremental code reform, form-based codes are a primary tool for new urbanists to legalize walkable neighborhoods.
The recent report drills down into codes that had been in place at least eight years in order to provide a detailed analysis of their impacts, according to the report:
The four form-based code areas saw a greater increase in construction activity, particularly in multi-family development, than the comparison areas (average 154 vs. 115 percent, respectively). 
Average rent in multi-family developments grew at a slower pace in places with form-based codes than in the comparison areas (8.7 percent increase vs 16.6 percent). This is because there are more housing options for a wider range of household incomes in the form-based code areas, making it possible for people of different backgrounds to share the prosperity of their community. 
The number of residents in the form-based code areas grew faster than in the comparison areas, largely because form-based codes create desirable places where people can live near jobs and amenities with more options for transportation to everyday destinations. 
The areas with form-based codes collectively generated nearly $65 million more in tax revenue than the comparison areas' revenue baseline (sometimes referred to as a "no intervention" scenario). 
Stakeholders across jurisdictions emphasized the improved quality of life, walkability, and access to services and amenities for local business owners and residents in the areas with form-based codes. 
Real estate developers touted the increased flexibility and predictability of the approval process in places where form-based codes were in effect. 
There was no statistically significant change in the racial make-up of areas with form-based codes, which reinforces the fact that form- based codes are not a catalyst for gentrification and displacement when they're designed around the needs of the community. 
The form-based code and comparison areas analyzed range in size from 400 acres to 1,500 acres. The geographic areas with form-based codes included Columbia Pike in Arlington, Virginia (compared with Lee Highway corridor); Madisonville, Cincinnati, Ohio (compared with Pleasant Ridge, an adjacent neighborhood); Near Southside, Fort Worth, Texas (compared with AllianceTexas, a master-planned community); and Downtown Delray Beach, FL (compared with nearby Boynton Beach).The study looks at their impacts in the recent decade.
The jurisdictions took steps to prevent displacement. For example, a series of residential projects built along Columbia Pike under the form-based code have provided nearly 1,000 units of new housing committed to be affordable to households with incomes below 60 percent of area median income. Developers of these projects have employed a variety of tools that the county has made available, in combination with the form-based code, in an aggressive effort to offset the market-driven loss of affordable housing—which has occurred throughout Arlington.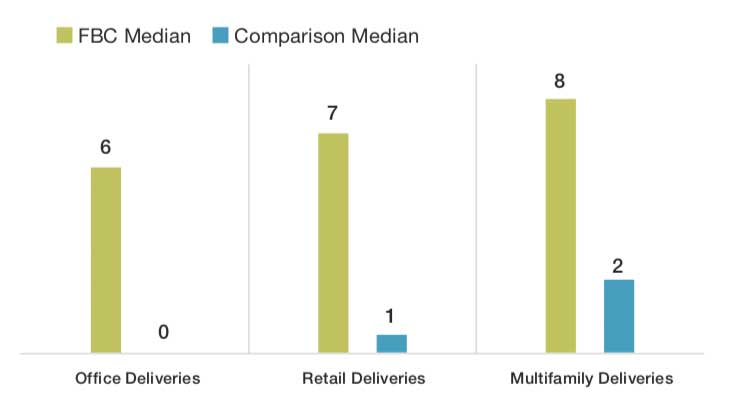 On average, the form-based code study areas saw their per capita income increase by 24 percent, four percentage points greater than the comparison areas, and seven percentage points greater than their counties. The report identified significant real estate trends:
Multi-family rents grew at a slower pace in form-based code areas, which suggests that greater and more diverse residential development kept rents lower, allowing for households at a wider range of incomes to move into or remain in the area. 
The residential inventory, or active supply of properties on the market, increased significantly in form-based code areas but the proportion of unoccupied units was much lower than in the comparison areas. This trend illustrates that areas regulated by form-based codes saw a higher rate of new construction, and that new housing stock was occupied at a faster rate than the available housing stock in the comparison areas. 
An increase in office vacancy rates in the form-based code areas, coupled with an increase in average rents and inventory together suggest stronger demand for office space than in the comparison areas, because much of that demand remains unmet. In these cases, vacancy rates are a function of new deliveries added to the market—they are temporary and likely to decline as new inventory is absorbed.