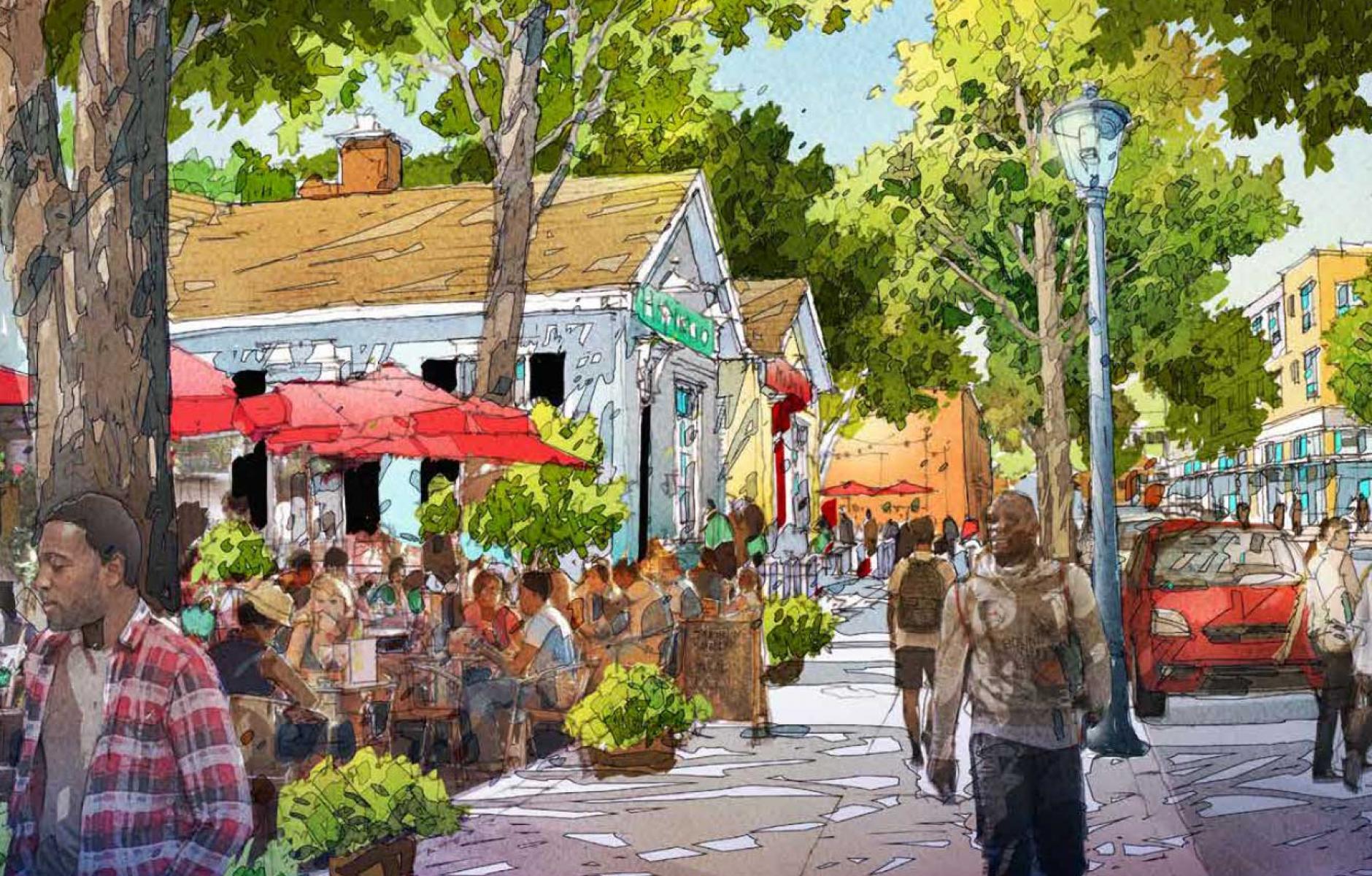 A vision for the Russell Neighborhood Legacy Charrette in Louisville. Rendering by UDA.
Legacy Projects proposed for Oklahoma
CNU is seeking design teams to lead historically and culturally significant projects in Oklahoma City and Tulsa in advance of CNU 30.
CNU launched the Legacy Projects in 2015, and the program has achieved high rate of implementation and impact over the last six years. Legacy Projects create urban design plans for diverse neighborhoods in cities, towns, and suburbs through a collaborative process with community members.
Legacy Projects are designed to apply CNU members' renowned urban design and planning expertise to make a difference in the annual Congress's host region—which is Oklahoma City in 2022. Through the program municipalities and non-profit organizations are able to submit proposals seeking technical assistance. CNU members, some of the best minds in the field, provide pro-bono advising (travel expenses are covered), with the goal of making a lasting difference in the region.
Successful examples come from Savannah, Georgia, where Legacy Projects were formally endorsed by the City Council in 2019. One project, in suburban Southside Savannah, envisioned the retrofit of the dead Savannah Mall and surrounding areas to create a new town center and neighborhood to leverage the economic power of a growing campus of the Georgia Southern University Armstrong (GSU-Armstrong). The plan, by David M. Schwarz Architects, calls for mixed-use urban blocks on the scale of Savannah's historic district, including two new squares with the same dimensions as the city's famous squares. A big hurdle is the need to transform a large thoroughfare with fast-moving traffic into an urban boulevard, also designed during the Legacy Project's charrette.
Another project, in the neglected and disinvested Eastside neighborhoods near the Savannah's historic core, proposes catalytic interventions to create public spaces, transform streets, and improve the quality of the public realm. The goal of the Eastside project is to "promote public and private partnership, increase housing, enhance neighborhoods, create safer walkable streets, build parks, and offer incentives to businesses that wish to locate or expand operations in the neighborhood," says Dhiru Thadani, who led this Legacy Project.
CNU has announced two new projects for CNU 30 in Oklahoma City and is looking for urban designers to take on difficult but historically and culturally significant design problems.
Jewel Theatre, Oklahoma City
The goal of this project is to restore and preserve the Jewel Theatre, a rapidly deteriorating cultural asset, and an additional 1.4 acres of abutting property in Oklahoma City. The Jewel Theatre sits on a once-booming, Black-owned commercial district along Northeast 4th Street within the historic Deep Deuce neighborhood. Since its prime during the 1940s and 1950s, urban renewal displaced much of the community and led to disinvestment, with many empty lots and a few historic buildings.
Leading the effort is Open Design Collective, a non-profit organization that connects Black communities with city planning resources necessary to promote social and physical change. Open Design Collective has partnered with Arthur Hurst (owner of the Jewel Theatre), Presbyterian Health Foundation (abutting 1.4-acre property owner), Councilwoman Nikki Nice, and the Alliance for Economic Development of Oklahoma City.
Global District, Tulsa
The Tulsa Planning Office is aiming for Main Street revitalization plan for one of the most demographically diverse areas in Tulsa. The District is characterized by suburban-style development with many large parking lots. The design goals include traffic calming, better use of public space, and promoting land-use opportunities to create a more walkable community. The proposal was submitted by the Tulsa Planning Office on behalf of the Destination Districts Program, which aids in revitalization of areas that have been historically underserved.
"This area of Tulsa has been an entry point for immigrants over the last 20-30 years, and it is our vision that the Tulsa Global District will be a safe, welcoming, and vibrant neighborhood, a destination for inclusive economic opportunity, and an international model for celebrating cultural diversity," says the planning office.
Legacy Projects involve a 3-5 day design workshop in the host region. For firms that are interested, a letter of interest is due by September 10. Workshops are scheduled for January 31-February 4, or February 7-11. Find out more about CNU 30 Legacy Projects or contact Ben Crowther at bcrowther@cnu.org.