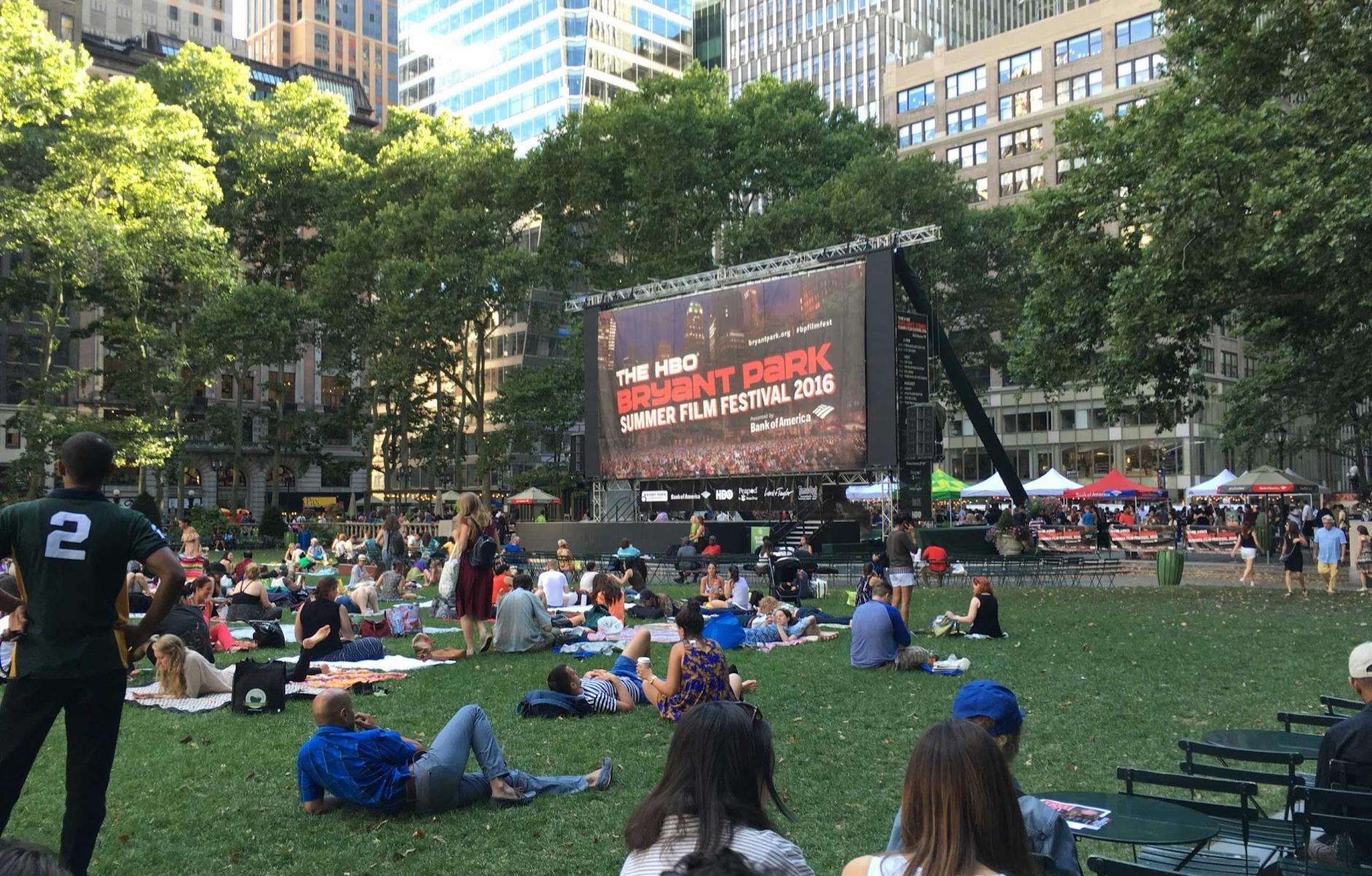 A movie in Bryant Park in Manhattan. Source: N. David Milder
The power of central social districts
Main Streets, downtown cores, and neighborhood centers play a vital social role in American communities. The argument for Central Social Districts is that this social role should be nurtured distinctly for urban centers to succeed.
Public Square editor Robert Steuteville interviewed economic development expert N. David Milder of DANTH, Inc., on Central Social Districts. Milder wrote a paper that was recently published in the American Downtown Revitalization Review. This is Part 1 of a two-part interview.
RS: What is a Central Social District (CSD)? Are there any metrics that can be used to determine whether a place is a CSD? 
NDM: The terms Central Business District (CBD) and downtown are often treated as interchangeable, but over the years I have come to see that analytically CBD is a subset of downtown, and that CSD is a complementary subset. I see CBDs basically as large downtown employment and comparison shopping clusters associated with businesses and wealth creation, while CSDs are those downtown functions and venues that meet our central place and individual social needs; they help flesh out our local quality of life opportunities that our wealth may allow us to afford utilizing. There are numerous kinds of CSD venues and even the long list below does not cover all of them. CBDs are mainly about businesses while CSDs are mainly about meeting our individual needs for fun, enjoyment, and some vital personal requirements in a social setting.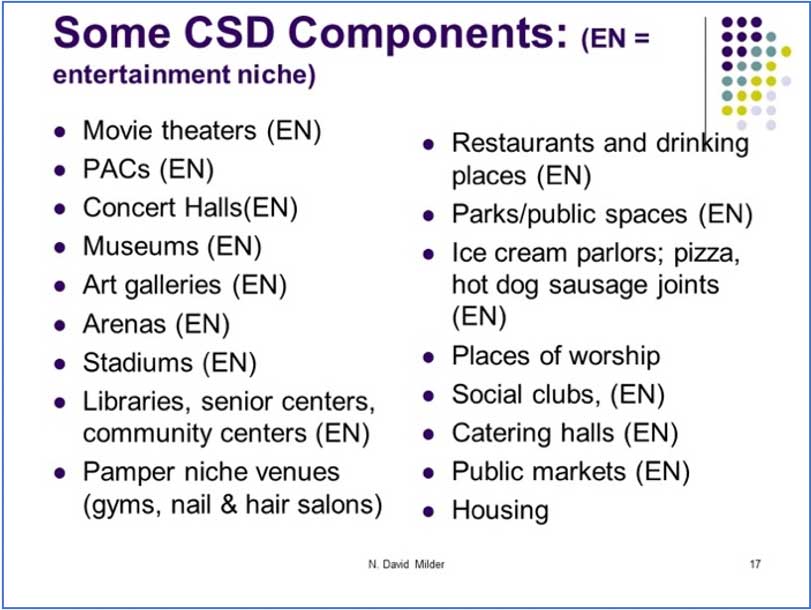 There is no specific number of establishments that establishes a CSD, but some metrics that establish its size and assortment of venues. The simplest are the number of types of CSD venues, the number of individual establishments in each category, and the number of visitors they attract annually. Advocates of some kinds of CSD venues love impact analyses that I have found vary considerably in value, many using very questionable research designs. The best ones are those on the impacts of parks and museums on nearby real estate values. The worst look at the impacts of formal arts venues on jobs, household incomes, and other businesses that use input-output (I-O) models, which I have criticized.
Right now, I think that the most important potential impact of CSD venues is their ability to attract and keep people downtown. They make 24/7 activation possible. They increasingly generate customer traffic that retailers are depending on. Visitation data are simple and easy to understand, often easy to collect, and informative. No magical black box is required to generate them, so they are my go-to metric. So much understanding can flow from this simple metric.
RS: There seems to be a lot of overlap between Central Business Districts and CSDs, and downtowns have always served a social purpose. Why is the term and concept CSD important?
NDM: The use of the term CBDs really grew as our larger cities became strong office employment centers. Even today, it is seldom applied to suburban or small rural downtowns, or Main Street districts.  Geographically, there can be an overlap between CBD and CSD assets when they are marbleized in a downtown, but subsets of them are often in separate large clusters—for example, office buildings along 6th and Park Avenues in Midtown Manhattan, the theaters along Broadway, Museum Mile along Fifth Avenue. Conceptually, however, they are quite different and meet different needs. Functionally, successful CBDs depend on having strong CSD assets nearby such as housing, restaurants, and bars. During the late 1970s and 1980s office development was seen as the downtown revitalization engine for our large cities, but it was an abject failure, producing fortress buildings, dead streets, and high levels of fear of becoming a crime victim. It was only when downtown housing and reduced fear of crime emerged in the 1990s that a widespread blooming of other CSD assets such as restaurants and public spaces occurred. 
An interesting point is that many suburban downtowns are not major employment centers and have rather modest retail joined with a mix of financial and personal services in small offices and storefronts. Their CBD functions are not all that robust. Very often their largest traffic generator is not their supermarket, but their McDonalds. 
There are many reasons why the CSD concept is important:
CSDs are important wherever quality of life will play an important role in economic and community development. Richard Florida famously argued that if you recruit creative residents, firms will follow, and creatives want to live where they can have the quality of life they desire.  
It's the strength of their CSD functions and venues that have enabled our superstar downtowns to succeed. Unifunctional office employment centers were a bust as downtowns. History has provided us with a kind of huge natural experiment in those downtowns that showed that if you develop and strengthen your CSD assets your office space, jobs, and wealth will also grow, and the downtown as a whole will thrive.
This has also been true in many of our suburban downtowns, but the resulting growth is not so much in jobs as in residents, new CSD venues, and property values. 
In towns with populations under 50,000, CSD venues can account for 55-65 percent of the retail and service business in a downtown. They occupy a lot of storefronts!
For some years prior to the pandemic, I was interested in the creatives in small and rural towns as well as the "brain gain" that some towns were experiencing. I found that quality of life was an important factor. I also wrote a paper on an economic development strategy for smaller towns based on the foundational argument that they should focus on recruiting people, not firms, and that attractive CSDs were a key to such recruitment efforts. Given the current growth of remote work, I think that argument, more than ever, has merit.
The pandemic has led many people to question the future of our downtowns. Richard Florida in a recent article about the future of our CBDs sees them changing by becoming more social in two ways. Their CSD functions will become even stronger and dispersed in the district, and the nature of work will have much stronger social components. I argue that even if the CBD functions in our superstar downtowns were to be substantially diminished, the downtowns' CSD functions could strongly recover and even grow. These large downtowns would then function a lot like our strong suburban downtowns do now. Growth in remote work and reverse commutes could enable them to still attract young creatives and others who like living in or near downtowns, and they could also tap more into the growing senior housing market.
Last but far from least in importance, many types of CSD elements, such as housing, the arts, restaurants, and places of worship have long been facing serious challenges that the pandemic crisis has exacerbated. Others, like childcare, need to recover if our local workforces are to rebound.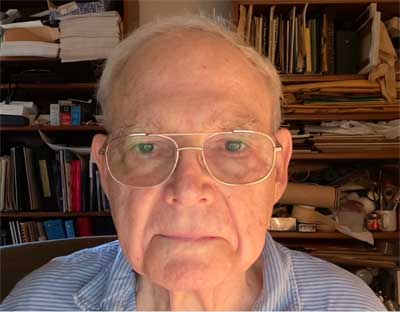 RS: Why do you think that CSDs should get more attention now?
NDM: While elements of them are often dealt with individually—the arts, restaurants, housing, public spaces—it is usually on an advocacy basis, poorly researched, and with nowhere near the attention they deserve, or that is given to retail. In many towns, CSD venues, such as eateries, bars, and pamper niche operations (e.g., hair and nail salons, gyms and spas, martial arts and dance studios, Yoga and Pilates studios) are stronger and more popular than their retailers.
CSD development is best looked at comprehensively, not in a piecemeal manner. For example, some types of venues are cheaper and easier to build and operate and they also will differ on user frictions. Public spaces offer a huge bang for the buck for urban, suburban, and rural areas, yet time after time I've seen officials opt for expensive and complicated projects to build a museum, performing arts center (PAC) or rehab a theater without considering creating a public space that could also be the site of arts performances and exhibitions.
A comprehensive approach also will give proper attention to often overlooked but vital CSD venues such as libraries, child and senior care centers, pamper niche operations, and religious organizations. On a day-to-day basis, these venues can go past being entertaining and meet some vital needs of local residents.
RS: How did you come to define and study CSDs?
NDM: In the 1970s and 1980s I was a strong advocate of downtown office development, but while doing a major project on reducing downtown fear of crime I noted that too often it created fortresses, fearful people avoiding pedestrian activity, and, worst of all, a very boring district with few reasons to visit. In the late 1990s and 2000s I was researching relevant trends and noted how downtown housing, public spaces and restaurants were bringing life back to downtown streets. Around 2003 I did a project in The Bronx and found local libraries crowded with happy kids engaged in productive activities. Around 2005 I also came to appreciate in Beverly Hills the vitality and magnetism that pamper niches can have. In 2010, I did a retail revitalization study for downtown Morristown, New Jersey. Retail chains had located elsewhere in its trade area, yet storefront vacancies were low, and it was vibrant with about 1,500 new housing units, a PAC that attracted 200,000 annual admissions, 85 eating and drinking places averaging close to $1 million in sales each, a movie theater with about 150,000 annual admissions, a large public space, and a large and strong pamper niche. My conclusion was that though the downtown lacked the trophy retail chains that some local politicians badly wanted, it was a very strong and successful downtown, and that was because it had a lot of socializing spaces. 
RS: What is the role that public space plays in CSDs? How does that relate to New Urbanism?
NDM: In my younger days I lived in an apartment in Queens that often had the trees in Forest Park touching our windows. When I moved back to Kew Gardens after being away for 20 years I did so because of my love of that park. I have long been a fan of parks and public spaces, and they play a large and important role in CSDs. My research found that they:
Are cheaper to develop than other major entertainment venues
Are cheaper to operate on an expenditure per visitor basis than museums, theatres, arenas, or stadiums
Have the fewest user frictions – there are no entry fees, the hours are long, and they are open almost every day, you can go when you want that fits your schedule, and you do not need a ticket.
Are very democratic, you don't have to be wealthy to visit, race doesn't matter, and even the homeless, if they behave, are welcome.
Are great places for people watching as well as special events. Visitors are consequently often both audience members and performers, and great spaces have the programing to spark such performances.
As Bryant Park in Manhattan showed, can spark a neighborhood's revitalization because of their ability to attract visitors.
As Bryant Park also shows, can spark retail growth nearby, though it may take some time. It certainly also renewed office space growth! Indeed, with the weakening of department stores, in many downtown areas magnetic parks and public spaces are prime generators of pedestrian traffic that nearby retailers now depend on.
Are typically places where lots of people are spending time with people, they consider significant: parents and children, couples dating, coworkers, other family members. That is the essential behavior on which CSDs are built.
Public spaces can be effective and viable early elements in CSD growth efforts if they have a good central location, very close sources of potential traffic, and programing that targets those potential visitors.
I am not a planner or architect, but an economic development strategist trained as a political sociologist. From that perspective I see New Urbanism as a kind of critical sensibility that uses scale and design to foster social interaction and a sense of community in our neighborhoods, towns, and cities. Well activated public spaces are a very effective way to make that happen.
RS: How were CSDs damaged by the pandemic. Have they recovered? How do CSDs relate to a city's recovery from the pandemic?
NDM: Of course, they were damaged, but without the type of reliable data I would like it is hard to determine precisely by how much. That said, the damage seems to have been uneven. Many smaller arts venues were closed and may not reopen. But many parks had record visitation during the crisis, and the closed streets created many more public spaces that we now hope will be kept well into the future. Many fewer restaurants closed than predicted, but recovery will be hampered by labor shortages. Foot traffic data indicate that pamper niche operations were no worse hit than retail operations and when allowed by authorities are reopening at a healthy clip.  Childcare, that is so essential for workers to return to work is still problematic in many areas. With higher vaccination rates senior care and libraries are expected to reopen with vigor. Housing, however, remains a serious problem area with strong concerns about affordability, insufficient supply, and evictions. CSD elements that depend on tourists and downtown office workers were badly hurt and will not recover until the flows of those customers return, and that has predominantly occurred in our large downtowns. Suburban downtowns, especially those with strong CSDs prior to the pandemic have best withstood the economic ravages of the pandemic, and they will have strong recoveries. Some of them, for example, have strong PACs that will likely recover because their audiences do not have a lot of overnight or foreign tourists. 
The recovery of CSD elements also is expected to be strong in downtowns with median HH incomes above $66,000 in their market areas, and problematic in those with lower HH incomes. There is a huge amount of psychological demand and unspent dollars in the wealthier downtown market areas that could reach boom levels. The poorer areas have greater job loss, lower incomes, far fewer discretionary dollars.
The CSD venues may well lead the recovery of our large downtowns if the problem of public disorder does not rear its head. Public disorder is a problem too many downtown leaders do not yet want to face. That is understandable given the polarized political problems it carries with it.
I and several my colleagues are very interested and hopeful about the future of all the new public spaces the pandemic sprung loose, though we are concerned about their quality and impacts on storefront operations—issues of visibility, uses, and room for pedestrians. Several of these spaces have characteristics of pedestrian malls, though they were created faster, cheaper, and more easily. However, they also have fewer uses and sidewalk amenities. Still, we feel the potential for these spaces is very exciting.
RS: Downtown cores have long been recognized as social gathering places, but what about CSDs outside of downtown cores? Where are they found and what can you tell us about them?
NDM: Social Districts can be anywhere there is a cluster of people. A CSD is just a social district in a downtown core. Obviously, bigger places probably will have more venues and types of venues. There's a town of about 5,000 people in southwest Ohio that has a library, 14 churches (as many as there are retail shops), a movie theater, and nine restaurants. Here in my neighborhood, we have a 189-acre park, several restaurants, numerous places of worship, many pamper niche operations, and at least five childcare establishments. There's also a de facto event space by the commuter rail station.
RS: What roles do CSDs play in the larger economy?
NDM: Of course, all CSD venues have expenditures, employees and audience and visitor expenditures. However, the primary issue is not what these CSD venues do for city, state, or national economies but what they do for the residents, workers, and businesses in and near the districts they are in. If they do not benefit from the CSD venues, then the venues might as well be located somewhere else. Consequently, I would pay far more attention to:
How many people they draw into the area, and their impacts on pedestrian traffic, the district's image, and fear of crime.
How many new downtown residents have been attracted by the CSD assets, how much they spend and on what, and how much they pay in taxes. I would argue, for example, that the biggest positive impact Lincoln Center had on nearby retail growth was not through the expenditures of its audiences, but via the expenditures of the new residents it helped attract to the area. 
How many businesses and workers they helped attract to the area.
The impacts on nearby property values. The positive impacts of MASS MoCA , Bryant Park and Central Park (famously by Olmsted himself) have been well established.