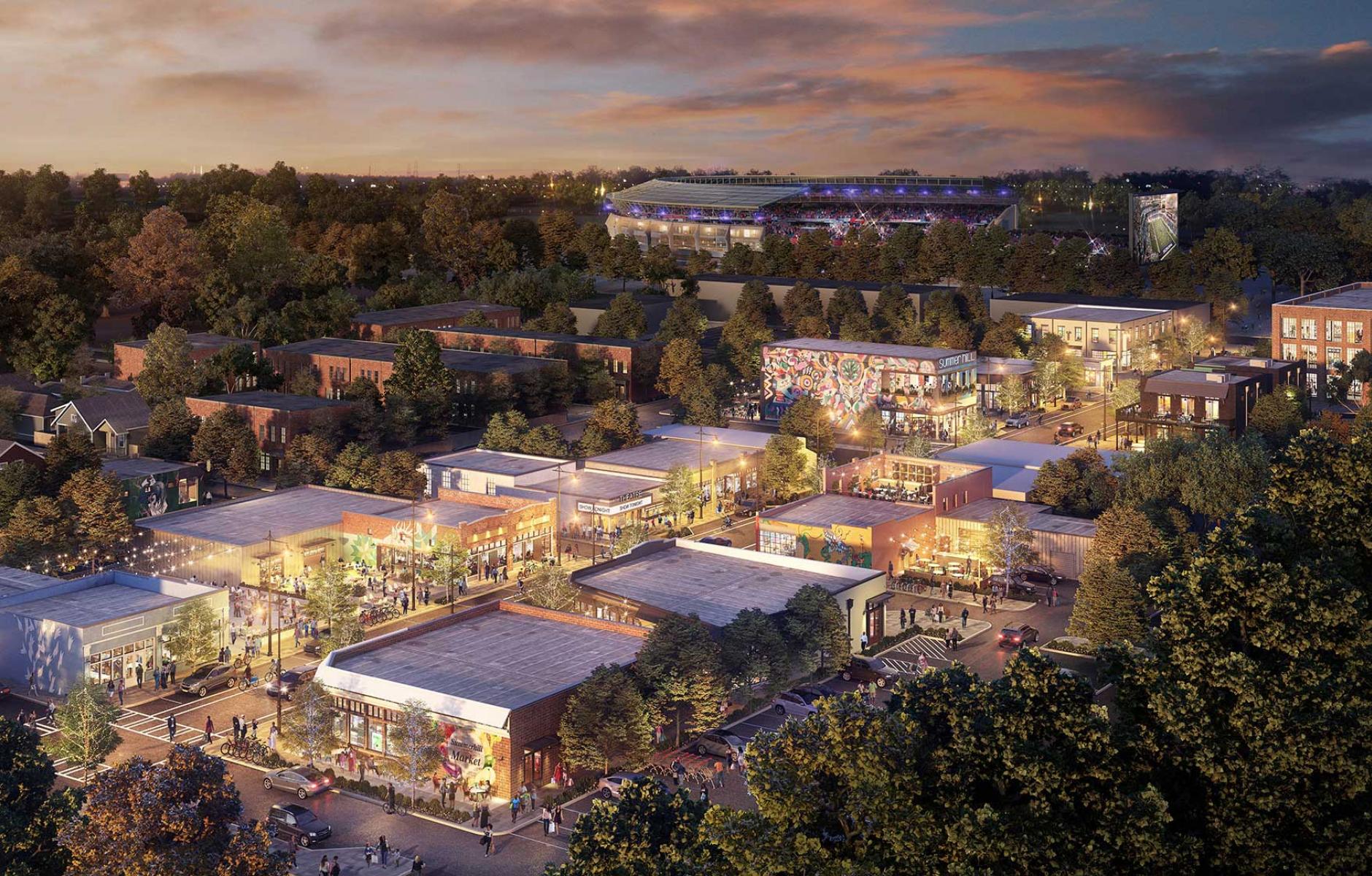 Courtesy of Kronberg Urbanists + Architects
Building rehabs revive main street
The character of Georgia Avenue, a historic Atlanta main street, was preserved while injecting new life into a neglected neighborhood.
Atlanta is more or less divided into quadrants by major Interstates—I-20 and I-75/85—that meet downtown in a tremendous spaghetti junction. Just to the east of I-20 a large sports complex created a "zone of neglect" along an adjacent historic main street, Georgia Avenue, serving the Summerhill neighborhood.

Like many urban neighborhoods, Summerhill suffered from disinvestment over the last sixty years, and the promised revitalization from an Atlanta Braves stadium in the 1960s and the 1996 Olympics stadium never came. The Olympics stadium was used as a new home of the Braves until 2013, when the team moved to the suburbs. Four years ago, the stadium was converted to a football venue for Georgia State University, which is expanding into Summerhill from its downtown campus.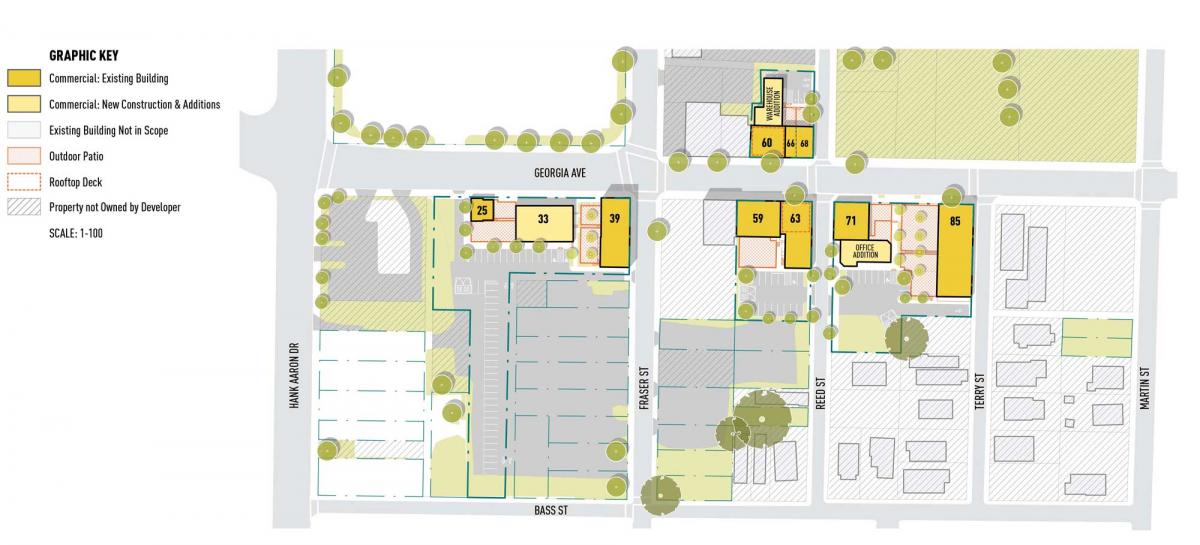 Georgia Avenue is a good example of incremental main street revitalization that preserves historic character, bringing new life to a neighborhood that was impacted by major projects and freeway construction in the 20th Century. Eight one- and two-story buildings along the four-block main street have been rehabilitated in recent years. Some buildings had new construction additions. Murals on buildings were preserved. A new commercial building was integrated into the block design. As communicated to CNU, here are the main goals of the project:
Revitalize a long vacant commercial corridor to jump-start an entire neighborhood redevelopment plan. 
Create a renewed sense of place in a neighborhood that has long been overshadowed by the local sporting venue. This is achieved through building designs in character with the historic corridor; having sensitivity to surrounding single family dwellings; and creating modestly sized, affordable units for small, local tenants. 
Create a unique destination within the City and a vibrant local amenity for existing residents and future students. A funky, casual main-street vibe is achieved through a series of outdoor patios activating the spaces between existing buildings. Keeping existing murals and street art retains the singular character of place sought by the urban market. 
Develop a framework that can evolve and adapt over time. This phase is deliberately designed to integrate with and support a variety of developing adjacent sites, that include multifamily, townhomes and an office building. This is achieved through a philosophy of minimized parking and the reuse of existing alleys. 
Set a tone for future development of the remaining GSU campus buildout.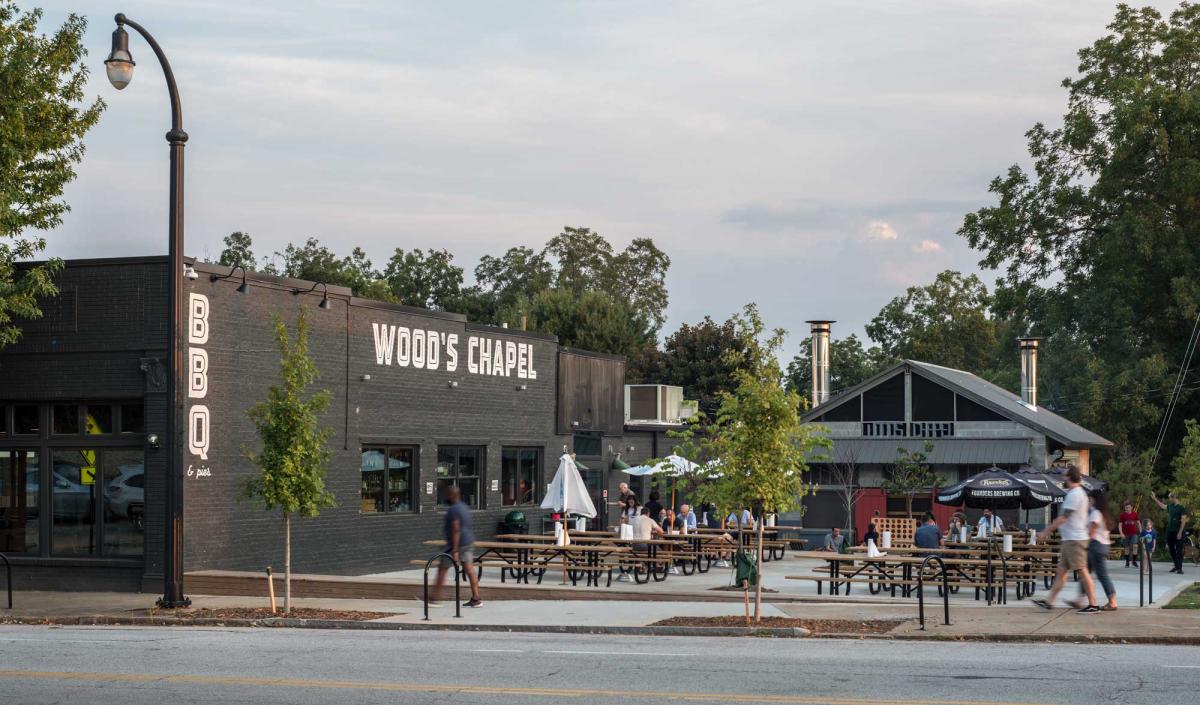 Like many main streets, the buildings accommodate activities throughout the day and evening, including offices, shops, and restaurants. Several of the buildings were not acquired by the developer—and so remain for future rehabilitation. 
Kronberg Urbanists + Architects of Atlanta led the planning, design, and renovation effort. 
"The rebirth of Georgia Avenue is resulting in a vibrant, walkable and culture-rich community, shining a light on one of our city's history-filled neighborhoods. With tenants including Wood's Chapel BBQ, Halfway Crooks Brewing, Little Tart Bakeshop, and more, the destination will be a place for local residents, entrepreneurs, academia and creatives to collaborate and enjoy," said David Nelson, executive vice president of Carter Developments, which is leading the redevelopment of the adjacent stadium property.