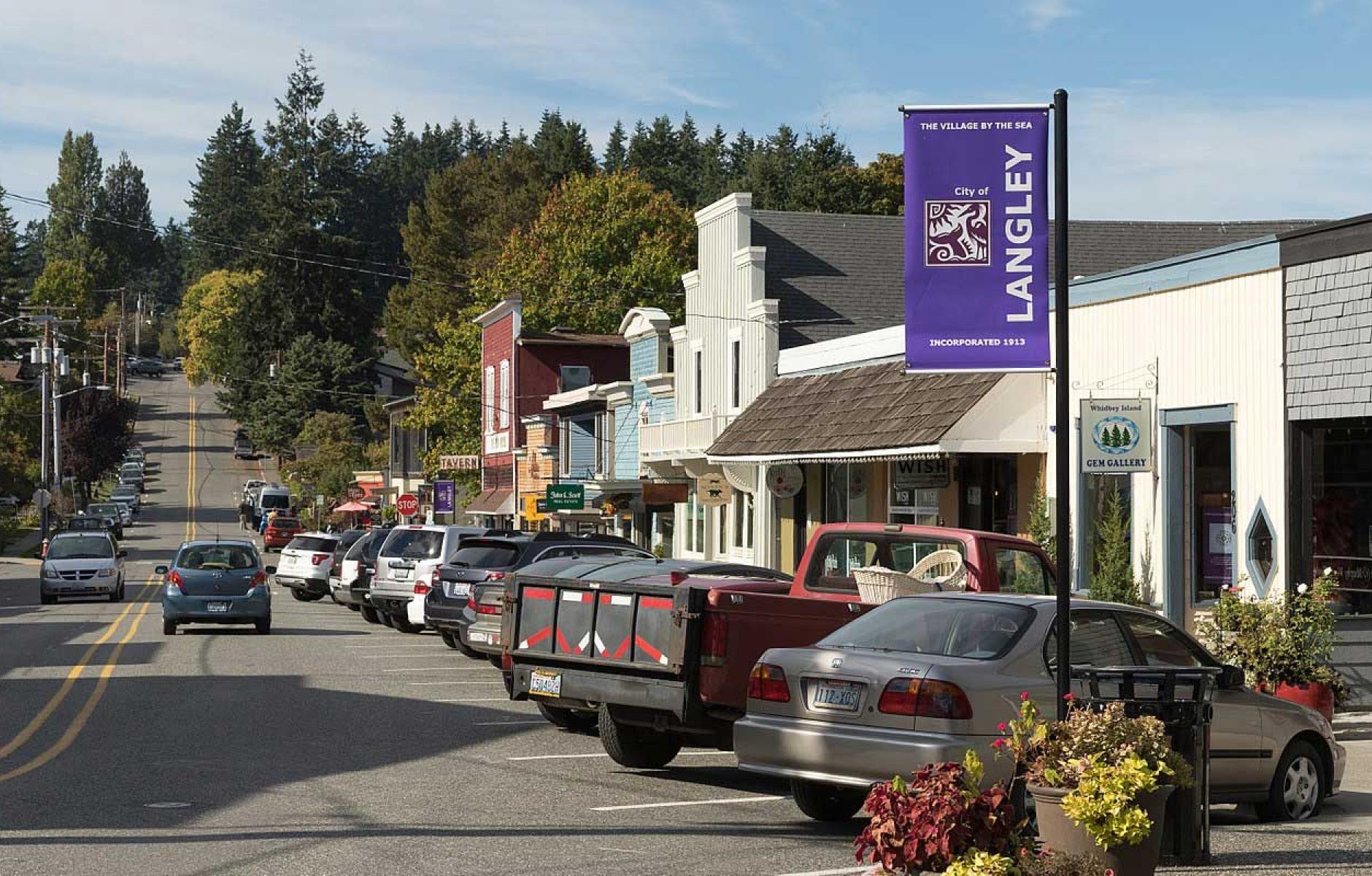 Main Street in Langley, Washington. Source: Wikipedia
How cities and towns can bounce back in the post-pandemic era
A toolkit highlights the power of land-use and transportation policy in recovery from the devastating impacts of COVID.
Now that vaccines are rolling out and new COVID cases are dropping in the US and worldwide, cities can begin to get a clearer view of what their world will look like in the post-pandemic era. To prepare for what is next, a great place to start is the Pandemic Toolkit, created by the new urbanist firm Placemakers with the help of other urbanists and translated into a half dozen languages.
In a On the Park Bench webinar last week, Susan Henderson and Hazel Borys explained the purpose and use of the toolkit, which is a "manual for rebuilding community health and opportunity" in the post-COVID era. Economic recovery and budget shortfalls will be major issues as the pandemic recedes, and the toolkit is all about using urbanism, land use, and transportation to solve problems.
Henderson made a great point: Many municipal officials are unaware of the power of land-use law when it comes to effective use of public space. Many officials don't have a clear picture of how much of the city's public realm is controlled by city government and the planning department, she says. 
"For those of you who are public planners, [the key is] to be able to advocate to elected officials about how much control really lives within zoning, and subdivision, and transportation planning, and how effective that can be when it comes to pandemic recovery."
In dealing with COVID, cities discovered powers and responses that they never considered before. When asked about her favorite response to the pandemic, Henderson mentioned Langley, Washington, population just over a thousand, which issued what she described as a "incredibly visionary" proclamation. 
"They simply empowered small businesses and enterprises to use the public right of way," she says. "When you moved a table out front, or a rack of merchandise onto the sidewalk, that was the point at which you triggered this agreement with the city. That's all you had to do, was show up, and you were approved. That is as lean and effective as it possibly can be."
Borys mentioned, in another part of the world, Vilnius, capital of Lithuania, where the city was turned into a "giant outdoor café. Restaurants are now permitted to set up tables in plazas and streets."
The toolkit is focused on "incremental urbanism" says Borys. "So many of these actions are also very essential for just great urban form."
The idea of "open streets" has been particularly inspiring, notes Henderson. The concept has cut through "years of red tape that is normally required to any sort of a street adjustment," she says.
The toolkit offers a 22-point checklist for municipal action relating to a pandemic.
Prioritize equity and justice.
Enable outdoor dining.
Develop outdoor café design guidelines.
Enable outdoor shopping, learning, and places of worship.
Allow in-home occupation.
Allow Accessory Dwelling Units.
Allow Accessory Commercial Units.
Enable pop-up bicycle lanes.
Expedite temporary uses.
Increase availability and access to nature.
Create open streets.
Implement the U.S. National Association of City Transportation Officials (NACTO) Streets for Pandemic Response and Recovery.
Reconsider legacy rules on the number of unrelated persons who can live in a home or apartment.
Contract with community-based organizations to provide early warnings of health threatening activities.
Develop a community engagement strategy.
Develop a tiny home code.
Implement a marketing campaign about how "gentle density" looks and how it can support a range of people during times of crisis.
Enable mixed use and update the zoning map.
Develop a pandemic preparedness plan.
Develop and steward a Business Innovation Grant (BIG) to support businesses transitioning to pandemic-resilient models.
Provide a lifeline package of broadband services.
Develop a data dashboard to track and monitor pandemic data.