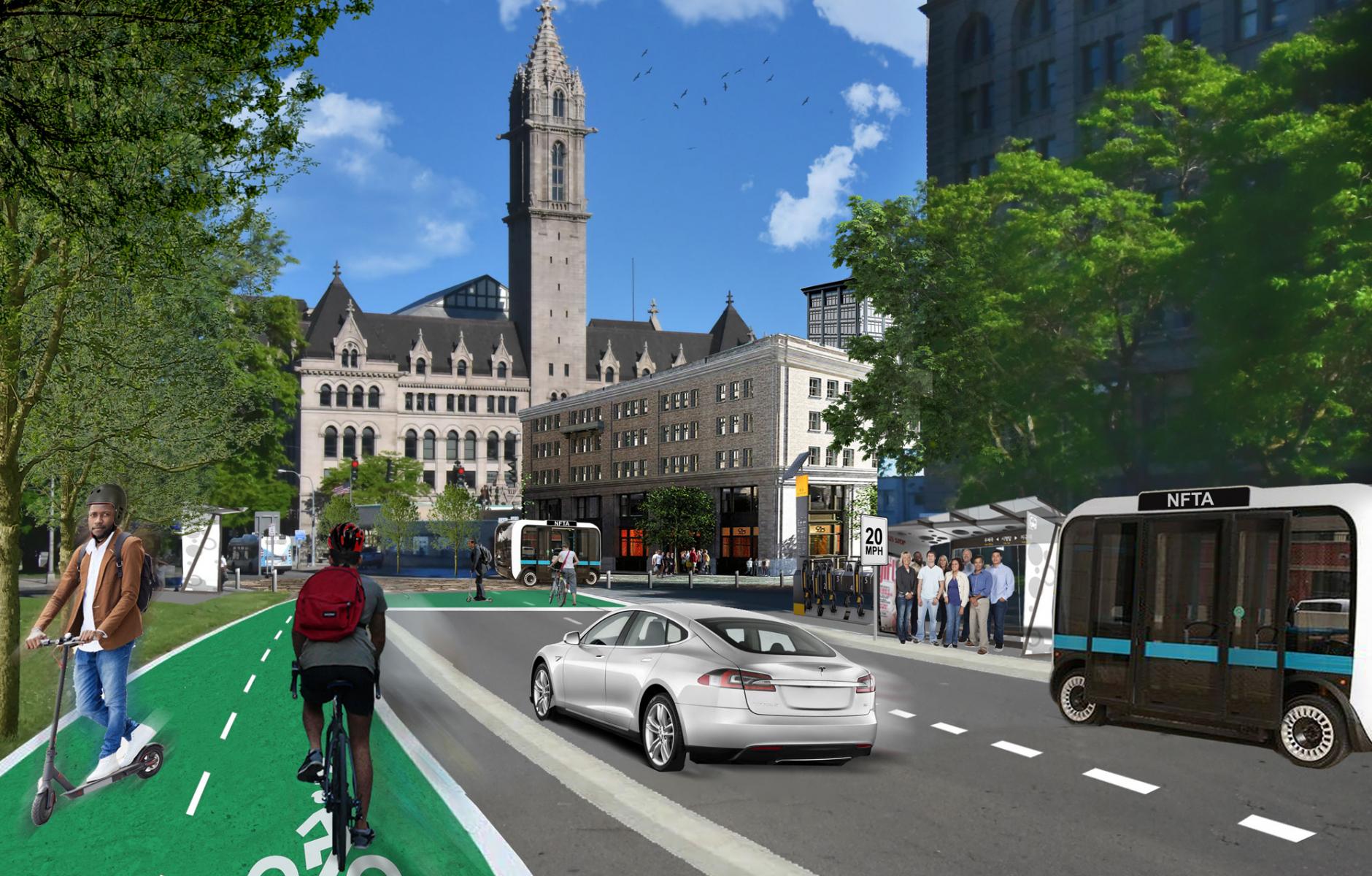 Rendering of South Division Street in Buffalo as an east/west mobility corridor connecting the innovation zone with Buffalo's East Side. Credit William Price, SWBR
A futuristic report on equitable mobility and investment
The City of Buffalo, Stantec, and CNU have created a roadmap for how mobility can power an equitable future in 21st century cities.
The City of Buffalo, along with CNU and Stantec's Urban Places, is releasing The Future of Mobility: Remaking Buffalo for the 21st Century. The report examines changing transportation technologies in a mid-sized US city that is attracting talent and investment— with the potential to lead to more walkable, accessible, and equitable urban neighborhoods.
The report specifically focuses on Buffalo, yet the ideas apply to cities coast to coast that are dealing with similar economic and technological change. This report is the first of its kind to combine a futuristic look at autonomous vehicles and micro-mobility with a realistic assessment of market trends, supported by urban design, in a specific district of a regional core city.
The Future of Mobility grew out of a four-day workshop held in Buffalo during the last week of February, 2020, just before the response to COVID shut much of the country down. The event focused on the Lower Main Street district of downtown—which currently includes a mix of grand old buildings from Buffalo's manufacturing heyday, surface parking lots, and 20th Century urban renewal-style development.
The plan would transform Lower Main Street into a Mobility and Equity Innovation Zone that "represents a national model for exploring community-building opportunities linked to mobility innovations." Key features include north-south and east-west Mobility Corridors, with share autonomous, and/or multimodal transportation. The north-south corridor, which is the most clearly defined at the moment, pairs light rail and low speed automated vehicles linking the district to high-tech employment centers—Downtown, Buffalo's Medical Center, and the State University of New York at Buffalo campus. This north-south corridor will focus on amenities, such as new "third places," to create an "Amenity Corridor" centered on a reclaimed public space, Shelton Square, at Clinton and Main streets.
This Innovation Zone is expected to spur redevelopment. In the next 10 years, the district could create 10,000-15,000 new jobs and 4,000-5,000 new living spaces. The plan aims to ensure that the zone "emerges as a genuine mixed-income community." The target is 30 percent affordable units, from very low income to workforce housing. 
"North America is on the cusp of unprecedented demographic, economic, and technological change," explains David Dixon, Vice President and Stantec's Urban Places' Fellow. "Buffalo, like many historically industrial cities—large and small—across North America, has a unique opportunity to harness a wave of mobility innovations as a tool to manage these changes."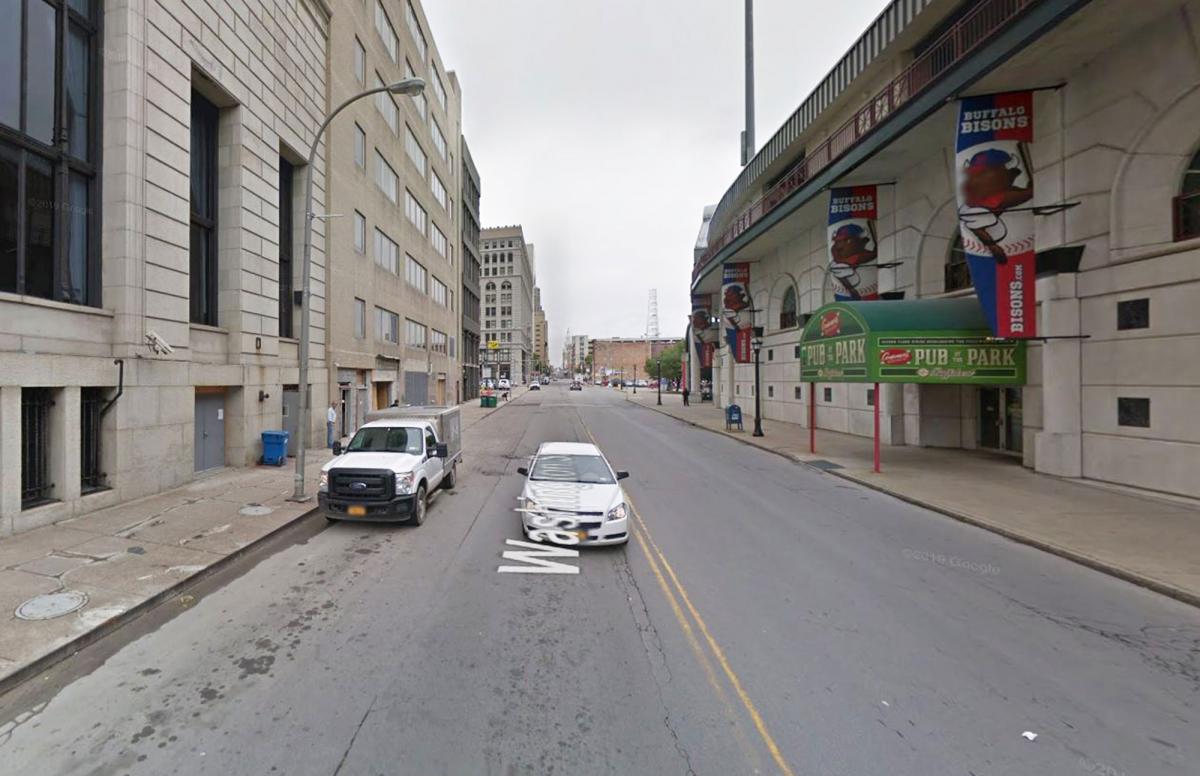 Timeline
"The goal is to be forward thinking, but also create a plan that is more than just words—an actual roadmap for implementing workable solutions," the report notes.In order to achieve that goal, the project will have many parts that are moving forward simultaneously. Many of the projects are expected to begin within a year, with most of the implementation underway by year six. 
Year 1: Develop an Urban Design Framework and create a robust public-private partnership to translate mobility innovations into a lively, inclusive mixed-use, mixed-income urban district.
Years 1-3: Create an enhanced Mobility Corridor along Main and Washington Streets that connects the zone to the other big employment centers. Introduce an automated shuttle—utilizing low-speed automated vehicle (LSAV) technology that can function in mixed traffic with short headways—to provide convenient, flexible, and demand-responsive mobility for shorter trips. Continue to rely on the existing Light Rail service along Main Street to provide faster service for longer trips along the corridor.
To capitalize on enhanced access, use innovative public/private partnerships to incentivize a critical mass of "third places"—cafés, breweries, restaurants, galleries, entertainment, maker spaces, and similar lively uses (many owned and operated by minorities, artists, and others who can bring added vitality, but will require help getting started) in new and existing buildings along the corridor. Connect the zone to Buffalo's economically diverse "East Side," via LSAV service.
Years 1-5: Incentivize intensive mixed-income housing, office, and innovation spaces on upper floors in new and rehabbed buildings along the Amenity Corridor—at densities typical of Downtown. New development will rely more on existing surplus parking rather than on building large quantities of new parking. The District includes land north of I-190 where new development will be incremental, on a building-by-building scale. Land south of I-190 will focus on district-scale development, including a diverse new urban neighborhood and street grid. Erie Community College (ECC), located in Lower Main, will be tapped to provide workforce readiness and job training in collaboration with new businesses in the zone.
Years 1-6: Reclaim historic Shelton Square and transform the Mobility-Amenity corridors into the zone's signature public realm—incorporating interactive public art and similar tools to tell everyone's story.
Years 6-20: Expand LSAV service to provide convenient, flexible, and demand-responsive mobility across the entire mobility and equity innovation zone.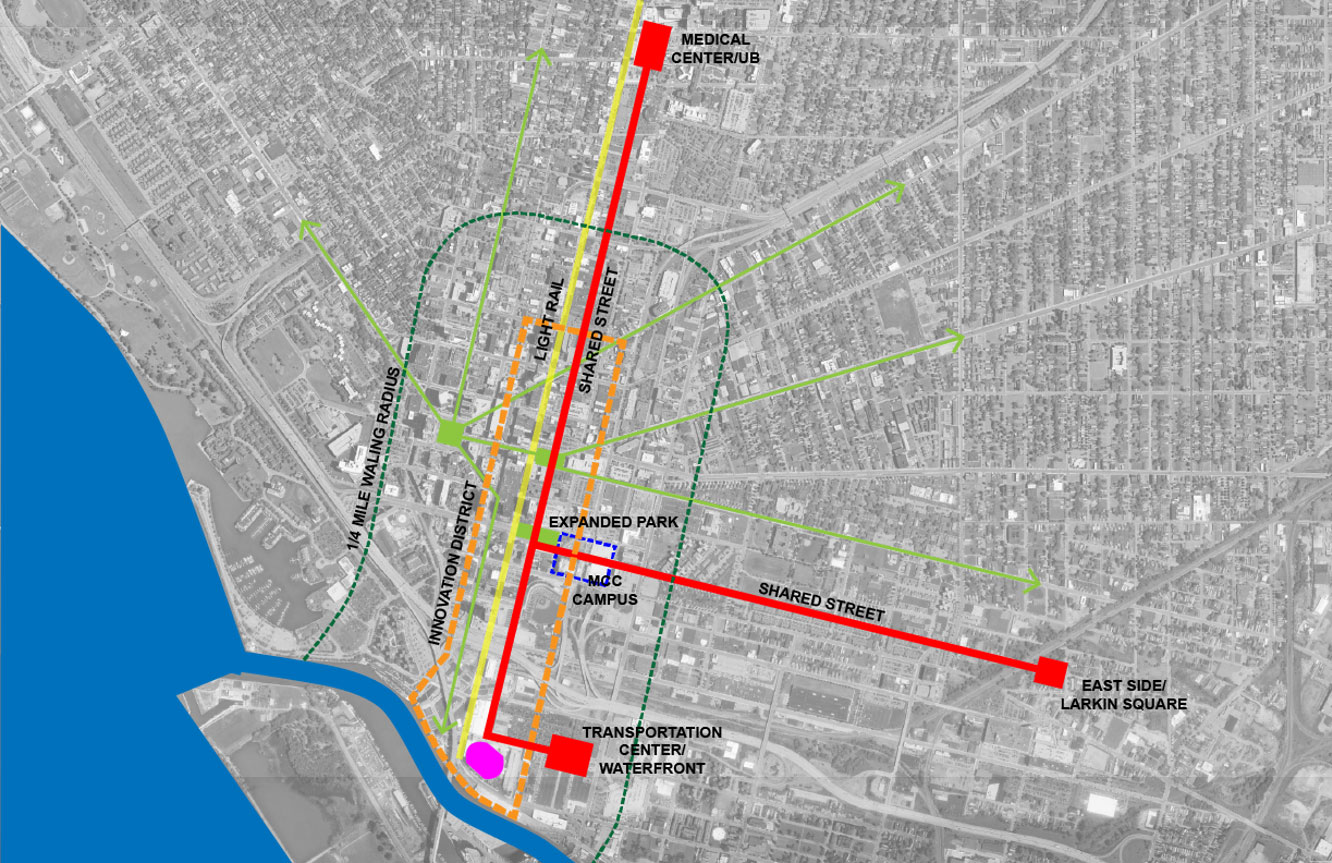 Implementation
Specific steps toward implementation are outlined in the plan:
Create a community-based Urban Design Framework, sponsored by the city, by June 2021—with adoption anticipated by late 2021. This Framework will provide the detailed roadmap for implementation of transportation, urban design, development, finance, and policy changes to implement the vision.
Establish Lower Main Street (legally) as a new Mobility and Equity Innovation Zone. Next steps include peer-reviewing innovation zones in similar cities, identifying target businesses that could located in the zone, and establishing tax and/or zoning incentives.
Create east-west and north-south Smart Mobility spines. The north-south corridor would be located on Washington Street, with an east-west spine on either (or all) of Division, Swan, or Exchange streets. Next steps include traffic analyses, designing conceptual cross-sections, testing sections with low-cost improvements like signage and paint, and prioritizing enhancements to existing services such as buses.
Create a Buffalo Strategic Development Fund. This would include funding from major sources, including the State of New York—e.g. "Buffalo Billion" funding and the state Department of Homes and Community Renewal—and local sources such as the Buffalo Urban Renewal Agency and Buffalo Urban Development Corporation. Financing would support infrastructure, landscaping, streetscapes, and buildings—all aspects of the public and private realm. Securing state funding commitments and adopting criteria for funding of specific projects would be key.
Accelerate re-imagining of downtown streets as public spaces for 21st Century. This step starts with a traffic study to review circulation and the potential for converting one-way pairs to two-way streets.
Manage the curb to prioritize "high people volumes," not cars. Moving to a system of shared transportation, including transportation network companies and micro-mobility, requires a rethinking of the use of the curb space.
Marry the Green Code with smart mobility. The city's unified development code, adopted nearly four years ago, is having a positive impact on quality of development—and it could be leveraged to promote smart mobility in the Lower Main district. For example, bicycle facilities as currently defined in the code might also include provisions for accommodating e-scooters, e-bikes, and similar vehicles. Also, incentives could be provided, such as density bonuses and expedited permitting, for new businesses and development projects within the Mobility and Equity Innovation Zone.
Incorporate workforce readiness, education, and training programs. This process would involve a public-private partnership with various entities. Erie Community College, located within the zone, was identified as a key provider of training.
Create new benchmark for universal design. Rather than incorporating universal design as an afterthought, accessibility and ADA compliance is central to the plan. The University of Buffalo Center for Inclusive Design and Environmental Access was identified as a resource.
Ensure that the Mobility and Equity Innovation Zone emerges as a genuinely mixed-income community. A major new development currently underway in Lower Main, 201 Ellicott, includes 200 units that are 100 percent affordable. The project is a model for how the city could achieve equity goals in the district.
To attract the talent that, in turn, attracts knowledge industry jobs and investment, Buffalo needs to leverage growing urban housing demand to spark redevelopment that makes downtown and urban neighborhoods more walkable and amenity rich. Improvements in mobility and technology can be leveraged to help achieve that goal. Simultaneously, Buffalo is seeking to create a district that provides housing, work, and culture for everyone in the city.
"With this report, the City of Buffalo now has a toolkit to steer the implementation of next generation mobility solutions so that they can serve the city and its people, not vice versa," says Lynn Richards, President and CEO of CNU. "While other cities are giving technology companies free rein to test self-driving cars on their streets, without considering consequences, Buffalo's approach is centered on its community first."