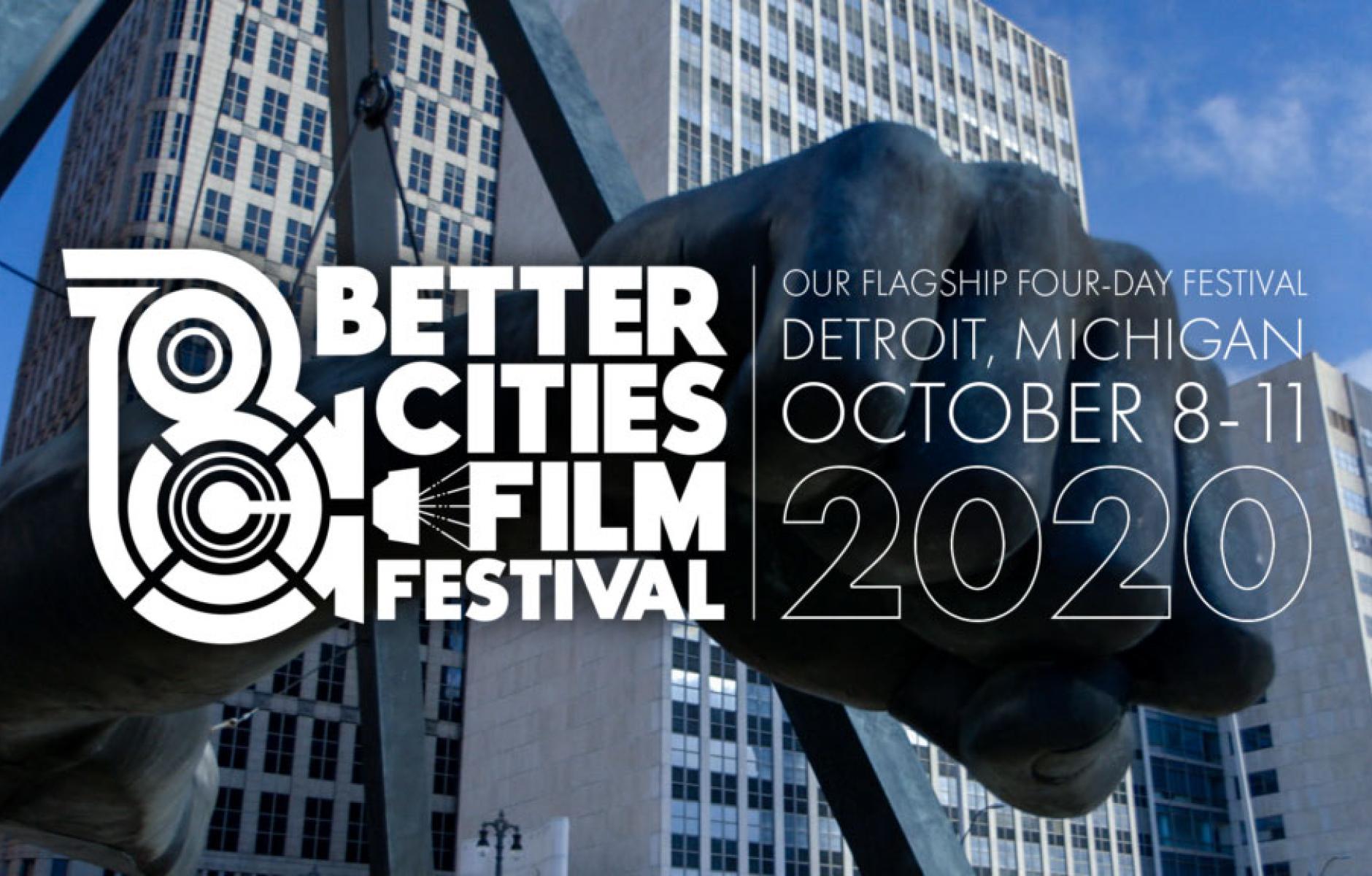 Festival spotlights urbanism films from around the world
Better Cities Film Festival, formerly New Urbanism Film Festival, will screen 81 films on urbanism from 25 countries.
The Better Cities Film Festival will be taking place virtually, "live from Detroit," and showcasing 81 films from more than 25 countries—all centered around cities and urbanism—on October 8-11. Films range from one- or two-minute shorts to some that are more than an hour in length. The judges include prominent new urbanists like Lynn Richards. Public Square interviewed festival director Josh Paget about this year's event.
Tell me a little about the Better Cities Film Festival, how long it has been going on, how has it grown, and what is the purpose?
The film festival was founded as a way to enlarge the conversation about how we build our cities and how the built environment affects how we live in community. Film screenings create a place outside of city hall and outside of the classroom where the public can discuss themes of urban design, economic development, architecture, and placemaking. 
The festival was founded in 2013 as the New Urbanism Film Festival in Los Angeles.  After organizing other events like book groups, group bike rides, and educational walking tours, we wanted a medium where we could show the improvements New Urbanism practices had made in other cities. Films had that unique ability to transport audiences to these other places.  By showcasing progress in other cities, the festival essentially created a local demand for these types of projects, rather than a resistance to change.
Over the years, the festival has received more film submissions from all over the world. One way in which the festival has grown, which I hadn't anticipated, was becoming a traveling festival. We work with local organizations in cities big and small all over the world, to create custom screenings on issues important to their local communities. We host these "themed" screenings on any number of topics from active transportation, tactical urbanism, environmental issues, and economic development. In this role, I get to talk to people and learn about their cities and how they are making them a better place and how we can join them in that progress. It is an incredible honor to be able to contribute to positive change in this way. 
In 2019, the New Urbanism Film Festival was renamed the Better Cities Film Festival—what was the idea behind that?
Our mission has always been to curate films about people who are making their neighborhoods a better place. The name change reflects that mission more succinctly. We all want better places to live, learn, work, and play. 
What are the general themes running through the films this year, and how do they differ from previous years?
The festival has a more global representation. This year there are over 80 films from 26 different countries. Which is a great thing, especially during Covid, because audiences get to see so many different places through all these films. This increased global representation is due to a combination of factors working together. First, the fact that the festival screened films at the World Urban Forum in Abu Dhabi in February. In addition to that, some of the growth is due to the name change—the rebranding is more inviting to a wider range of people. And lastly the festival can now boast of its longevity, having seven years in operation is an impressive feat for a film festival.
Each year we have short films divided into categories. Every year we feature the six main categories: Transportation, Technology & Innovation, Communities, Economies for All, Planning & Design, and the Environment. Each year we also have new categories that emerge from the stories filmmakers are capturing each year. This year we have seven additional categories. Two categories of particular interest are NextGen & Cities and Water & Cities. NextGen & Cities has several short films that examine the experience of the city as told from youth perspectives, from ages 4 to 24, and from cities in the US, Sweden, and Vietnam. Lots of powerful lessons for how we all experience the city at any age. Water & Cities is a new category that groups short films that explore our connection to water. For some communities it is cultural identity, for some it is transportation, still for some the very thing they need to exist. Other categories unique to this year are: World Games, Architecture, Engineering, Bicycling, and Housing. 
What are the films that are of particular interest to new urbanists?
The short film block "Better Planning & Design" is great this year. This program has films from France, Colombia, Mexico, Chile, the Netherlands and the U.S. It is a great kind of "world tour" feel because you get to see so many different places even during this Covid time. 
I also think the category "Better Transportation" has a great mix of fun, silly films that show off the eclectic nature of transportation as well as some really moving, compassionate portrayals of how transportation affects communities. When I think of CNU gatherings, I always feel they straddle those two poles. Fun light hearted events, but the work is a compassionate approach to civic problems. This short film block will touch on both those. 
In this Covid year, how has the film festival changed? As opposed to the usual physical festival, how can the CNU audience engage the virtual festival?
In 2020, the festival will be a virtual event. All of the feature length documentaries and short film blocks will be available for purchase as a video on demand. They can be watched on your computer, AppleTV, or Roku. Short films are divided into categories: planning and design, architecture, economies for all, transportation, technology and innovation, etc.  
You can purchase a ticket to one screening or to the whole festival. Most individual screenings are $8-10 and a festival pass is $150. There's 26 events in all.  All of these screenings can be browsed at bcff2020.eventive.org We list all the films, their descriptions, and if available you can watch the trailer for most films. 
We are also planning virtual events with filmmakers and CNU leaders. We have workshops, panel discussions, Q&A sessions with filmmakers, and virtual happy hours. 
Lastly, we have a Facebook group, BCFF2020 Festival Lobby, which we hope will be an ongoing resource for people to connect to the projects and people featured in the film. During the festival, you might see a film about a tactical urbanism project or designing for disability, and later you might want to connect with them to collaborate on future projects, this group can be an ongoing network and resource.