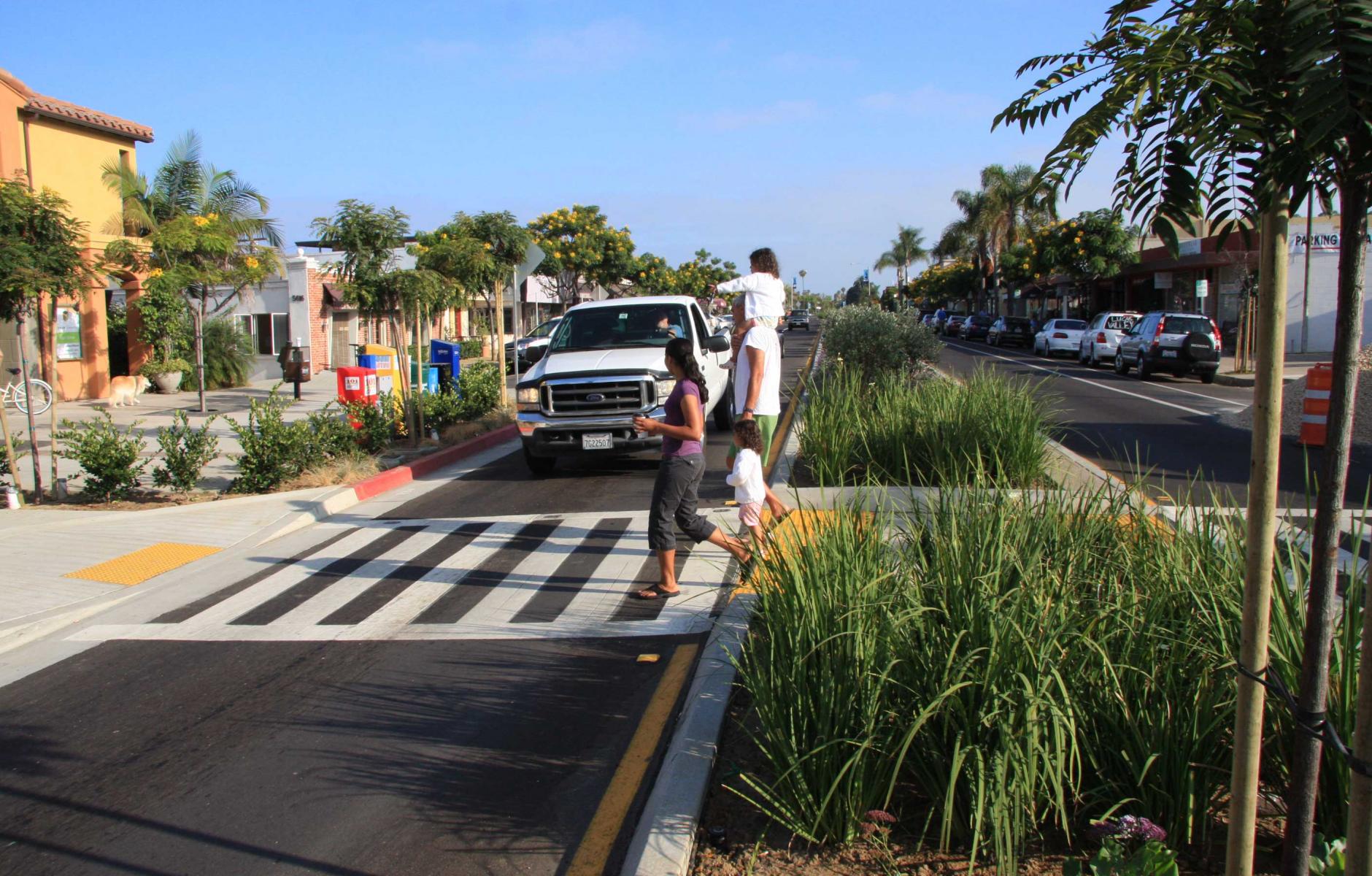 Redesigned suburban thoroughfare in Bird Rock, San Diego, California. Source: Dan Burden
Building community through transportation
To meet the challenges of the 21st Century, traffic engineers and transportation planners need to think of streets as places and the foundation for community.
Up to the middle of the last century, we built thoroughfares that formed the bones of mixed-use, complete communities. After that, for six or seven decades, we built thoroughfares to primarily move automobiles. 
The former method creates places of long-term value that have come back into popularity and are expected to be in great demand for the next three decades. The latter method is efficient for building single-use shopping centers, office parks, and subdivisions of single-family houses—which are oversupplied today.
Housing researcher Arthur C. Nelson suggests that in order to head off a housing and real estate crisis, we need to reform land-use, zoning, and finance regulations to allow for the mixed-use, walkable communities. He further suggests that suburbs, particularly on the land now used for dead or dying shopping malls, need to be retrofitted as walkable town centers.
Nelson's thinking is in line with other experts on the importance of suburban retrofit. But a key point is missing from this analysis: The streets have to be transformed. You can't have a walkable place in a retrofitted suburb without retrofitted streets. According to leading urban planner Victor Dover, the street redesign must happen first, or concurrently. Dover explains that buildings facing hostile streets will naturally be designed to turn their backs on, and be placed at a distance from, those streets. Automobile-oriented streets are a self-fulfilling prophecy of automobile-oriented places.
In Nelson's report The Great Senior Short Sale, he describes a looming—albeit slow-moving—real estate disaster due to a mismatch between housing supply and changing demographics. He recommends land-use regulatory changes to avert that crisis. 
But walkable communities are not just a housing issue. They are first and foremost, as Dover suggests, a transportation issue. Nelson argues that the nation faces a crisis in the next two decades if we do not retrofit key parts of suburbs to make them more walkable. He suggests that entire suburbs don't have to change—only critical places where there are opportunities, such as dying shopping centers. We will fail to avert the crisis if the traffic engineers and transportation planners don't provide walkable infrastructure in these opportunity areas.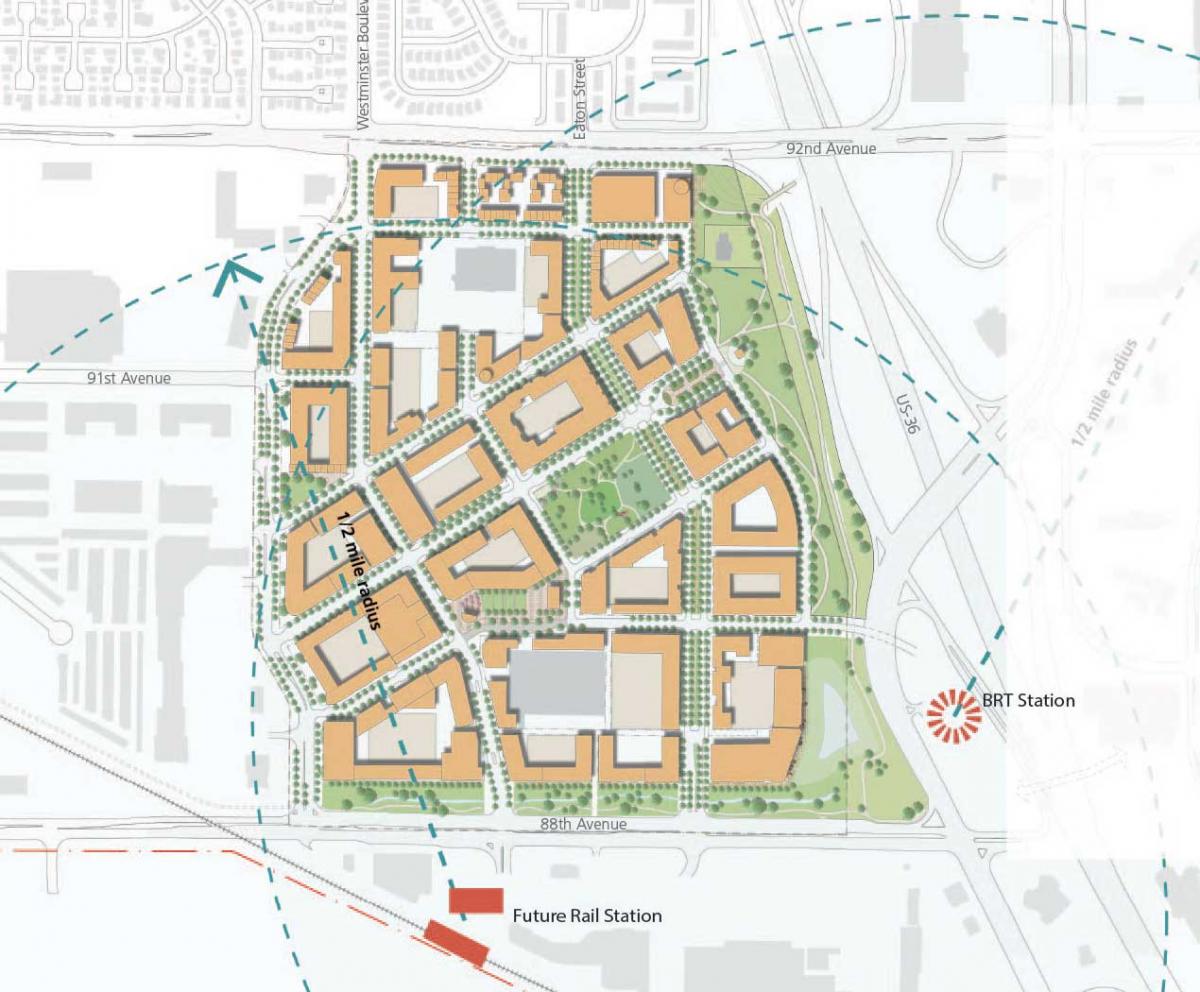 Civil engineers and transportation planners built many things in the 20th Century—among them highways, bridges, stormwater drainage, and water and sewer systems. But they also were preventers of walkable communities. Now we need these practitioners to be builders of walkable communities. We need this in order to meet America's housing and communities needs in the 21st Century.
I first heard "building community through transportation, rather than transportation through community" in a recent presentation by Gary Toth, a long-time engineer with the New Jersey DOT, who is associated with the Project for Public Spaces and is a member of CNU. This quote of Toth's perfectly sums up the challenge of street design and construction in 21st Century America. 
The 20th Century saw highways that tore through cities, and suburbs coast to coast were divided by arterial and collector thoroughfares that are hostile to anybody outside of an automobile.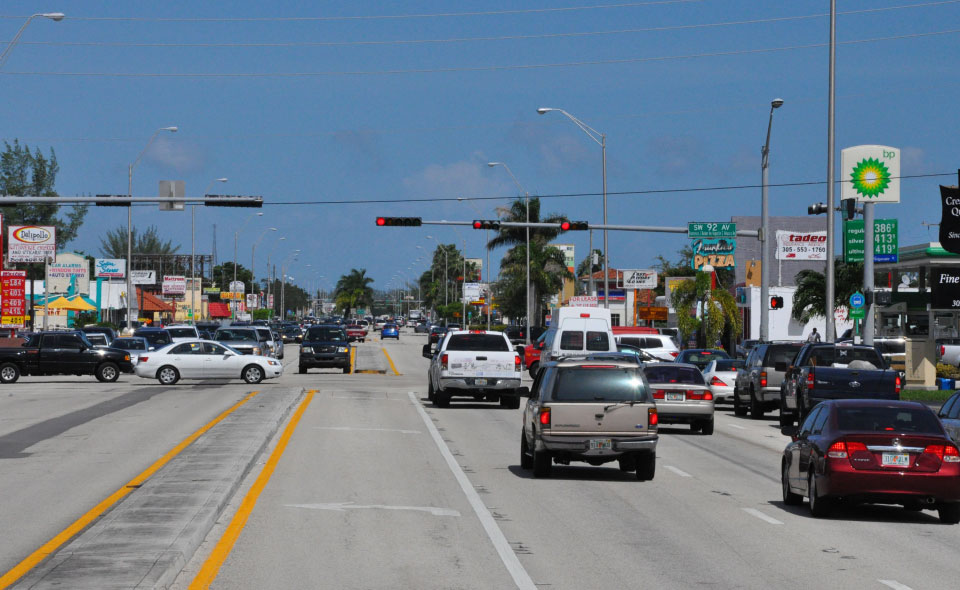 These were built at a time when the car was king and most families wanted a large-lot single-family house in the suburbs. Now, as Nelson describes, the market has changed and we are stuck with a legacy of too many large-lot single-family houses in unwalkable places. The preference for living in a walkable community is 70 percent among all households, and the highest preference is among young households (73 percent for those headed by someone under 35 years of age). The supply is currently only 22 percent, he reports.
So bridging that gap—between 70 percent and 22 percent—is one of the nation's great planning challenges today. More immediately, the US economy took a tremendous hit due to the novel coronavirus—and also the political upheaval that has torn through communities. Cities and suburbs desperately need to restart their economies. Dover points out the economic importance of the public realm. Streets and public spaces—i.e. the public realm—are where the impressions of the whole city are formed, he explains. "That's crucial everywhere, but especially places that need to attract population and investors for revitalization, and in tourist destinations."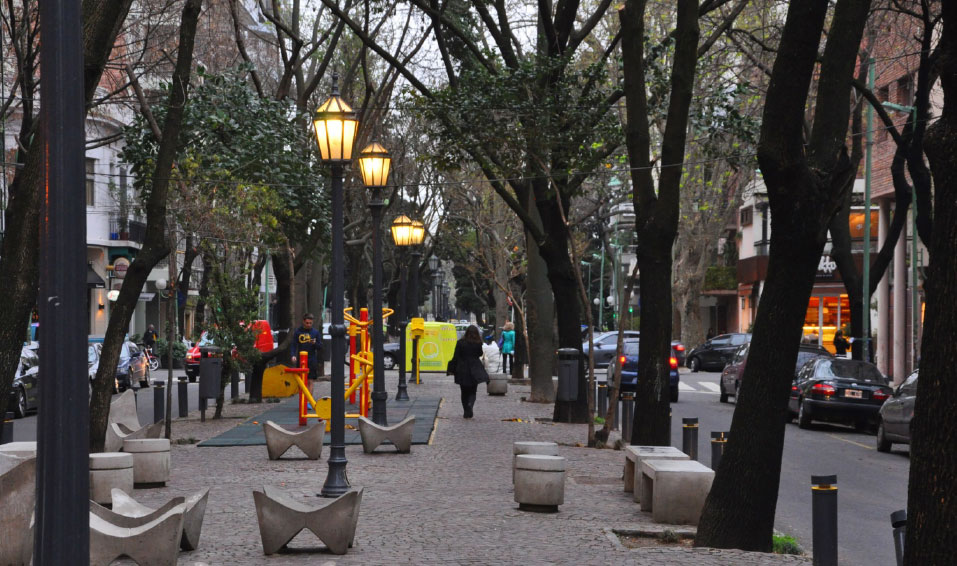 Making appealing and people-friendly streets is critical for every city that needs to attract revitalization and population, which is most cities in these times. Building community through transportation is the key. Dover describes five key characteristics of all "streets that work." 
1) They are "shaped." The buildings form the walls and the trees often form ceiling of an "outdoor room."
2) They are comfortable. They are shady in the summer, when most people are walking. Shade can be provided by trees, canopies, awnings, porches, and other physical elements.
3) They are connected. There are many ways to travel through, and the blocks are relatively small.
4) They are safe. Traffic moves relatively slowly and is separated (usually) from pedestrians. There are "eyes on the street" and few blank walls. The presence of other pedestrians helps to make a street feel safe.
5) They are memorable. "Streets make lasting impressions when beauty surrounds us and human creativity is on display." This can take the form of art, architecture, signs, and landscape design.
These ideas and goals are not rocket science. But the do require thinking beyond travel lane width, the number of travel lanes, the material of the pavement, traffic signals, regulatory signs, speed limits, curbs, gutters, drainage, and the like. All of these elements are important, but they are not the essence of streets that create community and long-term value and will meet the needs of cities and towns through the middle of the 21st Century.
To meet the challenges of the 21st Century, traffic engineers and transportation planners need to think of streets as places and the foundation for community. The future of America's cities and towns depends on that mindset.