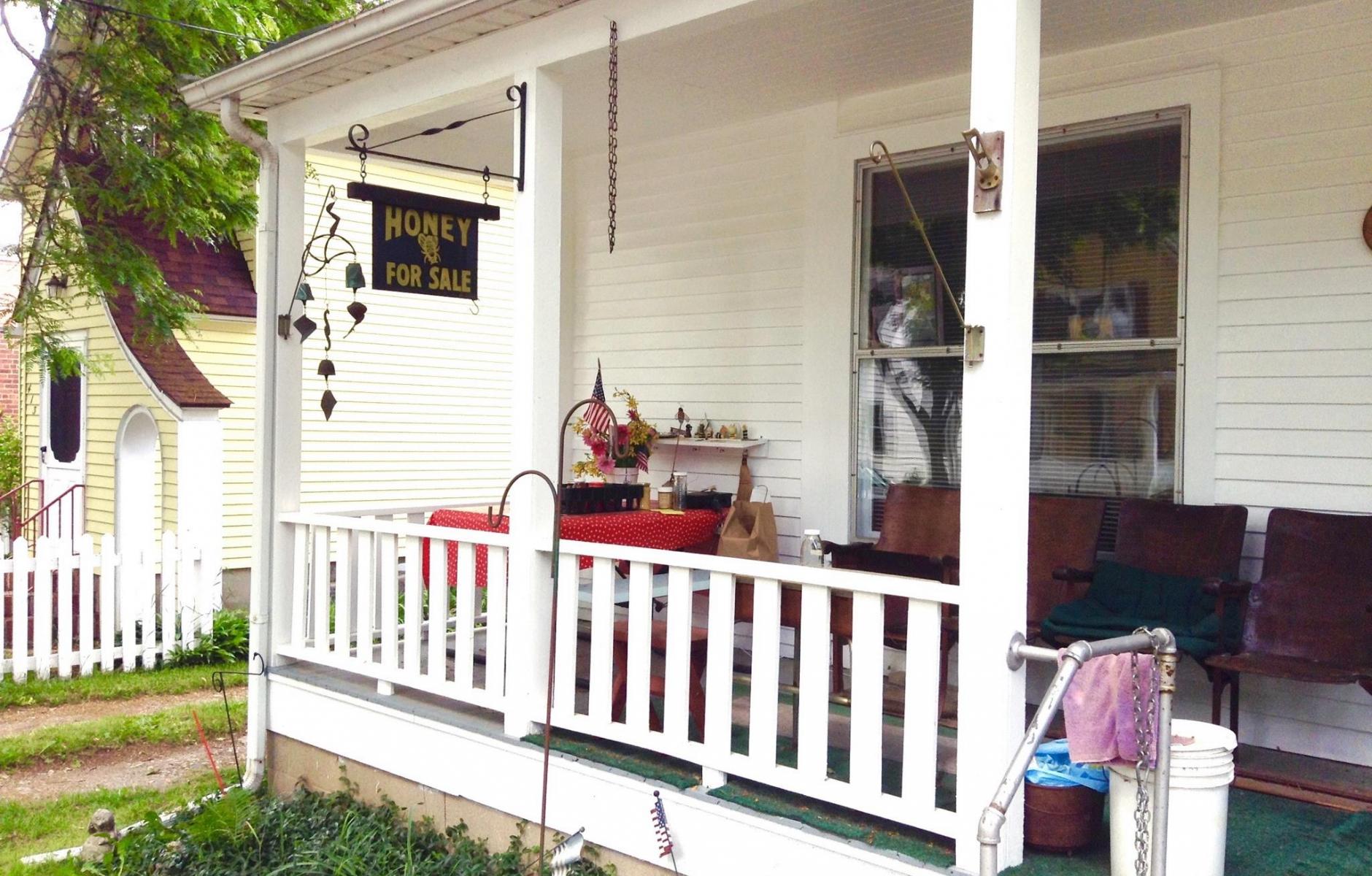 Home-based businesses can be found throughout the author's Workshop Neighborhood. Source: Kit Krankel McCullough
Housing in Workshop Neighborhoods
As more residents work from home—even after Covid-19—neighborhoods will include more variety in housing types and the way they are used. Part 2 in a two-part series.
"Workshop Neighborhoods" are communities where a high proportion of residents work out of their own homes. They tend to be found in walkable places with a high quality of life. They will be neighborhoods of choice as more workers continue to work at home.
In the first article of this 2-part series, I discussed the overall characteristics of Workshop Neighborhoods, as exemplified in the neighborhood where I live, in Ann Arbor, Michigan. Here I focus on their housing features. 
Missing middle housing
Demand for missing middle-scale housing was high before the pandemic. As Millennials enter their thirties, they are aging out of all of those downtown microunits that were built for them and are looking to rent something larger or even buy their first home. But they still want walkable urbanism and are less interested in the free-standing houses with big yards sought by previous generations.1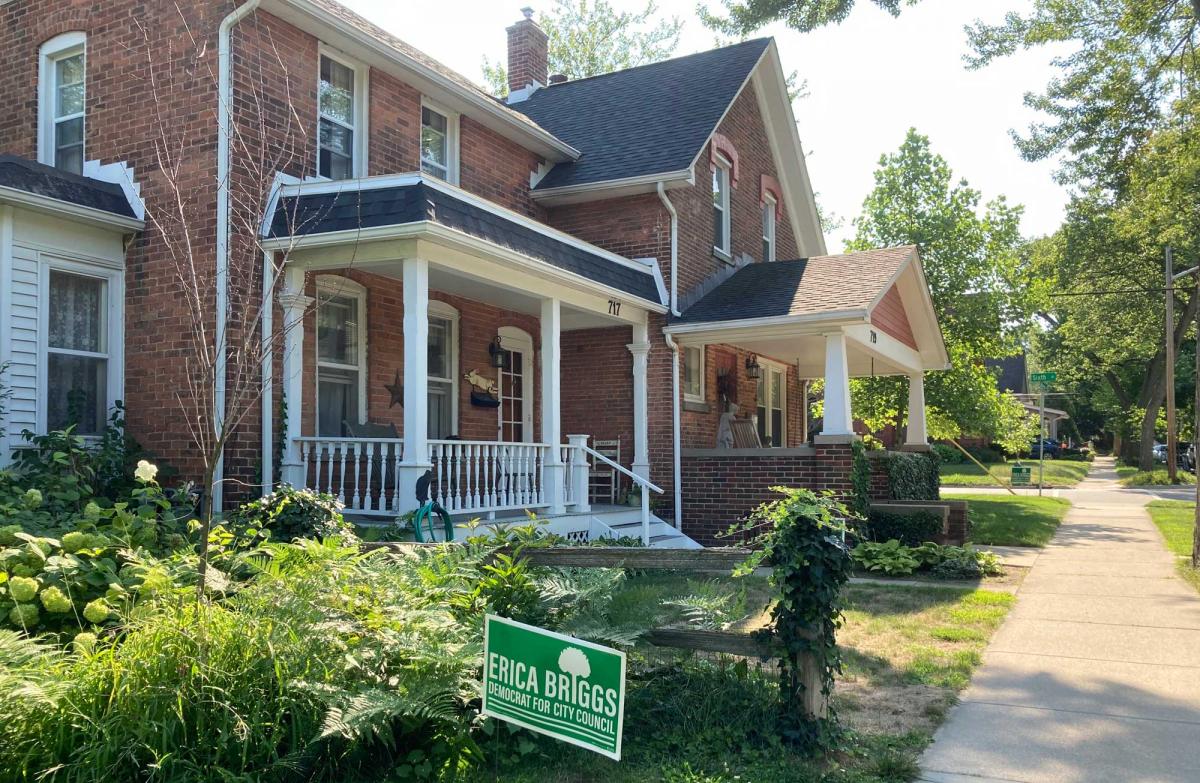 Now with telecommuting, not to mention fear of future lockdowns and stay-at-home orders, the move from small apartments to larger units is accelerating. When you have to hold your Zoom meetings in the bathroom because it's the only private space your urban studio apartment affords, downtown high rise living loses its allure. Those who can afford it are considering permanently leaving their cramped, expensive, urban rentals. Two-thirds of people recently surveyed on Zillow who have been working from home during the pandemic said they would consider moving in order to have more room to continue to do so.2 People also now want the private entrances and personal outdoor space that missing middle housing can provide. There will continue to be high demand for townhouses, duplexes, and other small multi-unit buildings.
Multigenerational Housing
There is one aspect of my life that isn't working so well during the pandemic—the accommodation, or lack thereof, of the return of our college-student son. He had just flown the nest and established himself as an independent grown up. Now he's back in his childhood bedroom, trying to go to Zoom classes by day and Zoom parties by night. Late into the night. He's reacquainted himself with which treads creak on the stairs as he creeps down to the kitchen to cook himself a midnight meal. He isn't happy with the lack of privacy and neither are we. If only we had a "teenager's cottage." This is one of my favorite patterns in Christopher Alexander's A Pattern Language.3 A Pattern Language speaks eloquently of meeting the needs of different generations within our communities, including the recommendation that teenagers be given a separate room with a private entrance, far from the master bedroom.
Even before the pandemic there was significant demand for multigenerational housing. A recent survey found an astonishing 41 percent of people in the market for a new home wanted to be able to house a parent or adult offspring. A Pattern Language calls for a flexible outbuilding that can be used for this purpose, whether it is a teenager's cottage, an "old age cottage," or for "rooms to rent." (predicting Airbnb!) In other words, what we would call today an ADU. In addition to ADUs, some of the smaller Missing Middle housing types provide additional units that can house extended family members.
Home workshop
Another trend accelerated by the pandemic: people want their homes to accommodate work. Many of us, whether we're seasoned telecommuters or unexpectedly working from home during the pandemic, find ourselves commandeering the dining table or otherwise repurposing a space intended for a different use. As home offices and workshops become a more explicit component of our homes, we have the opportunity to design these with more intention. 
A Pattern Language anticipated this too. The pattern "Home Workshop" calls for places of work to be embedded within housing. According to A Pattern Language the most important characteristic of a home workshop is its relationship to the street, as this relationship can enlarge the connection between the worker and the community. The public nature of work, as part of the public domain, is especially valuable in a neighborhood. Accordingly, it should be designed with "at least a glancing connection so that people can see in and out; and perhaps a full connection, like an open shop front." The workshop should be located "so it can be seen from the street and the owner can hang out a shingle."
The connection of work to the larger community may be the defining characteristic of Workshop Neighborhoods: "The people working there have a view of the street; they are exposed to the people passing by. And the people passing learn something about the nature of the community. The children especially are enlivened by this contact."  
Convertible garages
If you are not driving into work every day, you need fewer cars. Households (like mine) will make the calculation that a car that spends most of its time sitting in the driveway simply isn't worth the expense and upkeep (as we did.) People will go car light, retaining only one car for the occasional trip into the office or far-flung errand, or they may even go car free, relying on a car share like Zipcar for those errands.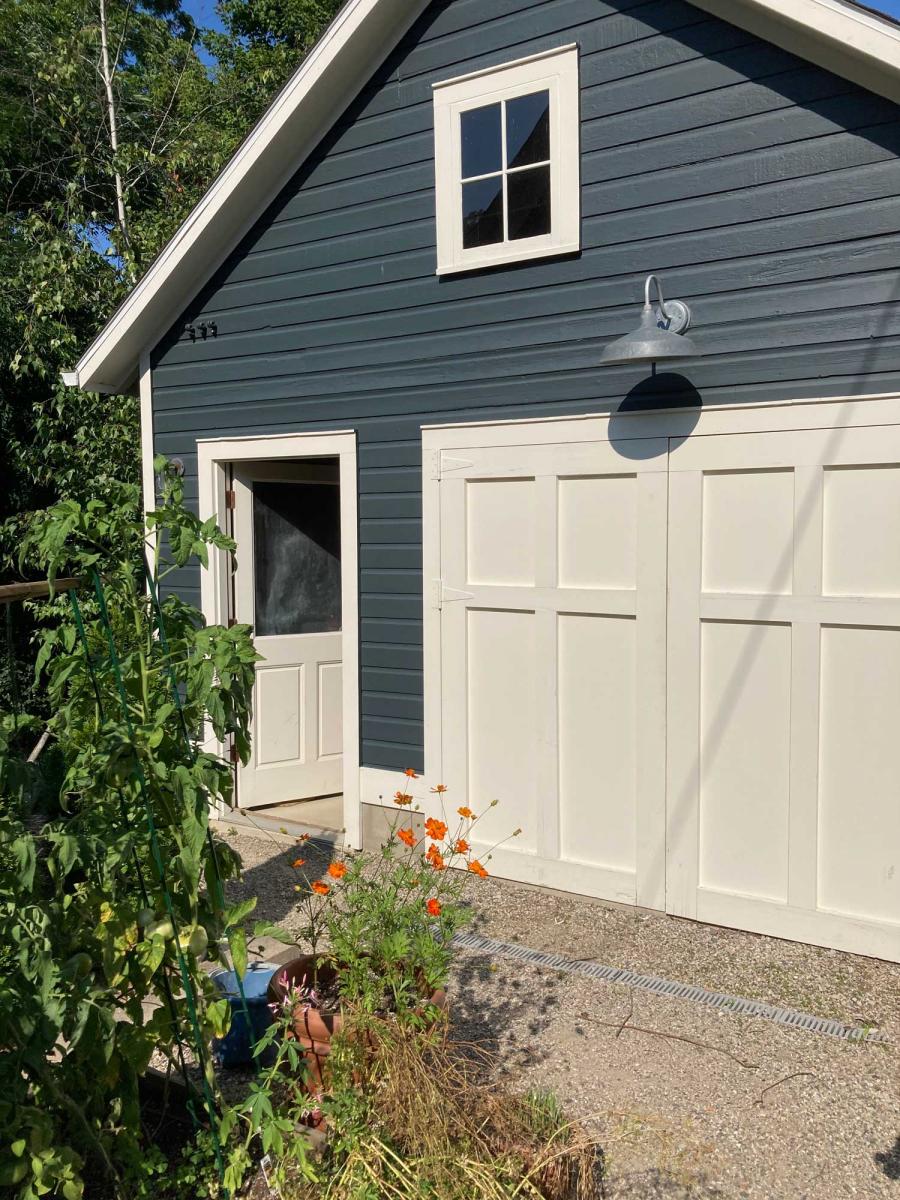 One space that is commonly repurposed for work is the garage. My own garage has been converted into a home office, while our car lives on the street. (The former driveway is now a vegetable garden.) As households own fewer cars, garages can be designed to have more flexibility. At CNU28, Andres Duany showed post-pandemic housing with garages that can be converted into workshops. Better yet, design workshops that can be used to store cars, if that is their best use. And instead of driveways, design sidewalks with mountable curbs. This preserves the sidewalk realm and allows the curb to be used for street parking, deliveries, or drop off/pick up when the driveway isn't in active use. These workshop/garage spaces can also be designed as Accessory Commercial Units that convert into small retail shops serving the twenty-minute neighborhood.
Coworking Spaces
Not every telecommuter will want to — or be able to —work at home. Even if they are not making a long trek to downtown corporate headquarters, they may prefer to go to an office nearby. Or they may need conference space or other services to supplement their home office. There will be a need for coworking spaces in Workshop Neighborhoods for people who can work remotely but don't want to work at home. Coworking spaces can also provide flexibility and options for companies looking to quickly and affordably set up decentralized offices closer to their employees. Fulton predicts this will become a potential use to fill the empty retail spaces in strip malls.
Affordable Housing
We must recognize, too, that not everyone has the means to telecommute. As Fulton points out, the ability to work remotely applies to only part of the workforce—"office workers who sit in front of screens and move information around," as he describes them. A huge portion of the workforce will remain tied to a daily commute because they do work that must be done in a particular location.
During the pandemic lockdown, we learned that many of the workers who must commute are essential to a functioning society. Doctors, nurses, ambulance drivers, and other healthcare workers. Grocery store clerks and delivery workers. By their absence, we learned that teachers and childcare workers are essential, too. We also learned that these essential people are often female and people of color, and they are for the most part woefully underpaid. We learned that these people often live in neighborhoods that were hit hardest by the virus because they are segregated and unjust—with poor environmental quality, without necessary services, and without access to adequate transportation.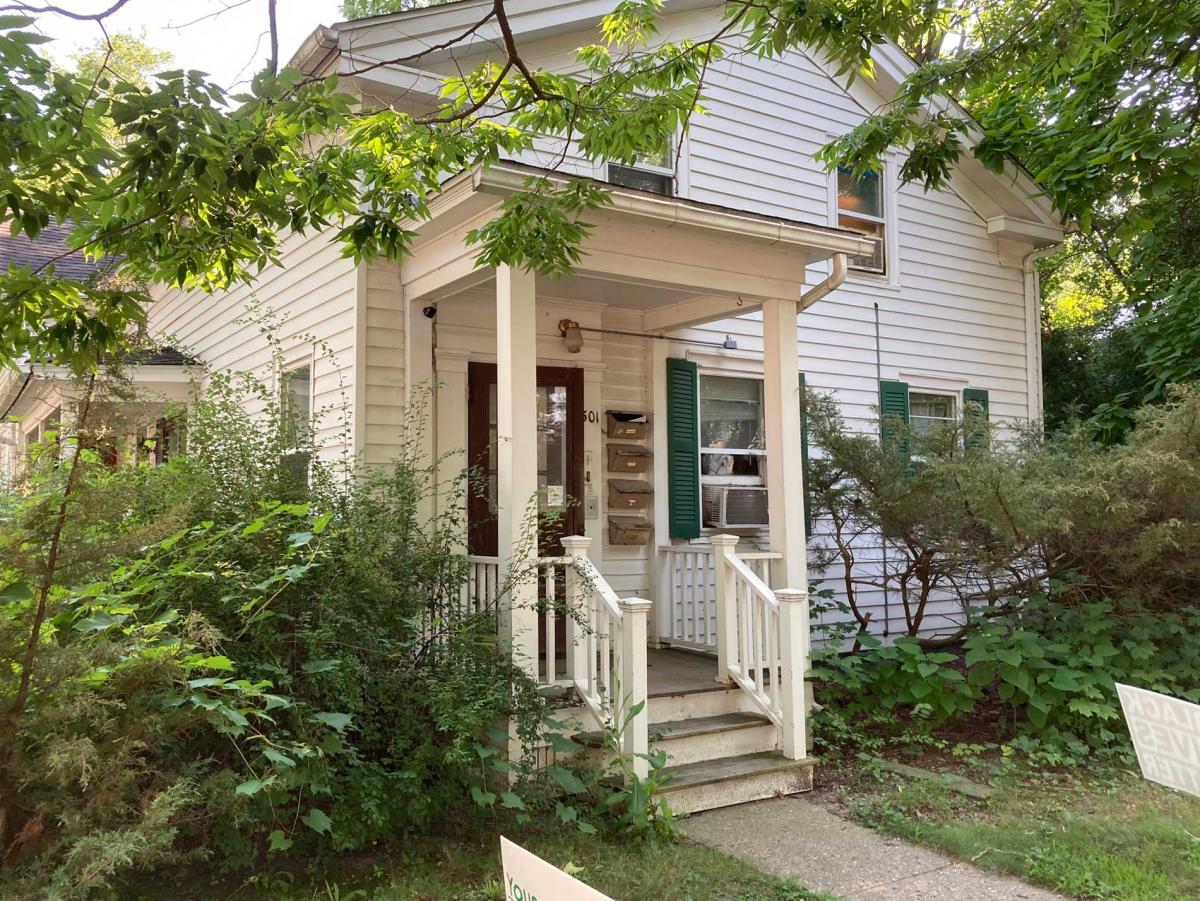 As Workshop Neighborhoods develop, we must build in a diversity of housing that permits economic diversity, rather than continue to physically segregate our society. For those that work service jobs in Workshop Neighborhoods — serving the coffee, stocking the grocery shelves, caring for the children — we must provide housing nearby so they can walk or bike to work. For those with longer commutes to workplaces outside the neighborhood, we must provide access to viable transit and other safe, affordable modes that can accommodate the off-peak commutes these workers often need to make.
Missing middle housing can be built with a diversity of unit types and sizes, including shared and smaller units, to accommodate people of different income levels and at different life stages. The walkability of Workshop Neighborhoods contributes to their affordability as well, by allowing households to forego the financial expense of owning multiple cars. In addition to providing options for car free households, reducing the amount of on-site parking can lower the cost of housing in multiple ways: decreasing the lot size and overall amount of land needed for each unit; increasing the number of potential units on a site; and eliminating the cost of building garages.4
As our lives become more centered around home, we become more grounded in our communities. Even more people will want to live in walkable, mixed-use neighborhoods like mine. And I don't blame them.
See Part 1 in this two-part series.
1 Arthur C. Nelson, "Missing Middle Housing: Demand and Benefits." https://www.newpartners.org/2017/wp-content/plugins/schedule-viewer/data//Thursday/1.30-2.45pm/Missing%20Middle%20Housing/Nelson.pdf
2 Urbanism Next, "Covid-19 Topics: Land Use and Real Estate." https://www.urbanismnext.org/covid-19/land-use-real-estate
3 Christopher Alexander et al. A Pattern Language: Towns, Buildings, Construction, Oxford University Press 1977. 
4 Dan Parolek, Missing Middle Housing, Island Press 2020.