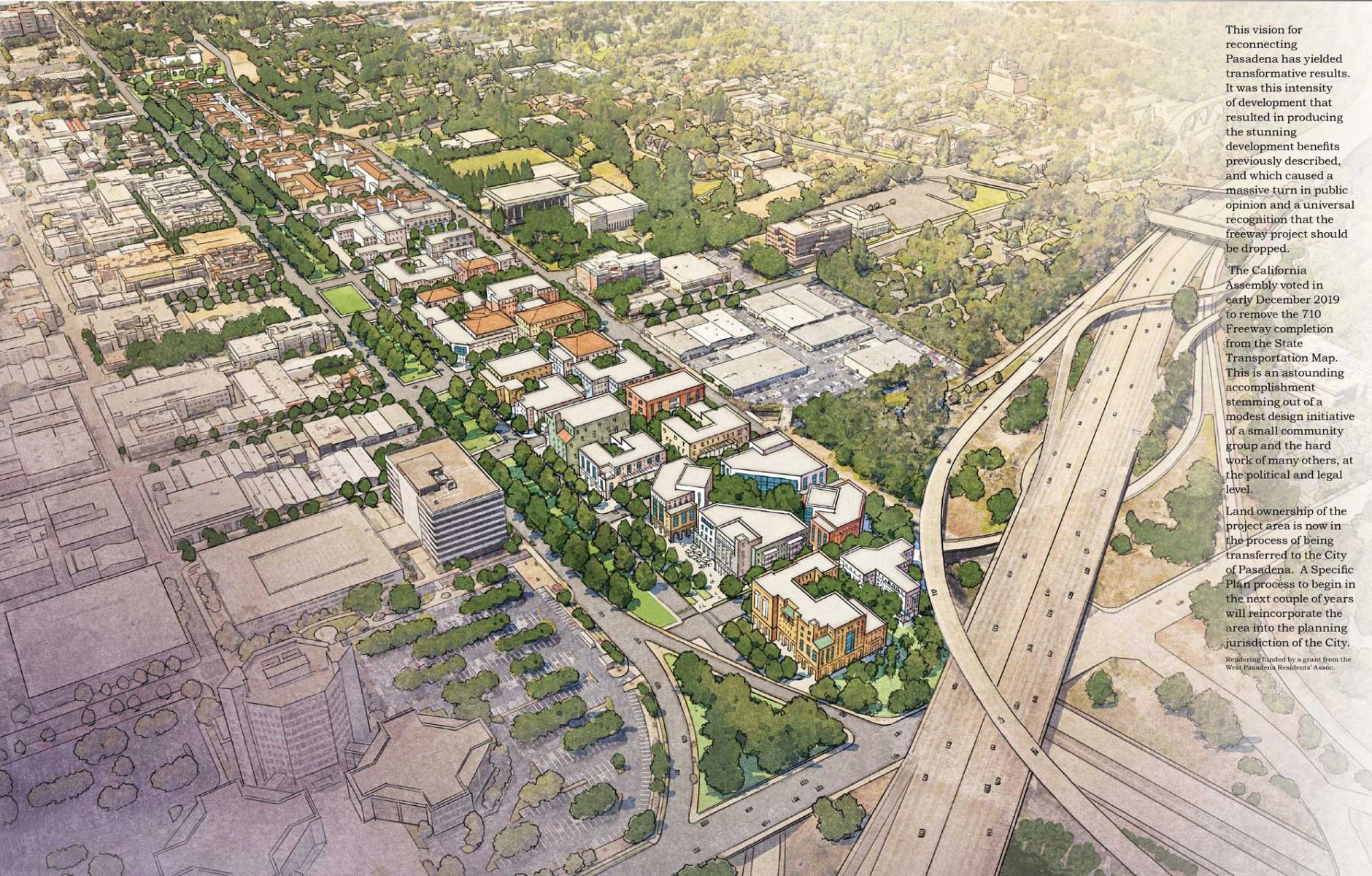 Aerial rendering of Reconnecting Pasadena master plan. Source: Moule & Polyzoides
Urban development plan stops freeway
A grassroots organization, Reconnecting Pasadena, helped to defeat an in-city freeway by proposing a mixed-use, urban alternative.
In December of 2019, the California Assembly voted to remove the 710 Freeway completion from the State Transportation Map, ending the longest urban freeway battle in the US. A 70-acre parcel, worth an estimated $500 million or more, that was cleared in the 1960s to make way for the freeway, is being transferred back to the City of Pasadena.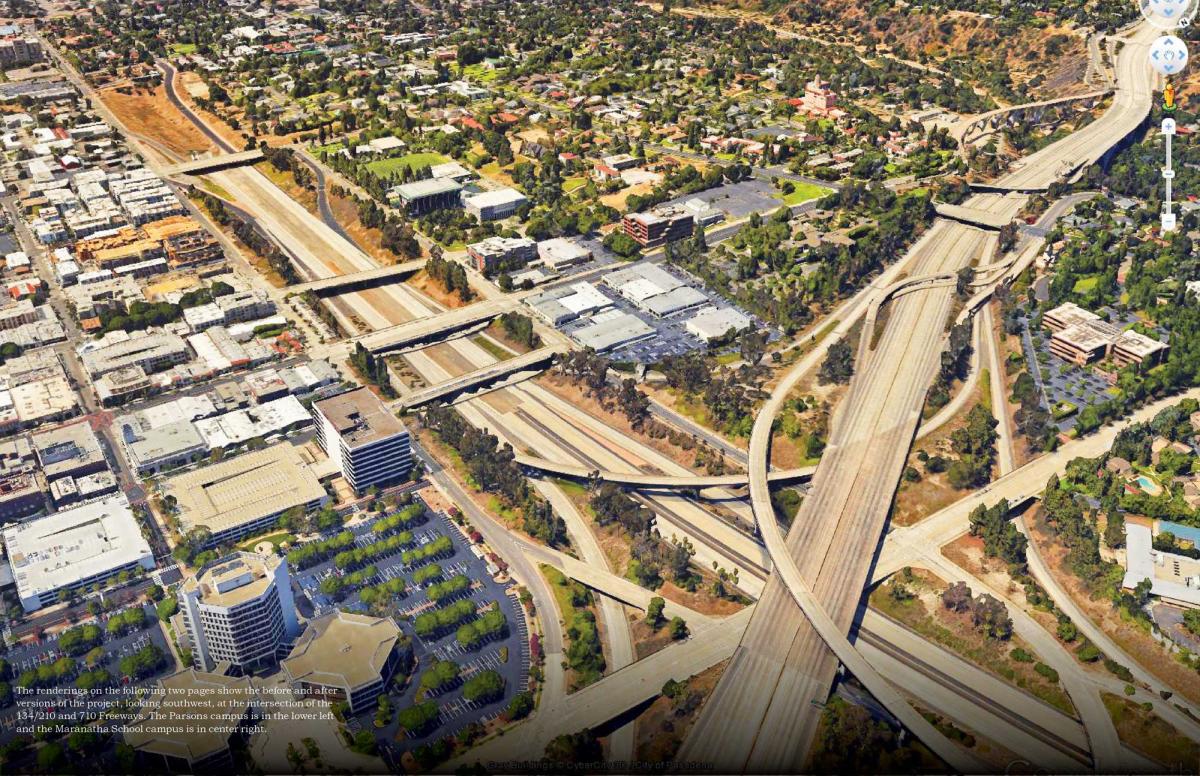 This outcome was aided by a citizen-initiated plan called Reconnecting Pasadena that offered a positive vision—not just opposition—to the destructive power of an in-city expressway. The grassroots public process was "popular, effective, and financially ambitious," according to Moule & Polyzoides, the Pasadena-based firm that led the pro-bono design effort.
The plan is based on five principal ideas: 
Fill the freeway stub and reconnect the severed grid of streets. Don't fill the area with blocks only to be used for parking and other service uses. 
Convert the freeway into a grand multi-lane boulevard as it enters the City. 
Use the new network of blocks and open spaces to stitch together the disconnected fabric of buildings and the network of public space on both sides of the freeway stub. 
Use the reclaimed land for new infill development in types consistent with the City's heritage and in the middle densities. 
Regulate the development form in a way that is compatible and sensitive to its surrounding context.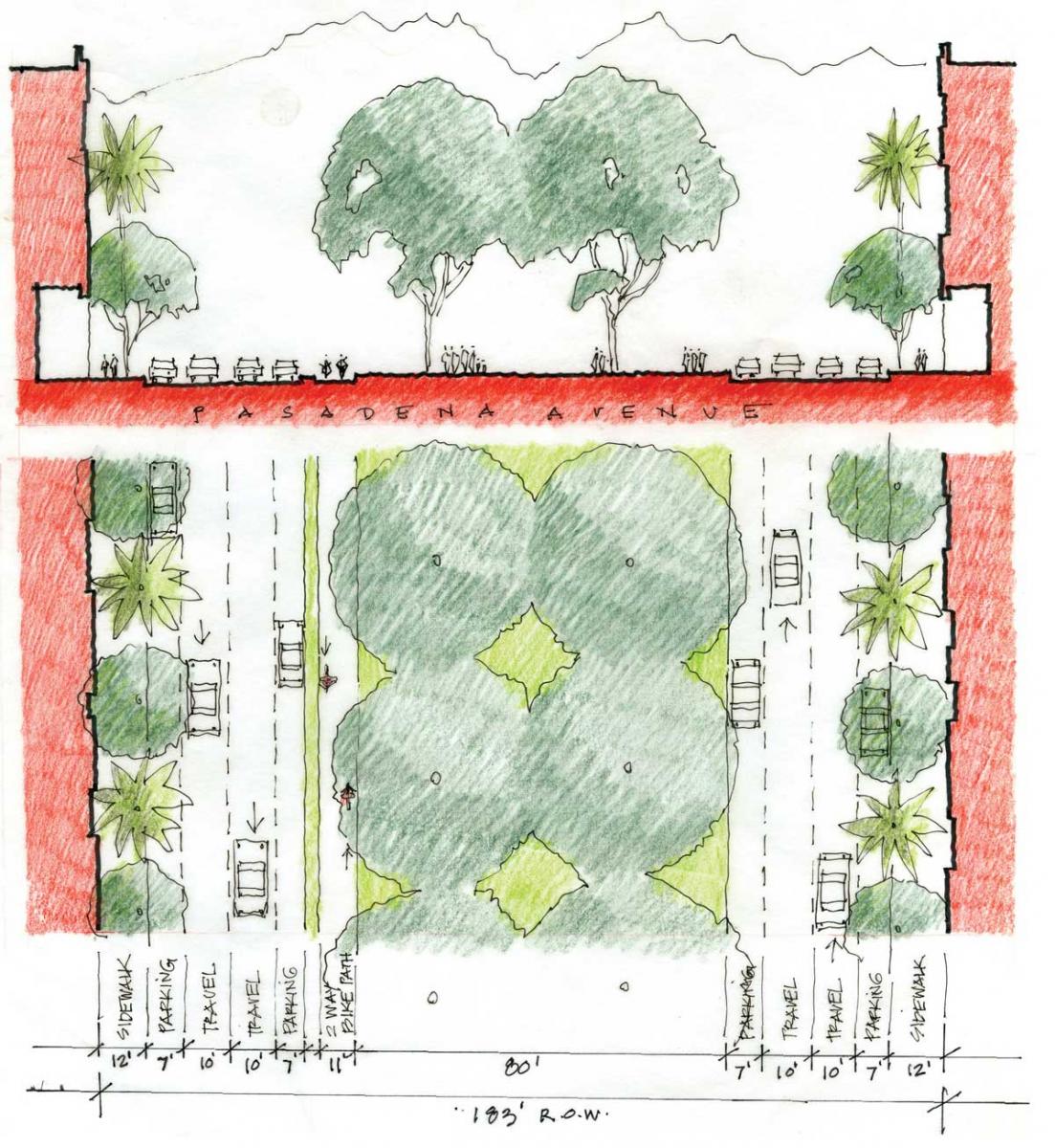 The plan creates 55 acres of developable land, and the total development proposed is 2.5 million square feet. Two thousand living spaces are proposed, including courtyard housing, townhouses, and duplexes. Many of the buildings would include ground-floor commercial, and upper floor offices are proposed as well—for a total of 500,000 square feet of commercial. This intensity of development in a new urban plan produced the "stunning development benefits" and a "massive turn in public opinion," the team reports.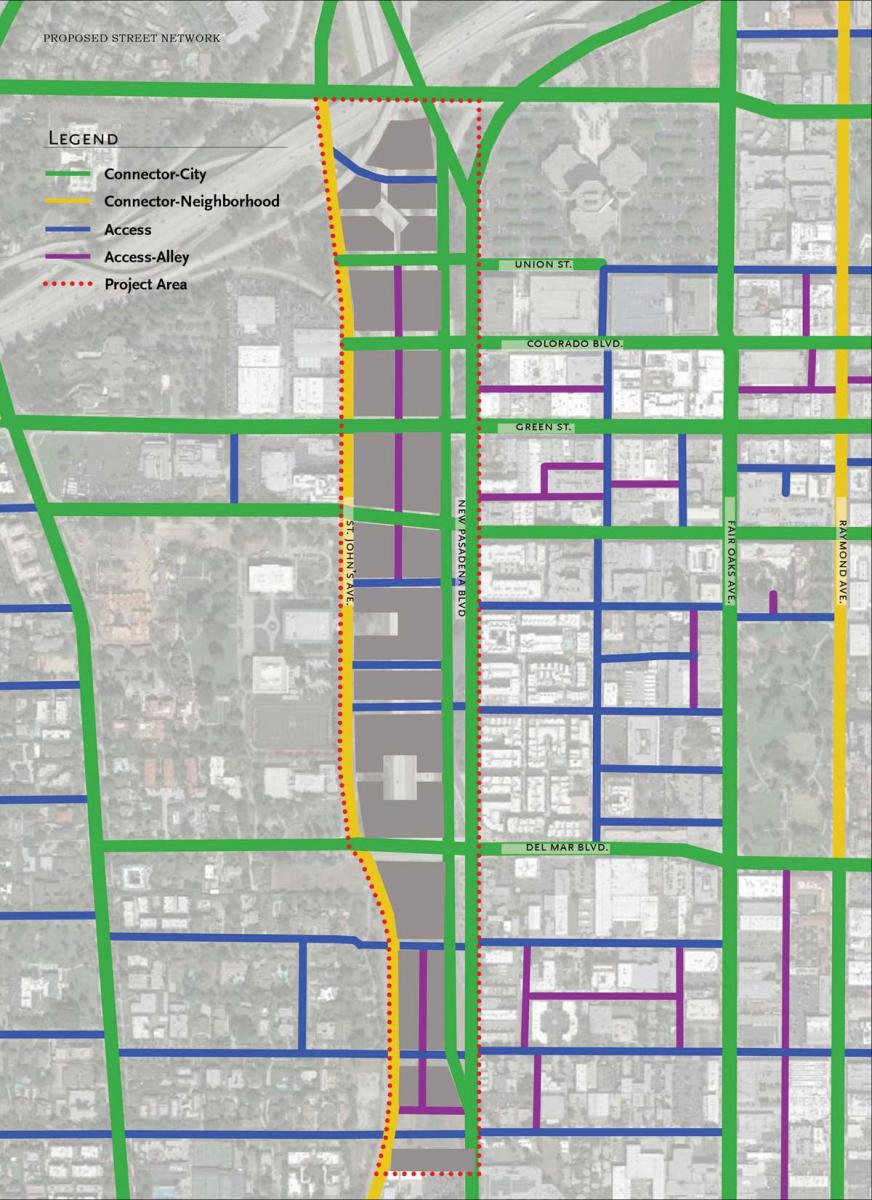 As the city moves forward with acquisition and potential redevelopment of the site, it is important to remember the price that citizens paid in the early years, which led to the protracted battle to stop the freeway. "Thousands of people were displaced, hundreds of buildings were demolished and dozens of businesses shuttered," Moule & Polyzoides says. "All of this in the spirit of urban renewal, which at the time was the planning doctrine prevalent in the US."
The firm's partners, CNU cofounders Elizabeth Moule and Stefanos Polyzoides, were members of a small group that set up the community initiative in two phases: Public gatherings took place in October and November 2014 to provide input on key issues; the design work took place in January of 2016 to translate the input into a clear development strategy and an urban and architectural master plan.
"A vision for recapturing the land and healing the freeway scar was created by a group of dedicated community members," says Susan Mossman, executive director of Pasadena Heritage. "Creatively considering how to utilize the existing excavation for parking or other practical needs, and restoring the original street grid at the ground plane, the conceptual plan includes building a variety of new housing, reestablishing the connections to the Old Pasadena Historic District, allowing for appropriate commercial development, and providing needed open space. Essentially the plan would reassemble and improve upon what was destroyed — bringing back the vibrancy and interactivity of this vital corridor."