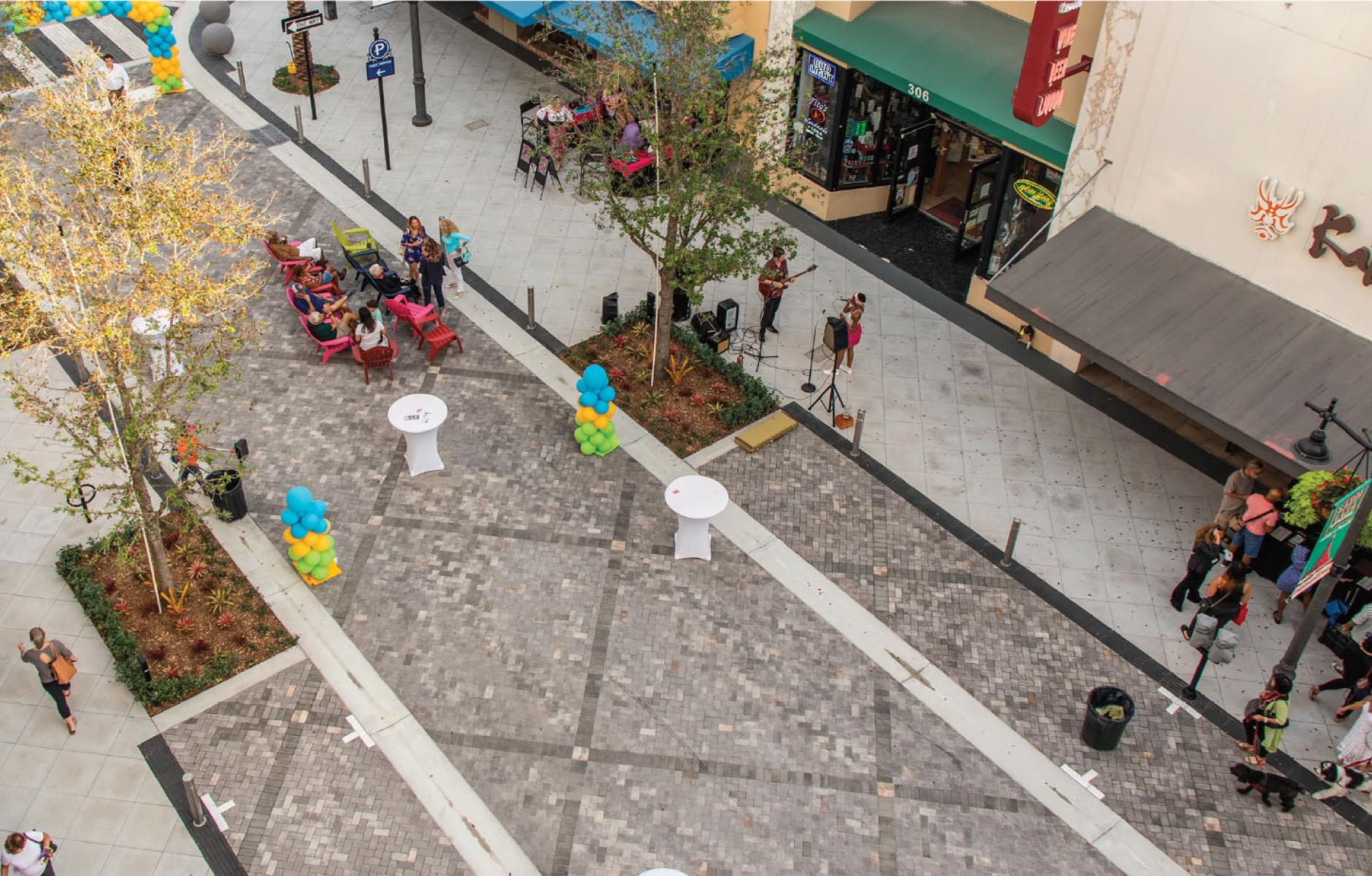 Clematis Street aerial photo, at an event prior to the pandemic. Source: Dover, Kohl & Partners
Shared street is asset for downtown revitalization
The cutting edge design for Clematis Street in West Palm Beach contributes to outdoor seating and programming for the tricky re-opening and post-pandemic recovery.
Like many cities, West Palm Beach, Florida, is reopening downtown businesses while prioritizing safety. More outdoor seating for restaurants and bars is an important response. West Palm Beach has a leg up on many cities due to the recent completion of the $13.6 million transformation of its main downtown thoroughfare, Clematis Street. 
Starting in 2019, Clematis has been rebuilt as a shared street, acting both as a public plaza and a traditional main street. Located along the five blocks are major public facilities such as City Hall, the Mandel Public Library, the Downtown Development Author­ity, and Flagler Park on the city's waterfront. The details of this transformation were reported to CNU, and the project is a model for similar main streets across the US.

Clematis Street is West Palm Beach's historic main street. Past upgrades led to a downtown revival in the early 1990s. However, as the downtown evolved and needs changed, the street required a new upgrade. Despite the completion of a new passenger rail station steps away from Clematis, the street's narrow sidewalks and lack of shade had been dampening the success of retail, restaurants, and commercial tenants. "All these elements made walking difficult, limited the expansion of outdoor dining, and constrained access for those in wheelchairs," according to Dover, Kohl & Partners, which led the design and public engagement for the street redo. Transportation planner Kimley-Horn and Associates was the prime consultant.
Sixty percent of the transformation was completed in 2019, and the final 40 percent is expected to be finished by the end of 2020. 
A design was created for street improvements that provides more shade trees and wider sidewalks to allow for more seating and street amenities, including bicycle and micro-mobility parking. These qualities have enabled a recent expansion of outdoor dining that has facilitated the re-opening of downtown.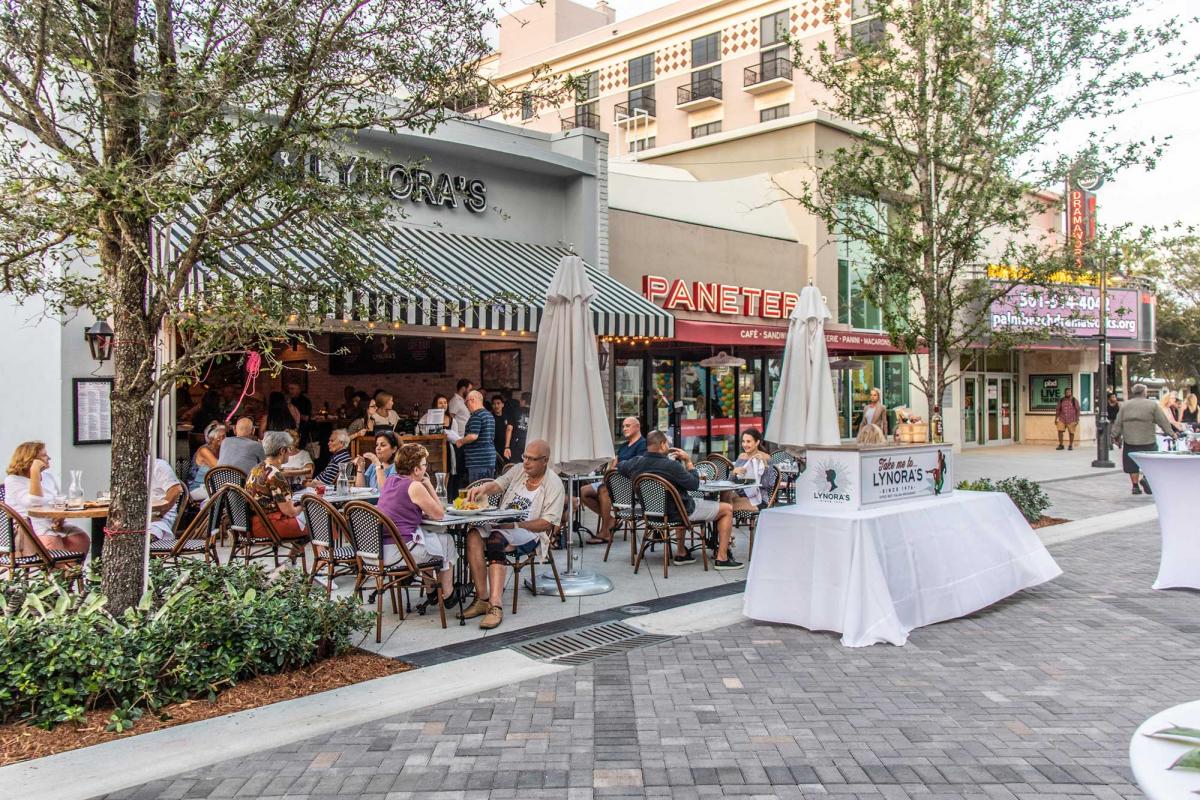 The reconstructed street is completely curbless and devised to slow down traffic. Eliminating raised curbs, narrowing the lanes, and incorporating smaller pavers on the roadway and larger ones on the sidewalk, along with tactile pavers in conflict areas, ensured slower car speeds and a universally accessible street, according to the project team.
"The outcome of the project will be a quality public space that contributes to people's health, happiness and well‐being, and options for improvement include added café seating and shade trees," says Mayor Jeri Muoio. "We are excited about the opportunities for both businesses, residents and visitors."
Retractable bollards allow for an adaptable street where sections are easily closed to automobile traffic for special events, and the flexible curbside management combines café seating, on-street parking, bike parking, and ride-hailing pickup and drop off. All of this contributes to a strong placemaking program designed to contribute to downtown as an engine of the city's economy.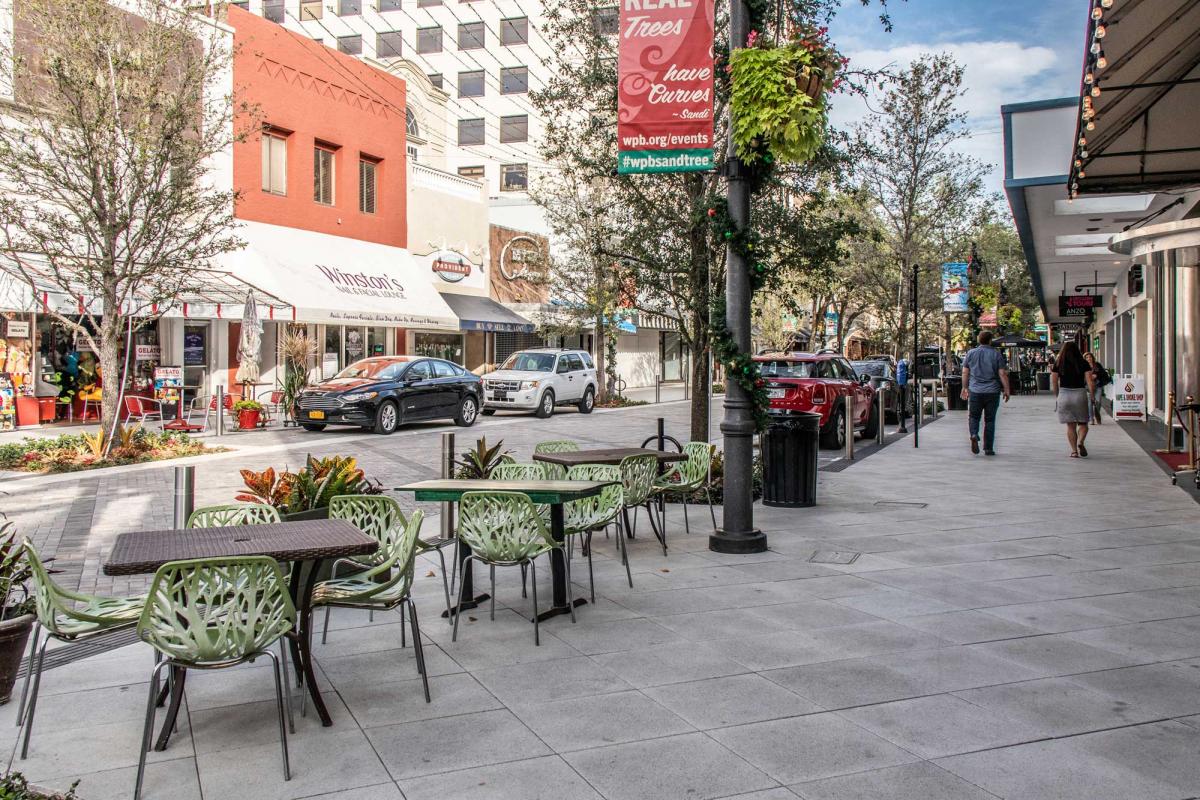 One concern was that a reduction in on-street parking on Clematis would have negative economic consequences. This was not the case; the new streetscape, more café seating, and other curbside uses were shown to be beneficial for business.
"Clematis Street demonstrates how thoughtfully designed public infrastructure can help a downtown overcome accessibility and walkability issues to truly serve everyone and help businesses thrive," the project team reported to CNU.