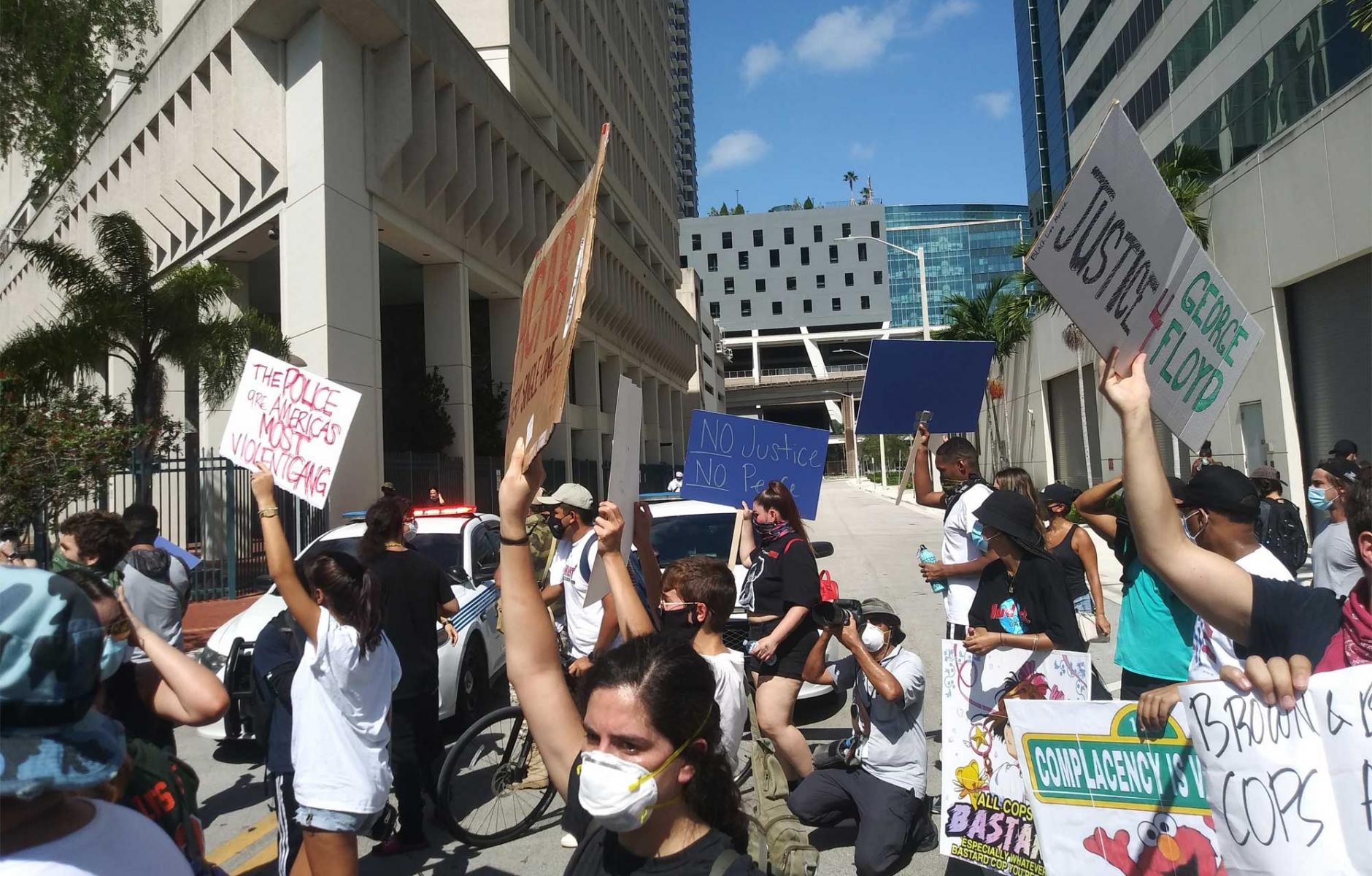 A protest in downtown Miami
CNU statement on George Floyd
The Board of Directors of the Congress for the New Urbanism is heartbroken, along with so many Americans, at the death of George Floyd and the long line of tragedies that continue to lay bare the persistence of deep-seated racism in our country. As we all struggle to come to terms with these events, this is a time to reflect on the role our own field has played in the persistence of racism — a deplorable legacy of exclusionary zoning, redlining, urban renewal, highway-building, and a wide array of insidious efforts to literally build a segregated society.
It would be arrogant to claim a special understanding of the pain so many people are going through. But as an organization devoted to building cities that are just, equitable, and diverse, these events call us to reflect deeply on the positive and productive role we hope to play in the struggle against racism, injustice, and inequity. And we believe that role is this: to fight against streets that dehumanize, housing that segregates, and public investment that ignores the needs of communities of color. Our role is to try to reverse the destructive brand of urbanism that America has too frequently embraced. Our role is to pour our energies into the creation of an urbanism that enables and celebrates social diversity and cultural variety. Our role is to stimulate collaboration and empowerment for all residents and work toward a more inclusive approach to community-building. 
New Urbanists would never claim that these practices are a panacea for the profound social ills we face. But we need to double down on our disgust at the racist practices within our domain that still exist in our society— exclusionary enclaves, suburban homogeneity, unaddressed displacement, a depleted public realm. These practices are inimical to our goals. And they can not be divorced from the events at hand.
Join us at CNU 28.A Virtual Gathering next week as we renew our commitment to just and diverse cities, to collaboration, to public-mindedness, and to cities that celebrate the diverse society that we are.