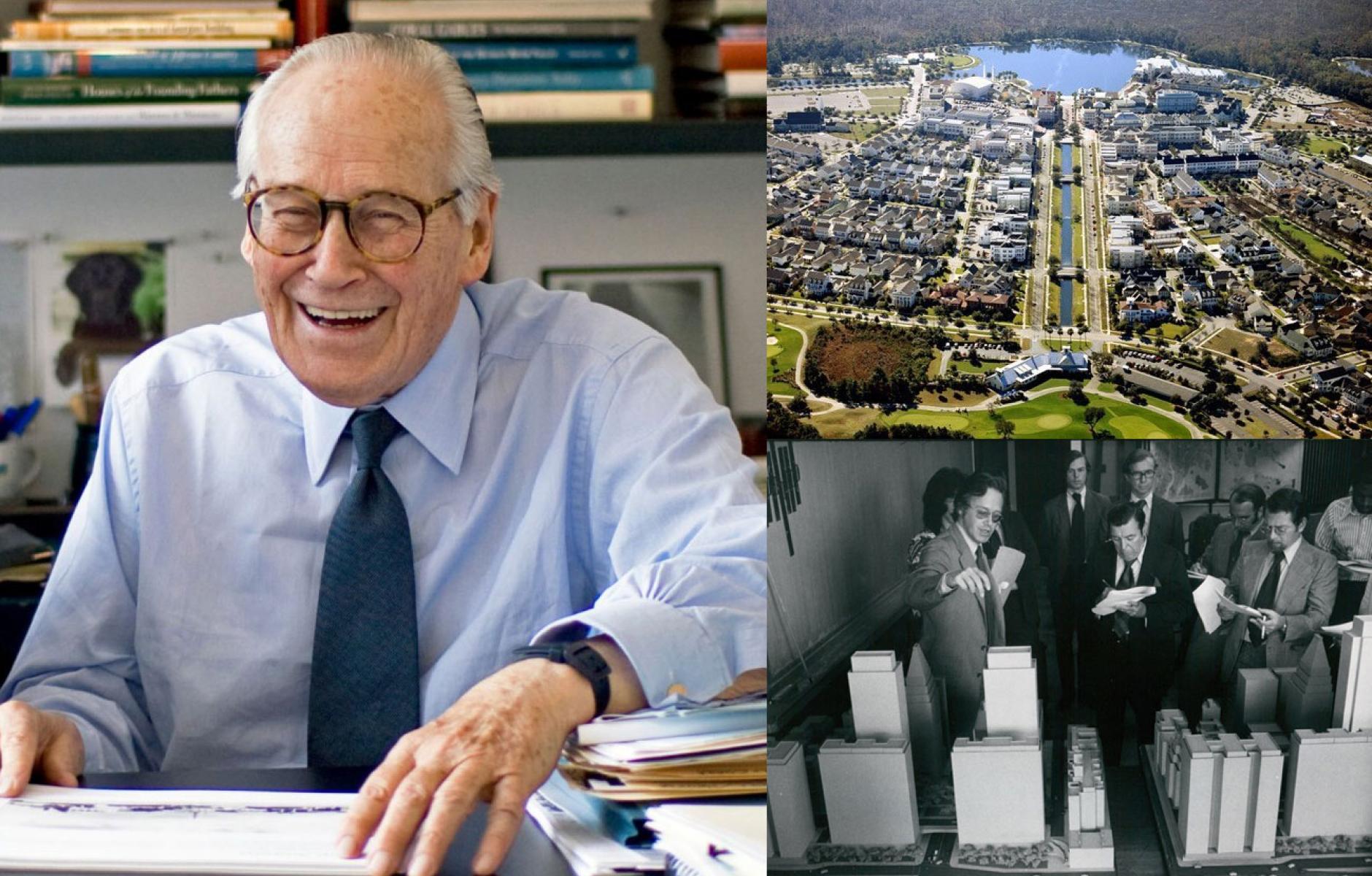 Robertson (left) and Celebration (upper right); Robertson talking to reporters in 1972 (bottom right—photo cropped from New York Times file photo).
Influential urbanist Robertson dies
Jaquelin Robertson, described by The New York Times as a "passionate urbanist," an influential academic, and one of the designers of Celebration, Florida,  died on last Saturday at the age of 87. 
Together with Alexander Cooper, Robertson formed the architecture and urban design firm Cooper, Robertson & Partners, based in New York City, in 1986. During much of the 1980s, he was the dean of the architecture school at the University of Virginia, where he helped to inspire a generation of new urbanist designers.
Robertson was a speaker at CNU annual Congresses, most recently in Atlanta in 2010. His bio for that event lists his award-winning design contributions to new urban communities and significant buildings:
"These include new communities at Daniel Island, South Carolina; New Albany, Ohio; Celebration and WaterColor, Florida; and Val d'Europe, France; a waterfront park, county courthouse, and the Visitor Reception and Transportation Center in Charleston, South Carolina; the Henry Moore Sculpture Garden in Kansas City; the Institute for the Arts & Humanities at the University of North Carolina; and Sony's Imageworks offices in Culver City, California. He also prepared master plans for Monticello, Virginia and the Battlefield Museum and Visitor Center at Gettysburg and has designed many award-winning private houses."
In the 1960s and 1970s, Robertson led the Urban Design Group, a special urban design agency of the City of New York.
He received the Thomas Jefferson Foundation Medal in Architecture in 1998, the Seaside Institute Prize in 2002, the Richard H. Driehaus Prize for Classical Architecture in 2007, and CNU's Athena Medal in 2010.