Rendering by TSW
Reclaiming waterfront as an economic growth strategy
Design is a tool to strengthen community connections, extend the value of the waterfront inland, and to improve sustainability and resilience.
One of the most rewarding aspects of New Urbanism is being able to help a community solve a problem or overcome a perceived obstacle to growth by looking at a situation with fresh eyes. Sometimes we find a solution that has been "hiding in plain sight," to quote the old adage, and for waterfront towns seeking economic growth, that solution usually involves finding creative ways to strengthen community connections and extend the value of the waterfront further inland.
Thoughtful, authentic planning builds on the essence of a place, embracing its unique lifestyle, culture and architecture. It's vital to understand the players, and approach any redevelopment/revitalization project through the lens of the user, since this perspective will inform the ideas and physical design. We ask a lot of questions: Is the local economy primarily driven by residents or tourists? What is happening in neighboring communities? Where do the visitors come from and do they arrive by car or plane? Is the infrastructure in place to accommodate the visitors? How accessible is the waterfront and what barriers exist? How do people move throughout the community and what entices them to move? How resilient to severe coastal weather are the existing structures and landscape?
A good example of a community that sought to revitalize its waterfront is Gulf Shores, Alabama, which hired TSW to create a 20-acre master plan for its public beachfront, now known as Gulf Place. We were tasked with re-imagining an aging, car-centric public beach area at the town's heart into an accessible regional destination for visitors, and a community center for residents. Following fact-finding sessions with city leaders, project stakeholders, and the public to solicit feedback from both full and part-time residents, our team drafted a comprehensive, multi-phase plan to create a sustainable, environmentally sensitive community space that will strengthen the city's beachfront brand and serve as an economic catalyst for redevelopment.
Although Gulf Place had escaped the wall-to-wall beachfront high-rise development that characterizes much of this area, we still needed to begin by addressing the infrastructure that separated the public beach from the rest of the community. As Gulf Shores has transformed over the past few decades from a sleepy Southern town to a beach destination, growth has been concentrated at the waterfront. Physical barriers such as a major thoroughfare, large parking lots, and waterfront buildings with private access discouraged residents from visiting the beach and tourists from visiting the town. Because most vacationers arrive by car, too much valuable gulf front land was paved over for parking lots, and lack of sidewalks, bicycle lanes and crosswalks made it difficult to move between the beach and town by foot or bicycle.
The planning team found inspiration in other successful beach destinations where the waterfront is the economic driver for authentic, walkable commercial areas, including Miami's South Beach; Playa Del Carmen, Mexico; and Key West and Rosemary Beach, Florida. In these and other communities, successful commercial areas connect the waterfront and the community, serving as the "market interface" between locals and visitors. Activity from the waterfront supports a diversity of economic ventures, with local vendors offering great food, unique products and memorable experiences.
Reducing physical barriers
In keeping with these examples, the Gulf Place plan reduced physical barriers between the commercial area and the beach through a combination of road diet, pedestrian connectivity improvements and a shared parking strategy that could serve both areas. This created a framework that supported more serendipitous economic activity by visiting beachgoers. At the same time, TSW was tasked with designing more family-friendly, community-focused spaces at the beach to attract and engage both residents and visitors. These spaces had to be able to withstand severe weather, provide accessibility to all, and offer a range of multigenerational programs and facilities. And, finally, the redesigned beachfront needed to reflect the small town, family atmosphere which is a hallmark of Gulf Shores.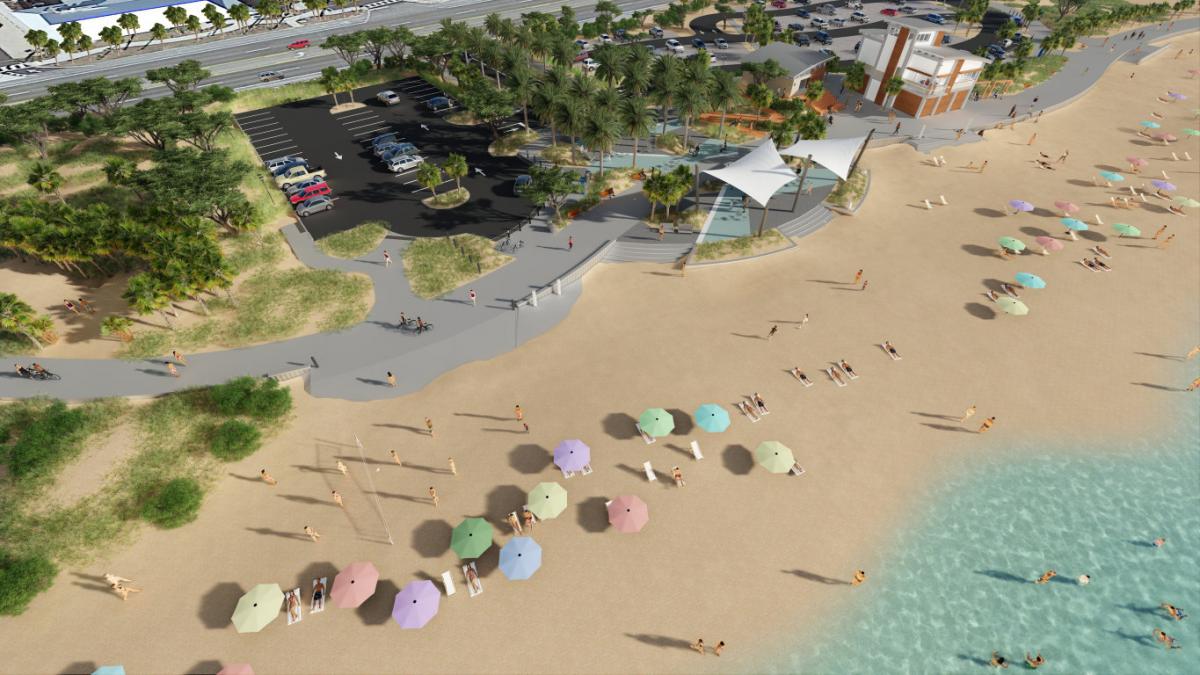 There were a number of additional challenges that had to be overcome during the four-phase redesign and redevelopment. The public waterfront had not received a substantial update in over 50 years, and was certainly showing its age. Existing restrooms and other public facilities were outdated and inadequate. Plus, the design and the actual work needed to be coordinated with major events and programs already scheduled for Gulf Place, such as the Hangout Music Festival, the Annual National Shrimp Festival, the Oyster Cook-off, and Craft Beer Festival.
We advised the city on limiting the scale of development between the beach and the commercial district through zoning and design in order to preserve and amplify the small town character, charm, and history of the town. We explored ways to enhance the walkability of the existing street grid, and maintain and frame the visual connection to the water from the town. In addition to the road diet, the city made other improvements to promote safety and walkability such as sidewalks, refuge islands, bike lanes, pedestrian walkways, crosswalks and handicapped accessibility to the park area and the surrounding roadways.
Creating resilient elements
The Master Plan focused on creating resilient elements to support year-round activities and opportunities for both residents and visitors. We began by designing a new waterfront Town Green to serve as both flexible event space as well as a passive park. A range of programming is organized around the green, including areas for food trucks, a modern, fortified public safety building, new restrooms, an amphitheater and natural multigenerational playground. A wide promenade connects the frontage of the entire public beach for use by pedestrians and bicyclists. We planted palm groves and added five new shade sail pavilions to offer shade throughout the park. The public parking areas are now spread throughout the park to encourage visitors to park once, then move through the property by foot or bike. The space also includes ride-share drop-off and pick-up locations to further minimize parking needs.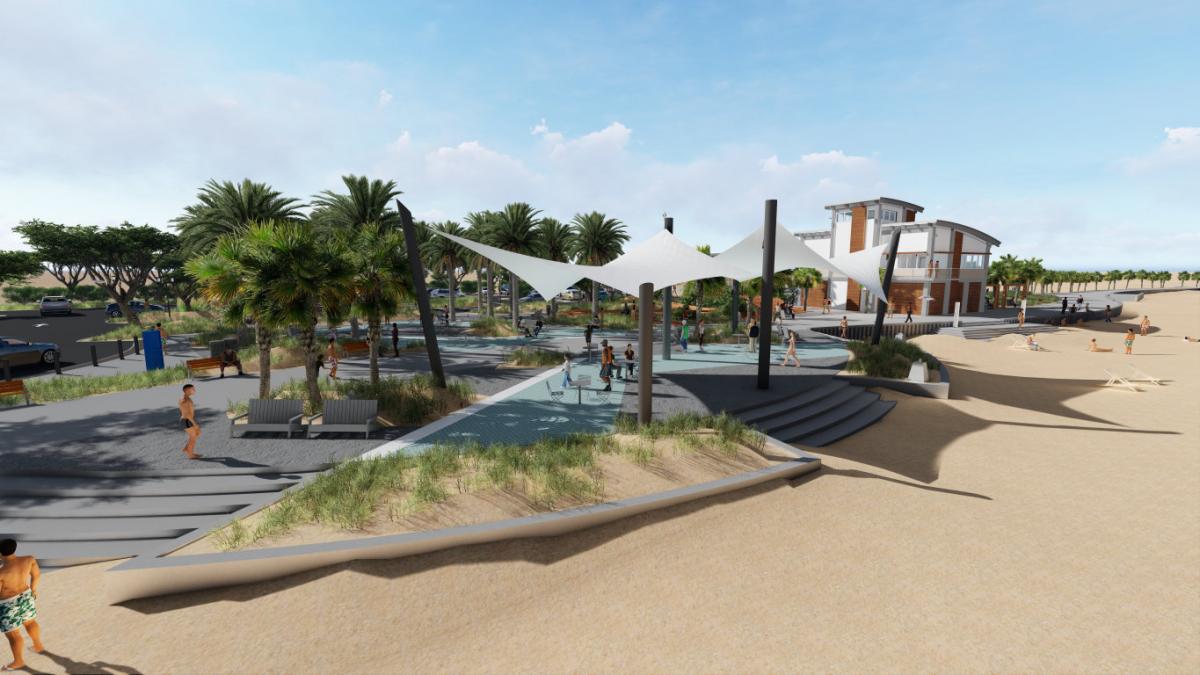 At the water's edge, we prioritized ideas that respected and enhanced the coastal habitat, taking into account the often extreme weather conditions and the need for onsite stormwater management and reuse. The planning team designed a mix of natural and built features to help mitigate the effects of severe weather, such as tidal surges and hurricanes. This includes preserving the 550 feet of primary dune along the coast and restoring approximately 1,500 linear feet of secondary dune, planted with indigenous flora to attract and sustain native animals – especially the endangered beach mouse. The concrete promenade and walls are constructed on piles with breakaway wall panels that will allow storm surge to pass through, minimizing damage to park infrastructure. All of the lighting in the 20-acre park has been replaced with amber lights to reduce the impact to sea turtles during nesting season, and all stormwater runoff is treated for water quality using LID bioswales.
Coastal building codes evolve over time, and while they must be adhered to, the codes focus on safety, often sacrificing accessibility. We guided the city on building heights and streetscape features in the commercial area and recommended new waterproof construction methods which are code-compliant, and support a more engaging urban environment with welcoming storefronts at or near street level.
The revitalized Gulf Place Waterfront Park has been a success since it was completed. Family-friendly festivals, concerts and other events are underway in the new amphitheater, and a number of new construction projects have been announced, including a new luxury hotel and mixed-use development with fine dining, street-front retail, conference facilities and an outdoor rooftop bar and lounge directly across from the park.
Many of the ideas used to revitalize Gulf Shores' waterfront area and strengthen its connection to the town center can be implemented by other coastal and riverfront communities. To ensure authenticity, it is vital to honor a community's history and character, engage the public early and often during the master planning process and work in partnership with city leaders, local businesses, developers and civic groups to address the concerns of all audiences. Embrace the natural environment and work with Mother Nature to maximize resiliency. Remove or overcome barriers between the waterfront and the business district and make it safe and easy for people to move between the two areas. Capitalize on opportunities for physical, economic and social connectivity. The City of Gulf Shores is already reaping economic benefits from its new Gulf Place Waterfront Park.