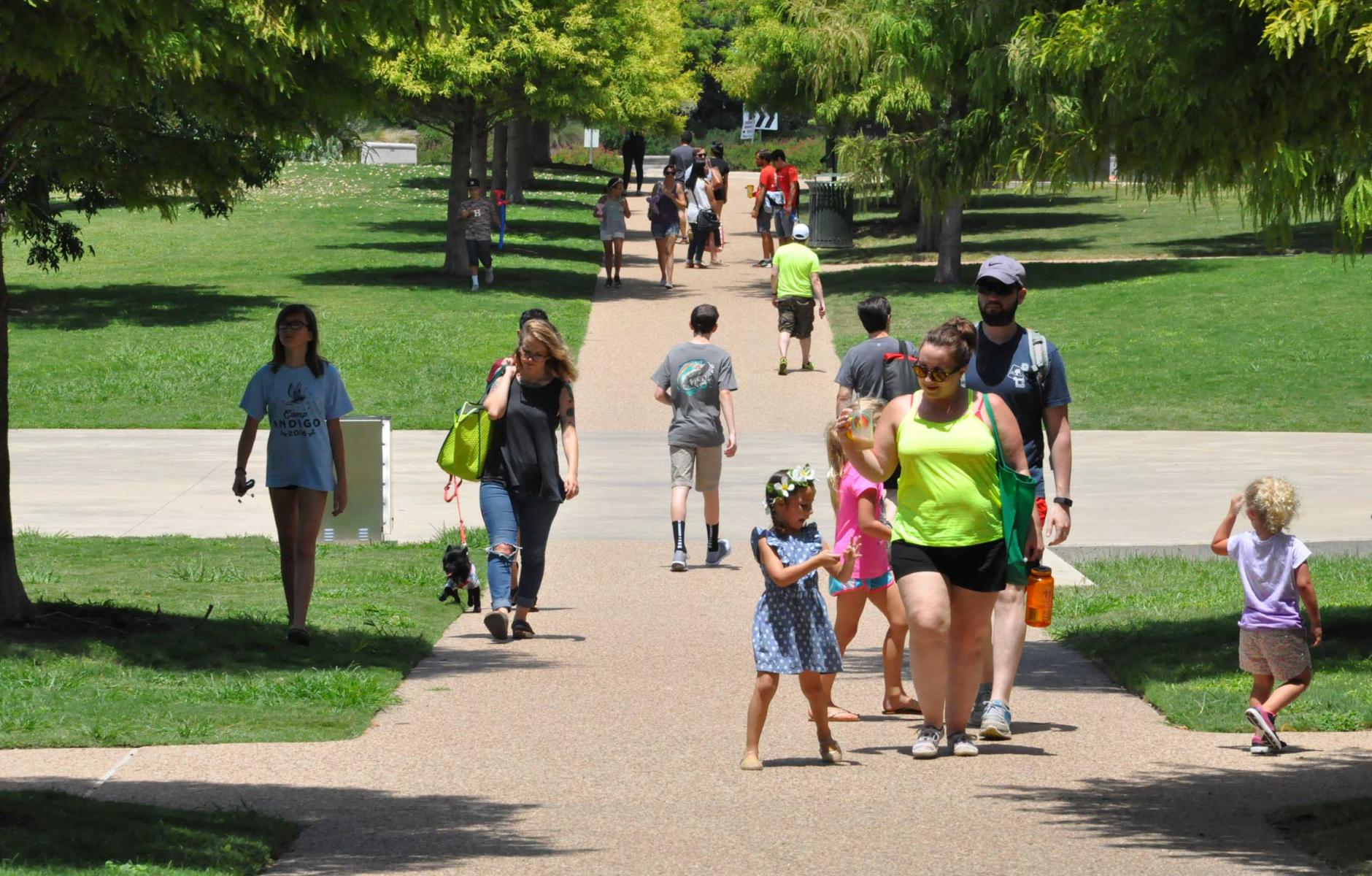 A park in Mueller airport redevelopment, Austin, Texas. We need more studies of new urban communities, researchers say. Photo by Veronica Castro de Barrera
How New Urbanism research could build better cities
What do we need to know about the success, failure, and future prospects of creating walkable, diverse urbanism?
In the 1990s and early 2000s there were still prominent people who needed convincing that sprawl was a problem and walkability was fundamental, writes Emily Talen, editor of A Research Agenda for New Urbanism (Elgar Publishing). Now, "urban planners, environmentalists, elected leaders, and citizens of many stripes accept the validity of New Urbanism's goals," she writes. "On the academic side, scholars have largely moved beyond debates about historicism, architectural weaknesses, and environmental determinism."
A general agreement on goals means that researchers can shift their focus to "uncovering roadblocks to achievement." The book gathers the ideas of academics in design, planning, and civil engineering to examine the research that is done and needed to advance the principles of the Charter of the New Urbanism.
Some of the authors call for the obvious: more studies of new urbanist projects. Surprisingly, they are few and far between. Where these studies have been done, they show promise in New Urbanism alleviating social and environmental problems. Matthew Hardy, senior lecturer in architecture and urbanism at the Prince's Foundation in London, calls for more post-occupancy studies of new urban communities, citing the studies of Orenco Station (2002 and 2009) in Hillsboro, Oregon.
As publisher of New Urban News, at the time the leading New Urbanism professional journal, I reported on these studies by sociology professor Bruce Podobnik of Lewis and Clark College, which found significant benefits to Orenco Station's planning. The quantity and quality of social engagement was significantly higher than comparable neighborhoods, residents walked to the store more often, and the community boosted the use of mass transit. Since then, academics have largely failed to follow up to confirm the results in other communities or dig deeper. "We need to know more about how these places and others function, and how they compare to other places, both new urbanist and conventional," says Hardy. "I would suggest a revitalization of the science of post-occupancy evaluation, combined with better analysis of the new metrics required to assess New Urbanism."
Regulatory barriers
Ajay Garde, associate professor of planning and policy at UC-Irvine, calls for researchers to "investigate the regulatory and non-regulatory barriers to transit-oriented and infill development. To what extent would removal of these barriers reduce GHG emissions, improve air quality, and address housing affordability?"
He calls for more studies on the impact of zoning reform, which he says has been given little attention. Given the widespread occurrence of zoning reform, this lack of research is surprising. "There is scant research that has examined the implications of these zoning reforms for addressing the problems that communities are likely to face in the future." 
Garde suggests that too little is known about what makes mixed-use projects, e.g. those with retail, succeed. More study is needed on urban retail types and the "spatial dynamics of success," agrees Conrad Kickert, assistant planning professor at the University of Cincinnati. While malls are dying due to the impact of online shopping, he says, the renewed interest in urban living is fueling a demand for an experience-based retail. "America's growing desire for unique experiences cannot be met online," he writes. Moreover, retail is crucial for the health, economy, and social life of city neighborhoods. "Many of these arguments are in their early stages, and would benefit from empirical evidence and theoretical embedding." 
Green urbanism
Urbanism's impact on microclimate is a critical area of climate research, according to V. Kelly Turner, assistant professor of urban planning at UCLA. "Research on microclimate regulation and New Urbanism is sparse. Especially needed are studies that evaluate the role of design in adapting to hotter urban environments." One promising study found that new urbanist design at Civano in Tucson, Arizona, reduced land surface temperature compared to conventional development, but more work needs to be done in this area. 
Some environmental benefits of New Urbanism have been well established, Turner says, like the literature on transit-oriented design, walkability, and reduction in CO2 emissions. Yet there is a lack of empirical assessment of the relationship between new urbanist design and ecosystem services, climate adaptation planning, and other environmental outcomes, she says. "New Urbanist design theory constitutes a series of hypotheses that, if tested through empirical methods, could contribute to a scientific theory about the relationship between design and environment."
One useful idea would be to establish field tests at new urban projects around the US and the world—which are located in a wide variety of geographic contexts, she says. "In the case of microclimate regulation, it would be possible to collect a longitudinal database of land surface temperature across multiple new urbanist sites and, potentially, distribute a network of thermal comfort sensors. … Built examples of New Urbanism contain a wealth of untapped environmental data that could be of interest to design professionals and academics alike."
Transportation
"While New Urbanists have increased the supply of walkable, mixed-use places with access to transit, the supply falls far short of meeting the demand for such places," writes Wes Marshall, professor in Civil Engineering at University of Colorado, Denver. "This has forged an affordability problem, and, in turn, and equity problem." Central to solving the supply problem is building more walkable infrastructure so that supply of mixed-use neighborhoods can keep up with demand. 
"It is especially important to continually ask the right questions. Instead of asking how many cars need to be accommodated 30 years into the future, we should be asking what we want our community to be like and how we can build our public spaces—including our streets—accordingly."
Diversity
April Jackson, assistant professor in urban and regional planning at Florida State University, notes that studies have shown new urban projects have more income diversity, but the record on racial diversity is not as good.
"Trudeau and Kaplan (2016) found that New Urbanist projects host more income diversity than their conventional peers and that racial diversity is spurred through (1) strategic commitments by local actors to the social aims of New Urbanism, and (2) neighborhood change resulting in gentrification."
Theoretical foundations
Cliff Ellis, professor in the graduate program in city and regional planning at Clemson, makes a strong argument for new urban academics to participate in philosophical debates on topics like the role of tradition in society and what makes a place "real" and authentic. 
"While the central focus of New Urbanism will continue to be the completion of high-quality projects, the development of effective regulatory structures, and the empirical testing of specific spatial patterns, New Urbanist researchers should participate in philosophical debates about urban design and its connection to better and worse forms of civilization."
New Urbanism's willingness to address social goals directly has been controversial, Jackson points out. "New Urbanism, as a planning movement, addresses social goals and highlights their significance in relation to the physical environment. This is perhaps the most significant and distinguishable contribution of New Urbanism. Ironically, this also tends to be a recurrent criticism of New Urbanism: that it attempts to influence social goals via physical design."
Talen is professor of urbanism at the University of Chicago. Other contributors include: Michael Mehaffy, senior researcher at KTH University, Stockholm; Sungduck Lee, assistant professor in the Department of Architecture at Iowa State University; Donovan Finn, assistant professor in the Sustainability Studies at Stony Brook University; and Gordon Douglas, assistant professor in Urban and Regional Planning at San Jose State University.