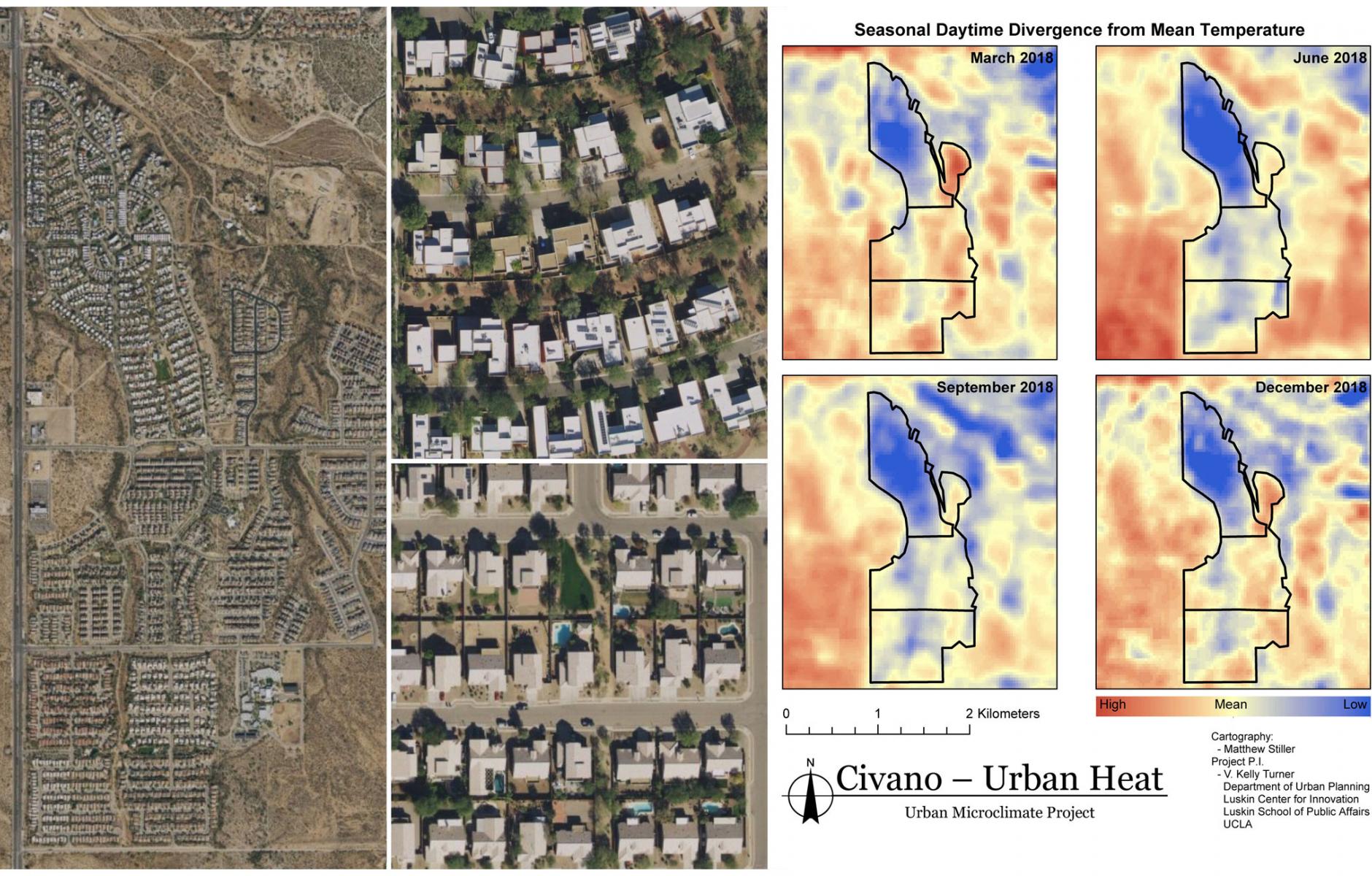 At far left is a satellite image of Civano, with the new urban neighborhood at the top. At right, see heat maps: new urban neighborhood is at the top of all four seasonal maps, with blue indicating lower temperatures. Source: UCLA study.
Civano: A 'cool' community
A Tucson neighborhood with new urban/sustainable design outperforms conventional suburban tract housing environmentally—with lower temperatures—socially, and economically.
I remember seeing plans for Civano, a new urban community outside of Tucson, Arizona, back in 1996. I was excited to see the combination of New Urbanism and sustainability and the sophisticated use of traditional Southwest architectural styles that made this design unique and exciting. While Civano has experienced significant setbacks in the last two decades, it has ultimately become a laboratory for sustainable urbanism, about which the images at top are a testament.
Civano's first neighborhood was built as originally planned. The last two were purchased by national builder Pulte Homes in 2003 and switched to conventional suburban design. A study by UCLA in 2018 shows how the first neighborhood—at top in the maps—reduces the "urban heat island" effect. The design clearly lowers temperatures compared to conventional development, and even the surrounding desert—and that has big implications for energy use and climate change.
For those who want to find out more about Civano, I suggest reading a report by Simmons Buntin, a writer who lived there for 18 years with his family. "Civano remains the region's most distinct integration of sustainable development and New Urbanism," writes Buntin. " … Civano boasts a remarkable sense of place—an integration with the natural Sonoran desert environment that is more than the sum of its diverse architecture, network of trails and public spaces, and extensive native landscaping."
Pulte ended up cutting off its nose to spite its face. This report from 2012 shows poor sales performance in the latter two neighborhoods compared to the first neighborhood. The last two neighborhoods also underperformed in meeting Civano's social and environmental benchmarks compared to the first neighborhood.

sustainable urbanism