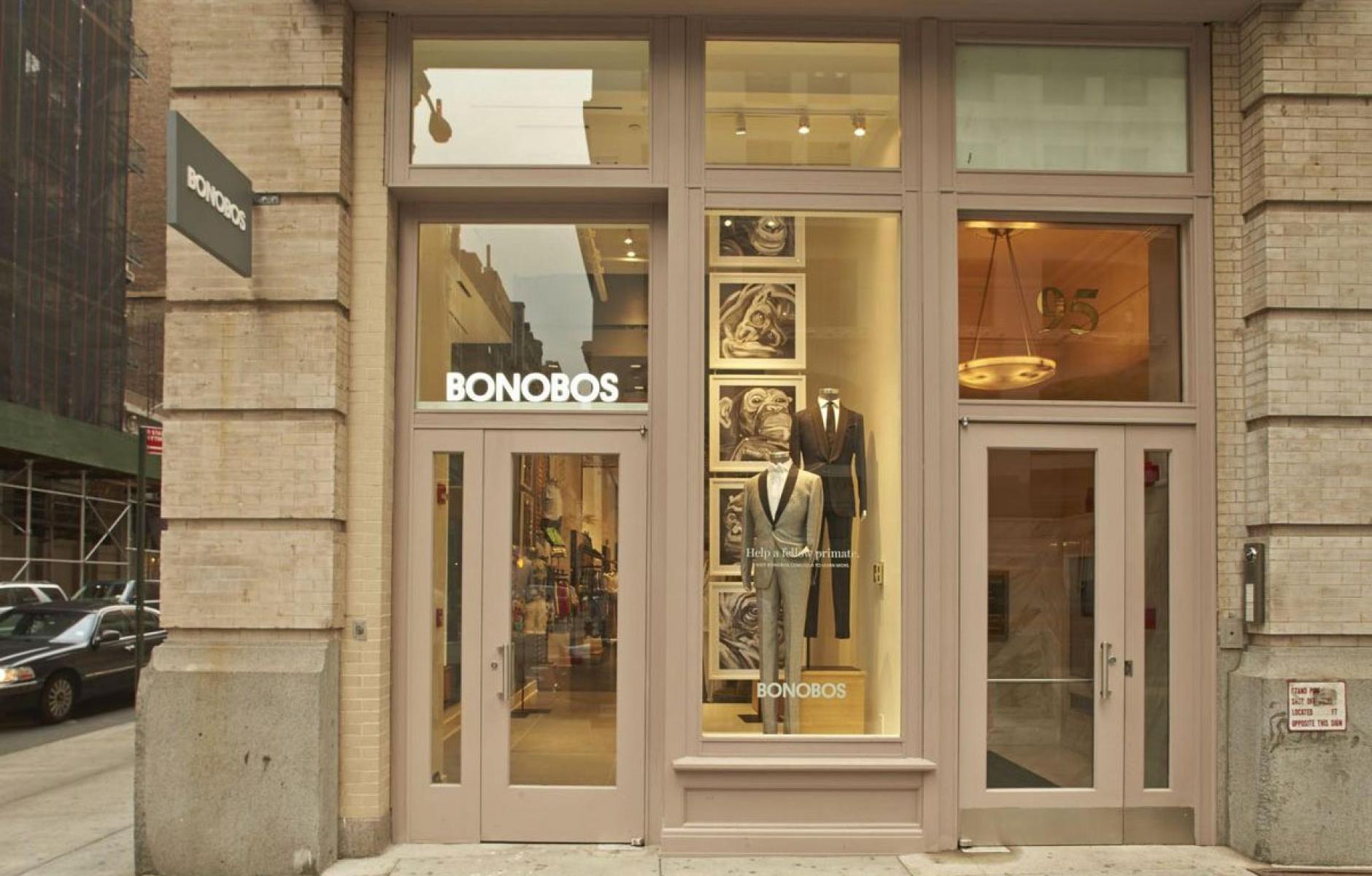 Some e-commerce firms are opening up physical stores, like Bonobos in Manhattan.
How brick-and-mortar stores can benefit from e-commerce
The impact of e-commerce on physical stores is not as negative as many believe—downtown merchants can thrive in this environment through omni-channel marketing and creating unique experiences.
This is one of a series of ongoing Public Square articles on the market, technological, and cultural transformation of the $5 trillion retail industry—and how it relates to a continued shift toward walkable, urban living.
It is quite popular to blame the "retail apocalypse" myth on the growth of e-commerce, with Amazon leading the way. The impact of e-commerce is real, but not as profound or negative as the media would have us believe. It has certainly had a negative impact on some relatively small retail subcategories—namely electronics, appliances, sporting goods, and books. However, the "halo effects" of omni-channel marketing and e-commerce can also be leveraged to build and solidify customer loyalties.
Today, e-commerce establishments represent about 3 percent of all retail establishments; its sales are 14.3 of total retail sales; and its rate of growth is slowing. This article elaborates on these trends and also introduces emerging retail opportunities, including leveraging omni-channel marketing to solidify brand loyalties and draw shoppers into brick-n-mortar stores; and ways that independent merchants can compete with chain stores and e-commerce.
How many e-commerce establishments are there, and how fast are they growing?
A timeline of total retail establishments since 2001 is shown in Figure 1, with data reported by the Bureau of Labor Statistics. This same chart also shows a timeline of e-commerce establishments and including mail order houses (i.e., non-stores). They currently total 33,000 (3 percent) of all retail establishments.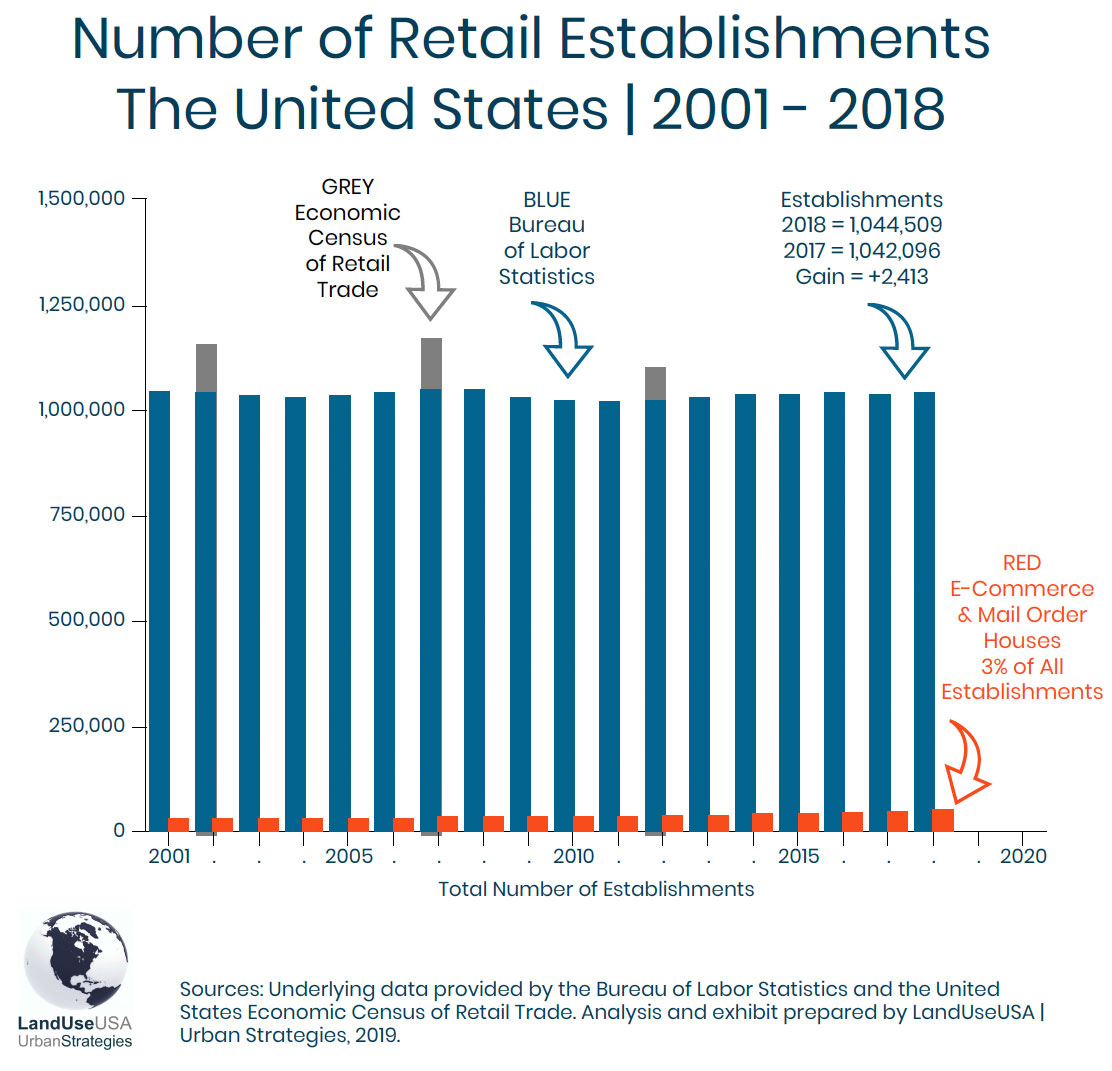 E-commerce, including mail-order sales, now represents 14.3 percent of total retail sales (see Figure 2, based on retail sales through June, 2019). That's considerably higher than 1992 when this category represented just 4.3 percent of total retail sales. Most retail analysts and forecasters (sources: CoStar, Reis, ICSC, and NAR) generally agree that e-commerce will eventually plateau at about 30 percent. How long it takes to get there depends on the rate of growth going forward. 
As an interesting side note, Amazon's domestic revenues represent about 20 percent of total e-commerce sales in the United States. (Source: Amazon 2019 Annual Report and the Census of Monthly Retail Sales.) Amazon's global sales have been widely reported as a share of domestic e-commerce activity, erroneously implying that Amazon has a 50 percent US e-commerce market share.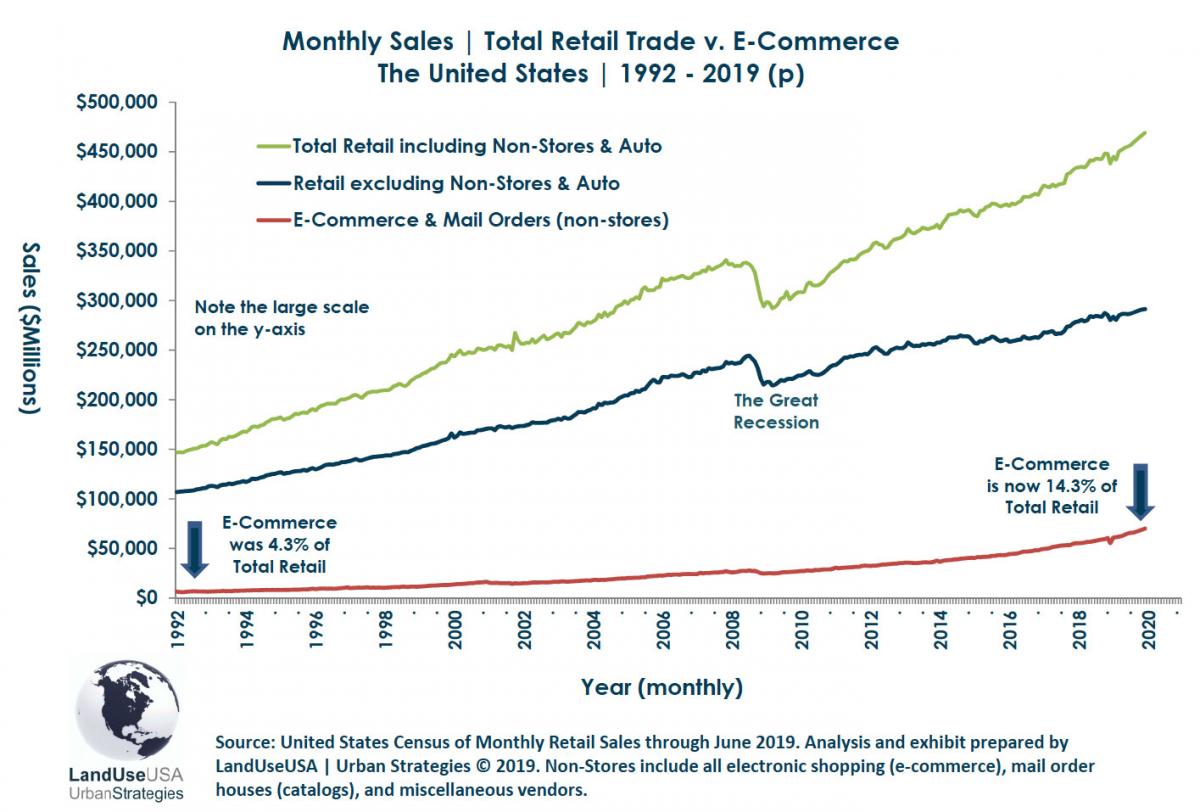 As shown in Figure 3, the growth of e-commerce has been exceptionally high but is now slowing down (source: US Census Bureau). It was growing at 25-plus percent annually at times during the 2000s, but that rate fell into the teens during the early 2010s and has since slowed to about 13 percent (2018). The rate of growth is expected to continue slowing and should settle down to 5 percent annually by the year 2030.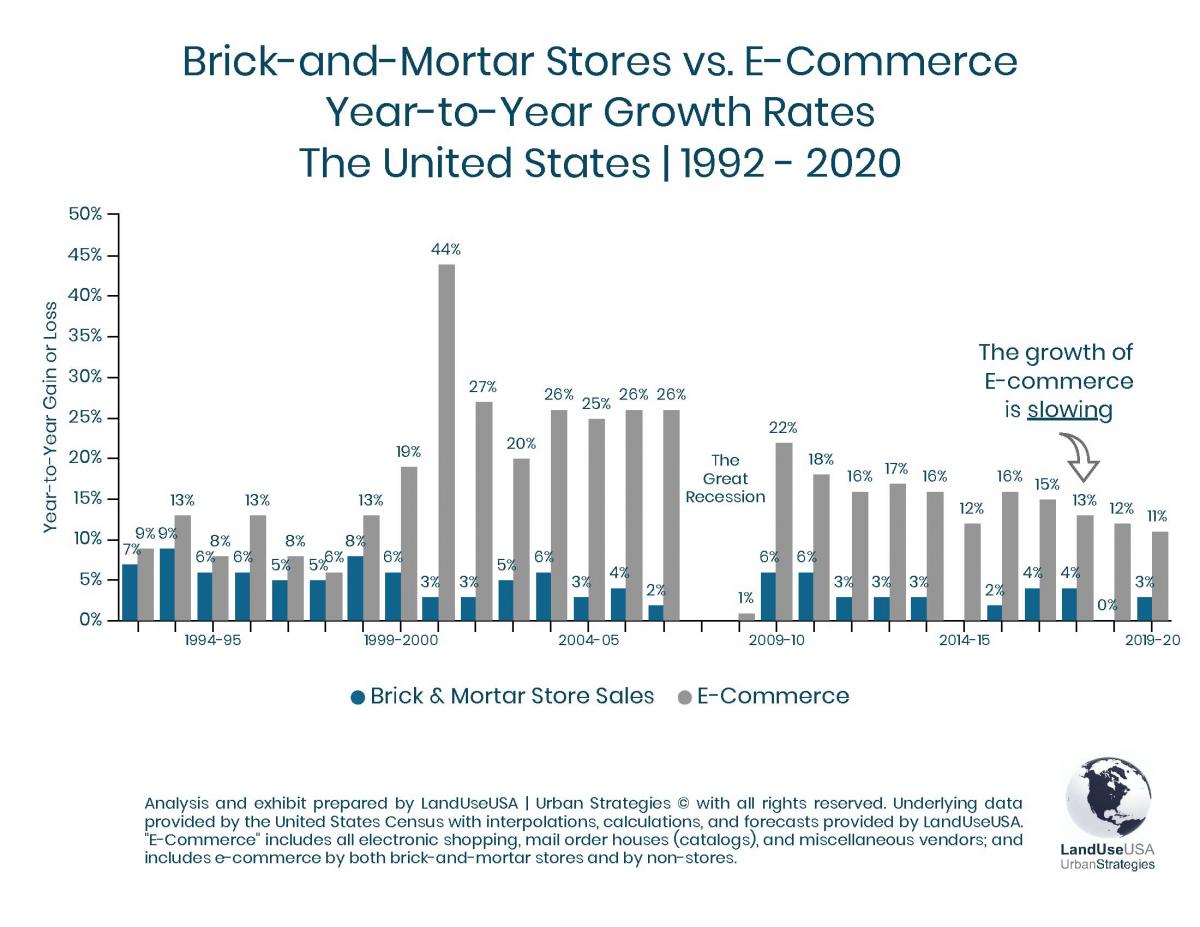 The halo effect of omni-channeling
The costs of building and maintaining a comprehensive e-commerce presence can be expensive for chain stores because it requires some up-front investment into information technology, marketing, fulfillment, returns, and customer service. Even so, many chains have been defying Amazon with their own online and omni-channel strategies.
In fact, a market transformation is currently underway with brick-n-mortar stores leveraging e-commerce to build omni-channel experiences that solidify brand loyalties among shoppers. The fastest growing trend is e-commerce sales bolstered by brick-n-mortar stores that enable shoppers to explore and test the merchandise; check sizes, colors, and quality; collect online sales ("click and collect"); and avoid delivery fees for returns. It is a symbiotic relationship, with e-commerce generating a Halo Effect for physical stores and vice versa (see Figure 4).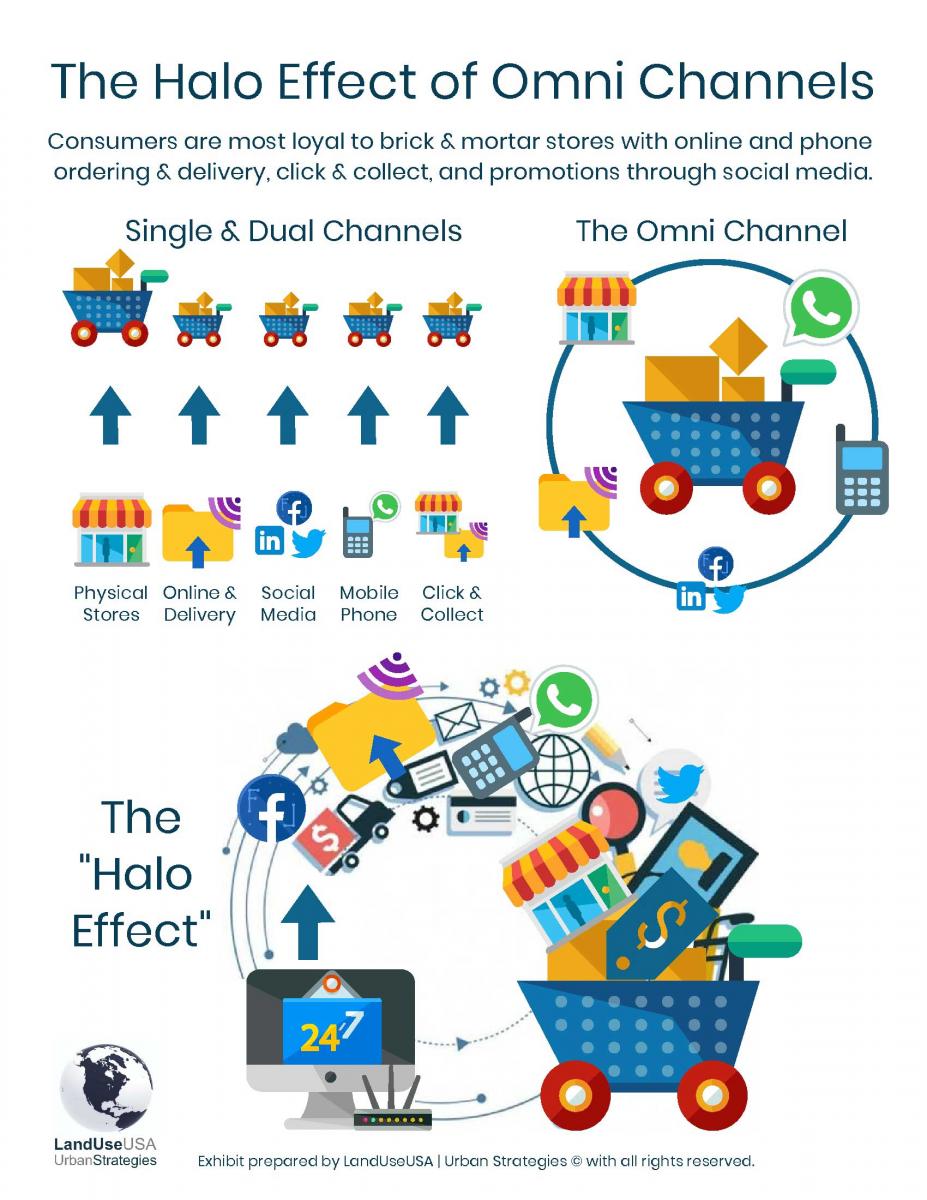 The ongoing cycle of chain store closings and new store openings reflects a market in flux and transformation. Shoppers are looking for convenience, experience, unique merchandise, high service, and a complete sensory experience. Omni-channel shopping helps bridge these preferences with the convenience of online shopping and gratification of an enjoyable shopping experience in brick-n-mortar stores. The combination is powerful and is being used by many retailers to solidify brand loyalties. 
Emerging trends
More retailers are adopting omni-channel and click-and-collect strategies, which allows customers to order merchandise online for pickup in stores. It is generally believed that shoppers will buy additional items in the physical store, even if their initial trip was just to pick up online purchases. Brick-n-mortar stores can capitalize on this trend by providing click-and-collect services along with shipping to private residences. 
Brick-n-mortar retailers that can harness e-commerce will succeed in attracting more in-store shoppers. Some chain stores are even building relationships with brands so their customers can collect or return merchandise that is not actually available from the store. This gives those stores a chance to convert visitors into impulse buyers of their own merchandise.  
In addition, brands that were originally created only for "pure play" online sales are now opening brick-n-mortar stores. E-commerce retailers are also beginning to test the waters with pop-up stores, which helps raise brand awareness and can be used to gauge performance before committing to a long-term lease. 
Lifestyle preferences of young consumers are also shifting, and retailers must be nimble to adapt and keep up. For example, younger consumers are increasingly willing to rent home furnishings and clothing, which opens new niche opportunities for both e-commerce and brick-n-mortar stores. 
These are just a few of the most recent trends, and new ones will emerge every year. 
Strategies for downtown merchants 
A comprehensive e-commerce presence may not be practical or affordable for many independent retailers, downtown merchants, and smaller boutique shops. However, there are many other cost-effective strategies that can be implemented to build shopper loyalties in similar ways, effectively creating the "halo effect" through high service, convenience, and an overall enjoyable shopping experience. 
Merchants should strive to provide a complete sensory experience for shoppers, inviting them to explore the merchandise while also enjoying aromas, flavors, sounds, conversation, and places to rest. Even if they do not offer online orders and click-and-collect services, merchants can succeed and thrive by consistently following these and other "best business practices." 
This topic will be explored further in a future article within this special series on retail, which will discuss these and other strategies for downtown merchants to "take it back"—to recapture the market share that previously had been cannibalized by the development of sprawling regional malls and shopping centers; and to compete with chain stores and e-commerce. 

e-commerce