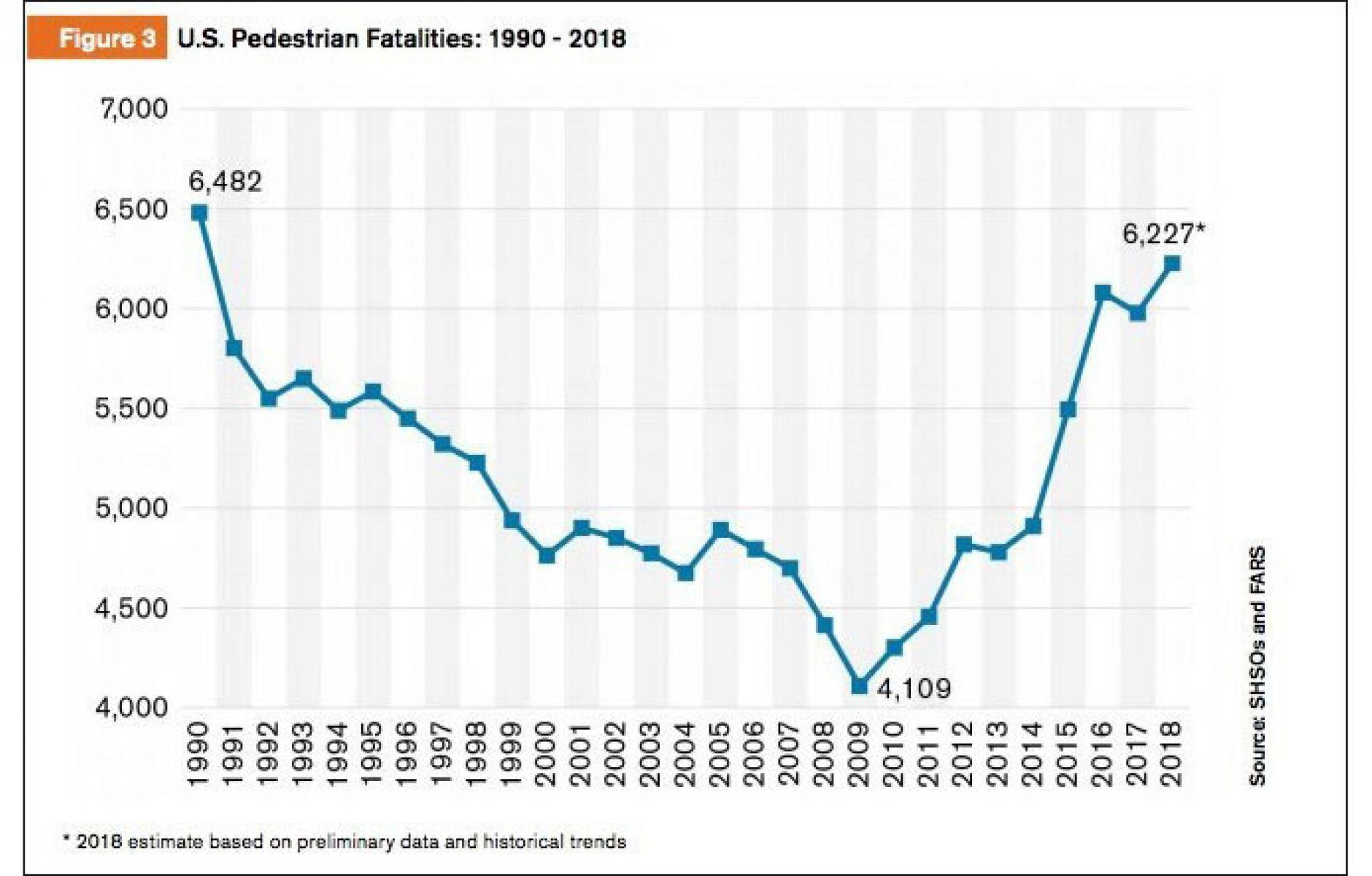 Graph by the State Smart Transportation Initiative.
The troubling rise in pedestrian deaths
We have made cars safer, but we still are reluctant to make streets safer.
The steady rise in pedestrian deaths since 2009 has raised considerable alarm, and the latest data puts the 2018 pedestrian fatality rate near the 1990 peak. Nobody has a definitive answer for why this is occurring. 
"Analysts have speculated that the increase in SUV sales, as well as the growing popularity of walking and biking, are both contributing to the rise in deaths among non-motorized users of the public right of way," notes Robbie Weber, writing for the State Smart Transportation Initiative. "The emphasis on improving the safety motor vehicle occupants has not extended to comparable improvements for those travelers not in vehicles. SUV and pickup sales surpassed those of sedans in 2014, and between 2013 and 2017 pedestrian fatalities involving SUVs went up 50 percent compared to 30 percent for passenger cars."
The point about lack of improvements in safety for "travelers not in vehicles" (emphasis mine) is an important one. This applies particularly to design of thoroughfares. We know how to design streets that are safer for pedestrians, but we just haven't implemented these designs enough. We have built vast road networks that prioritize vehicle speed over safety and multimodal travel, and the barriers to modifying those streets are substantial. It often takes five or 10 years to implement a single "complete street," and too often the final design is compromised to encourage fast-moving traffic (which is deadly for pedestrians). Like zombies in a bad movie, the 20th Century approach to street design just won't go away. Fortunately, there are signs of breakthroughs (here, and here). 

pedestrian safety