Greenwood Avenue cottages in Shoreline, Washington. Photo source: Ross Chapin Architects
Testing new ideas with cottage courts
This missing middle housing type is a highly adaptable tool for developers and builders in many locations.
Cottage courts, a popular form of "missing middle" housing that is often used in new urban developments, were recently profiled by Forbes magazine. 
"Today many people are feeling lost and disconnected. They don't need a great deal of space, but they would like to feel more connected to their neighbors than they would in a typical community," writes Sheri Koones, who has a book coming out on small houses this fall. "… In addition, many people want a place with green space so they don't see cars and traffic out of their windows."
Small groupings of housing around a shared public space—cottage courts can be adapted to urban infill, suburban, and rural settings. They fall under the missing middle, because such housing was rarely built by conventional builders from 1950 to 2010, who focused on single-family housing and large apartments. 
Cottage courts can be built as for-sale or rental units. Because cottage court developments are small, they are ideal for experimenting with innovative construction ideas or testing new markets (see The Borough, below). It's a rare neighborhood-scale new urbanist project that doesn't include at least some cottage court housing. 
The cottage court development type was developed and popularized by architect Ross Chapin, who has designed about 20 of these projects—largely in the Pacific Northwest,  and wrote a book called Pocket Neighborhoods: Creating Small-Scale Community in a Large-Scale World (2011). The photo at the top of this article is a Chapin-designed project. Many new urban firms have designed housing with this model. 
Developer John Anderson, one of the founders of the Incremental Development Alliance, reported that his firm is now building cottage courts in several locations. "We greatly prefer building cottage courts as rental housing—instead of for-sale. In most municipalities a cottage court can be built as-of-right in areas with multifamily zoning. With the right design you can achieve the same 14-16 dwelling units per acre as you might see in two story 'garden apartments' with buildings that are more easily accepted by local neighbors than generic apartment buildings.
"Cottage courts are a great tool for resolving awkward shaped parcels with limited street frontage. The typical cottage can build under the International Residential Code without fire sprinklers (except in California)."
As of 2019, the cottage court model has proved to be viable in many settings nationwide. A recent report from the National Association of Home Builders (NAHB) includes cottage courts as a building type that is gaining popularity among builders who are appealing to a different market. 
But cottage courts are still not permitted by many municipal zoning codes—especially when the cottages are built for sale, rather than for rent. The density is higher than single-family zoning typically allows, and the units sit on a very small footprint—running counter to lot size and setback requirements. The houses tend to be smaller than average. The parking is grouped, rather than individual to each unit. They need zoning adjustments through incremental zoning changes, "cottage court" ordinances, or a form-based code. The NAHB report provides details on a cottage court ordinance adopted in Ashland, Oregon.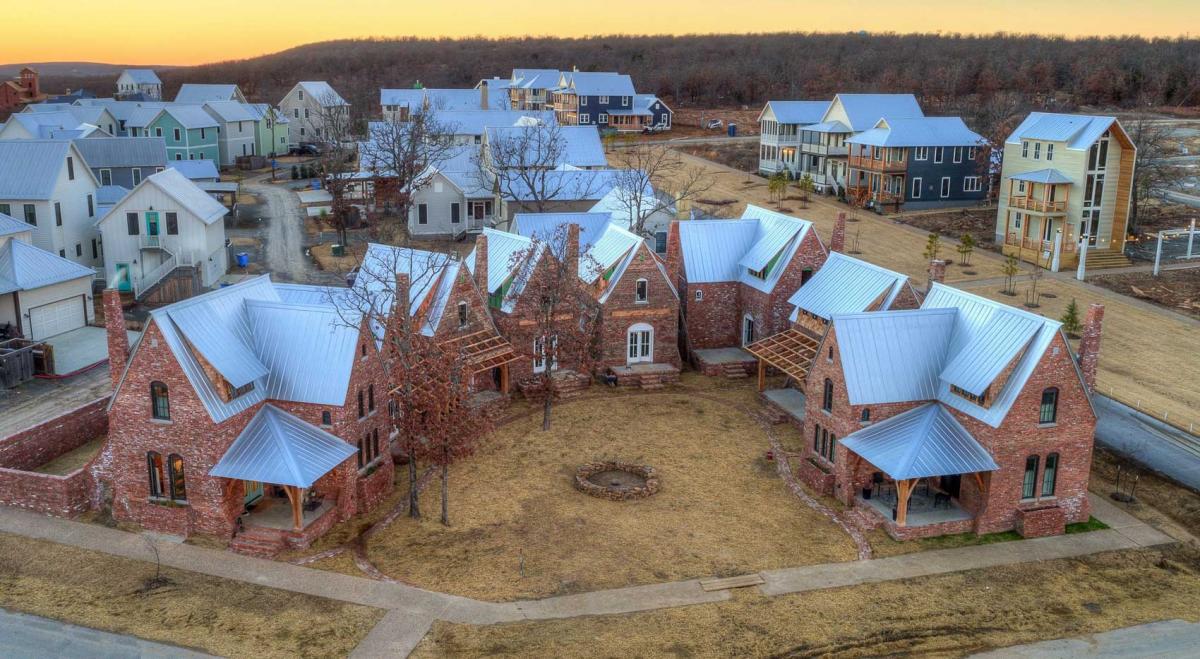 The Borough, a cottage court project within the larger Carlton Landing project in Oklahoma, demonstrates how this model is useful in testing new ideas. Eight cottages from 800 to 1,400 square feet are arranged on a third of an acre, with a public space in the middle centered on a fire pit. The project opens up to a public street, inviting people from the rest of the neighborhood to share the space.
The Borough houses are built with masonry load bearing walls, by builder Clay Chapman, making this project unique. The porches are timber frame. Notable is the efficiency with which the masonry houses were built. The developer was able to complete the masonry walls in four weeks or less, at a cost of roughly $50,000 per unit (just the brick mass walls—not the entire house), Chapman reports. 
Chapman developed the "affordable mass wall" concept in 2012, and subsequently completed a number of individual houses in several Sunbelt locations—testing methods, costs, and energy efficiency—and trained many apprentices. Chapman and his workers achieved production speed with The Borough. Brick massing was completed for the cottages, one after another, in two-to-four-week intervals.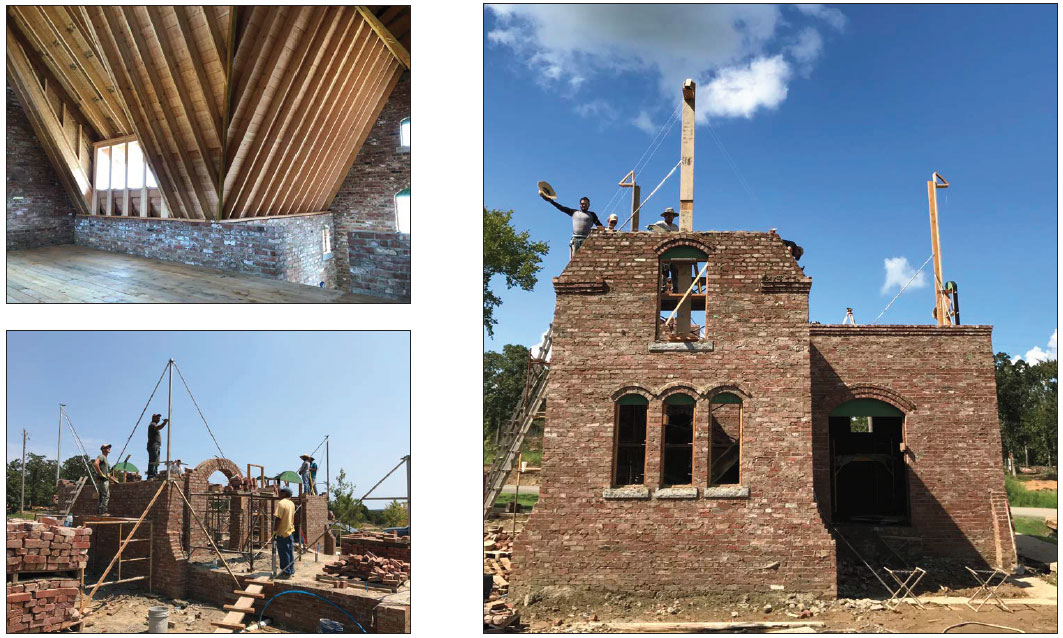 Each house is outfitted with a wall-hung wood stove in the primary living space. The interior walls are all brick—reflecting the construction and offering a unique living environment for residents. 
"The Borough brings load bearing, clay brick masonry up to speed and rescues this wisdom of the past by integrating modern technology to achieve viability and economy," Chapman says.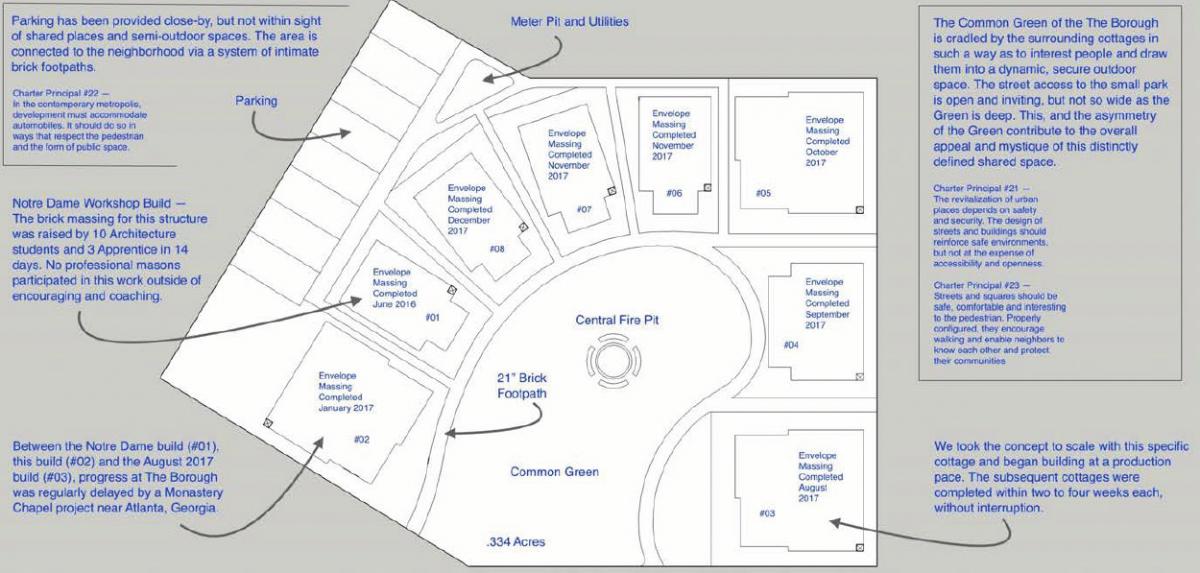 Attendees of CNU 29, scheduled for in 2021 in Oklahoma City, will be able to see The Borough and the larger Carlton Landing.