Downtown Olean, NY, after the street redo. Source: Bob Ring.
Small city invests in downtown
With a new urban vision and context-based street design, Olean has taken a bold step to revive its economy and social life.
Olean, a small city in isolated southwestern New York State, has transformed its wide main street, North Union Street, using five roundabouts and a new tree-lined center median to calm traffic and shorten pedestrian crossing distances. Four lanes of traffic were reduced to two and several traffic lights were eliminated—allowing traffic to flow slowly but steadily through downtown. Angle-in parking gives drivers direct access to merchants—and the pedestrian-friendly streetscape encourages them to park once and walk.
The municipality of 13,700 located in an economically depressed area has been steadily declining in population since 1950—yet it has retained a fine historic downtown built in the early 20th Century. The project, called Walkable Olean, has reduced the number and severity of accidents, according to a report in the Olean Times Herald. 
There were "… 72 accidents were reported between Aug. 1, 2015, and the end of June 2018. By comparison, 100 accidents were reported in the 35 months before the first roundabout opened. As for injuries, of the accidents since 2015, 10 have resulted in personal injury, compared to just under 20 from 2012 to 2015. "I'm seeing more than a 25 percent reduction in accidents, and a 40 percent decrease in injuries," Olean Department of Public Works Director Bob Ring told the newspaper.
New businesses have opened since the completion of the North Union Street portion of the project: Ravyn & Robyn Lounge, My Old Time Bakery & Cafe, Windworks, Boundless Connections, Union Tea Café and Tea Shop, and Union Whiskey, among others, according to the Times Herald. A farmers' market opened in 2018 in the center of downtown. The new streetscape has spawned a new seasonal downtown festival called StrOlean, held three times in 2018, from June to October, which includes vendors, competitions, sports events and games, food, arts, and classic cars.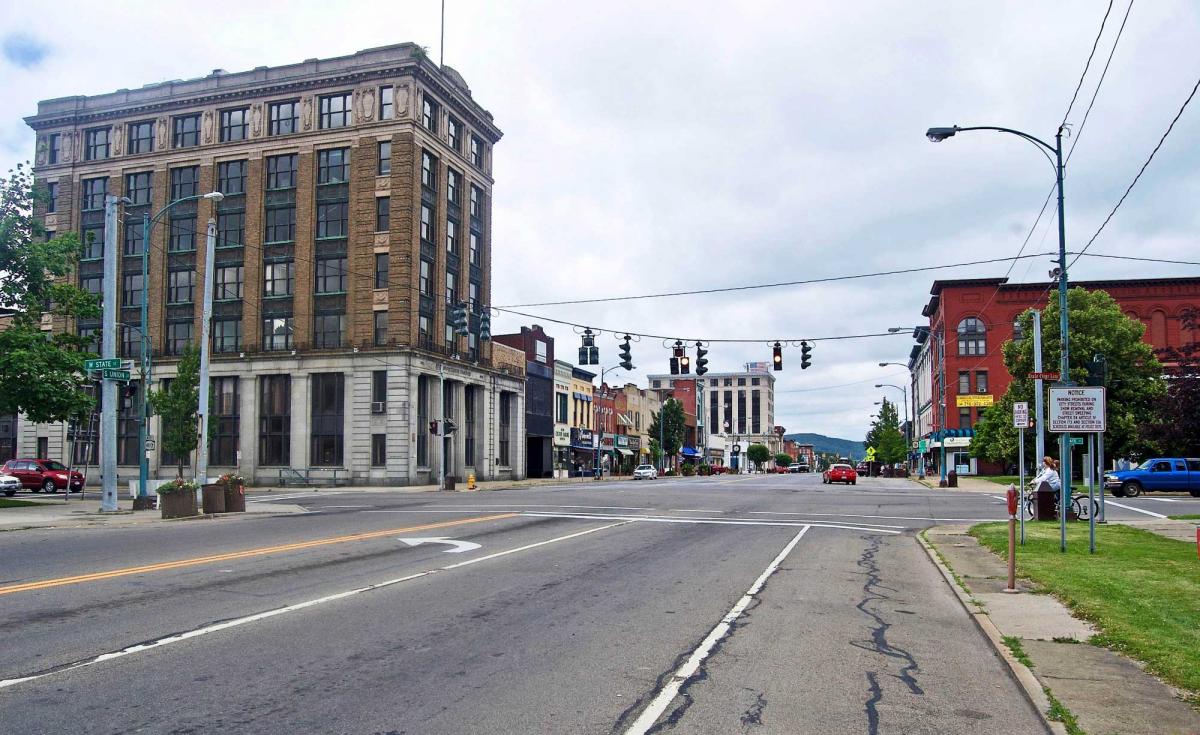 Jeff Belt, owner of SolEpoxy, an Olean manufacturer, describes Walkable Olean as "among the greatest acts of civic courage that I know of. How many struggling small towns would completely rip-out and re-do their downtown right into the teeth of rural angst and financial stress? It was a bold bet and it's beginning to pay off."
The nearly $9 million project, funded largely by a US DOT TIGER grant but with local and state support, replaced water and sewer lines downtown in addition to adding crosswalks, bike lanes, streetlights, trees and landscaping, traffic calming, and the roundabouts. Essentially, the cars and trucks driving by on I-86, and residents' own gas taxes, have contributed to this investment. The city adopted a downtown form-based code, by Chuck Banas Design of Buffalo, in late 2015.
Much of Olean and its downtown is designated as an Opportunity Zone, which means that downtown could be primed for more development. Opportunity Zones are a federal program that offers significant tax breaks on capital gains for long-time investments in businesses and real estate in specific low-income urban and rural locations. The rules are now under review by the IRS. 
Olean still retains several key industries and St. Bonaventure University is located just outside the city limits. It is about 60 miles from Buffalo and outside of any metro area. Olean currently plans more roundabouts.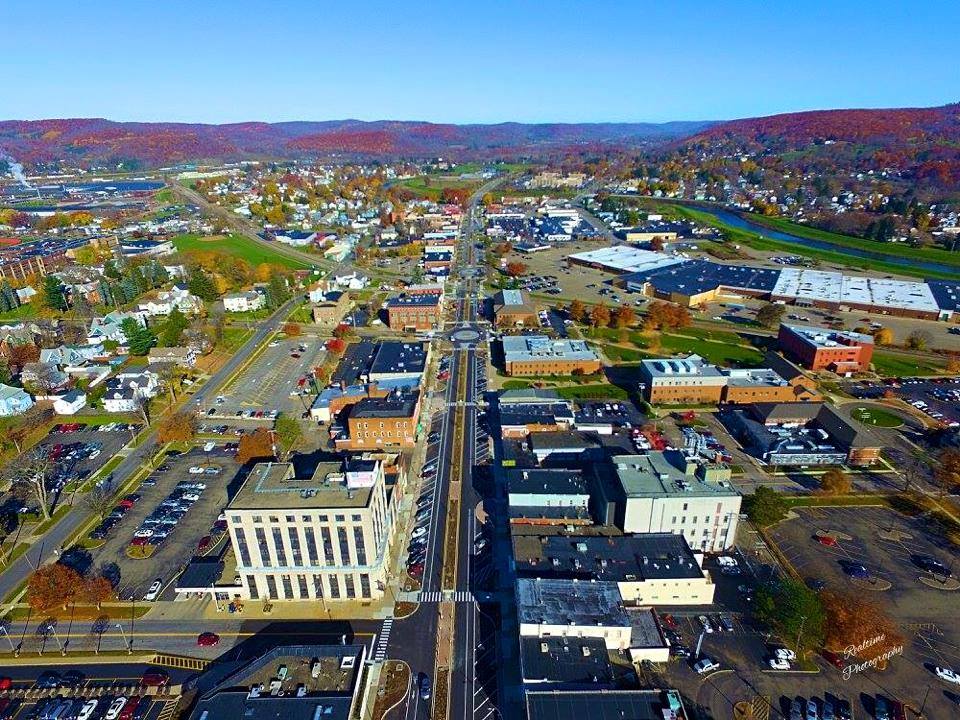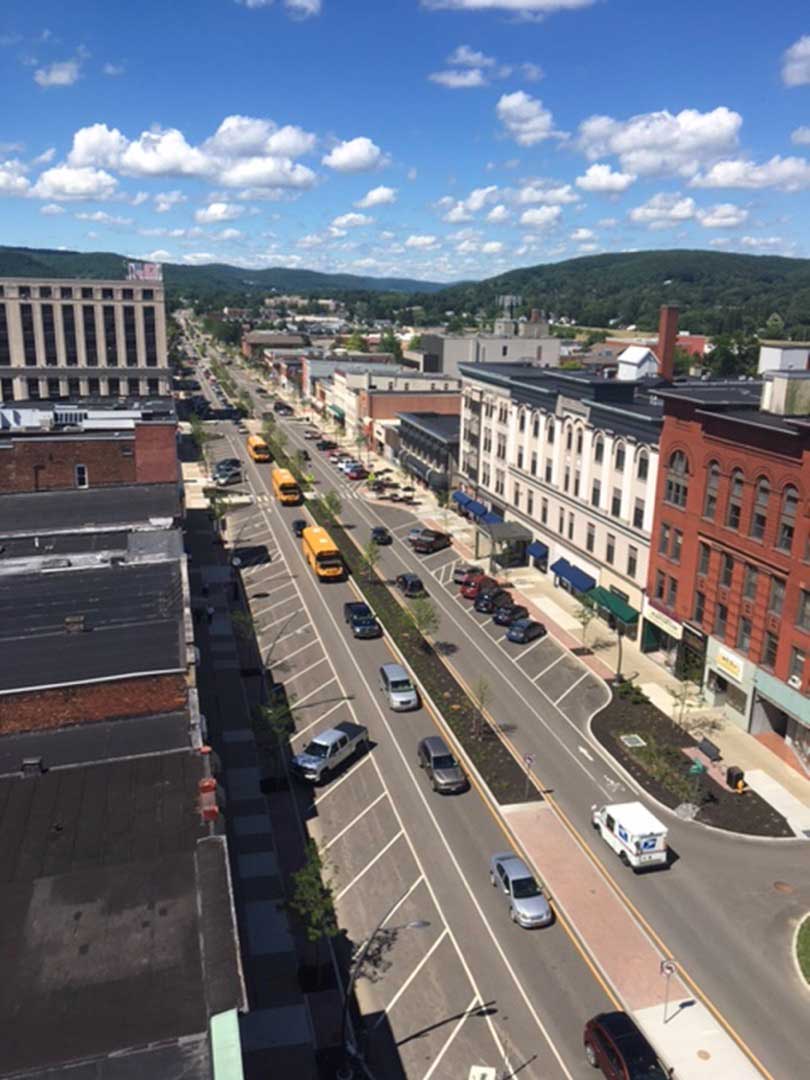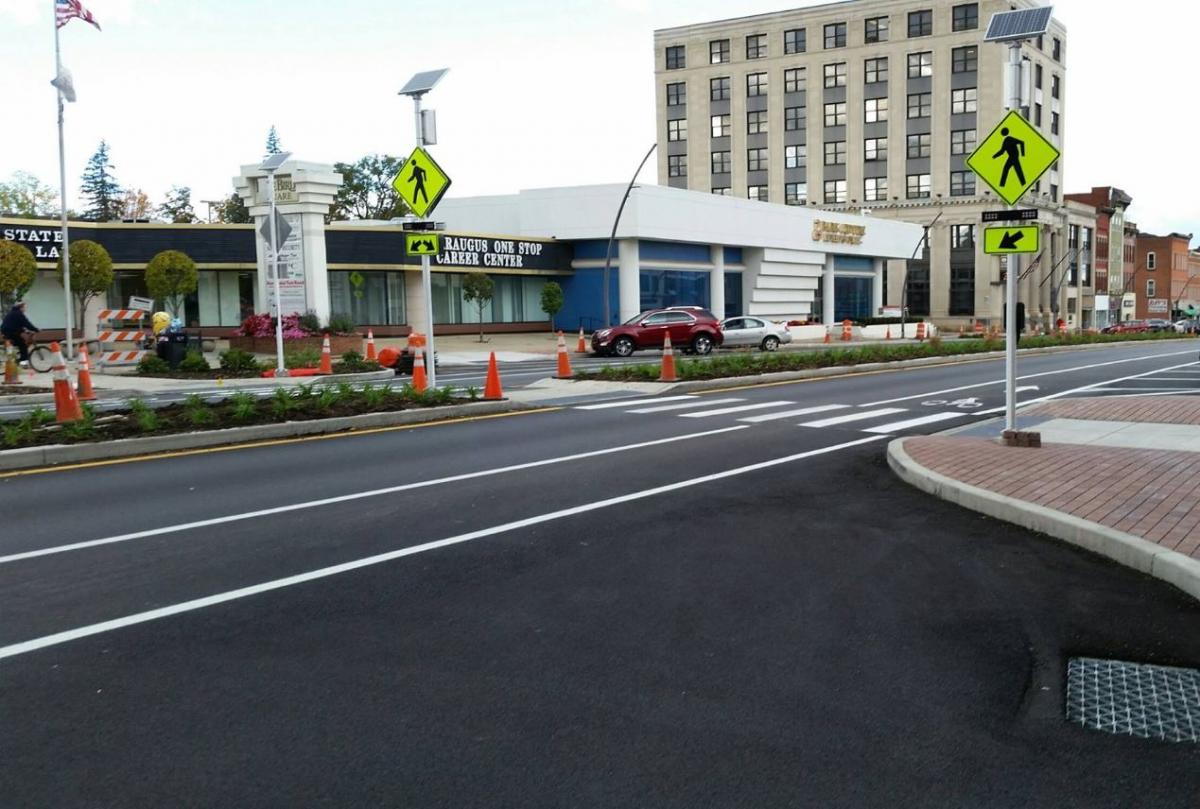 PS: December 15, 2018. I visited Olean yesterday (yes, I wrote the story without seeing the town in person). I was driving back from Chicago picking up my daughter from college. It was about 4 in the afternoon, so the sun was sinking low. The new, small trees were bare. It was a little bleak, like a lot of Upstate towns in winter. But there were people walking, a fair number of them. There was also traffic lined up at the Union-State streets roundabout going south, which I attributed to late Friday afternoon, some workplaces letting out. But the traffic was moving steadily through. What impressed me was how the drivers behave. Whenever anyone on foot—or one person in a wheelchair—approached any crosswalk at a roundabout or mid-block, the cars would immediately stop. Pedestrians crossed at will. I'm sure that was not the case when the street was a four-lane thoroughfare. All-in-all, we enjoyed our mid-December stroll around Olean, and the roundabouts were not difficult to navigate on foot. There were a number of what looked like promising places to eat, but we had to get back on the highway.