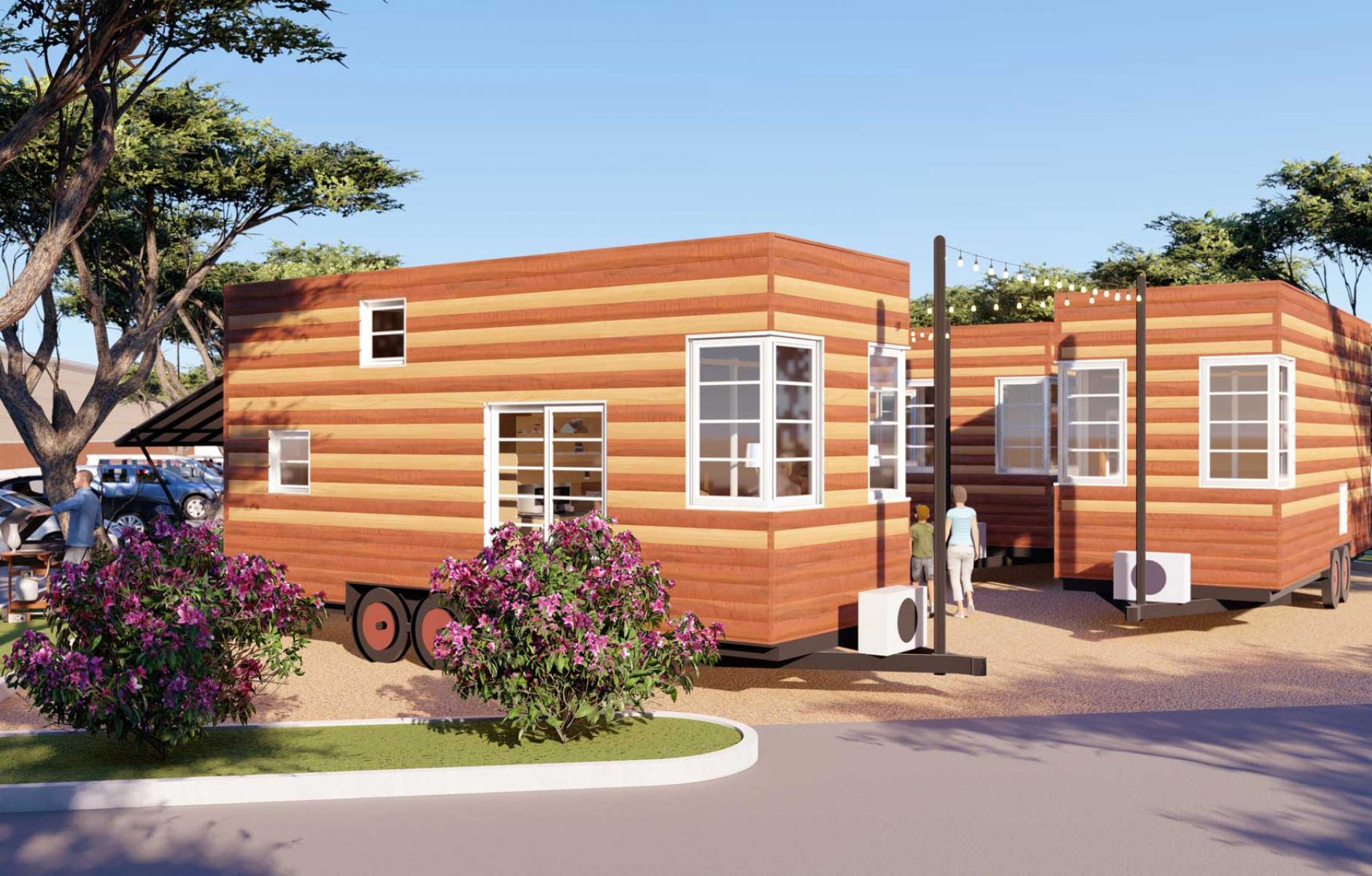 Bento Cabins. Source DPZ CoDESIGN
Transforming trailers
Andres Duany of DPZ CoDESIGN thinks that houses on wheels could be a good answer to America's affordable housing problem, and to housing adapted for climate change.
For more than a half-century, mobile homes have provided a major part of the unsubsidized affordable housing in the US. But mobile homes have not associated with traditional cities or urbanism—or good design in general.
Duany would like to change that. He thinks that the humble house on wheels could be the key to retrofitting suburban parking lots and providing the jobs housing balance in some of the nation's most expensive regions. To be acceptable he thinks that it is crucial to do a much better job at designing these units.
An estimated 20 million Americans live in mobile homes but, "Mobile homes have a huge image problem in the US, where they are shorthand for poverty," according to a BBC report.[1] They have also been used heavily for short-term disaster relief, and they don't have a great reputation for that purpose either, as witnessed by the infamous FEMA trailer.
With some success, New Urbanists proposed a better-designed mobile home called the Katrina Cottage or Mississippi Cottage. Looking like a traditional shotgun house, more than 3,000 such cottages were deployed on the Gulf Coast after Hurricane Katrina, and most have since been moved to other sites as permanent housing. But after that initial success, the manufactured home industry (along with FEMA) reverted. "Changing mobile home industry is like changing Vatican doctrine," says Duany, who organized the Mississippi Renewal Forum in October of 2005. New Urbanists like Bruce Tolar, Marianne Cusato, and Steve Mouzon have struggled trying to teach the industry how to do proper vernacular details. "Instead of teaching them how to do a proper eave on a pitched roof, how about a flat roof? Design it as the industrial product which it is," Duany says.
Building usable porches, and using well proportioned windows has generally failed to influence industry. But Duany thinks the absence of good detail can be bypassed—partly by adopting a more modernist aesthetic. Although frontages are key to successful buildings in walkable neighborhoods, Duany thinks other means are available. "Have you ever been to a trailer park? They are somehow highly sociable. In the end, what we desire is not great frontages per se—but whatever is in the service of social space. What if this can be achieved by other means?
And then today, the tiny home trend is extraordinary, and ripe for disruption with more professional design and manufacture. Duany went to a Tiny House conference with at least 10,000 attendees—showing off designs that were "all aspirational, all about romance," he says, adding dryly: "They seemed to be designed by a stoned hippie."
Duany's forays into Lean Urbanism in recent years opened his eyes to the brand-new codes for tiny houses, which are different than those for other housing—making design more efficient and construction more mechanized. They can be locally built by maker spaces. With costs rising from a $30/sf baseline—rather than trying to cut, cut, cut to lower costs of stick-built construction.
The Bento Cabin
This 210-square-foot unit is DPZ CoDESIGN's tiny house, named after traditional wooden Japanese compartmentalized lunch boxes. The exterior is made of "authentic PVC." The interior is finished plywood like IKEA, which Duany calls "middle tech," as it can be cut by an inexpensive computerized cutter machine. The cabin has an awning that pops up for outdoor seating. The interior layout is carefully designed with a tall-ceilinged kitchen/dining/living area, a stand-up loft with a queen-sized bed, and a full-size bathroom. Significant storage space is built in. Tiny houses are also allowed to have much smaller dimensions, Duany points out—hallways can be 17 inches wide, and ceilings can be 6 feet three inches tall.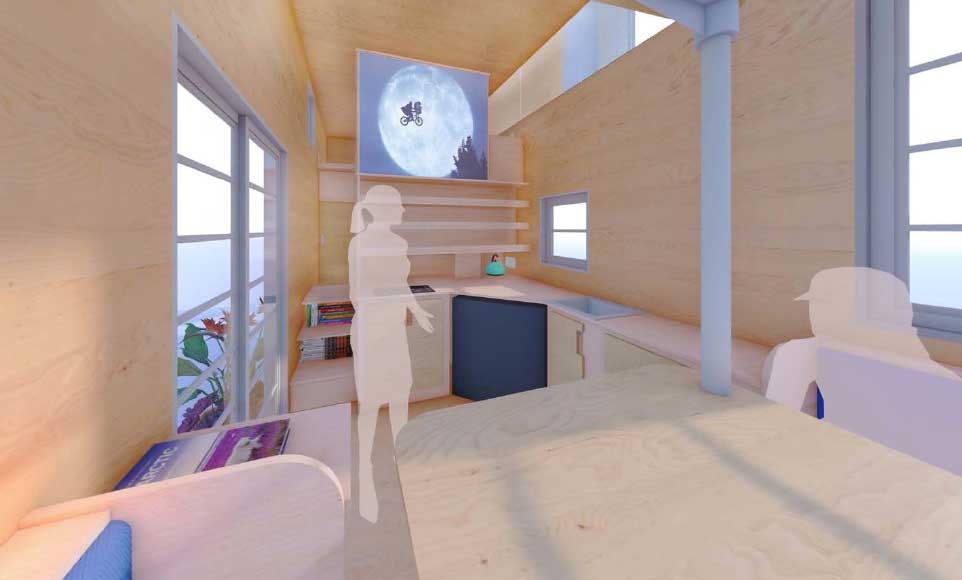 "Bento Cabins can be temporarily located on parking lots and can be removed in a couple of months' notice," Duany says. "It's a new class of real estate—infrastructure is like at marinas or forward military camps."
Tiny houses have the following advantages, Duany says:
It is the easiest way to deal with greyfields, because the Bento Cabin can be sited on existing pavement instead of new footings.
It is for the jobs/housing balance. "The communities in, say, Silicon Valley, where young people are commuting for hours to jobs—you can place the Bento Cabins in the parking lots of the of the buildings where people work." Unused parking lots are the great American asset, Duany says. They are located close to jobs.
The transportable Bento cabins could be an answer to climate change risk. "Many areas of the US are unsafe because they are low-lying. It is the only way to safely inhabit much highly desirable waterfront real estate. We have days to evacuate—it's not like an earthquake. You can hitch these up and take them away."
It is the easiest way to get to affordable housing. There are no footings required. Parking lots can be leased instead of purchased. This kind of housing is permitted by the Department of Motor Vehicles as equipment.
They can be depreciated as equipment in one to five years, which is a huge, easy to get, tax subsidy, Duany says. And they don't raise the value of real property. In high tax states and this could be a big benefit for affordability. 
Tiny houses, which, unlike mobile homes, are very moveable, are suited for the 'gig economy.' People work in one place for a time and then move—and take their house with them.
They are governed by federal regulations—not a local building code which is usually allergic to affordable housing," Duany says.
They constitute a new vision for mobile homes
Like tiny houses, the mobile home industry is open for disruption in terms of industrial production, not in terms of the emulation of grounded traditional houses, Duany says. "They never had a good designer work within their constraints." You can use anything, as long as it is with the inventory that factories currently carry, he says. Just don't add more SKU (stock keeping unit) for example."
Duany's idea is to use the 1960s Philip Johnson glass houses in Connecticut as models. Flat roofs allow 12 feet clear interior spaces. Sliding glass doors are standard SKUs for mobile homes. "The secret of those 1960s houses is the corridor running in front of the glass doors—you can't use the space anyway, and as far as site planning, they are grouped around a courtyard, creating a sociable space."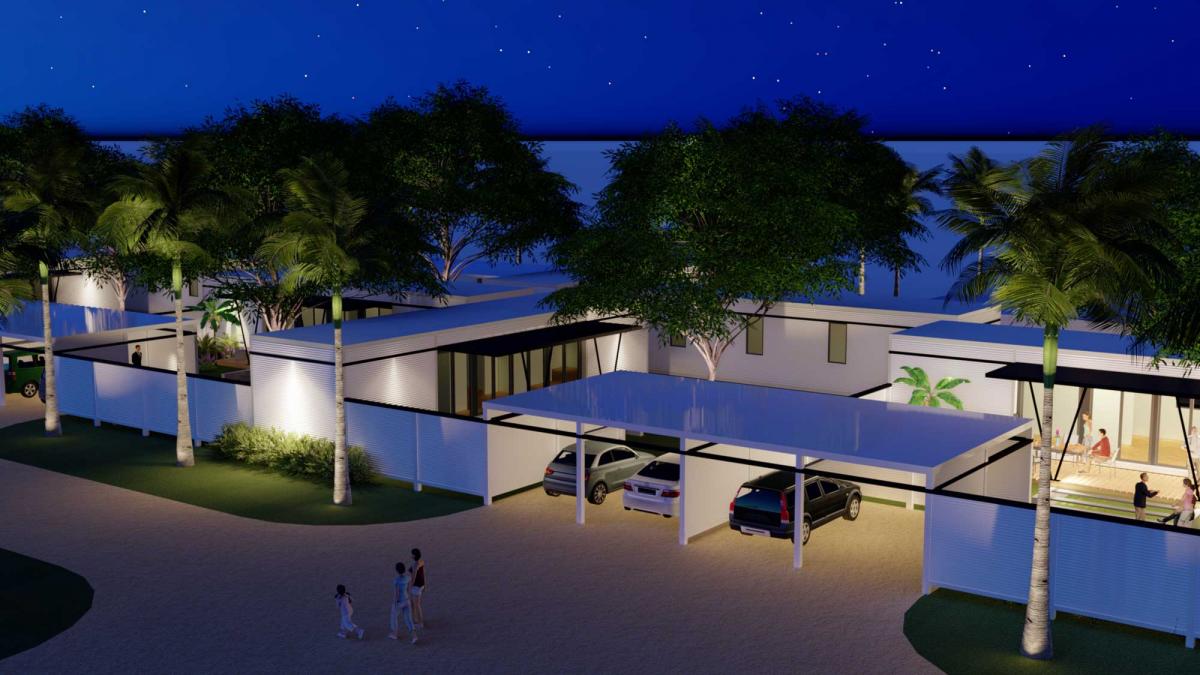 The modernist design signifies high status, counteracting the stigma of something that tries to look like a house but is inferior to one. "The underclass is erased. In fact, as the young discover them—as better than container housing—the problem will be gentrification," Duany says.
Duany thinks that homes-on-wheels should be in the repertoire in the coming decades, and urbanists should get on with it. "This is not a sideshow. It is central to our mission in the 21st century."