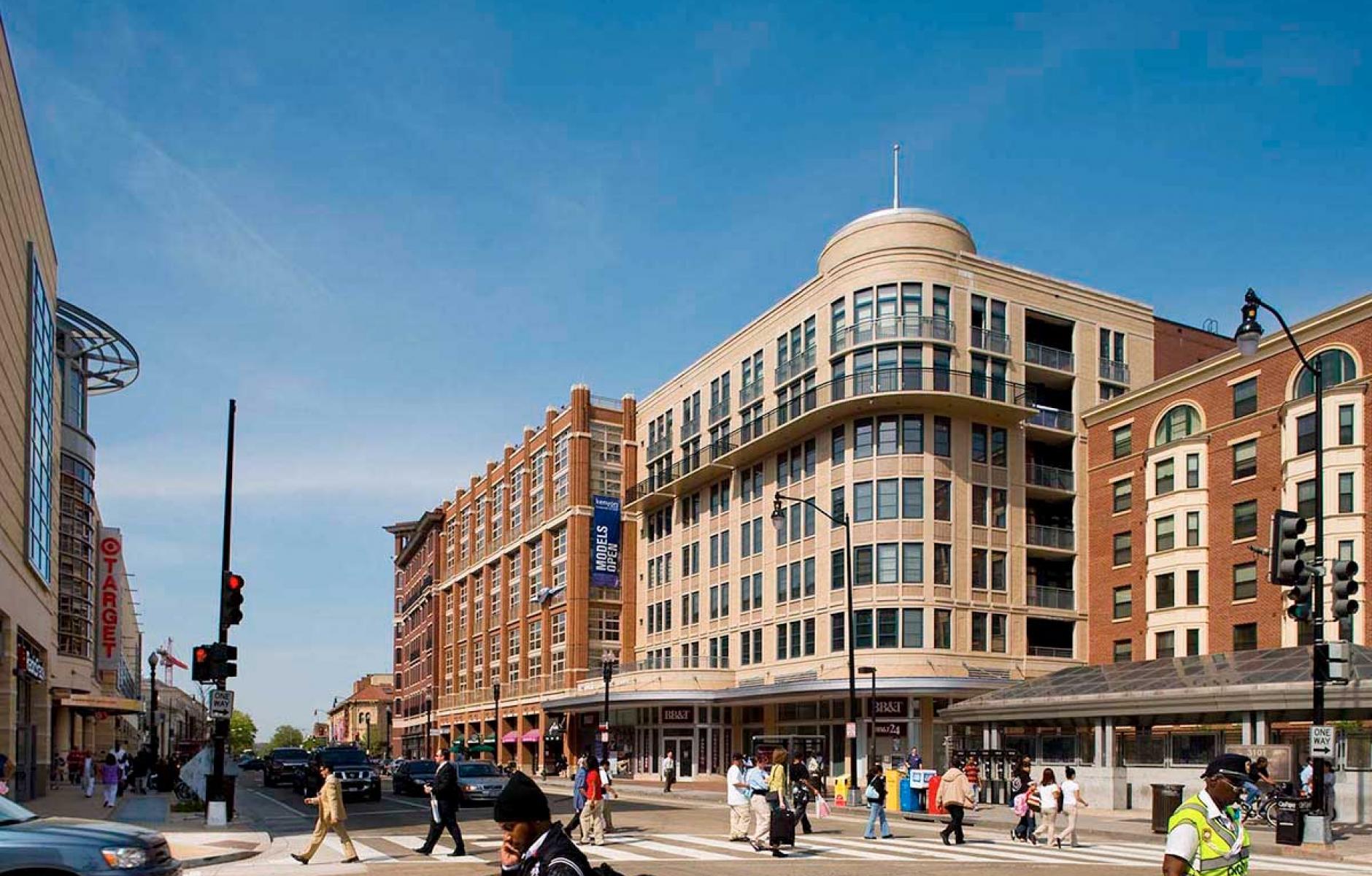 Columbia Heights in DC. Source: Torti Gallas + Partners
Urban multifamily buildings and the architecture of community
Mid-rise residential buildings are an essential component of urbanism when they respond to context and help set the pattern of streets and blocks.
Editor's Note: This essay appeared in Torti Gallas + Partners: Architects of Community.
"Paris is so very beautiful that it satisfies something in you that is always hungry in America."
Ernest Hemingway, A Moveable Feast
"You can't rely on bringing people downtown, you have to put them there."
Jane Jacobes, The Death and Life of the Great American City
Americans are increasingly moving to urban centers, replacing years of decline with new growth. Character-rich neighborhoods, myriad cultural amenities, diverse populations, car-free lifestyles, and above all, the activity of the street are sought-after qualities of place. This hunger has prompted substantial residential development, especially in the East Coast metropolises of Washington DC, Boston, and New York.
This article examines the rebirth of the city as a place of residence, exploring the architecture and urbanism of the mixed-use apartment building. The Washington metropolitan region, where the majority of the projects featured are located, has been fortunate to have public administrations focused on bringing residential buildings into neighborhoods that were previously limited to daytime business or were still languishing from the devastation of the 1968 riots. Myriad public/private development ventures, prescient re-zonings, and the completion of several of the last planned legs of the District's subway system, have all fueled an urban residential building boom that has transformed neighborhoods in and around the city.
Lessons from Paris
For Hemingway and his fellow ex-pats in the Paris of the 1920s, it mattered little that you lived in a tiny garret because when you lived in Paris, you lived in Paris. The minimal accommodations of the res privata were more than balanced by the opulence and exquisite urbanity of the res publica and the rich public life it offered. Though current apartments are larger than those of Hemingway's attic, they increasingly tend toward the minimal, especially with recent innovations such as the micro-unit. Embellishing the apartment and its inhabitants' life with the amenities of the public world—whether the street outside, common rooms inside, or a restaurant on the ground floor—is re-creating in contemporary apartment design the formula of Hemingway's Paris. Bigger is not better, more urban is.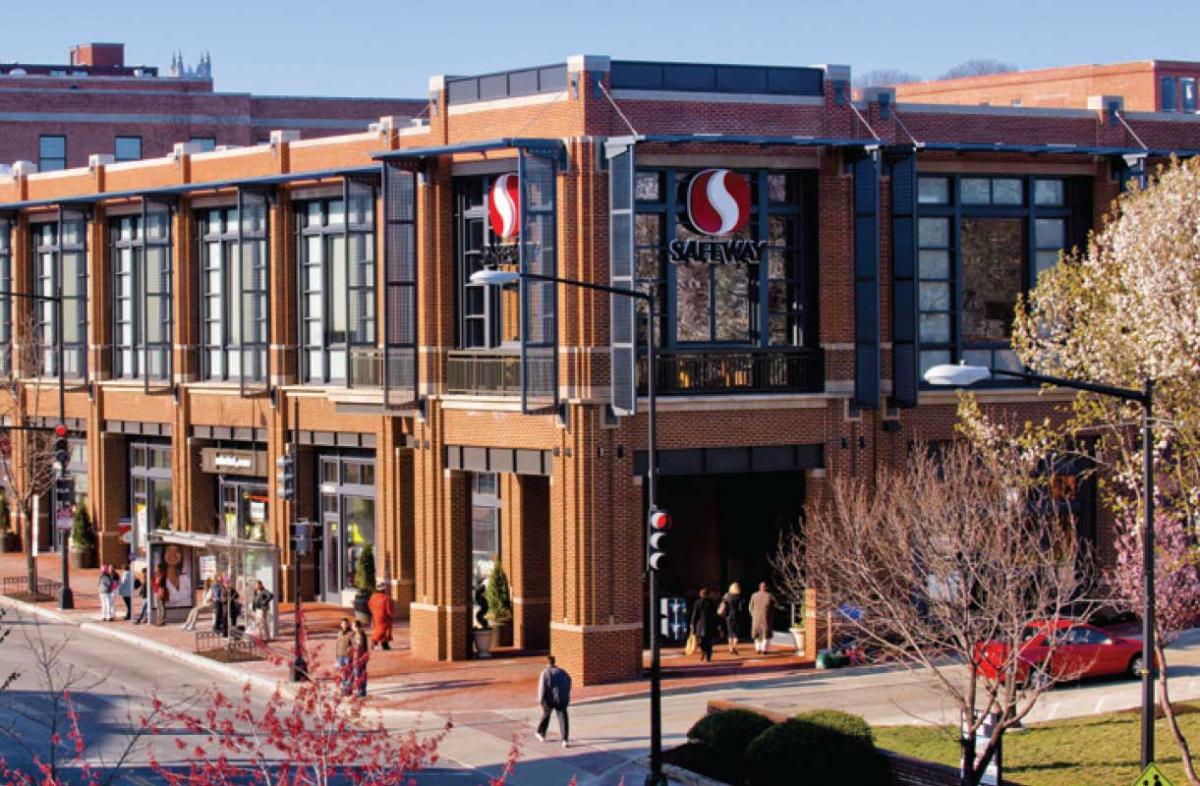 One of the greatest impacts this has had on our apartment commissions has been their almost universal inclusion of ground-floor retail. We have become expert at deftly integrating the vertical alignment of apartments, with their small rooms and high degree of repetition, over the large floor plates and flexibility requirements of retail space. This is particularly challenging when the ground floor is a large-format grocery store. Some of the projects record the transformation of grocery stores from freestanding buildings surrounded by parking lots into anchors of urban neighborhoods, sustaining existing communities (see photo of Georgetown Safeway, above) or creating the catalyst for neighborhood regeneration (City Vista, see below).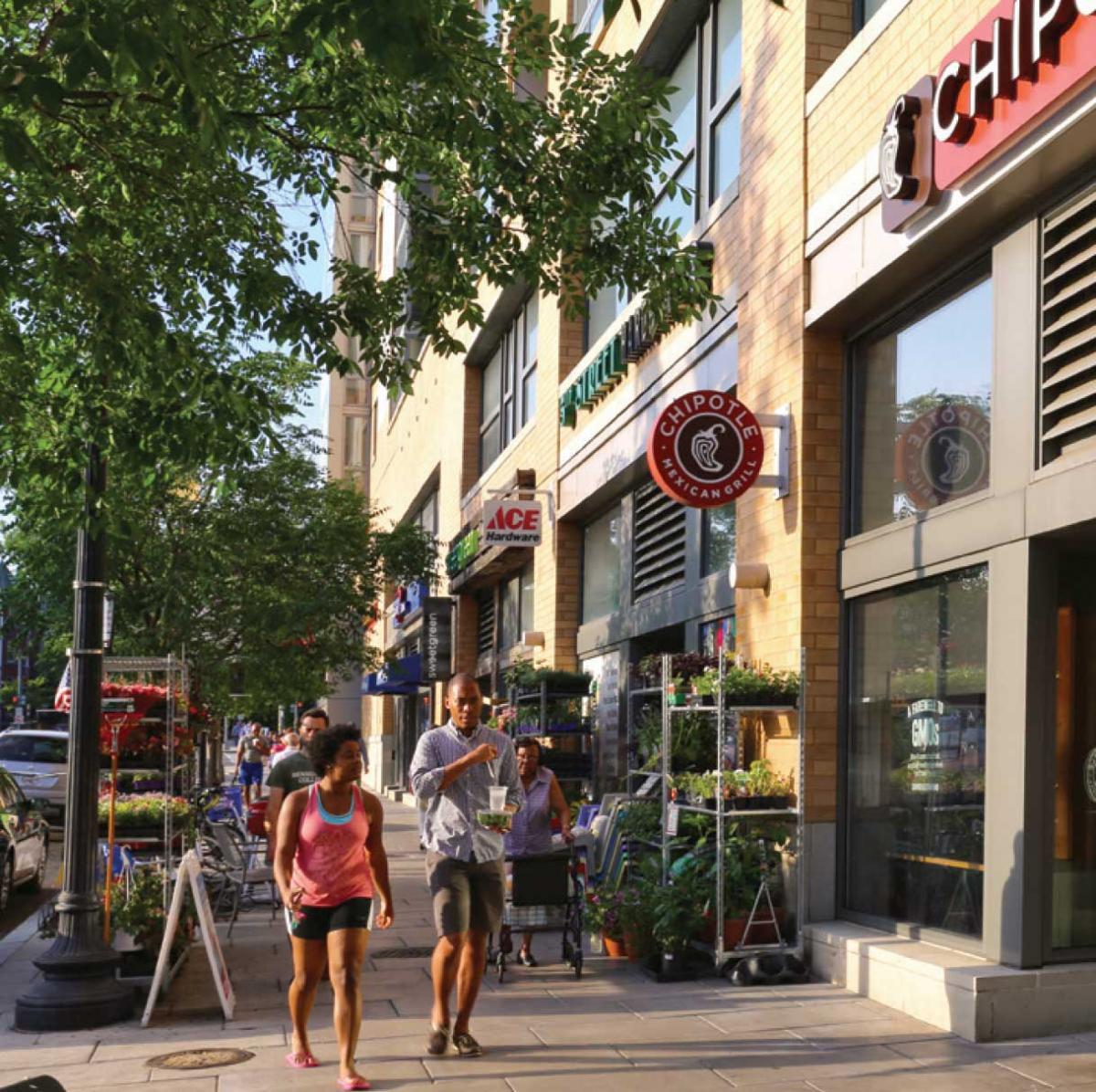 The shift from single-use residential commissions to mixed-use projects has had a tremendous impact on neighborhoods in the District and surrounding inner-ring suburbs. Prior to the 1990s, active street retail in the District was confined to a handful of neighborhoods—portions of the central business district, Dupont Circle, and Georgetown. The shift in residential commissions to include ground-floor retail combined with the push, beginning with the administration of Mayor Anthony Williams, to place residential building in downtown neighborhoods have radically altered that landscape— enriching the city with numerous neighborhoods that have a vibrant street life. The 14th Street corridor, Columbia Heights, NoMA (North of Massachusetts Avenue, a residential neighborhood that did not exist before the 1990s), and H Street NE have all been reinvigorated socially, physically and programmatically by new mixed-use buildings.
Residents' increased desire for public interaction has also influenced the communal spaces in our apartment commissions, resurrecting the lavish public rooms of pre–World War II residential hotels such as Alban Towers. Our Park Van Ness project in upper Northwest includes an elaborate set of common rooms, all with spectacular views of Soapstone Valley Park at the rear of the building. The development of the rooftop as a public amenity is part and parcel of most of our District apartment projects. The skyline of Washington, more like that of Hemingway's Paris than of a contemporary skyscraper metropolis, is controlled by the Height of Buildings Act of 1910, which was legislated to preserve the dominance of the Capitol Dome and limits building heights to a maximum of 130 feet. The Height Act has both sustained the urbanism of the street and created a distinctive aerial landscape of apartment and office rooftops punctuated by the towers, spires, and domes of local and federal monuments, the spectacular views of which we have exploited by creating elaborate rooftop terraces (360° H Street, see below).
L'enfant's Washington
Many of our commissions in the District are designed to support and enhance the traditional urbanism of Pierre L'Enfant's original plan. Our primary goal is to insert new buildings in a way that integrates them with the broader neighborhood while also making a tangible contribution to the public realm. The signature building is resisted in favor of a powerful place, be it an extraordinary intersection (Columbia Heights, see below) or an ordinary residential street.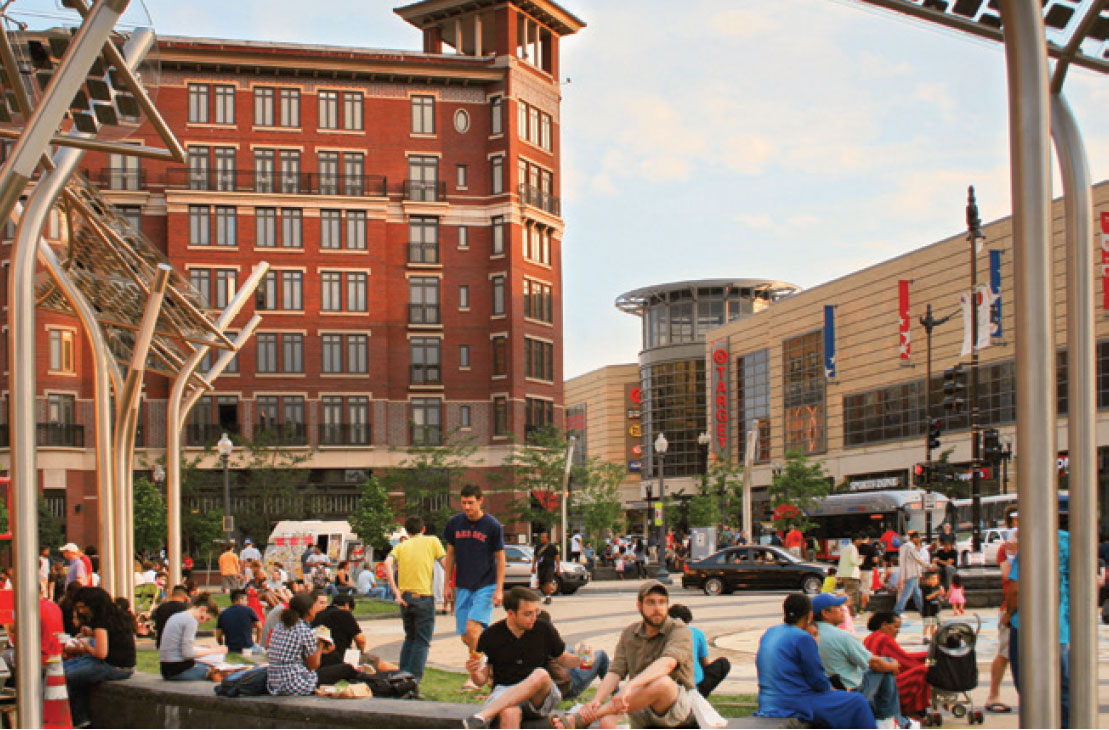 L'Enfant's complicated pattern of radial avenues and Cartesian street grid, absent a consistent block or lot geometry, often generates sites of widely varying shapes. This irregularity is exacerbated in infill conditions or in our many public/private commissions, which tend to be piecemeal lot acquisitions by the city. More often than not, we work to create integrating urban forms through the manipulation of a conventional 65-foot-deep, double-loaded corridor building. The curved façade of Park Place (TK), for instance, adjusts the corridor building type to celebrate the terminus of New Hampshire Avenue. The front- or rear-facing courtyard apartment building is a common District type, and we often utilize it to address deep sites and reconcile the dimensional difference between ground-floor retail and upper-level apartments. Highland Park and the Ellington both have this parti, and Park Van Ness uses it on both the street and the park faces, creating a building where some 80 percent of the units enjoy a park view.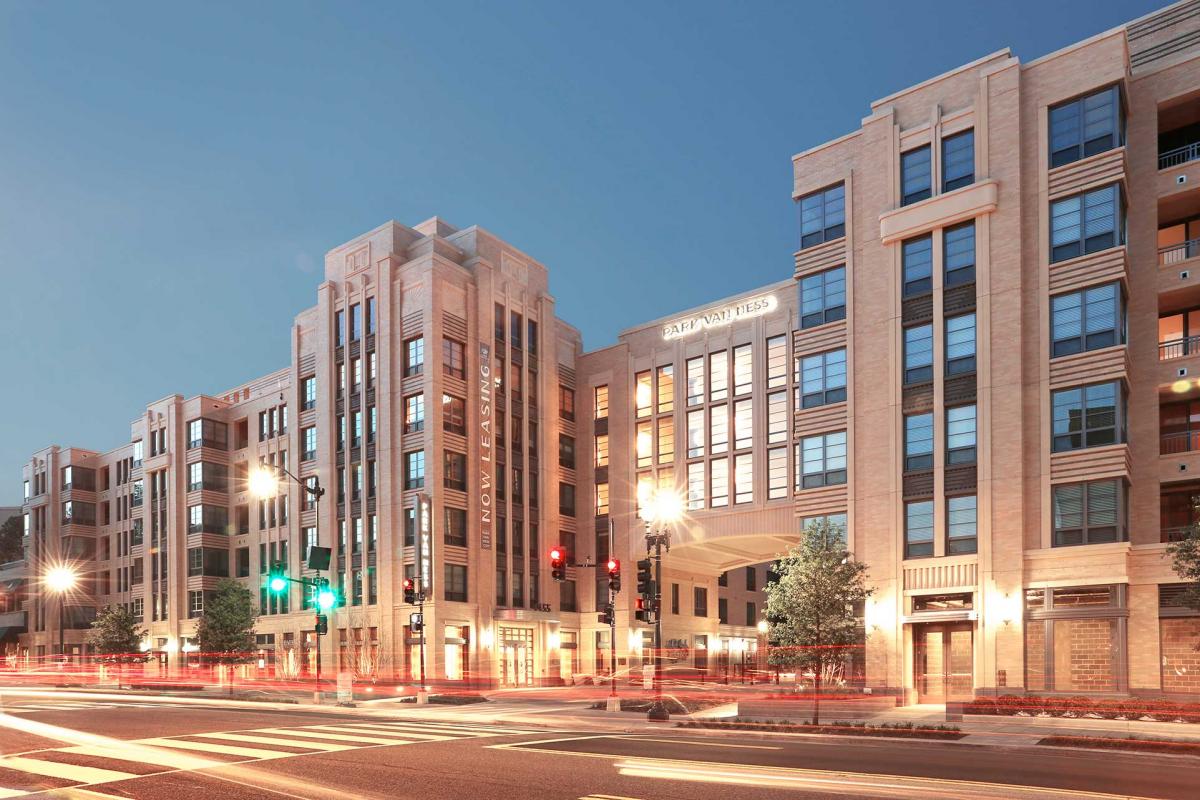 The complicated geometry of the L'Enfant plan also often results in unresolved transitions between the District's two dominant housing types: the mid-rise apartment and the urban rowhouse. Many projects such as the Ellington derive their urban idea from the reconciliation of the two, adopting a Humpty Dumpty, put-the-pieces-back-together-again urban strategy. We are constantly engaging in an architectural tug-of-war between the fixed and unyielding cadence of repetitive housing units and very specific and highly idiosyncratic local conditions. Real estate viability, and professional fees, place a premium on the smallest number of unit types with the highest degree of repetition, while the unique gesture that locks a building form to its location—be it a special façade or a carefully sculpted massing detail—always argues for yet another unit type.
Suburban repair
Projects in the inner-ring suburbs present a very different set of challenges. Many of these suburbs around the District have become rapidly urbanized in response to housing pressures, much of the development stimulated by new transit and concentrated around Metrorail stops. The conditions of these sites vary, from those with fragments of an urban place to those without any distinctive context. In the case of the former, we look to contribute pieces to the puzzle in a process of addition that over time will create urbanity. Our two buildings at Lyon Place in Clarendon, for instance, add to the remnants of a formerly vibrant 1940s commercial corridor, creating a critical mass of new building that reestablishes its Art Moderne spirit. Our Shirlington project performs a similar transformation, retrofitting a fledgling one-block open-air suburban mall with new infill development to create a multiblock urban district.
When we operate in automobile-dominated suburban sites without a context to connect to, our projects are the pioneers that begin the process of urbanization. We often start with the public realm, and look to establish a place scaled to the person and not the car. At Nannie Helen in the Deanwood neighborhood at the edge of the District (see below), for instance, we pulled our apartment building right up to the street wall. With public uses on the ground floor, it creates a one-block patch of urban sidewalk along an otherwise automobile-dominated roadway, beginning the thoroughfare's transformation into an urban boulevard. At Gables Pike District, we recast a structured parking garage as a generator of urban activity. Surrounding it with new buildings, linkages, and a modest set of public uses, we created a new node of public activity. These projects strive to establish place in the nondescript landscape of suburbia and have taught us a great deal about the fundamentals of urbanism, giving us greater insight into our urban infill projects.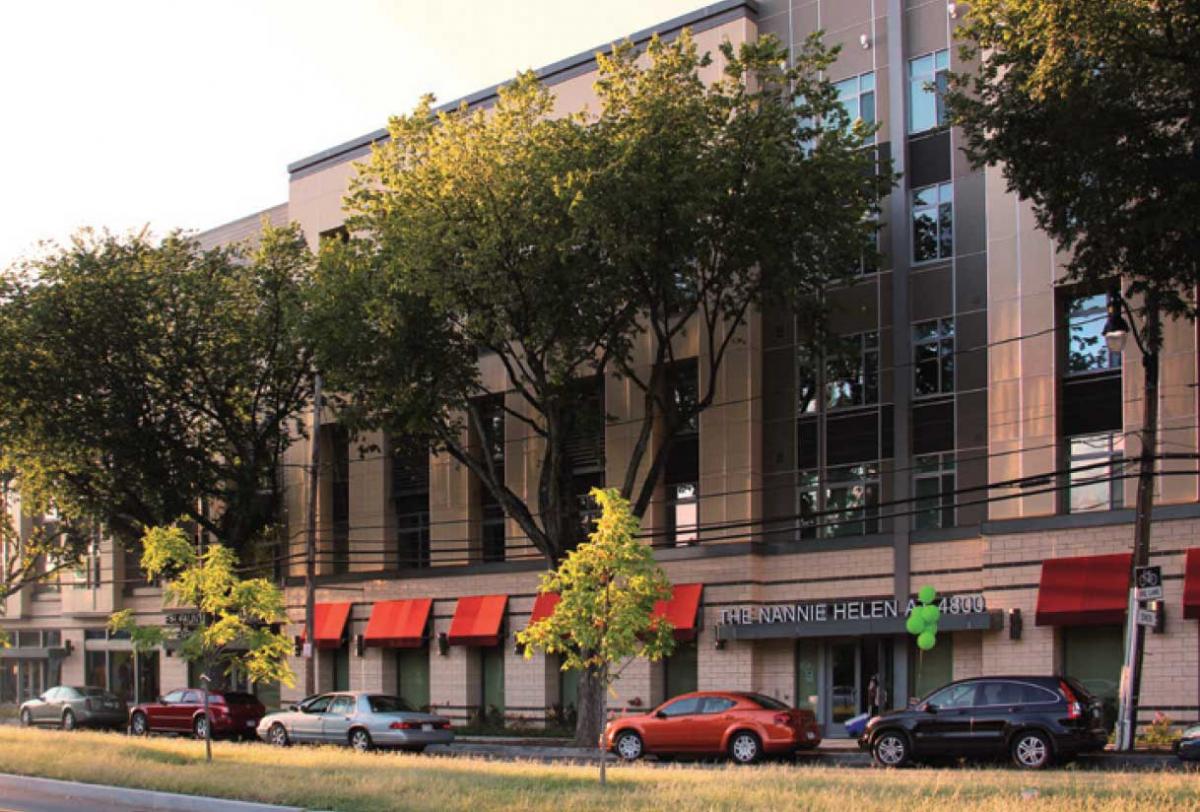 Speculative apartment design and the city
The design of ordinary housing is often a search for the innovations that satisfy lifestyle requirements and market demands while meeting the safety and health standards required by building codes. New housing types are often born out of that nexus and tend to impact the city in waves. A first project tests a new type that, if successful, is quickly imitated by others. While not an urban gesture per se, the collective impact of new residential types alters the character of urban life and the form of the city.
The District and its environs have recently been impacted by innovations in unit design, stimulated both by the extraordinary costs of urban real estate and by the increasingly appealing images of urban life. The loft unit, harkening back to refurbished units in warehouse districts such as SoHo, New York, is a new type that locates a recessed bedroom at the rear of the living space. Increased ceiling heights, sometimes sufficient for an upper-level mezzanine, together with free-flowing interior space and substantial window glazing, permit a unit depth greatly exceeding that of a conventional unit. We utilized it in several of our early projects such as the Columbia Heights buildings and the Ellington, where it found a fit with the edgier states of these just-emerging neighborhoods.
The buried-bedroom unit, which removes the bedroom from the exterior wall and opens it to other living spaces through large doors or sliding walls, and the micro-unit, an apartment that is as little as 200 to 300 square feet, are more recent innovations that are also making an impact on the District and its environs. The small size of micro-units reduces rents, making them affordable to young people living alone, even in high-rent markets. When matched with the amenities of the building and the broader neighborhood, they offer a rich urban lifestyle, harkening back to Hemingway's Paris. Prominent in the District because of recent changes to building codes, the buried-bedroom unit allows more flexibility in room arrangement, permitting living spaces to run the length of the façade, creating a "great room." Both unit types leverage the spatial qualities of conventional modernism—large expanses of glass, walls that float free of the ceiling, sliding walls or "barn doors," functional rooms condensed to a slick piece of furniture—to enlarge minimal spaces, impacting the image of Washington streets as they change from solid brick to shimmering glass.
Though these innovations impact the market and our work, they add to, rather than replace, existing types. The workhorse of apartment design, the conventional double-loaded corridor building, is a mainstay in our typological toolbox. Corridor buildings easily accommodate a range of demographics, such as "mingles"—two or more unrelated people living together—and families. We design units for the former with multiple suites of private rooms (bedrooms, walk-in closets, and bathrooms) and a central, common living space; for the latter, we maintain a bedroom hierarchy. We often place family units on the ground floor with individual unit entries or small private exterior spaces. And we often enlarge these types of rooms by adding sculptural features to the façade, especially balconies and bays. These features not only expand interior spaces but also engage the apartment interior with the outside world. Because the District's zoning codes do not count such projections into the street toward allowable building square footage, our clients are often prompted to include them in their projects. Devising architecture out of the limits of zoning regulations is an age-old part of residential design, influencing individual projects and at times the genius loci of an entire city or neighborhood, as is evident in the character of Capitol Hill townhouses with their distinguishing bays.
Making facades
Residential buildings are most typically the background buildings of the city, establishing the pattern of ordinary streets and blocks. Our façade designs balance interior needs with this larger urban role, seeking to make the city legible through their pattern and cadence. The relationship between the building façade and the street, or on occasion the square, is an intimate one, and influences not so much a selection of style but a determination of character. The episodic nature of the Kenyon Square façade, for instance, has everything to do with the jazzy, scenographic nature of 14th Street, while the restraint and regularity of Park Triangle relates to the formal urban plaza on which it sits.
A broad range of architectural languages may be used, from reinterpretations of historic styles to modern idioms supporting traditional urbanism. We explore them within the confines of speculative development, with its limited budgets and pressures on site yields and building costs. These constraints often force us to use basic construction systems with the greatest efficiency and lowest cost. When concrete construction wins, we enjoy the most liberty, availing ourselves of deep walls and more plastic building forms. Wood construction presents greater challenges, and we must search for the languages and expressions that will convey the permanence associated with urbanity, including façades of sufficient richness to sustain the public realm (Notch 8). Wood construction and the District's height limit often require us to render large building programs as long, horizontal forms with lots and lots of street wall. In such cases, we frequently utilize a strategy of multiple façade types, gauged to what we call the "urban increment," subdividing a block-long building into sections of different character (360° H Street, see below) to establish a cadence of façades appropriate to the street.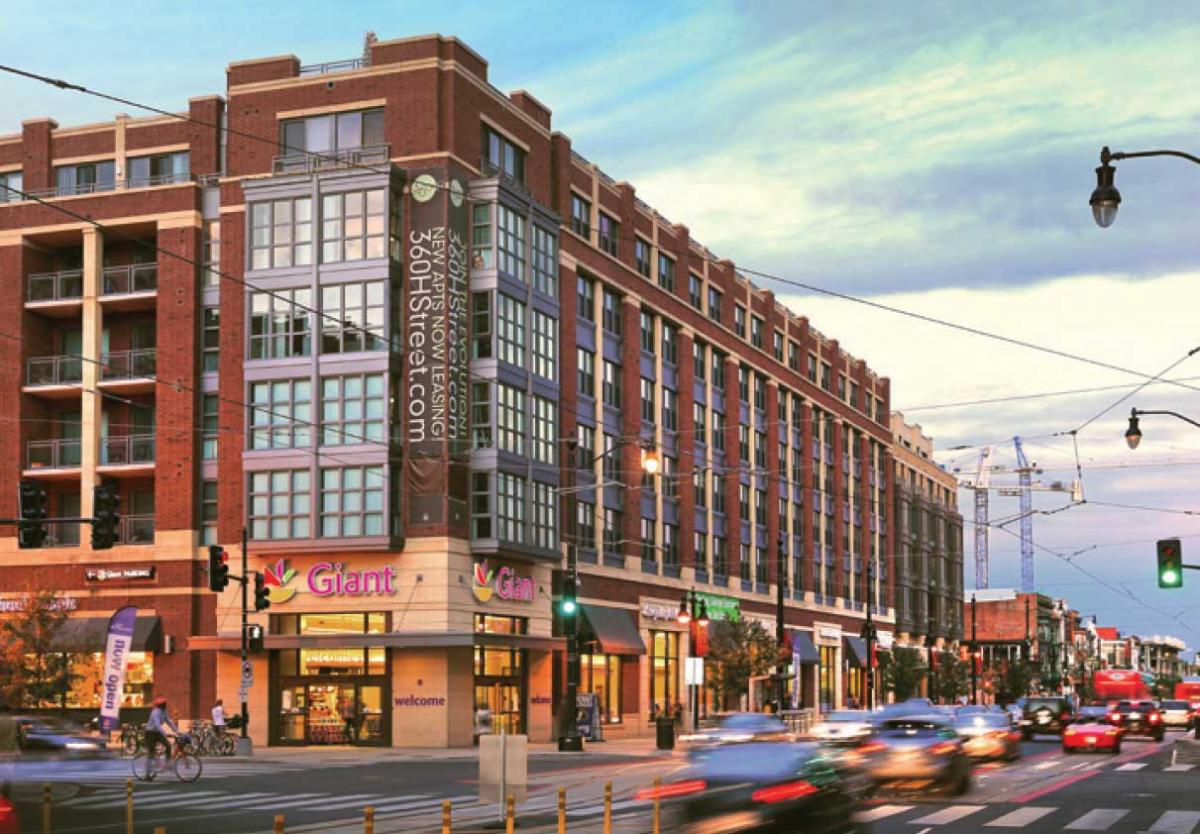 Conclusion
When we completed City Vista, it was bereft of near neighbors. Surrounded by parking lots, it stood isolated, in a condition not dissimilar from the housing that initiated the development of New York's Upper West Side or Boston's Back Bay. Like those pioneering buildings, City Vista has been absorbed into the neighborhood that has since grown up around it, bringing new life to a previously vacant part of the city, reestablishing it as a place of residence, and resuscitating the mid-rise apartment building as an essential component of its urbanism.