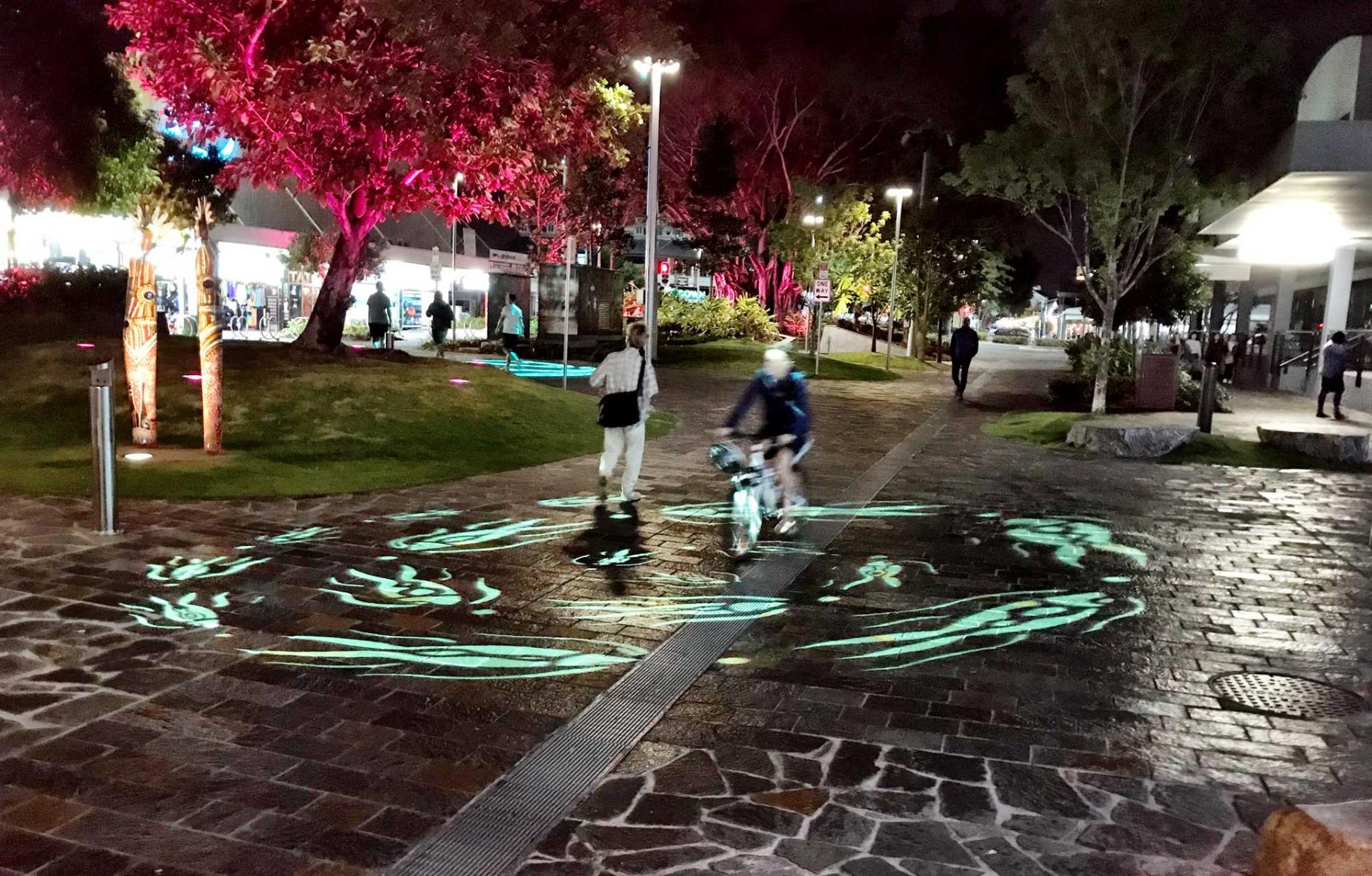 Cairns, Queensland, Australia—avoiding the humidity using active transport. Photo by Charles Wolfe
Empowering lessons for livable places
Thanks to the Australian-American Fulbright Commission and UN-Habitat's World Urban Campaign, fundamental relationships at the heart of urban public health and livability are under scrutiny in tropical Australia.
In The City in History, Lewis Mumford once properly characterized the essence of cities as a dynamic that unfolds between two poles of human life: "movement and settlement." Between these poles, we see the intersection of the built and natural environments, and the ongoing interaction and evolution of transportation nodes and land uses. The roles of walking, shelter, and movement between places, and the impacts of the urban form on public health, are ripe for observation in cities across the world.
Fast forward to modern cities, where leaders, municipal staff, design professionals, and other stakeholders often discuss walkable, transit oriented, and mixed-use communities as the inevitable next steps for evolving urban areas. However laudable these ideas might be, our recent work in tropical Australian cities (under the auspices of the Australian-American Fulbright Commission, UN-Habitat, and the World Urban Campaign) suggests an understanding of the climate-influenced patterns of urban life is essential for the contextual application of these tried and true tenets of good urbanism.
Beyond paradise and the importance of context
When reviewing traditional postcard imagery or the portrayals of stage, screen, and modern social media, the words "tropics" and "paradise" often seem synonymous. However, in today's complex urban settings, this simplicity is inaccurate, because the movement/settlement dynamic is skewed by climatic conditions. Livability and human interaction is often compromised by intense seasonal heat, severe humidity, and torrential rains. Without adjustments or safeguards, outdoor activity becomes highly undesirable during certain parts of the day, and social cohesion may be inhibited or lost entirely.
In the context of tropical cities, some would characterize the reality of human movement and settlement as defaulting to a modified convenience, premised on avoidance of severe conditions. People move between insular, temperature-controlled dwellings to temperature-controlled cars to temperature-controlled offices, and vice versa. Under these conditions, as others have noted, traditional urban design and planning approaches to the movement/settlement dynamic—particularly when applied to fostering active and healthy lifestyles—requires considered reflection.
In particular, beyond familiar calls for light rail and reduced speed limits, what do transportation improvements that emphasize walkability and bicycle-oriented solutions look like in a small, tropical city? How must urban design and infrastructure (e.g., examples of planning for shade-creation and lighting) change to assure healthy activity? What are the associated roles of green spaces as activators of human recreation and social activity, beyond mere design ambience on auto-centric streets?
Given how the planning and design (or haphazard evolution) of urban spaces largely dictate the way we live, we set out to re-examine daily urban life in the tropical context. Our efforts, with our funders and supporters, has centered on the use of methods and tools from the book, Seeing the Better City, to explore how such planning and design in two Australian cities impact residents' health in many ways. We aimed to explore whether current conditions encourage or discourage active lifestyles, social cohesion and access to healthy food choices.
The relevance of the New Urban Agenda
The New Urban Agenda [pdf], drafted by UN-Habitat, and endorsed in late 2016 by the United Nations General Assembly, contains an empowering "call to action." It enables everyone to benefit from inevitable global urbanization trends, based on implementation of equitable frameworks.
In particular, through Sustainable Development Goal (SDG) 11 (Sustainable cities and communities), the New Urban Agenda provides a guide for developing safe, inclusive, resilient, and sustainable new cities that promote social integration and equity. This goal also provides the impetus for more contextual conversations about the growth, redesign and redevelopment of existing urban spaces.
Successful local implementation of the New Urban Agenda depends on more than planning document verbiage, regulatory revisions, or "cookie-cutter" imports of familiar "good urbanism tenets" (cited above) to the tropics. Even within the Far North Queensland tropical region, the climate varies. Cairns experiences a tropical monsoon climate (wet tropics), while Townsville is exposed to a tropical savannah climate (dry tropics). 
Just as Cairns and Townsville deserve distinction from the settings of other Australian, European, or American cities, public space design must also vary within the tropical climate zone. We designed the Urban Thinkers Campus sessions (described in this video, as well as further below) to enable a broad range of local participants to first identify current behaviors, reflect on how planning and design impact public health, and to suggest relevant planning and design improvements.
How did we facilitate this local input into contextually appropriate design? What have we learned so far about how to adapt general tenets of good urbanism in tropical Australia?
Urban Thinkers Campuses: Understanding Cairns and Townsville through the urban diary tool
We posed these questions to groups of over 50 people in each city—though UN-Habitat World Urban Campaign Urban Thinkers Campus sessions in Cairns and Townsville in June, 2018. Drawing on the urban diaries described in detail in Seeing the Better City, these events provided the fundamental basis for understanding the context of each city through a local lens.
Urban diaries are premised on the importance of local history, values, and knowledge. They implement a scalable approach, intended to "distinguish underlying organic relationships between people and cities from indiscriminate prescription imposed upon place." We offered the urban diary tool as a way to enhance personal observation, increase individual awareness, and create positive urban change. 
In our investigation, we invited a range of citizen, professional, governmental, and academic participants (and provided associated written guidance [pdf]) to take and caption photographs of their surroundings, noting how the urban environment in which they reside impacts public health and livability. Participants actively contributed and described their photographs, and shared these images through two Facebook Groups, which we used to capture ideas and start conversations at both the Cairns and Townsville Urban Thinkers Campus sessions. 
The urban diary approach helped participants clarify how urban design in Cairns and Townsville impacts the health of residents within these tropical cities. Participants further realized the empowering nature of citizen submittal of visual feedback to urban planners. In turn, municipalities are seeing the ongoing power of guided visual engagement with residents in planning processes, aligning closely with the New Urban Agenda principles.
Place-based urban planning and design
Climate-responsive planning and design are important to assure that urban residents in tropical climates incorporate incidental exercise into everyday routine. We believe that people can better use public spaces if they are designed with the premise of mitigating the negative impacts of tropical climates.
We presented three overarching questions to Urban Thinkers Campus participants to determine how existing urban infrastructure and amenities promote or restrict:
Active lifestyles
Social inclusion
Healthy eating
The lessons so far
We will be finalizing an Urban Thinkers Campus report for UN-Habitat, the Cairns Regional Council, and the Townsville City Council in the coming months. Based on our preliminary data review, some provisional observations follow.
The public health issues faced by first world populations living in the tropics generally coincide with health problems of first world nations worldwide. Campus session presentations by public health professionals in both Cairns and Townsville showed how diabetes and cardiac conditions dominate the preventable hospital admissions and mortality statistics in Far North Queensland. It is well documented that the way to decrease our reliance on the increasingly strained health system, is to keep people moving[i].
Our initial review of session data also shows a general citizen desire to reconnect with one another. Participants emphasized that physical activity often occurs after the sun goes down (a time-shift effect) to avoid debilitating heat and humidity. They advocated for effective urban design and lighting solutions to ensure public safety.
We also found that participants viewed their first world tropical cities as auto-centric, but reiterated a desire for change to incorporate more active lifestyles. Finally, participants expressed a significant interest in using public space for food production, as well as capitalizing on this focus to offset gentrification and to foster more purposeful social inclusion.
The Cairns and Townsville Urban Thinkers Campus sessions provided meaningful input to conversations about how to improve public health through sustainable urban design for the tropics. Each Campus session also entertained the ongoing use of citizen-submitted visual material to assist in more meaningful dialogue and outcomes. These conversations need to expand, and we believe that they can provide a paradigm for other contexts around the world.
Do we currently have all the answers for the people of these cities? Definitely not. But we can now state with confidence that the urban diary approach provides people with a chance to meaningfully engage with the decision-makers who will influence the cities of the future.
This article first appeared on Planetizen at www.planetizen.com.