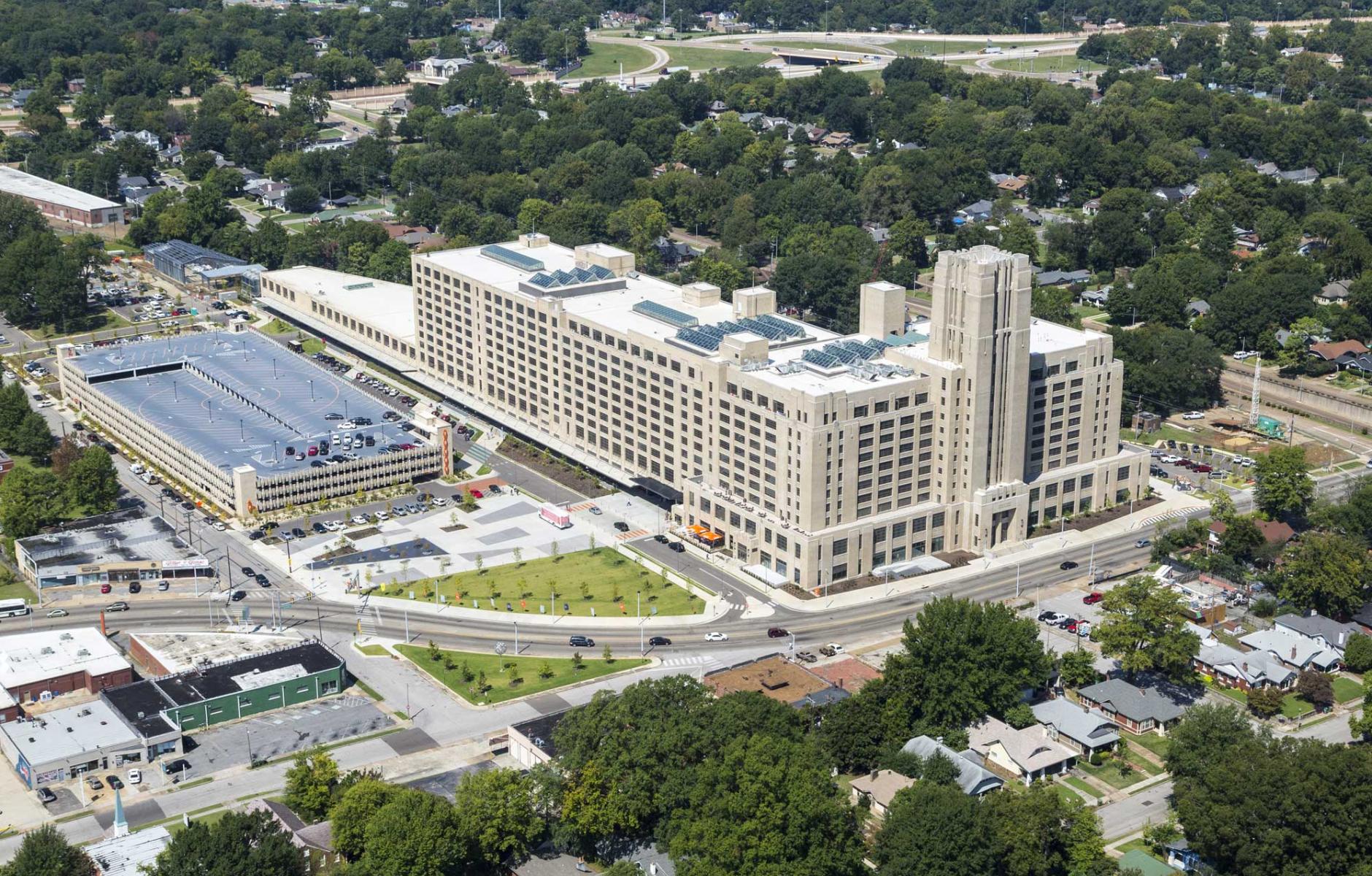 Source: Looney Ricks Kiss
The toughest transformation
Crosstown Concourse reused a massive blight in the midst of disinvested Memphis neighborhoods.
For two decades, the 1.3-million-square-foot former Sears distribution center sat empty in the midst of disinvested Memphis neighborhoods—a symbol of urban blight. The building was too big to redevelop and too expensive to demolish, many thought.
Now Crosstown Concourse represents the best kind of community-driven revitalization—a "vertical village" that is fully occupied with 265 residential units, twenty percent of which are affordable. It includes a public charter school, a YMCA, health care facilities, restaurants, shops, and a 425-seat theater—a venue for local and touring musical acts, art films, community theater, and assembly space for tenants. "The project teaches what can happen when typical models of development are put aside in favor of local re-investment and direct community collaboration," according to Looney Ricks Kiss, the project designer.
Crosstown Concourse has generated 700 new jobs, according to Mayor Jim Strickland: "It's extraordinarily exciting. Three thousand people are going in and out of this building every day. I'm hopeful that all of Cleveland (Street) starts popping. It's nearly miraculous." Workers, residents, and visitors include doctors, patients, students, shoppers, artists, creative professionals, and entrepreneurs.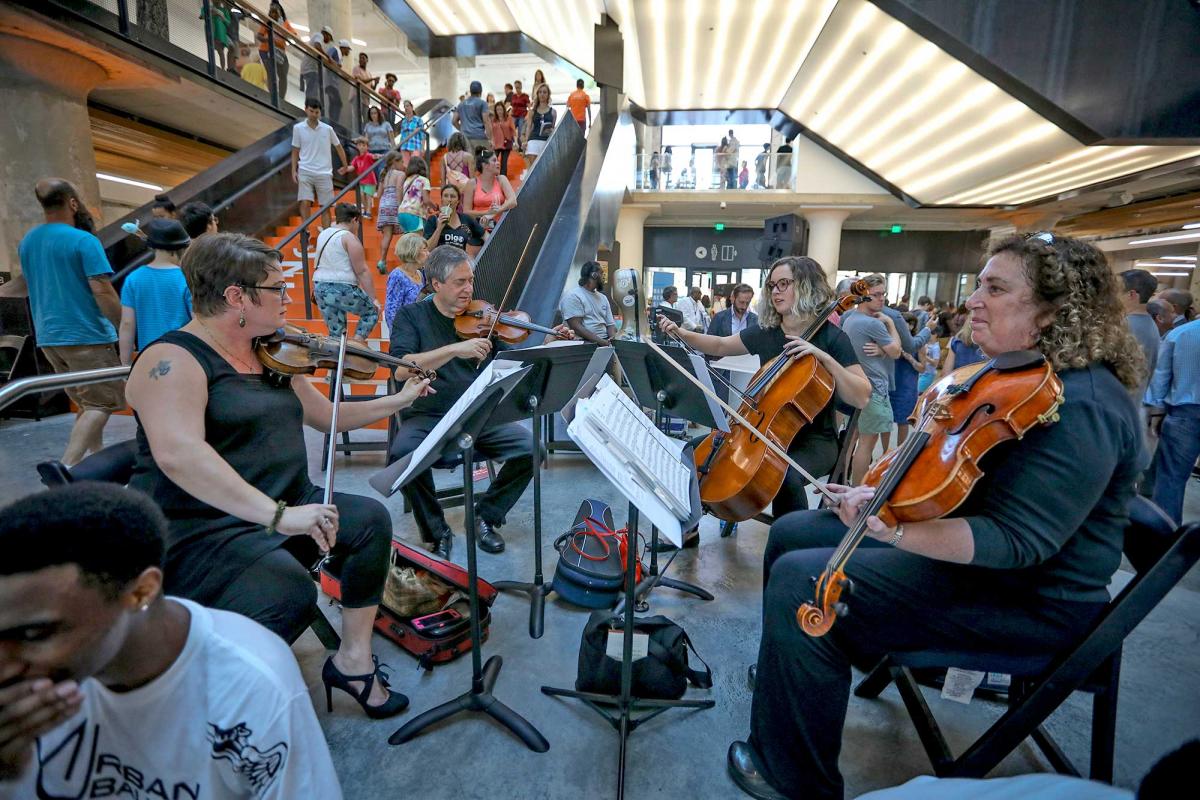 Amazingly, the building was redeveloped and opened in two years from its 2015 groundbreaking. A nonprofit organization called Crosstown Arts was formed to work on the redevelopment in 2010, when the nation was emerging from the Great Recession.
The first steps included a feasibility study and community events that highlighted the potential for the building. "Bringing citizens back in the building after decades of abandonment sparked imaginations, allowing a community to slowly realize that a building once considered an eyesore could be an asset," the project team says.
Developers, including Crosstown Arts, received commitments from nine prospective tenants, called "founding partners," who leased 600,000 square feet of space, enough for the project to clear financing hurdles. A complex mix of funding sources included city, county, state, federal, philanthropic, and private financing.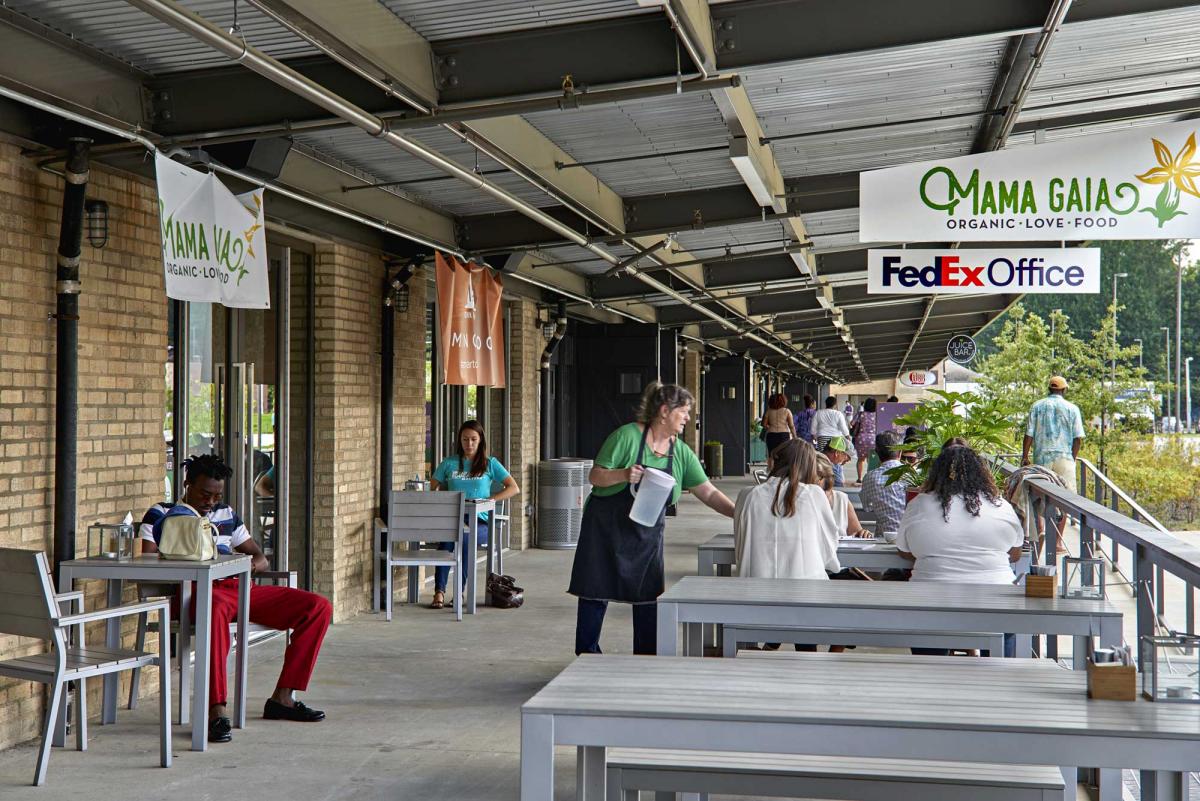 In addition to converting a derelict building into a beehive of 18-hour activity, Crosstown Concourse is designed to reactivate the adjacent urban neighborhoods. A public street bisected by a 1965 building expansion was extended through the west end of the site.
A network of new streets—focused on pedestrian travel but allowing vehicular access—are directly linked to interior atria, which serve as semi-public spaces. The building exterior includes pervious frontages, public plazas, art installations, and performance areas to connect to surrounding neighborhoods and activate urban life.
Looney Ricks Kiss won the Grand Prize CNU Charter Award for Crosstown Concourse in 2018.