Jan Gehl gets his Athena award at CNU 26.Savannah. Photo by Jay Shepley
Gehl highlights biggest Congress ever
CNU resurrects the Athena Medal in Savannah to entice the Danish sage of human-scale cities. Next year: New Bourbonism.
CNU 26.Savannah reached the highest participation of any Congress of the New Urbanism, dating back to 1993. More than 1,600 attendees visited Georgia's lush port city of squares to beat the pre-recession record, set in Providence in 2006.
Among the highlights was Danish architect Jan Gehl, a treasure of the New Urbanism who ranks among luminaries like Jane Jacobs and William H. Whyte that challenged modernist planning dogma a half century ago.
Gehl was the recipient of the Athena Award, given to urbanist pioneers whose analysis, theories, and writings influenced and laid the groundwork for the New Urbanism movement. The Athena Award was first given by CNU in 2006, but hasn't been presented since 2012.
The Athena Medal was originally the idea of Andres Duany, who wanted to lure urbanist pioneers to lecture at CNU while they still could (some have since passed away) and recognize their contributions. The medal was formerly made by Miami sculptor Tony Lopez, who shaped each medal individually from clay and cast them in bronze. The inspiration was an old coin, and the medals had a rough, unique appearance.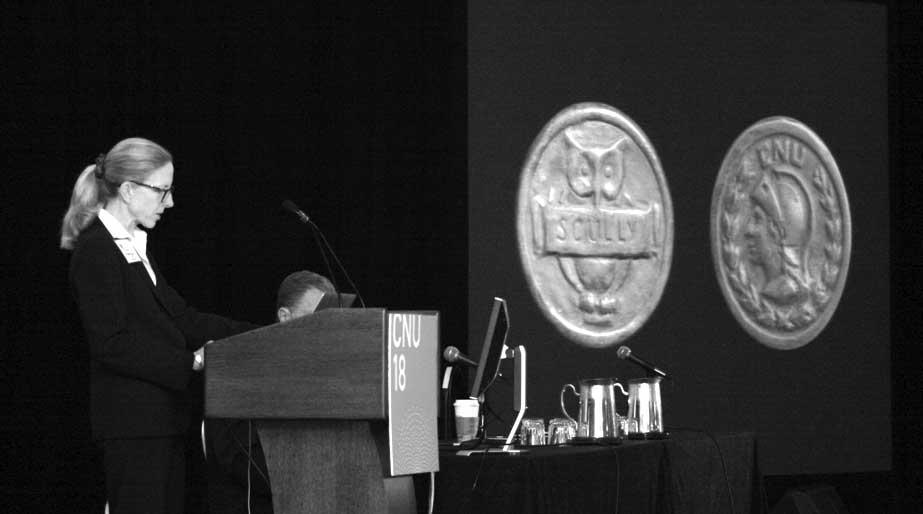 The 19 previous winners were: Christopher Alexander and Leon Krier (2006); Jonathan Barnett, Denise Scott-Brown, Robert A.M. Stern, and David Lewis (2007); Sim Van der Ryn, Sinclair Black, Prince Charles, and Allan Jacobs (2008); Grady Clay and Rob Krier (2009); Vincent Scully and Jaquelin Robertson (2010); Michael Dennis, Fred Koetter, and posthumously Colin Rowe (2011); and Barbara Littenberg and Steven Peterson (2012).
The medals were discontinued after 2012, but CNU has made several failed attempts to get Jan Gehl to appear in recent years (he did a plenary in 2007). CNU president and CEO Lynn Richards visited Copenhagen partly to get him to Savannah. Gehl, at 81, is reluctant to travel much, and concerns that he might not make it to Savannah were valid. CNU board members suggested that Gehl should be offered the Athena Medal.
But a big challenge immediately emerged—sculptor Lopez died at age 91 in 2011, having already made the 2012 medals. With a three-month deadline, architect and planner—and all-around go-to designer—Dhiru Thadani was given the job of producing a new design and medal. The Thadani drawing was etched and hand-finished by Bombay artist Manish Waghdhare. Thadani worked with Waghdhare before to produce art in places like Seaside, Florida.
Thadani went through several rounds of designs and Duany was most deeply involved in the review. At some point Thadani had to cut off the process to get the medal done in time. The new design has a head of the goddess Athena in the foreground of a plan of the street network of central Athens, with the Acropolis just below her chin.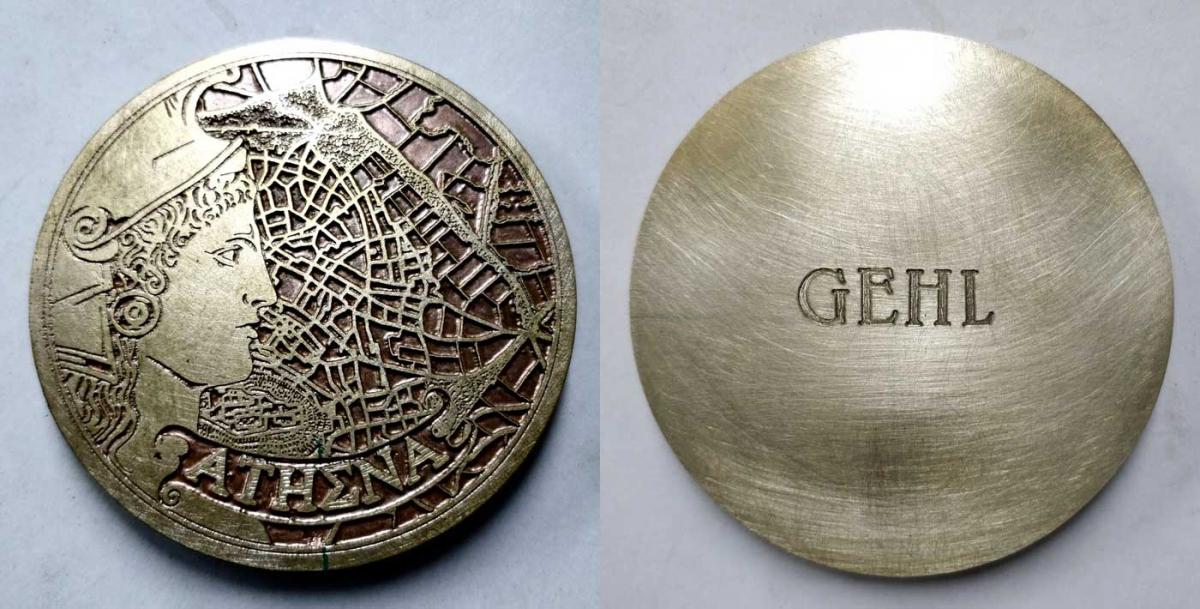 If the medal did not arrive in time, plan B was to present Gehl with an empty box, with a photo of the medal on the screen. But CNU didn't have to resort to that—as Thadani received the shipment from India a few days before the Congress, where he was staying in Seaside.
If CNU decides to give any more Athena Medals, reproducing this new design will be much easier, he says.
Gehl's seminal 1971 work, Life Between Buildings, has been highly influential—as have been his more recent books. He told the CNU audience that he graduated from architecture school in 1960, the low point of modern city-building. That year was an inflection point of two major shifts that damaged cities and towns.
"Modernism was the end of the human scale," Gehl says. "And it was the beginning of an enormous confusion about scale. We could build enormous buildings, enormous streets, with many leftover spaces, and the whole notion of human scale and where people would like to be was diffuse. The whole profession of planners and architects got extremely confused and to a large extent they still are."
That year, 1960, was also when cars fully dominated cities, he says. For millennia, cities were built for the speed of walking. Then we had cities designed for 60 kilometers per hour (40 miles per hour). "All of our suburbs are built at the 60 kilometer per hour scale," he says. Gehl explained humorously about how mid-century planners and architects designed as if they were looking down from an airplane. He called this the "Brasilia syndrome," after the Brazilian capital revered by modern planners. "It is a wonderful city, wonderful from the air," Gehl says of Brasilia. "They never realized that all the Brazilians would have to get from one building to another and cross all these lawns, and they never had the money to give them all helicopters so they could enjoy their city."
Next year the Congress will be in Louisville. Anticipation is high to experience New Urbanism meeting "the New Bourbonism," as Louisville hosts describe it, in Kentucky in June of 2019.