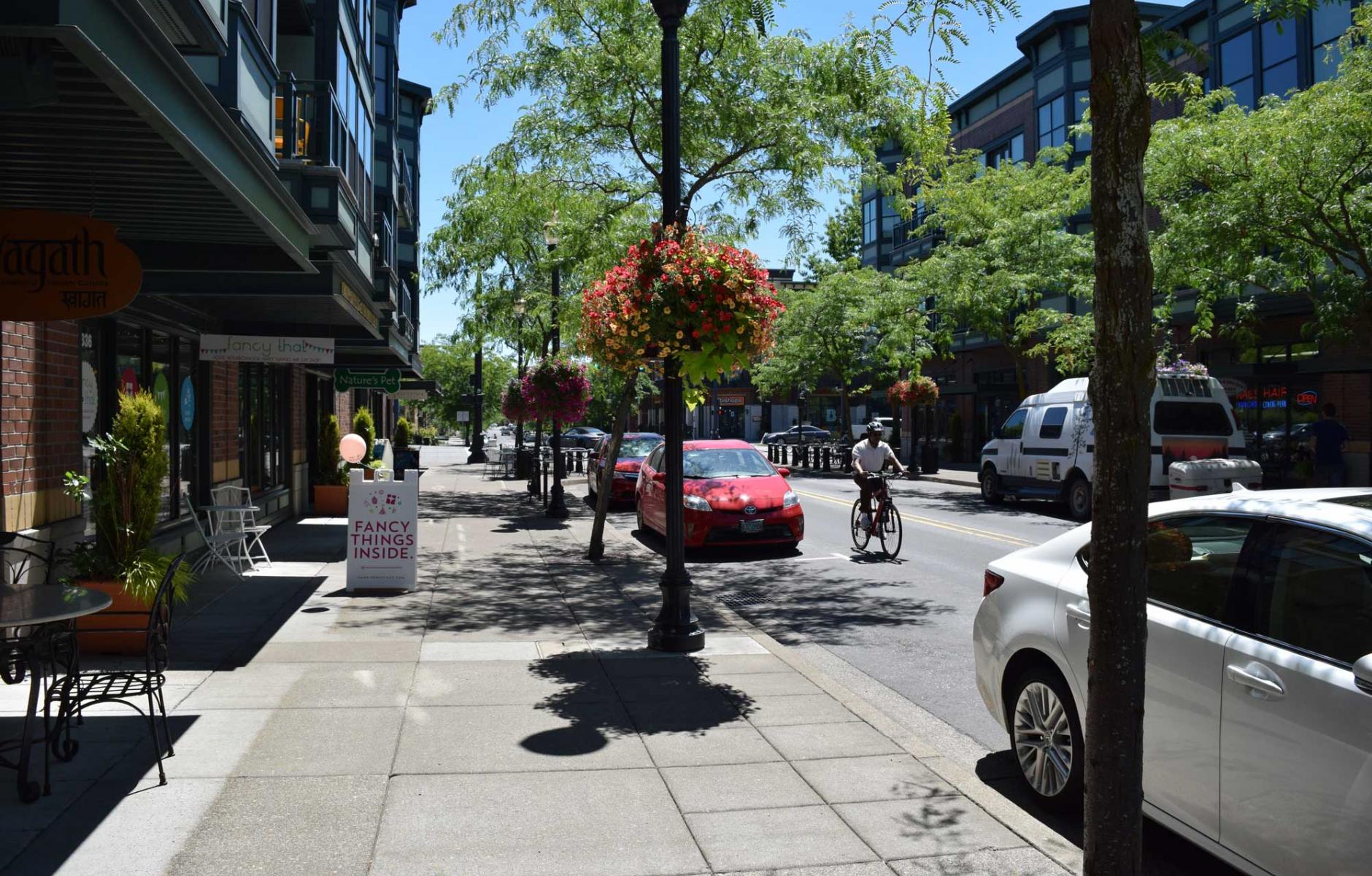 Orenco Station street. Source: City of Hillsboro.
A connected and walkable suburb
After two decades of development, Orenco Station offers urban living at a transit station west of Portland.
Orenco Station in Hillsboro, Oregon, was covered by fruit orchards and farmland for much of the 20th Century. But "Silicon Forest" took root in the 1980s, and Intel built its largest facility in the world in the Ronler Acres Campus. Hillsboro adopted the Orenco Station Master Plan that guided development of about 200 acres just south of that campus into a walkable urban neighborhood built over the last two decades.
The area grew by 43 percent in population from 2010 to 2016. Five thousand residents of Orenco Station live a short walk from many parks and public spaces, including a plaza centered on the Hillsboro light rail station. The area around the plaza offers an 18-hour urban environment where residents and commuters get coffee in the morning and meet friends and family for dinner.
The heart of Orenco has a Walk Score of 76, which is good for a suburban area that didn't exist in the mid-1990s. (For comparison, Washington DC, overall, has a Walk Score of 77). A pre-existing suburban arterial that bisects the site, Cornell Road, has been tamed to a degree. A center median is planted with trees, and buildings with storefronts meet the sidewalks. Many pedestrians cross Cornell Road at the intersection with a Starbucks, but turn lanes still make the thoroughfare wide and feel like an automobile-oriented place.
Just beyond the Intel factory, the state-mandated urban growth boundary preserves farmland and natural areas. You can see that preserved land in the distance of the photograph below.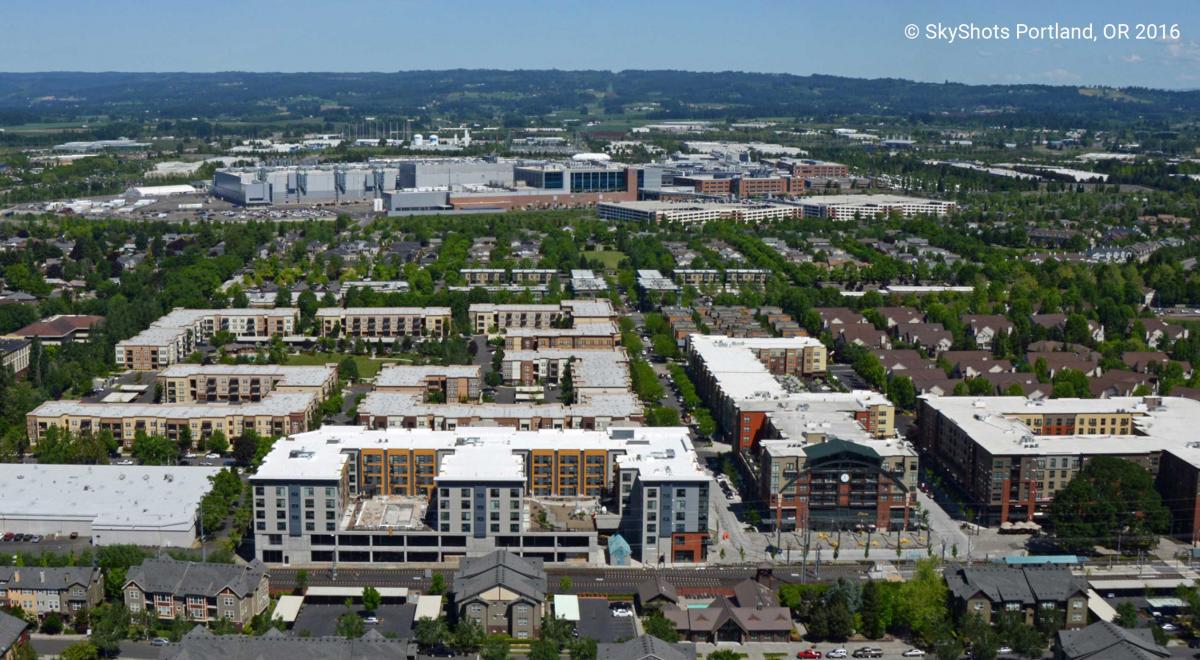 Orenco Station was built in three phases, starting in 1996 with mostly alley-loaded single-family houses built around a small town center. Phase II added more apartment buildings—mostly rental—with some mixed use. Phase III, recently completed, creates a transit-oriented mixed-use center that offers more intense urbanism. It also includes a significant recreational park.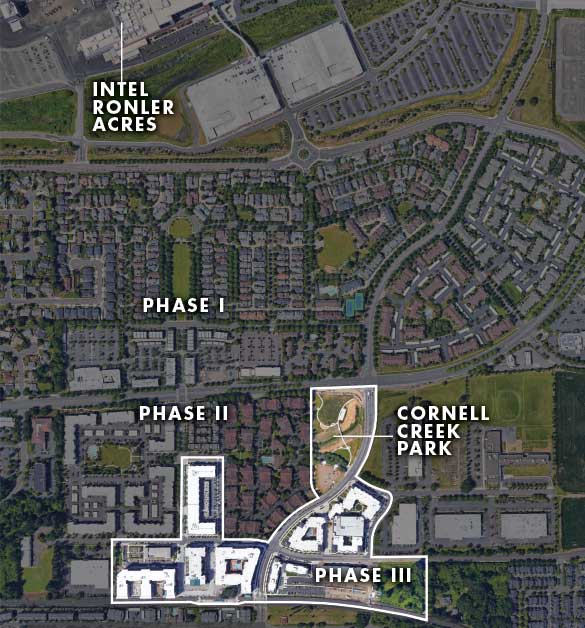 Phase III represents the culmination of a decades-long effort to make Orenco Station a vibrant, transit-oriented community where multiple generations can live, work, and play in the heart of Hillsboro. This area is called the Platform District because it is built around the train station, using podium buildings that reach six stories—some of the tallest in Hillsboro, a suburban city of 105,000 residents. The Platform District replaced parking lots and undeveloped land. Shared structured parking is incorporated into the buildings—whereas the less-compact first phase used surface parking.
The recently built plaza incorporates hardscape and landscape surfaces, a child-friendly fountain, public art, bicycle parking, and bus and shuttle stops, the buildings that provide the edge to the public space, and the light rail station. Similar placemaking tools are used in other Orenco public spaces.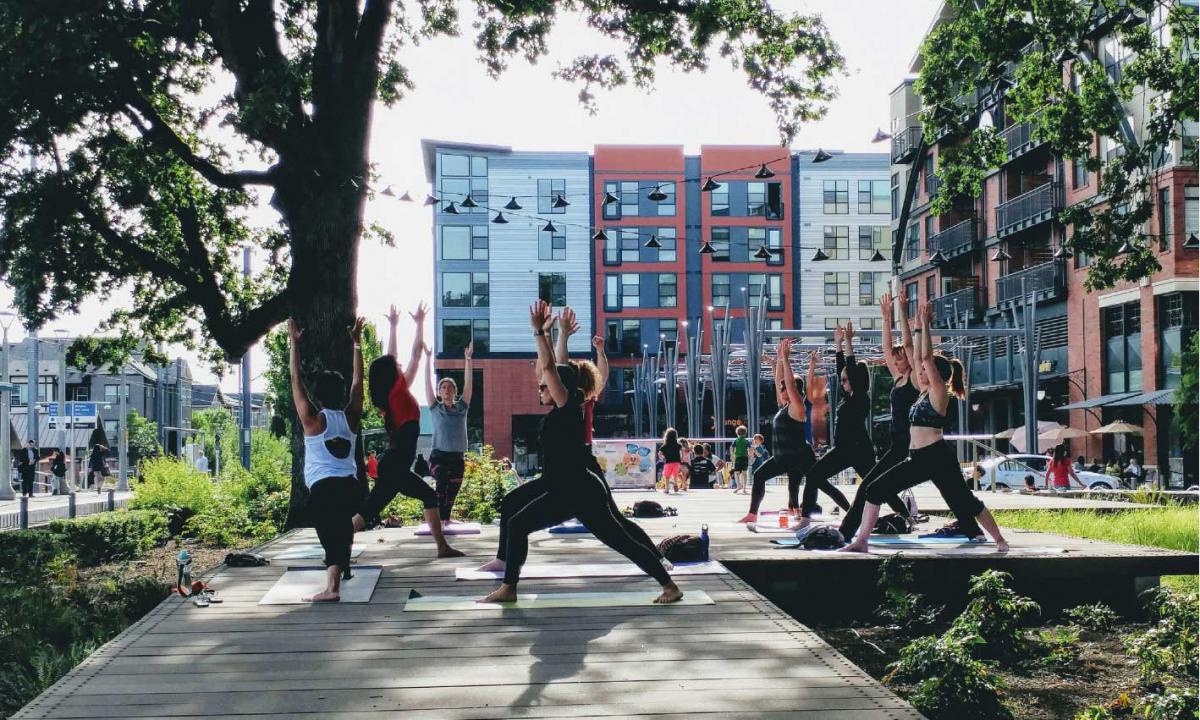 Prior to the completion of this last phase, the Portland Monthly described Orenco as "[o]ne of the country's seminal examples of suburban transit-oriented development." Bruce Podobnik of Lewis & Clark College studied Orenco Station in 2012, and found that residents walk to the store and use transit more than typical suburbanites—and they report a stronger sense of community. Fifty percent of residents walk to the store at least five times a week. In a conventional suburb that was studied for comparison, two-thirds of residents never walk to the store.
The Platform District "has added new, high-quality housing options, retail services and restaurants, job opportunities, and led to the creation of Orenco Station Plaza, which serves as a regional gathering place and hosts numerous community events," says former mayor Jerry Willey.