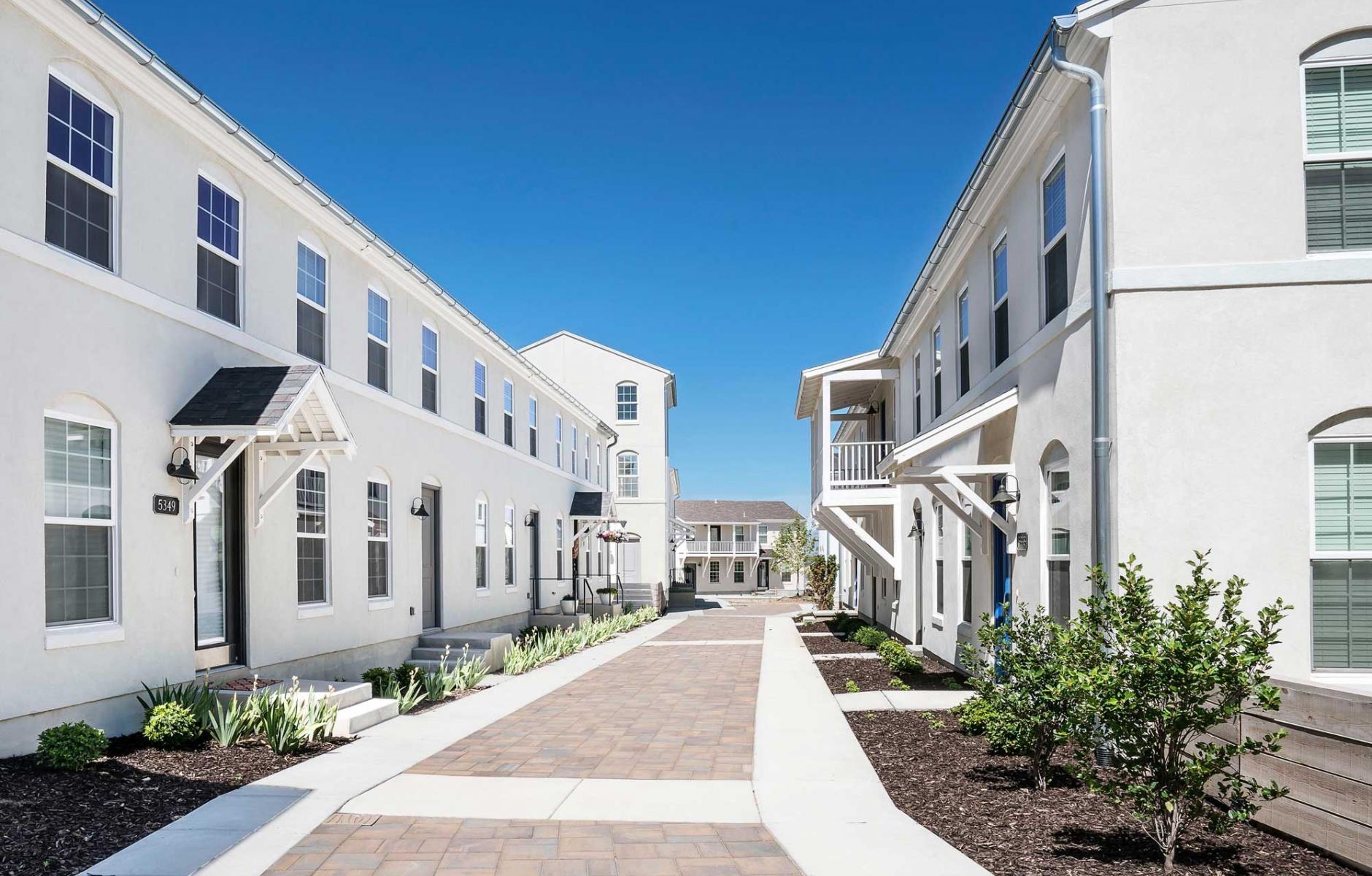 Daybreak Mews. Image by Endeavour Architectural Photography / Courtesy of Opticos Design
An innovative missing middle design
Mews homes are an affordable and flexible model for mid-block family housing.
Note: Missing middle housing will be a topic at many sessions in CNU 26.Savannah, May 15-19.
The Mews Homes are a prime example of what architect Daniel Parolek calls "missing middle housing"—a range of multi-unit or clustered housing types, compatible in scale with detached single-family homes, that respond to the growing demand for walkable urban living. Built around a pedestrian-only walkway—a mews—these double-story townhouses have delivered the highest sales price per square foot for attached housing units in Daybreak, a large master-planned community connected by light rail to Salt Lake City.
This 64 townhouses, designed by Opticos Design and built by Holmes Homes, occupy just three acres in the center of two blocks in Daybreak. Nearly half of the area is open space, including a plaza with a pavilion and small green spaces. Since the front of each unit is car-free, the project is safe for children to play. Parking is in the back, tucked under the master bedroom.
The Mews Homes are relatively attainable—at sub-$200,000 price points—in their second phase of development. The "missing middle" has become popular shorthand for the types of compact, incremental housing that have been lacking in new construction nationwide for decades.
To engage the mews, the design team flipped the conventional townhouse on its side, orienting each home's long façade to the walkway—maximizing natural light, increasing privacy, and reducing potential noise from neighbors. Each unit comes with flexible garage spaces that can incubate small businesses and home offices that have separate entrances off of the mews.

The architect was charged with designing an attainable townhouse and site plan that would distinguish the builder in a market "flooded with townhomes." The townhouses cost $98-118 per square foot to build, yet sold for up to $196 per square foot, delivering high margins for the builder while staying within the price target.
Since the development is within a five-minute walk of the rail station and the entire Daybreak is designed to be walkable, there is no need for households to own multiple automobiles—which saves in transportation costs.
Find more information on this project here.