Nashville downtown. Source: Wikimedia Commons.
Can Nashville truly be an Athens?
Let's Move Nashville is a transformative transit initiative that is now in front of the electorate—alternative futures for the city are at stake.
A far-reaching transit initiative, Let's Move Nashville, is up for public referendum in the Athens of the South. Voting begins today and ends May 1 in a tightly contested ballot measure that is important for the future of Nashville, Tennessee, and has implications for car-oriented cities nationwide.
Let's Move differs from typical transit proposals in its wide range of improvements—including conventional and rapid bus service, light rail, and even a short subway under downtown. Let's Move sets the framework for a more walkable, sustainable Nashville in the 21st Century.
City Council voted 34-2 to endorse the proposal, which has broad support from business and political leaders. But opposition is also intense, especially from opponents of transit funding—and Let's Move suffered politically when former Mayor Megan Barry, who spearheaded the initiative, resigned in early March in the wake of public outcry over an affair with an employee. Acting Mayor David Briley is now leading the campaign.
Nashville is a sprawling city, built largely since 1950, with a suburban population density of about 1,400 people per square mile. The average Walk Score is only 28, one of the lowest of any major city in the US. Nashville's compact urban core languished for 40 years but strongly rebounded in the last decade due to renewed demand for walkable urban places.
The city boosted revitalization through progressive planning policies such as a downtown form-based code. But unlike Dallas, Charlotte, San Diego, Phoenix and similar cities, Nashville has failed to invest substantially in transit. Nashville's transit is comprised almost entirely of conventional bus routes and its rail system is minimal.
Let's Move would support more revitalization of historic neighborhoods, but also it would create the framework to add layers of mixed-use walkability to Nashville's vast conventional suburbs. New urban centers wouldn't take away anybody's single-family lifestyle, but would connect people to parks, schools, civic buildings, café tables on public squares, music performances, and other amenities. The city would benefit from wider living options and more ways to get around.
The $5.4 billion capital project (close to $9 billion with maintenance and interest on debt) calls for five light rail lines totaling 26 miles, 25 miles of bus rapid transit, a 1.8-mile transit tunnel to bypass downtown congestion, and system-wide bus improvements.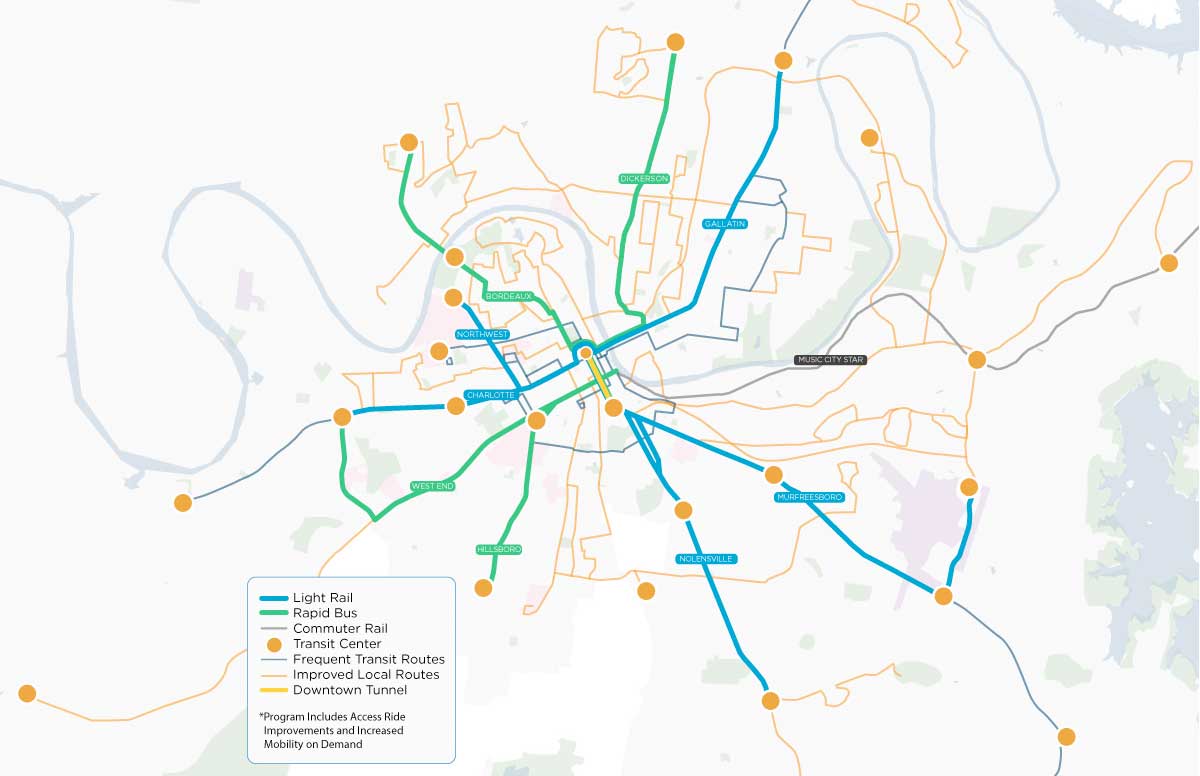 The implementation timetable begins next year:
In 2019, enhance existing bus service with a more modern fleet; Add crosstown routes and more frequent service with extended hours; Reduce trip times by 80 percent on some trips.
In 2023, introduce rapid bus service on some of the city's busiest streets.
Starting in 2026, open Nashville's first light rail lines on five major corridors, including a line to the airport.
By 2032, build a three-stop tunnel under Fifth Avenue downtown for light rail and BRT.
Over the next 15 years, construct two dozen neighborhood transit centers—hubs that will offer residents convenient access to the entire system.
Let's Move Nashville emphasizes transportation and mobility, but the biggest benefit may come from better urban form. The 27 neighborhood transit hubs, and many light rail and BRT stops, open opportunities for mixed-use development with high-quality placemaking.
Time and time again, cities have profited from that approach. In Arlington, Virginia, for example, 60 million square feet of mixed-use development, including 47,000 residential units, were built on the 2.5-mile-long Rosslyn-Ballston corridor since the late 1970s. The development was spurred by construction of five Metro stations and regulations that allow dense, mixed-use development within a half-mile of the stations. This small area generates about a third of Arlington's tax revenue, while adding little or no new traffic on major corridors like Wilson Boulevard, according to traffic counts. Instead, people walk and take transit in a place that was formerly low-density suburbia.
Consider Denver, which has built a 98-mile light rail network with 68 stations since 1994. The system was justified politically on transportation grounds, but the biggest benefit is better land use. Politico reports: "Originally intended to unclog congested highways and defeat a stubborn brown smog that was as unhealthy as it was ugly, the new rail system has proven that its greatest value is the remarkable changes in land use its stations have prompted, from revitalizing moribund neighborhoods, like the area around Union Station, to creating new communities where once there was only sprawl or buffalo grass."
Nashville's proposal has the potential to be as successful. With worse sprawl, Nashville has more to gain by improving its land patterns. Nashville already has adopted form-based overlay zoning that will enable high-quality development around transit stations to leverage economic benefits.
Without investment in transit, Nashville will have little choice but to expand highway capacity, which will create more sprawl, in turn contributing to traffic congestion, furthering a vicious cycle.
Let's Move Nashville, on the other hand, sets up a virtuous cycle with opportunities to improve the economies of households and communities. The city could establish a public-private fund, for example, to build affordable housing near transit stations. The possibilities to attract businesses and make the city more livable will be terrific. Let's hope that Let's Move is not left by the side of the highway—and that citizens give the go ahead for more walkable, livable places in the heart of Tennessee. Let's Move would help Nashville live up to its nickname—an Athens, a true city. Such a name cannot be earned once for good—it's a continuous challenge, one that Nashville citizens face in the coming weeks.