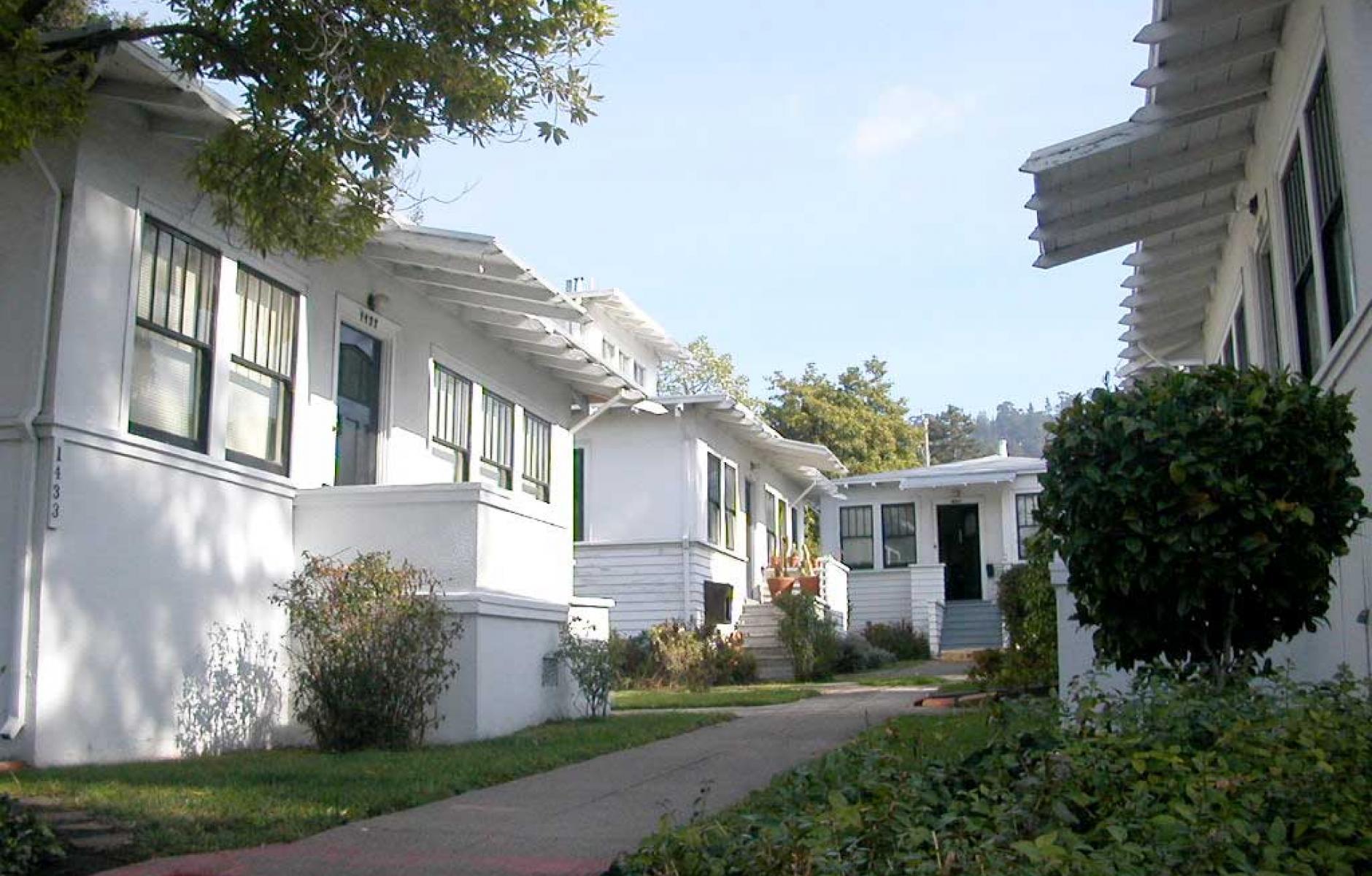 A five-unit bungalow court in Berkeley, California. Photo courtesy of Opticos Design.
Missing middle close up: Bungalow courts
A bungalow court consists of a series of small, detached structures, providing multiple units arranged to define a shared court—an important community-enhancing space.
We've closely documented lots of examples of the Missing Middle housing and explored the world of carriage houses. This time, we're looking at a charming, clustered type of Missing Middle Housing: the bungalow court.
Like a lot of other Missing Middle Housing types, bungalow courts are present in neighborhoods around the U.S., but they haven't been built much in the last 50 to 75 years. We're excited to see that more and more people around the country are discovering the perks of living in these quaint, clustered abodes!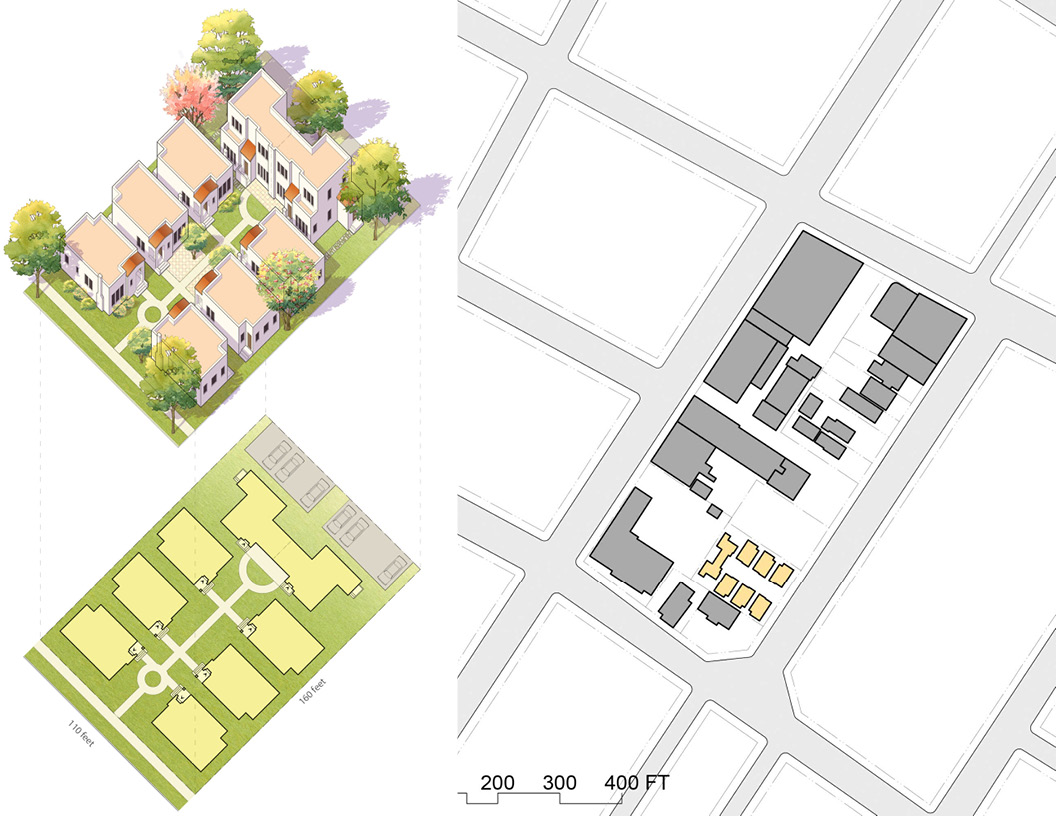 What Is a bungalow court?
As we detail over at missingmiddlehousing.com, a bungalow court consists of a series of small, detached structures, providing multiple units arranged to define a shared court that is typically perpendicular to the street. The shared court takes the place of a private rear yard and is an important community-enhancing element. Bungalow courts are sometimes referred to as cottage courts.
From our extensive fieldwork and research into the Missing Middle over the years, we've developed a keen understanding of the many variations of this type. Typically, bungalow courts are between five and ten units, with each unit ranging from 500 to 800 square feet (bungalow court units, like all Missing Middle units, don't go micro, but they do occupy small footprints to provide high-quality, low-impact living spaces). These types usually occupy 100' – 150' (wide and/or deep) lots. Depending on the design configuration, bungalow courts can achieve net densities of between 19 and 35 dwelling units per acre, and gross densities of between eight and 31 dwelling units per acre.
What makes them nice places to live?
With their configuration around a common space, bungalow courts offer residents a feeling of community that comes from daily interaction with neighbors.
With their small size and often low price points, bungalow courts are great for first-time buyers who are looking to get into the market but who can't quite afford a single-family home (and aren't looking for an apartment-style condo). For young families, the "court" part of the bungalow court can be designed in a number of ways: as a green for play or a kiddie pool to beat the summer heat, or an entertaining space for an outdoor fire pit or barbecue. There's also the option to create a community garden for delicious, home-grown veggies and ingredients.
Frequently incorporating a cluster of freestanding units around or adjacent to a two-story building, the bungalow court is also a housing option for those who may need support services or amenities but also want to maintain a sense of autonomy—retirees or adults with disabilities, for example. For these groups, bungalows can provide a distinct home for the individual, while communal space, places for group activities, or a shared kitchen can be housed in a building at the rear. If there is a second floor in the rear building, an upper unit can house a caretaker's quarters, when needed, or a place for visitors to hang their hats.
Lastly, while we've discussed the benefits of bungalow courts for their residents, let's not forget about the neighbors. Because bungalows are small and low-slung, these types are highly compatible with single-family homes. These aren't tract homes, but they're not urban living domiciles, either—they help create a place with a real neighborhood feel. At the low end of the Missing Middle spectrum, they can easily fit into small town and quieter contexts.
Ths article was published on Opticos Design's blog. Find out more about this type at missingmiddlehousing.com.