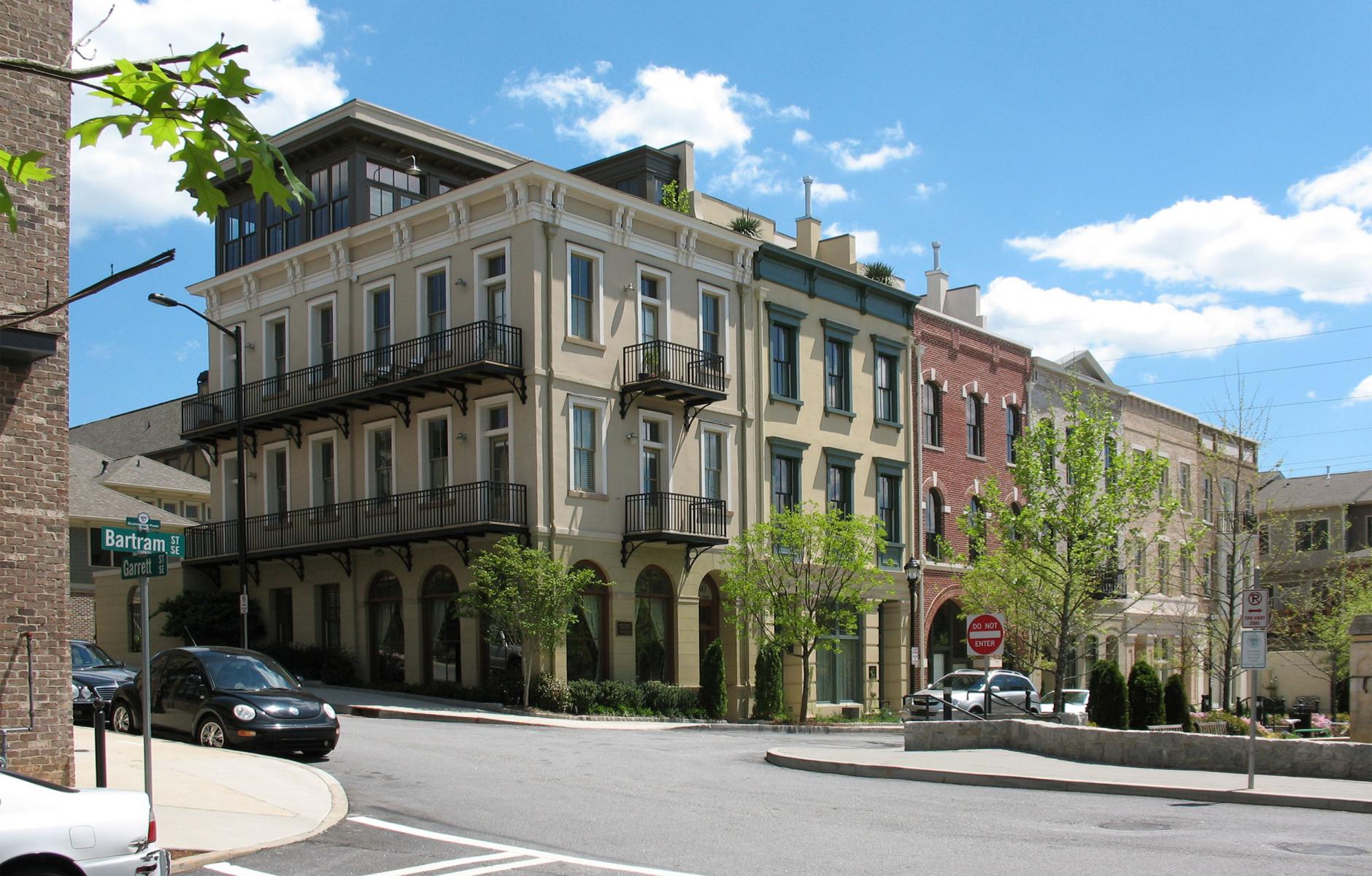 Glenwood Park has many different building types. Source: Dover, Kohl & Partners.
The neighborhood that hope built
Glenwood Park, Atlanta, on a former industrial site, was built to restore confidence that humanity can create wonderful, walkable, loveable places.
The site of a former concrete recycling center two miles east of downtown Atlanta is now a vibrant, mixed-use, traditional neighborhood development (TND). Its design is not only architecturally-intriguing, but also environmentally sustainable. Its persuasive pitch and later economic success led to a special city ordinance allowing for thinner street dimensions that now eases the creation of similar TNDs in the city.
For most of the 20th century, the 28-acre site that is now Glenwood Park served multiple industrial purposes. In 2000, the land was purchased by the Novare Group, an Atlanta-based real estate development company, which recognized its potential as a mixed-use development. Given that the site borders I-20, Novare envisioned a large office component that shared parking with condominiums as well as a grocery-anchored shopping center. However, with the downturn in the economy in 2001, Novare's plan was no longer feasible and they sold off the land to the newly-formed, Charles Brewer-led Green Street Properties.
Brewer, the former president of the 1990s phenomenon Mindspring.com, had a different vision for the site. It wouldn't just be a mixed-use development, it'd be a mixed-use neighborhood. Brewer stated in 2001:
Glenwood Park will offer a compelling alternative for those who are dissatisfied with the choices provided by conventional development. Conventional development emphasizes the private realm, auto dependency, single use pods, privacy, exclusivity, and bigger and bigger private houses. Glenwood Park will emphasize the public realm, walkability, mixed uses, community, diversity, and quality over quantity. We believe there is lots of demand, and little supply, for places with these attributes.
To bring that dream to life, Green Street brought on Dover, Kohl & Partners and Tunnell-Spangler-Walsh & Associates. The two firms held multi-day charrettes with key stakeholders, and then designed the new urbanist neighborhood accordingly.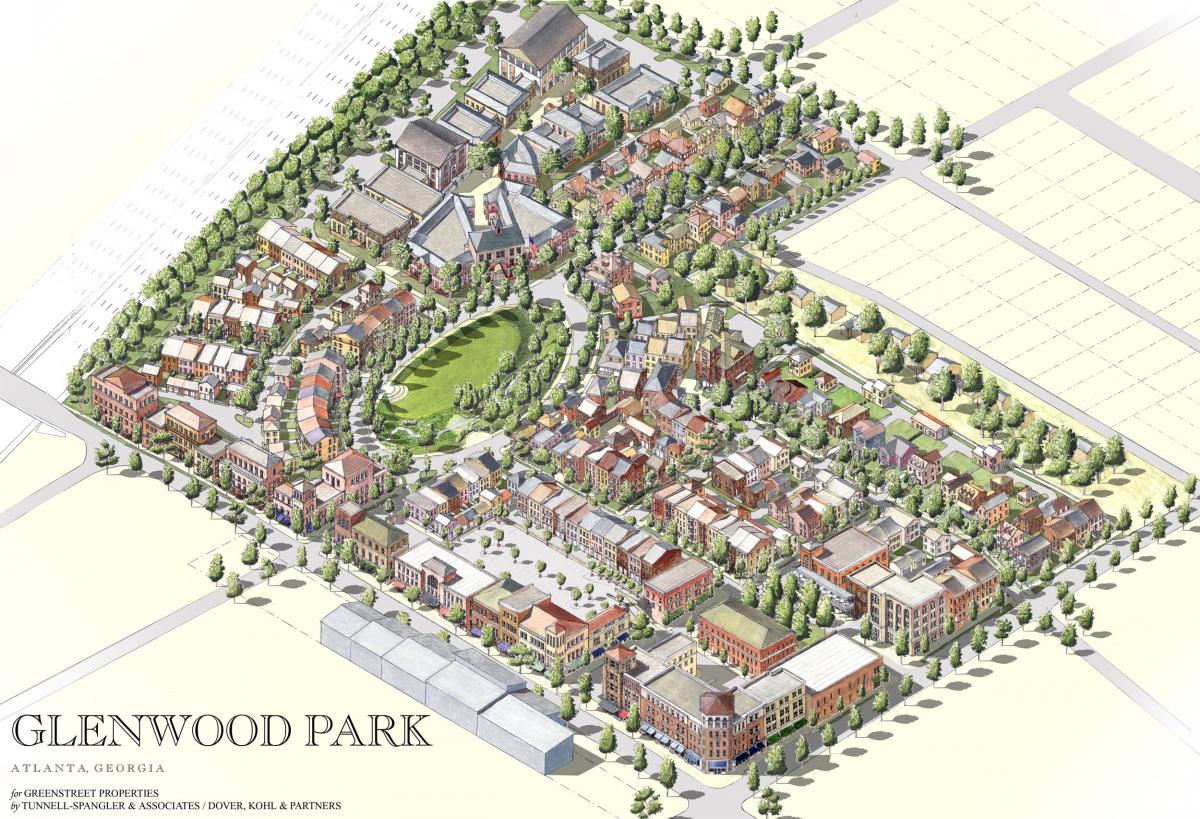 The behind-the-scenes work on the development even resulted in a new city ordinance for Atlanta that allowed for changes in street dimensions for negotiated traditional neighborhood developments (NTNDs). This was necessary because standard design requirements would have forced wider streets and inhibit the neighborhood feel Green Street required. The ordinance states:
The primary purpose of these NTND streets is to create places that will be safe, pleasant, and useful for pedestrians and bicyclists. Providing mobility for cars and occasionally trucks is a secondary purpose.
Construction started in 2003, and now boasts 375 residential units ranging from detached single-family homes to traditional townhomes and condominiums, 20,000 square feet of office space, and 48,000 square feet of retail space. Including residents and office employees, the neighborhood population is roughly 800-1,200 people. It's also a certified-EarthCraft Community due to its environmentally-conscious and sustainable design and construction. 80% of its construction waste was recycled, it was built on a brownfield site, and the focal point of activity in the neighborhood, a large oval park, collects and filters excess storm water.
The neighborhood has also been an economic success—providing roughly $4.5 million annually to the City of Atlanta and other local government entities—a promising model for similar future developments.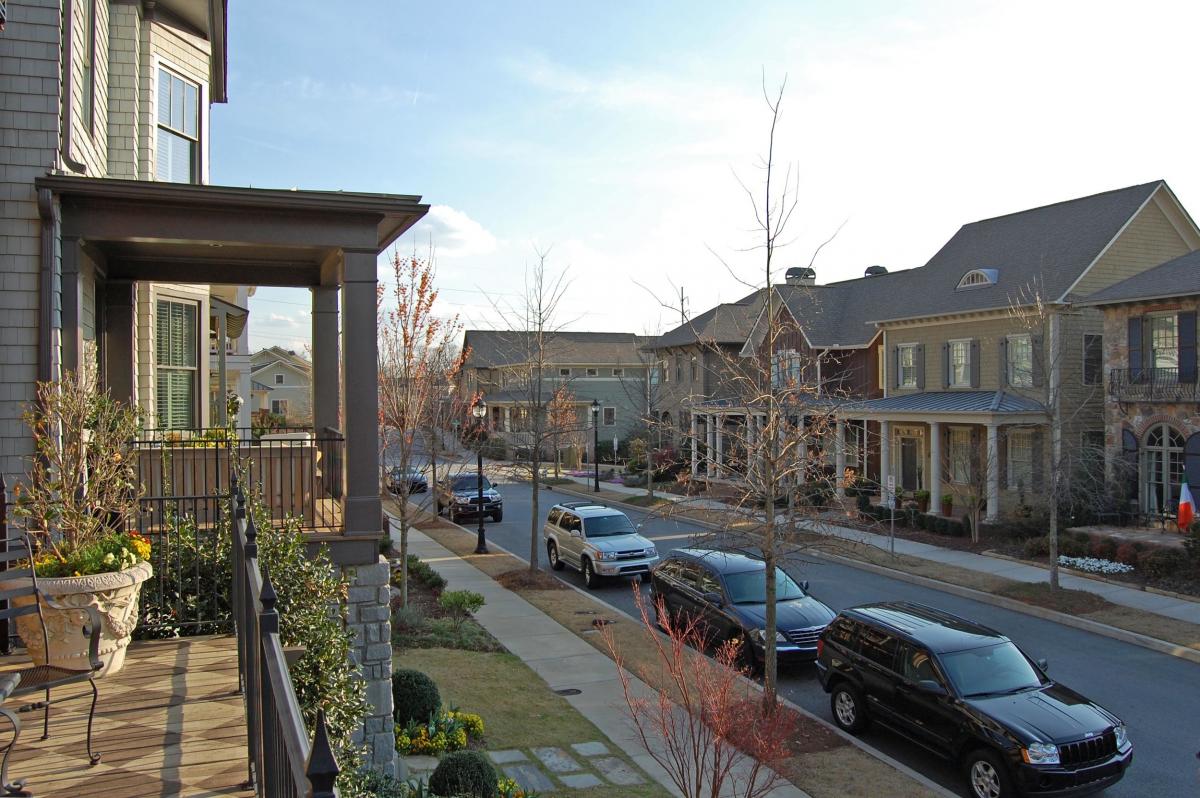 Charles Brewer's biggest hope for Glenwood Park was that it would restore people's confidence that humanity "can once again create wonderful, walkable, loveable places. So many of us visit the wonderful old neighborhoods of our country. or the wonderful old towns and cities of Europe, and come back home raving about how much we love them. But too many of us have allowed ourselves to believe that it is impossible to create that kind of place anymore. Well, it's not. And I hope that Glenwood Park will help raise our collective confidence level and aspirations about the kind of places that we can build today in the future."