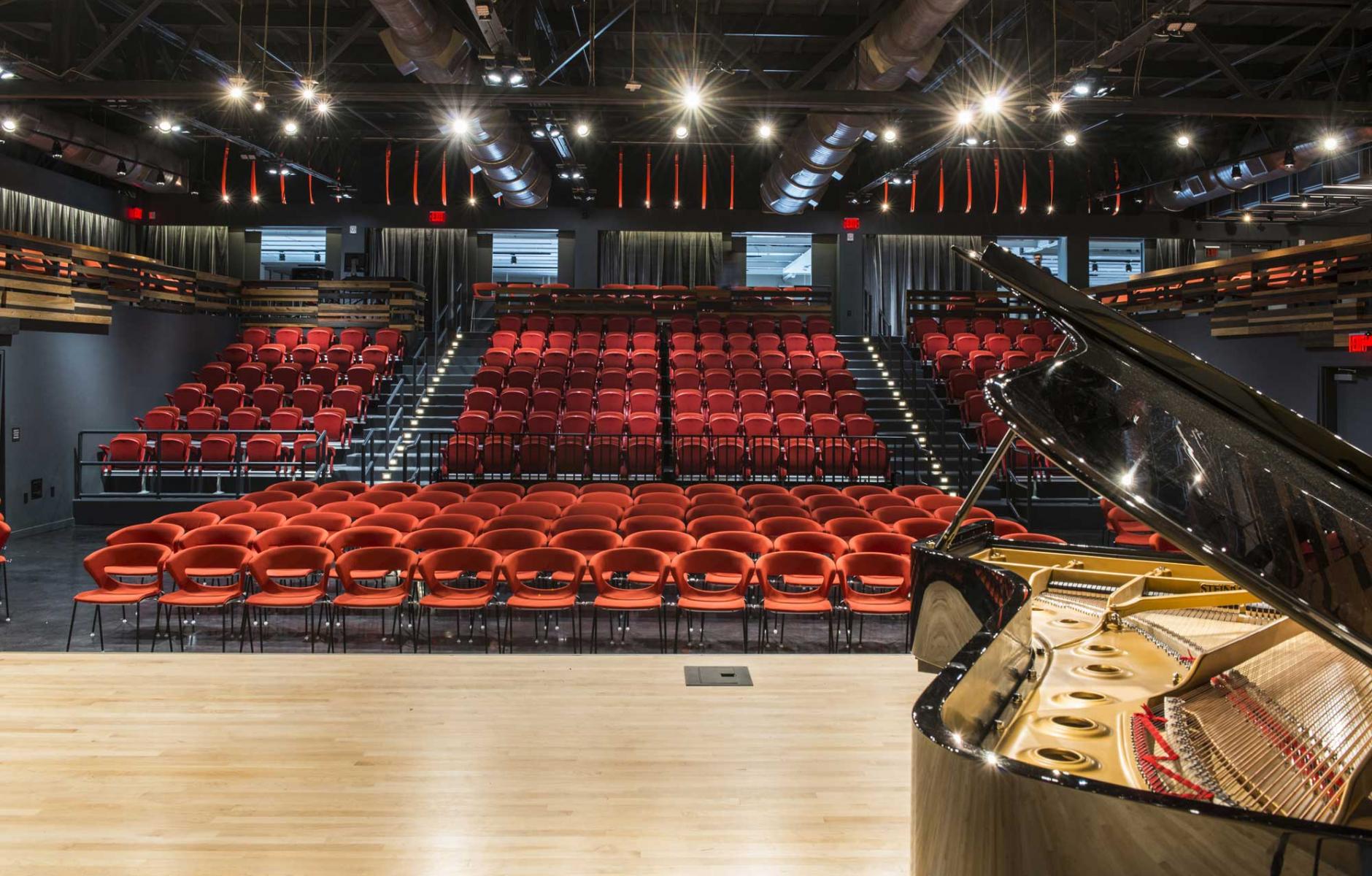 The collapsible stadium seating. Source: Jeanne Lacombe.
Orchestrating a cultural revival
The transformation of a New Orleans retail box into a music hall with magnetic street presence is a remarkable urban achievement.
Even a plain, vacant, late-20th Century discount department store building can be renovated into a compelling urban art space that celebrates the history of a neighborhood. That's the lesson and achievement of the New Orleans Jazz Market.
The 14,000 square foot former Gators store stood empty for years, inflicting blight on the struggling Central City neighborhood that had once played home to many jazz greats. The store had blank walls facing the street and the building was functionally no different from tens of thousands of similar retail boxes in urban and suburban locations across the US.
When the neighborhood needed a place to celebrate its musical heritage, the lofty goal was set to create a performance room that sounds "as warm as Louis Armstrong's horn," says Irvin Mayfield, a Grammy winner and the Jazz Market director. In other words, they set out to spin straw into gold.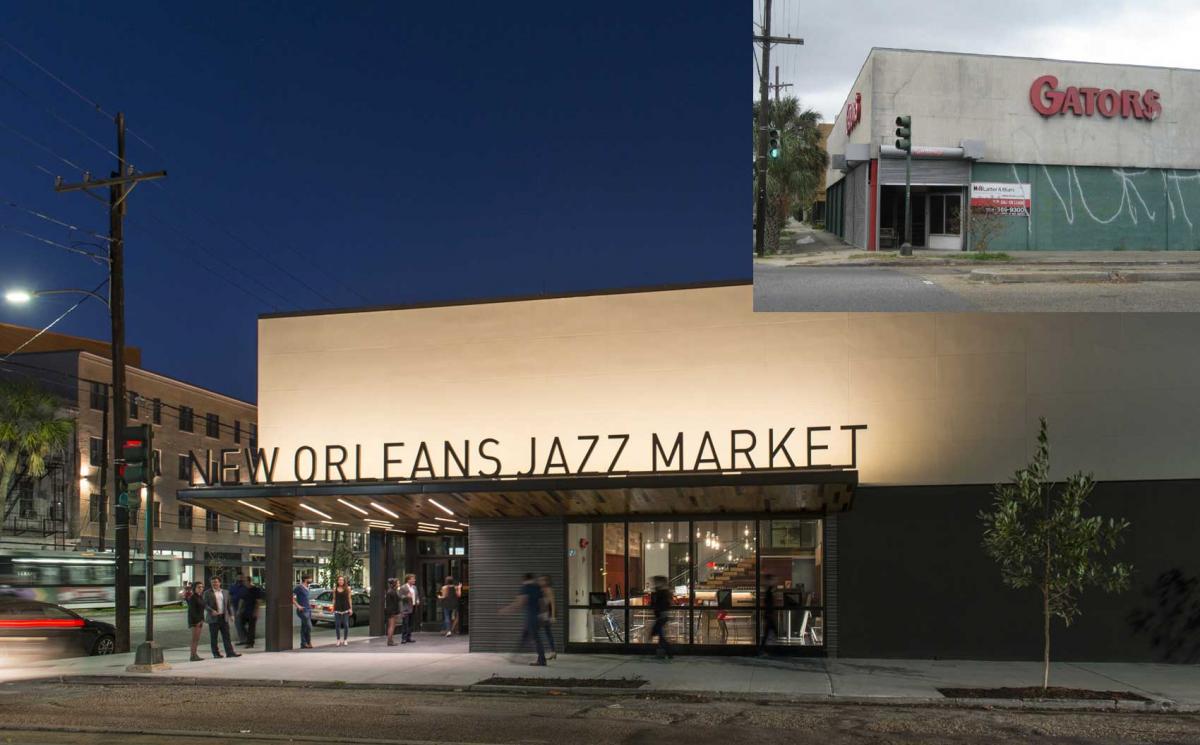 The Jazz Market delivers that dream. It includes a 350-seat auditorium—home to the New Orleans Jazz Orchestra—plus a café and bar, a classroom, and a digital archive of jazz music, all of which opened in 2015.
"Outside of music, we're talking to partners about getting people in to do things like job fairs and a homework help center," says Mayfield. The Jazz Market's sponsor, Peoples Health, is helping to bring a mobile health unit into the center. "The Jazz Market for us is a physical representation of the real power of this music to be a door opener."
The building connects to the street with large openings and awnings; the corner entry creates an exterior public space— and when the doors are open, pedestrians can see the stage. The lobby serves as an extension of the public realm, offering many uses for the community.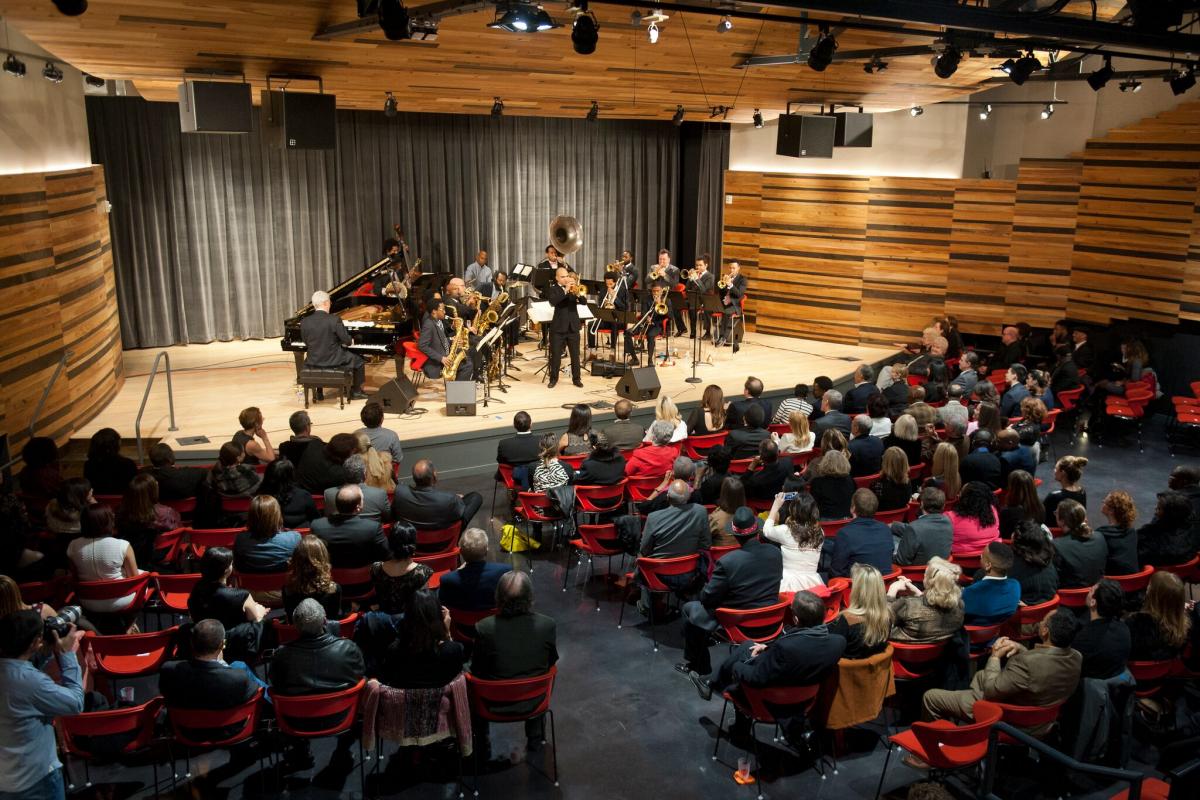 The retrofit could not accommodate a sloping floor, so creative use of collapsible stadium seating offered flexibility to expand the listening area to the hall—putting musicians in full view of passersby. The site has no parking, so the team skillfully navigated the grandfathering provisions of city zoning to avoid this requirement.
Convex stage sound projectors made out of reclaimed wood help provide excellent acoustics. "It was the first time we were able to hear ourselves acoustically," said marveled trombonist Emily Fredrickson. "We weren't used to hearing our own sound, which is strange and beautiful."