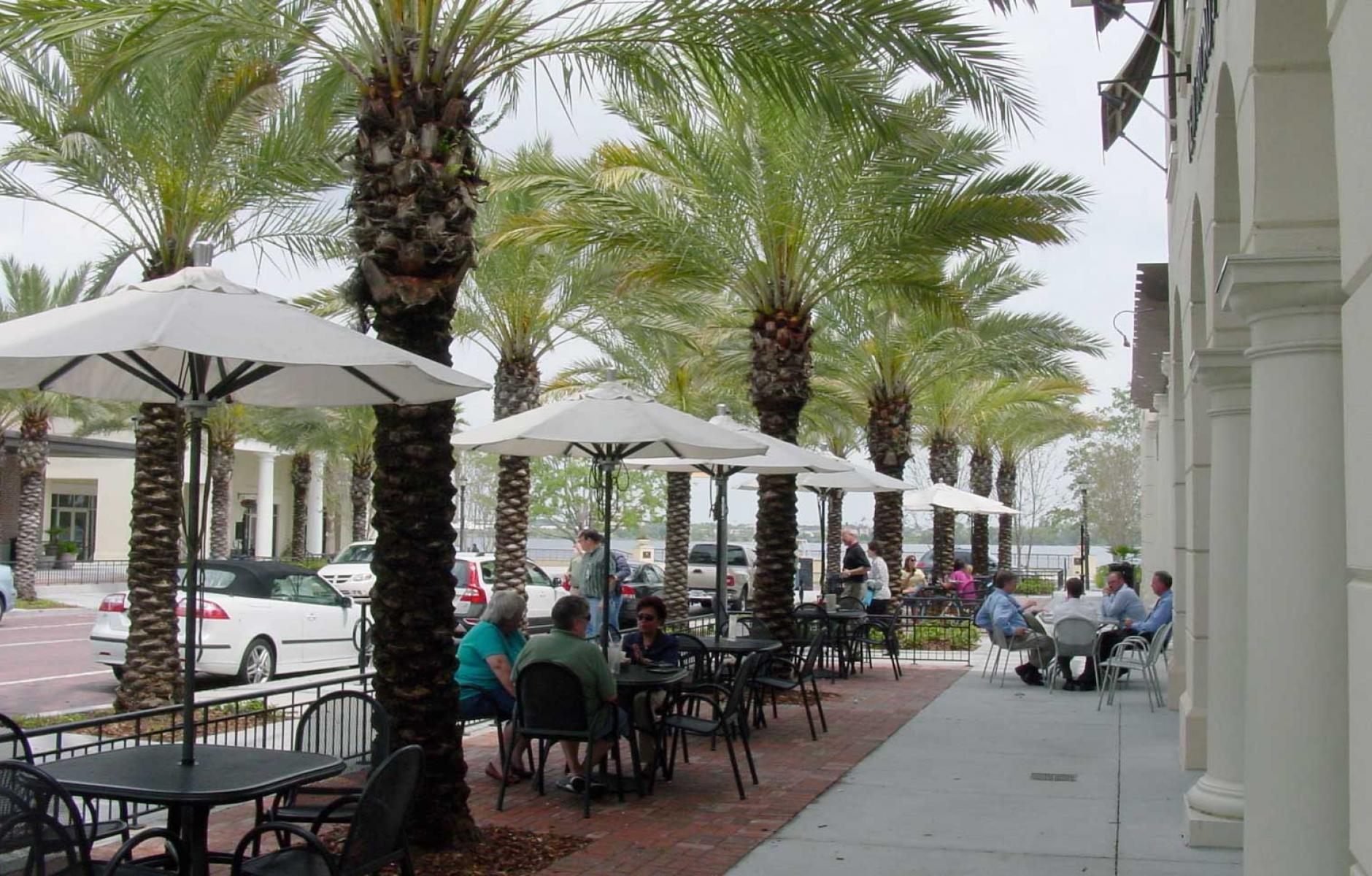 Baldwin Park in the City of Orlando. Source: Courtesy of Kevin Tyjeski.
New blocks and streets repair a Sunbelt city
Here's how Orlando replaced a hole in the city with connective tissue.
In the mid-1990s, the City of Orlando faced the closure of the 1,100-acre Naval Training Center, two miles from downtown. The easiest reuse option for the land would have included big box stores, an office park, and/or suburban housing pods.
The easy route would have provided more of what the Sunbelt city already has too much of—areas where one can only get around by car. Instead, Orlando strived strived to build places in short supply in Central Florida: walkable neighborhoods with a mixed-use town center. Orlando held a national competition for a plan and developer—and the teams included top New Urbanist designers. They came up with a plan to reconnect the surrounding neighborhoods in a traditional block-and-street pattern.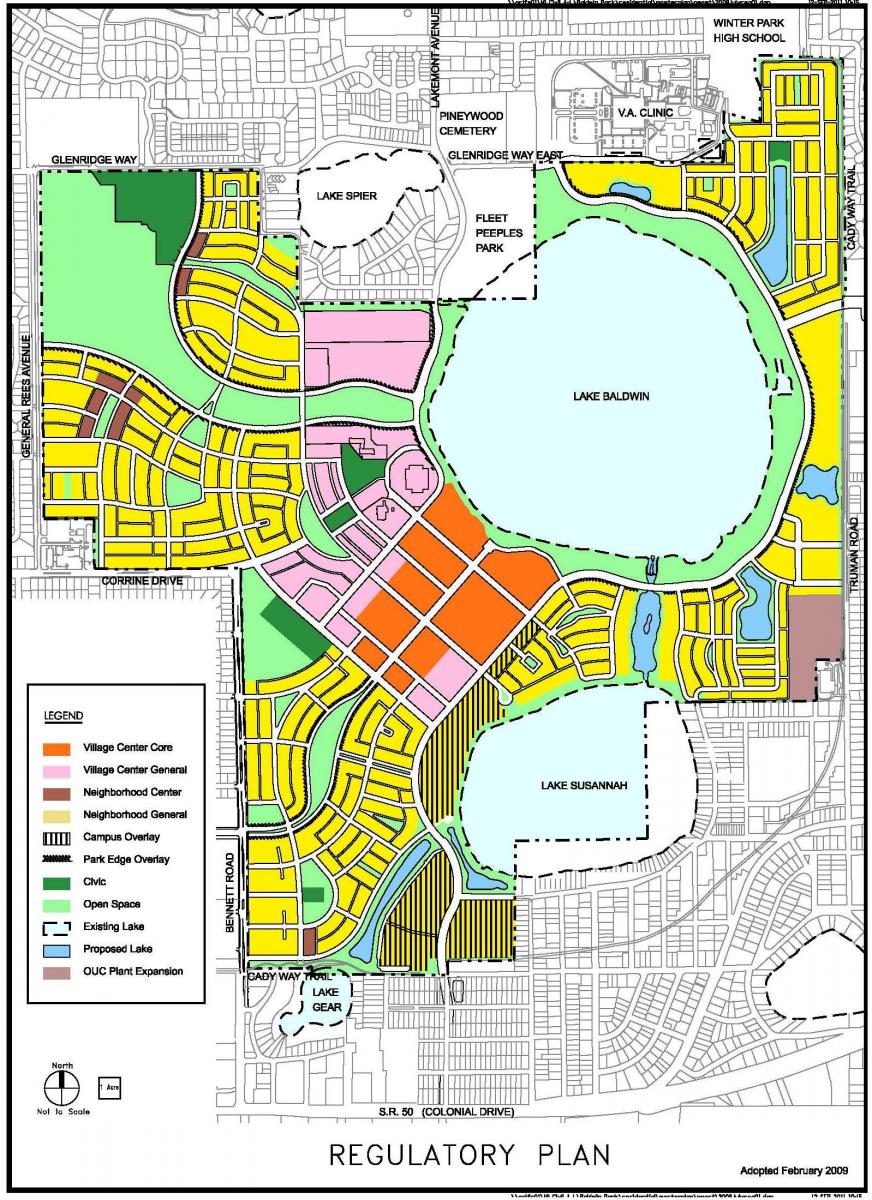 The first buildings of Baldwin Park broke ground in 2003. "It feels like a real place, integrated into the community—people see it as an extension of Orlando," says Dean Grandin, the city planning director and a resident of the community. "The vegetation grows quickly here—we have a fairly mature tree canopy and it looks like it has been here a long time."
For six decades, the area had a fence around it. The training center impeded the flow of people from downtown to areas in northeast Orlando. A primary goal was to connect the urban fabric—but not with a single big artery. Instead, the planners laid out a network of streets with one lane in each direction. The streets are all designed for walking and biking.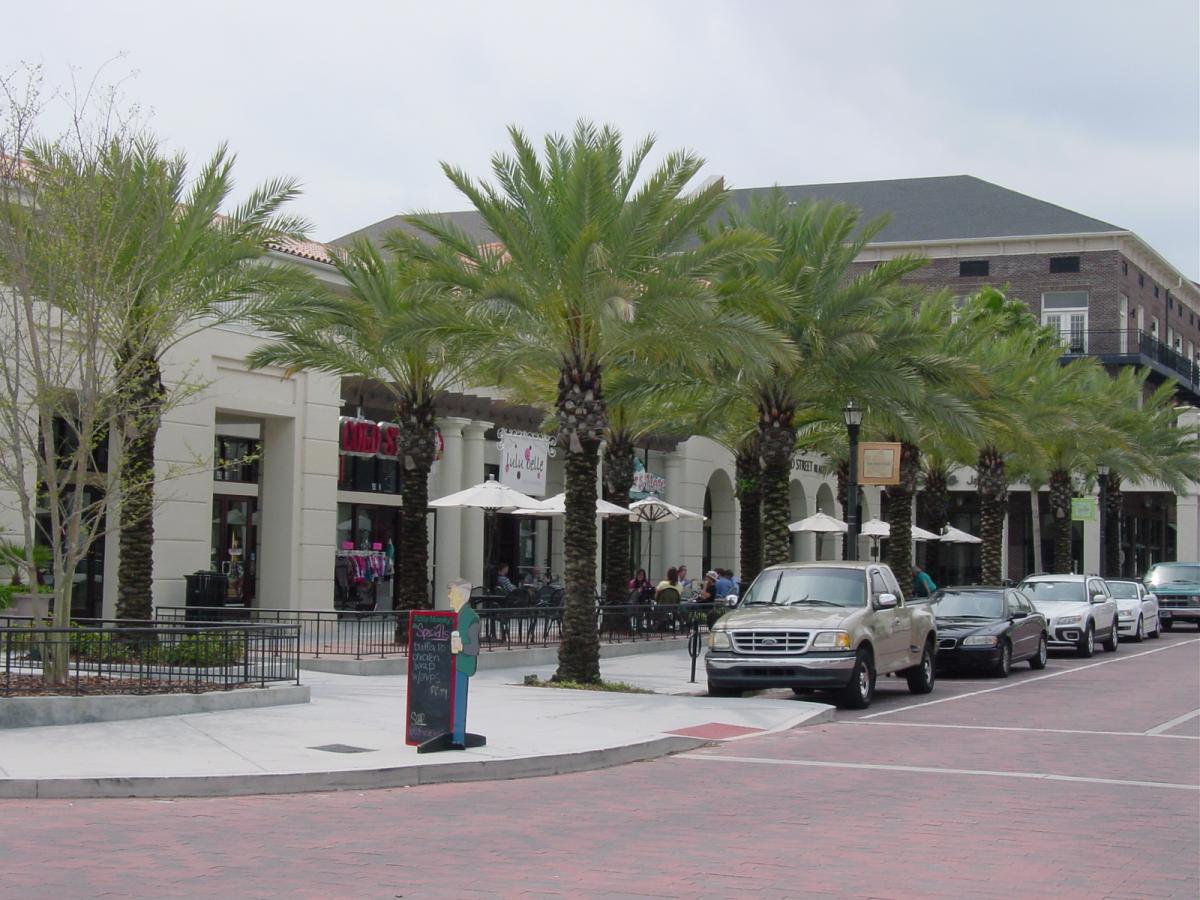 "Now that the Naval Training Center is gone, the fabric of the community has been knit together," says Grandin. "We have something like 27 connections to the outside street network. You can get to different neighborhoods surrounding Baldwin Park."
Housing diversity was another goal. Baldwin Park has large and small single-family homes, townhouses, stacked flats, apartments (some over retail), and accessory units in close proximity. "It's considered upper income neighborhood, but lots of folks on fairly restricted incomes, in modest units, are living side by side with people of higher income," says Grandin. "The income diversity is fairly high, although we would have liked to have done more."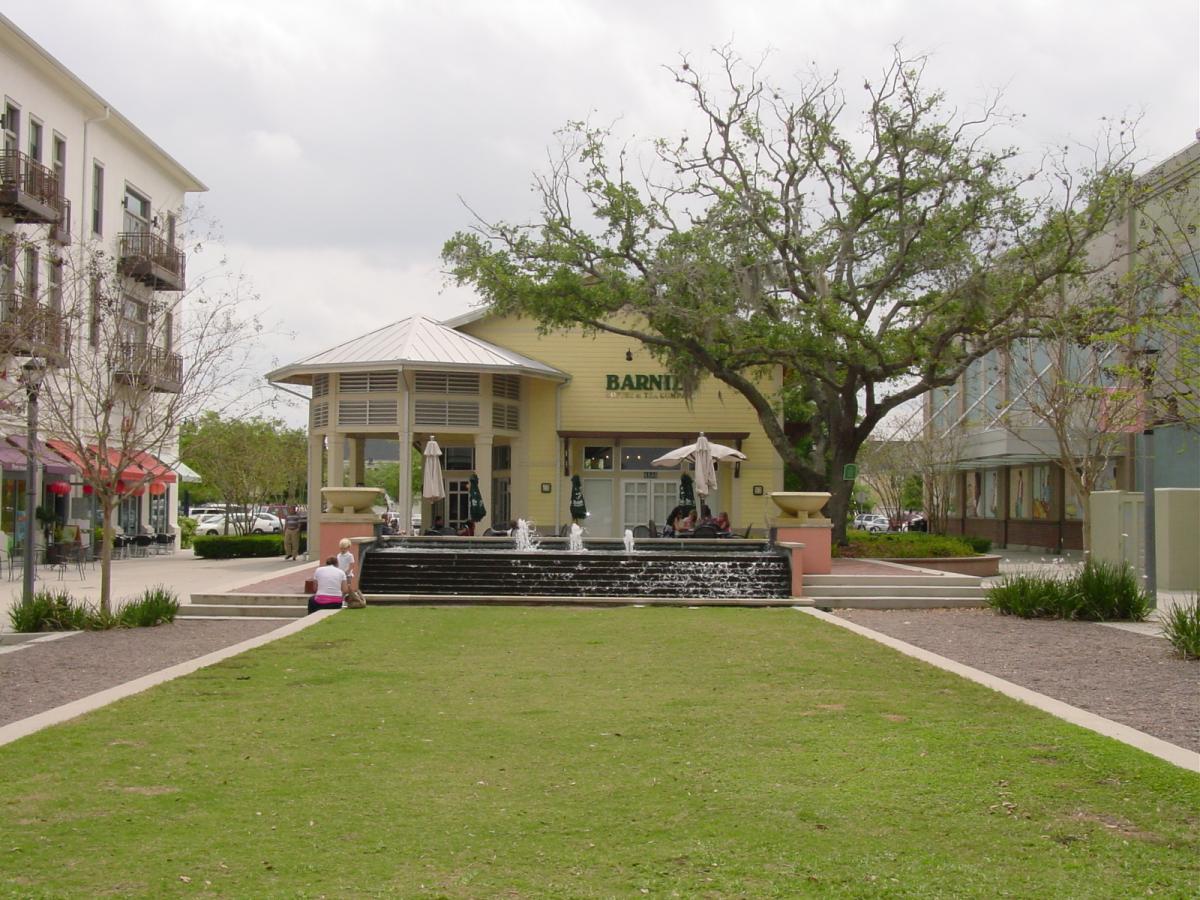 Planners also sought a diversity of activities. The town center includes a full-service supermarket that draws customers from surrounding neighborhoods, a CVS pharmacy with two floors of residential above, a dry cleaner, bank, bike shop, other shops, a fitness center—and many restaurants, cafes, and bars. The community also includes office buildings, a church, two public schools (middle school and high school), and a medical center. Baldwin Park contributes to the tax base more than the typical Orlando neighborhood, because of the value of its properties and its density.
Schools attract families with children, yet the development has also been popular with senior citizens. "They can walk to many places and live fairly active lifestyles," Grandin says. A recent "independent living" facility for retirees sold out prior to construction.
When Baldwin Park was planned, residents in surrounding neighborhoods insisted that no stores be built across from their houses, so the town center was located in the interior of the development. Due to its location and the timing of the recession, the main street suffered vacancies for a time. In the last few years more than 1,000 apartments have been built or begun construction in the town center. The density led to better-performing shops and storefronts have few or no vacancies now. The supermarket, a Publix, has succeeded from the beginning.
Baldwin Park has an enviable string of parks, one of which completely circles a large lake—a unique amenity for Orlando, a city of lakes mostly ringed by private property. A "finger" of parkland also extends from Lake Baldwin through residential neighborhoods and contains major recreational facilities and fields. "The parks are heavily used, not just by those in Baldwin Park, but by residents all around the city," Grandin says. A 6.5-mile regional bike-ped trail, The Cady Way, passes through the community and connects Baldwin Park to Winter Park several miles to the north.
Baldwin Park is the city's most successful new urban project and one of the larger walkable "infill" developments in the country. Walkability has risen from near zero, when it was a gated institution, to a Walk Score in the middle 70s—very walkable (walkscore.com).
Community life is active with holiday parades, porch sales, outdoor concerts and events. Halloweens are "crazy," Grandin says, with each house getting 150 to 200 trick-or-treaters—some of whom come from other parts of the city. "People in Baldwin Park really do sit on porches and chat and talk and walk. I know everybody on my block and I've been there only 2 years. People make a point of introducing themselves."