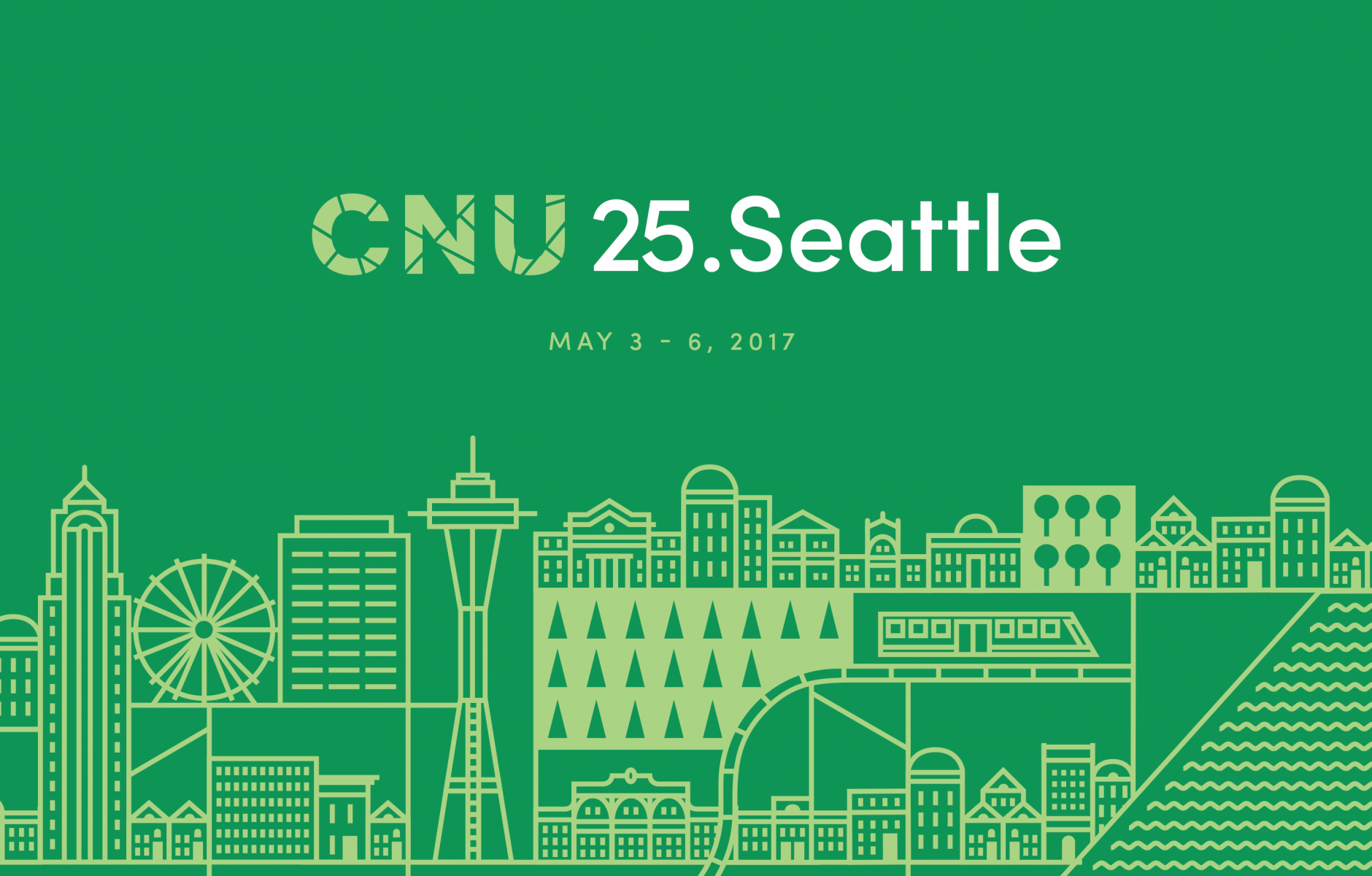 Introducing CNU 25.Seattle
Here's a preview of what you will see and do in Seattle at the 25th annual Congress for the New Urbanism this May.
It's been over four months since CNU 24.Detroit, and the buzz still hasn't worn off. Our 2016 Congress drew 1483 attendees from 43 states and 28 countries. Nine out of ten of you called it one of the best Congresses ever. That's big.
Thanks to the support of all our partners, CNU 24.Detroit was a new kind of Congress: more immersive, diverse, inclusive, and in-depth than ever before.
Which brings me to CNU 25.Seattle, May 3-6, 2017. Before early bird registration opens on January 11, I wanted to give you a preview of our amazing schedule—not only entice you to join us in the Pacific Northwest, but also to help you make travel plans. Our CNU 25.Seattle highlights include:
Tuesday, May 2: There's so much to do and to see in the Pacific Northwest, we're starting the proceedings a day early. While the Incremental Development Alliance runs a one-day Small Real Estate Development Workshop, we'll offer a limited number of 202 workshops, a Congress reception, and a major evening event. In partnership with King County, WA, we're presenting a groundbreaking panel on sustainability, equity, and suburban displacement—with speakers representing local government, tribal communities, and the Center for Neighborhood Technology.
Wednesday, May 3: Programming begins in full with tours, interactive 202 workshops, and breakout sessions. In the evening, CNU will partner with the Urban Land Institute to present a joint plenary timed to coincide with their Spring Meeting. Wednesday also features our first-ever Pro-Equity workshop, which builds the sensitivities and competencies to engage equity as an opportunity in communities of all scales. This 202 will be offered free of charge, with space limited to 75 participants.
Thursday, May 4:  Programming and tours continue citywide. In addition to the return of our popular member-led sessions, on Thursday we're bringing back the CNU Forums—high-level expert summits on specific subjects like architecture, climate change, and rapid urbanization.
Friday, May 5: On Friday, CNU joins with PlaceMakers to co-host the annual Congress dance party. We'll also take over the historic Moore Theater in downtown Seattle for high-level talks from urbanist experts.
Saturday, May 6: On Saturday, CNU 25 hits the road for full-day tours of Vancouver, BC and Portland, OR. In addition, we're bringing back last year's breakout City as Platform—designed to get you out into Seattle neighborhoods and connect you with the people our work directly effects: neighborhood leaders and residents.
Additionally, this year we're introducing pre-registration as a special benefit for CNU group members. Group members will have the opportunity to register for the Congress two weeks before Early Bird opens—and get first pick of all tours and 202 sessions like our Pro-Equity Workshop. Not a group member? Contact Kristen Dunphey.
Finally, in light of Seattle's robust AirBnB and hotel network, we've limited the size of our hotel block—so book your rooms now. Our Congress hotels are the Hotel Vintage, the Monaco Seattle, and the Motif Seattle, all close to the main venues: Benaroya Hall and the Seattle Art Museum. 
Every year, our Congress is only as good as the people who show up and participate. Thanks to you, CNU is known as a place for vibrant dialogue, heated discussions, eye-opening experiences, and lots of urban exploring. I'm excited to work with you all to create an outstanding program for CNU 25.Seattle that reflects the values and successes of our last quarter-century, and showcases what's in store for the next.