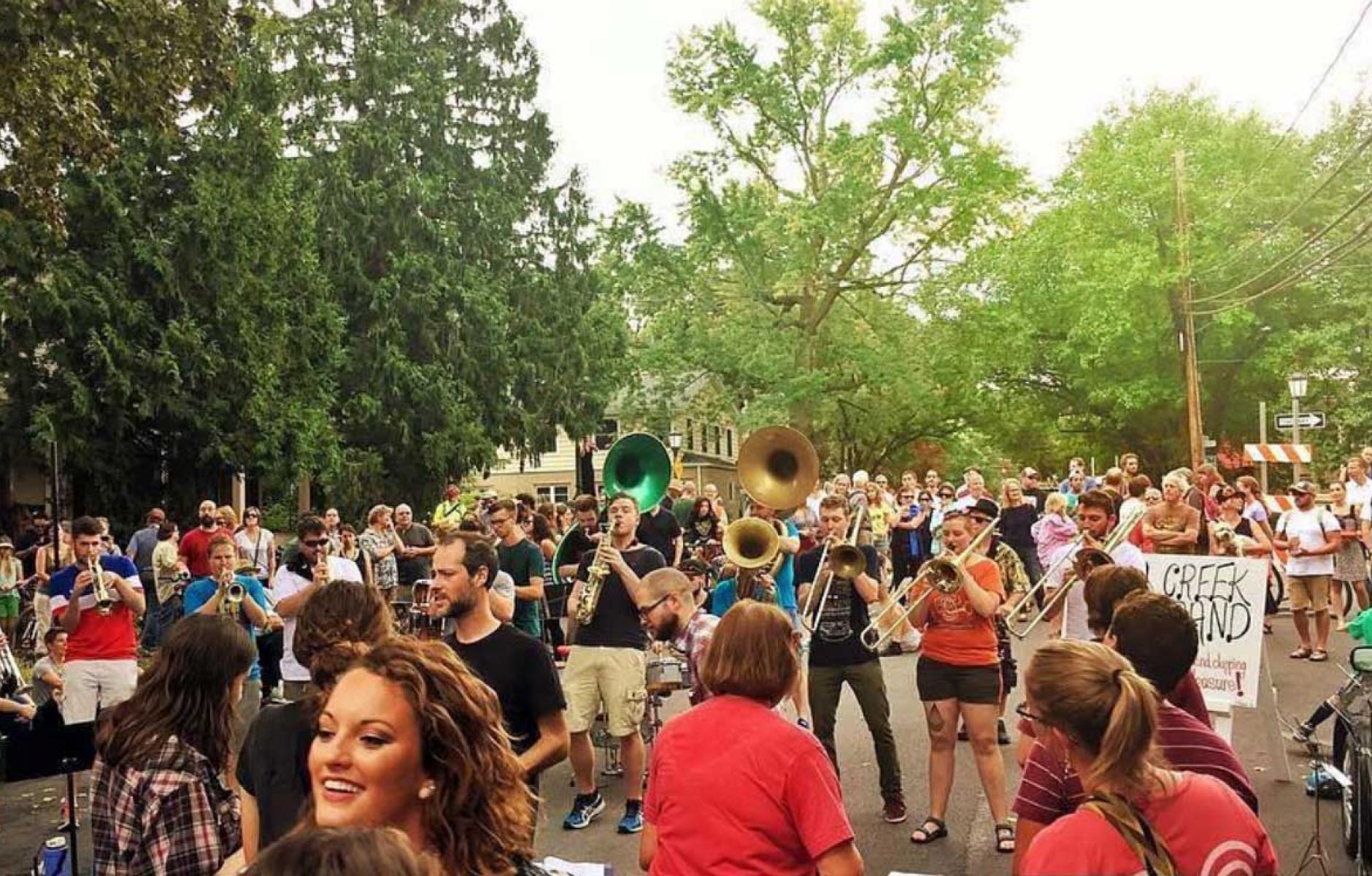 Music in the street at Ithaca Porchfest. Photo by Instagram user carson-judkins
Ten years of marvelous Porchfest
"Porches become stages, yards become venues, and radical generosity and good will rule the day."
A couple recently went looking for a house in Ithaca, New York. When the real estate agent took them to Fall Creek, a 40-plus-block area north of downtown, she exclaimed "This is the Porchfest neighborhood!" while pointing out hand-painted signs in front of houses up and down the streets.
What began as a small-scale, do-it-yourself community festival now has made its mark on the real estate market. One of those houses is mine, where we proudly display our little sign—okay, we don't bother to take it down—from year to year.
On Sunday, at Porchfest 2016, our house hosted three acts—one a duet between myself and my daughter Robin. Robin and I also played on a friend's porch as part of a bluegrass band, now in our ninth year. My other daughter Skye played violin in a Suzuki group two blocks away.
This year 181 acts performed at Ithaca Porchfest. My friend Scott Doyon of Decatur, Georgia, which has its own Porchfest, described the event in this way: "Porches become stages, yards become venues, and radical generosity and good will rule the day." Below is a short compilation video (note: Robin and I appear at the end with the bass and guitar).
At least 67 Porchfests are held annually in the US and Canada, in big cities and small towns and enormously diverse places coast to coast. In 2016 at least 25 were launched. All you need is a walkable neighborhood with porches and stoops and the kind of home-grown talent that can be found in any community.
It all began in Ithaca when Ithacans Lesley Greene and Gretchen Hildreth stopped to listen to neighbors playing on a porch and got the idea that musicians could play for free at the same time on one particular Sunday. They recruited 20 or 30 acts, printed a map with times and addresses and descriptions, and Porchfest was born.
The first event needed no vendors, no permits, and no money beyond the few dollars in printing costs. At the time, I estimated just by eyeballing crowds that 700 to 800 people attended. Porchfest wasn't even covered in the local paper, so an email that I wrote, which was posted on several urban blogs, was probably the first report on it. I gushed that Porchfest was the greatest community event I have ever seen and should be copied by other communities.
The next year we organized our own band and have been playing Porchfest ever since. Since then the Ithaca event has mushroomed in size and requires sponsors and a good deal of organization. Streets are closed in many parts of Fall Creek and Northside, an adjacent neighborhood. But Porchfest retains a remarkable grass roots, Democratic vibe. Porchfest is for me more fun than any other local event, although I am so busy that I barely have time to catch other acts that I want to hear.
The maps quickly migrated to Google and the signups are hosted online, but the basic Porchfest idea has not changed. People organize their own venues and acts. The central Porchfest team schedules when the performers will play—no easy feat with 181 acts, and some people perform multiple times—prints t-shirts, plans for bathroom availability and extra police coverage (on bicycle), and attends to a hundred other details.
"It's another thing that makes this place unique," Ithaca native Carolyn Rosner, 35, who brought her sons Dylan, 9, and Jase, 7, told The Ithaca Journal. "I've been to all 10 of these and it just gets better every year. This isn't garage bands playing, there is a lot of talent here."
As a special celebration of the 10th Porchfest, volunteers painted an intersection near where the founders got the idea. The flower design features musicians at the center and proclaims "Porchfest." Like the signs, this artwork leaves a trace on the neighborhood.
The brilliantly simple idea is having a positive impact on communities nationwide. Attached are some photos: