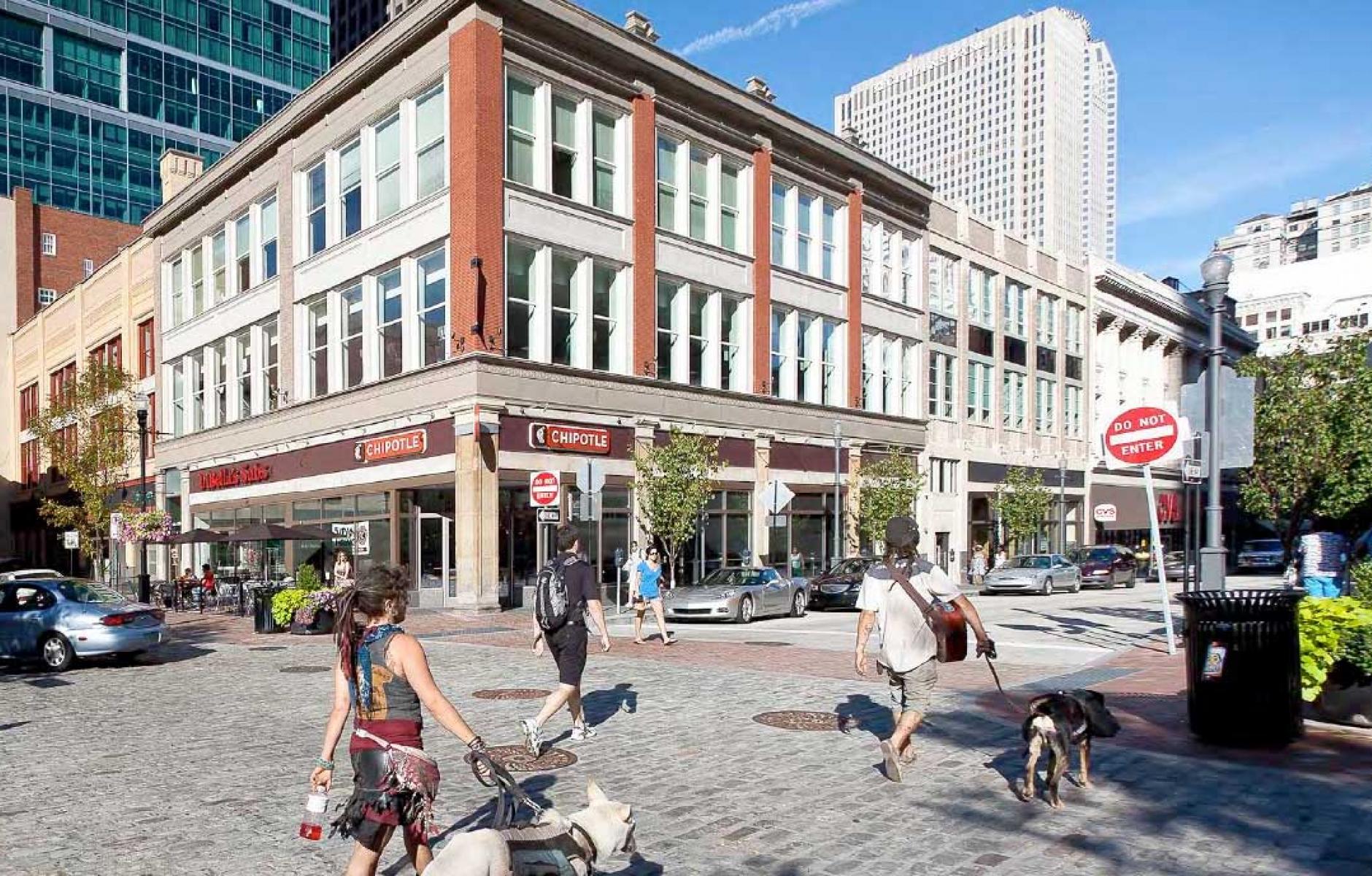 Market Square Place, 2014 Charter Award Winner. Source: Courtesy of Strada.
Rebuilding a block at the heart of the city
Saving historic facades and modernizing buildings were key to revitalizing an important downtown square.
Pittsburgh's Market Square was historically a bustling hub of locals and street merchants at the heart of downtown. Heavy cast iron buildings and fire-brick masonry gave the neighborhood a unique architectural charm.
But by 2000, most stores that front the square had closed. Crumbling facades added to an overall impression of neglect. Drugs were dealt in broad daylight. Many residents of the city and region avoided spending time downtown.
Now, since 2007, Market Square Place has brought a fresh mix of uses and new life to a previously a stagnant district. The square itself was rebuilt to maximize pedestrian comfort, eliminate surface parking, and calm traffic, and new investment flowed into to the surrounding neighborhood. "The success of the project reduced the risk for many small businesses that chose to invest … around the public square," notes Jeremy Waldrup, Pittsburgh Downtown Partnership President.
From 2008 to 2011, the number of public events doubled in the square, while a half billion dollars was invested in blocks near the square, the Downtown Partnership notes.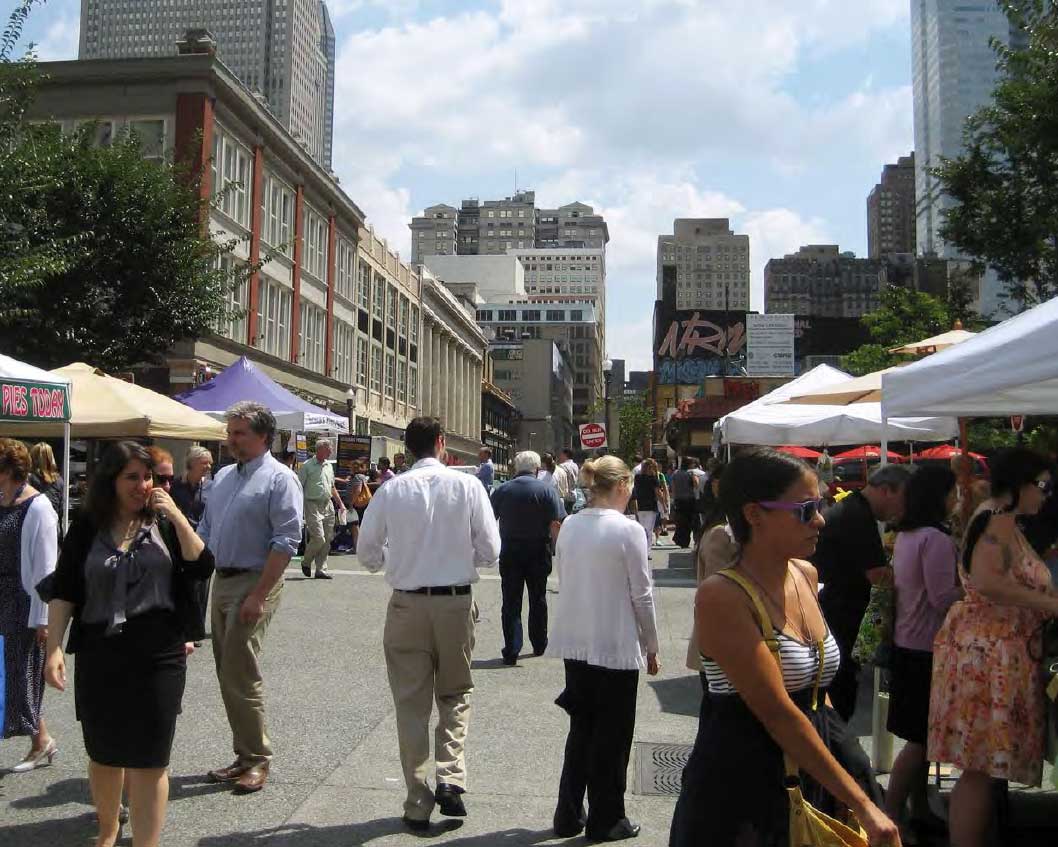 Market Square Place, designed by Strada, joined the interior of seven buildings to provide modern, leasable retail, office, and residential spaces. Many of the historic exteriors had been covered up with poorly designed facades and signage. The clutter and layers were removed, and original facades from 1870 to 1931 were refurbished. The block looked better than it had since the middle of the 20th Century.
The first challenge that Strada faced was logistical; the architects needed to solve a puzzle of buildings of varying heights, styles, and materials. The team negotiated an innovative maze of code requirements between different construction types and arranged connections between floor plates of varying heights between buildings. The creation of large, flexible spaces attracted a 30,000-SF multi-level fitness center, a key tenant for the project's viability. New building connections on the upper floors facilitate circulation for 46 market-rate apartments and a shared terrace.
At street level, pedestrians experience a variety of distinct storefronts as in past decades. A new parking area below grade allows one car per resident.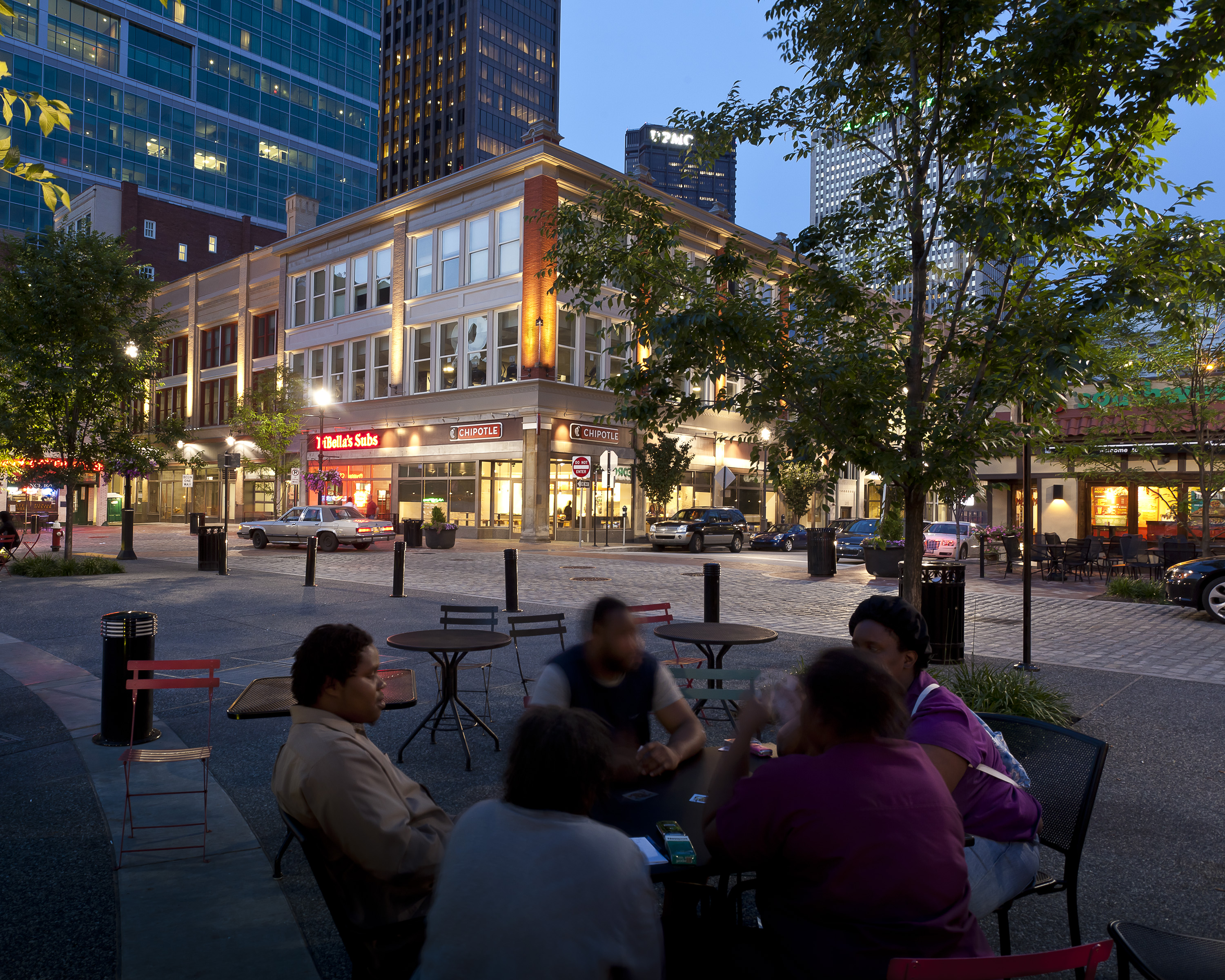 Situated in Pittsburgh's original center of civic life—the site of the city's first courthouse and market—this block became a barometer of downtown neglect in the latter part of the 20th century. Its renewal has set an example for the alignment of historic preservation and sustainability to generate economic and social activity, while inspiring further interest and development in the area.
Market Square Place won a Charter Award in 2014.