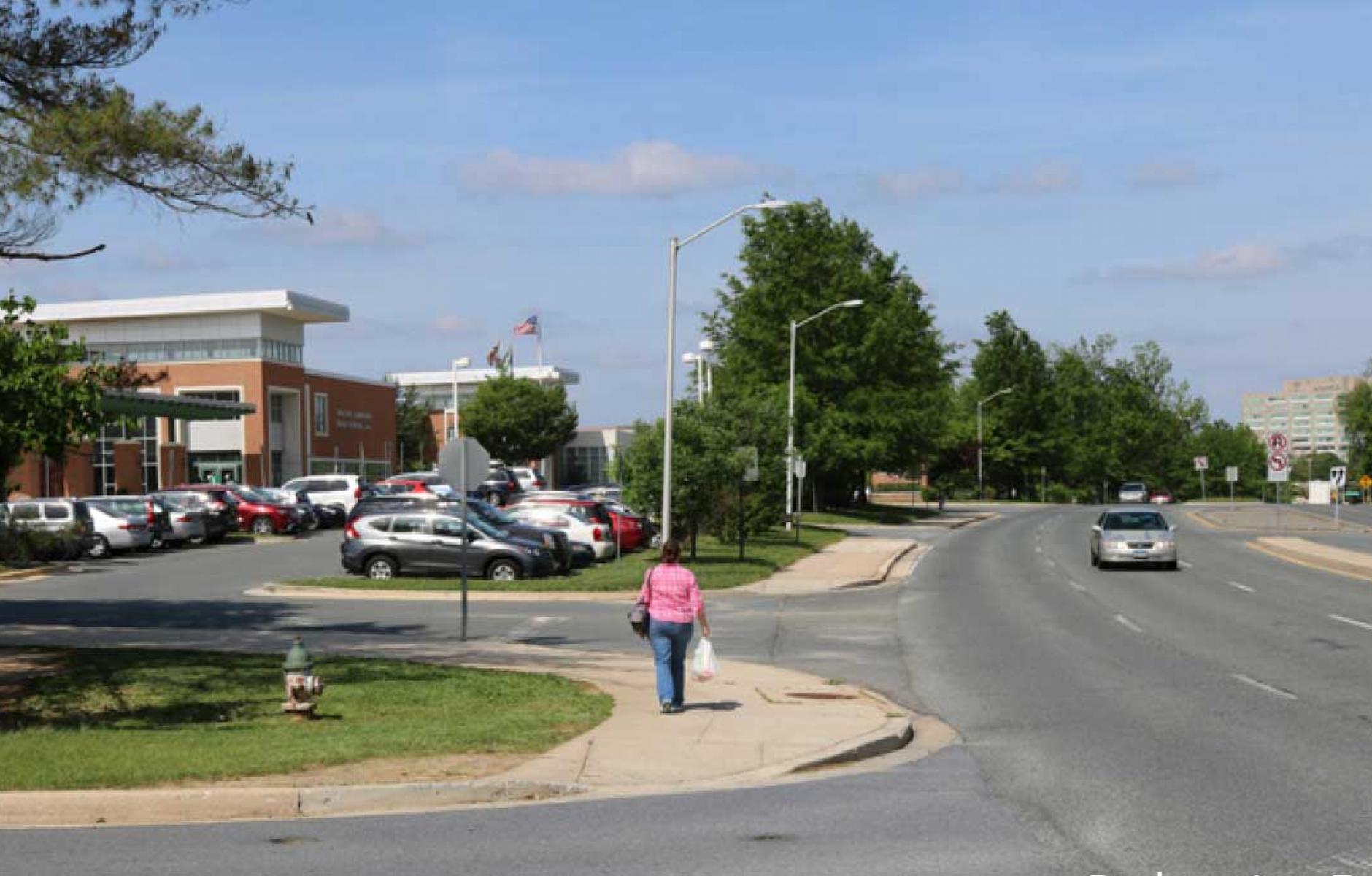 Rock Spring business park. Source: Casey Anderson
Suburban office park must adapt or die
High vacancy rates and little reason to visit outside of 9 to 5 contrasts with the current success of central business districts. How can office parks be transformed?
Montgomery County, Maryland, illustrates why suburban office parks are in trouble—and why suburbs need a mixed-use and walkability makeover.
Montgomery County was a bedroom community with half a million people in 1970 that included several small cities and town centers. The county has since doubled in population. A wave of corporate and government office construction from 1970 to 2000 turned the county into an important business and research center, centered in sprawling North Bethesda. Marriott Corporation, the National Institutes of Health, and other large entities found a home in high-profile office parks there.
In 1995, the vacancy rates at these business parks outperformed that of the Bethesda, Rockville, and Silver Spring central business districts (CBDs). Two decades later, the relative success of CBDs and office parks has flipped. The vacancy rate at every office park rose substantially—see the graph below. Meanwhile, the vacancy rate of every mixed-use, transit-oriented CBD fell. Now the CBDs outperform the office parks. A big reason for the success of these suburban CBDs is that they are connected to the Metro system.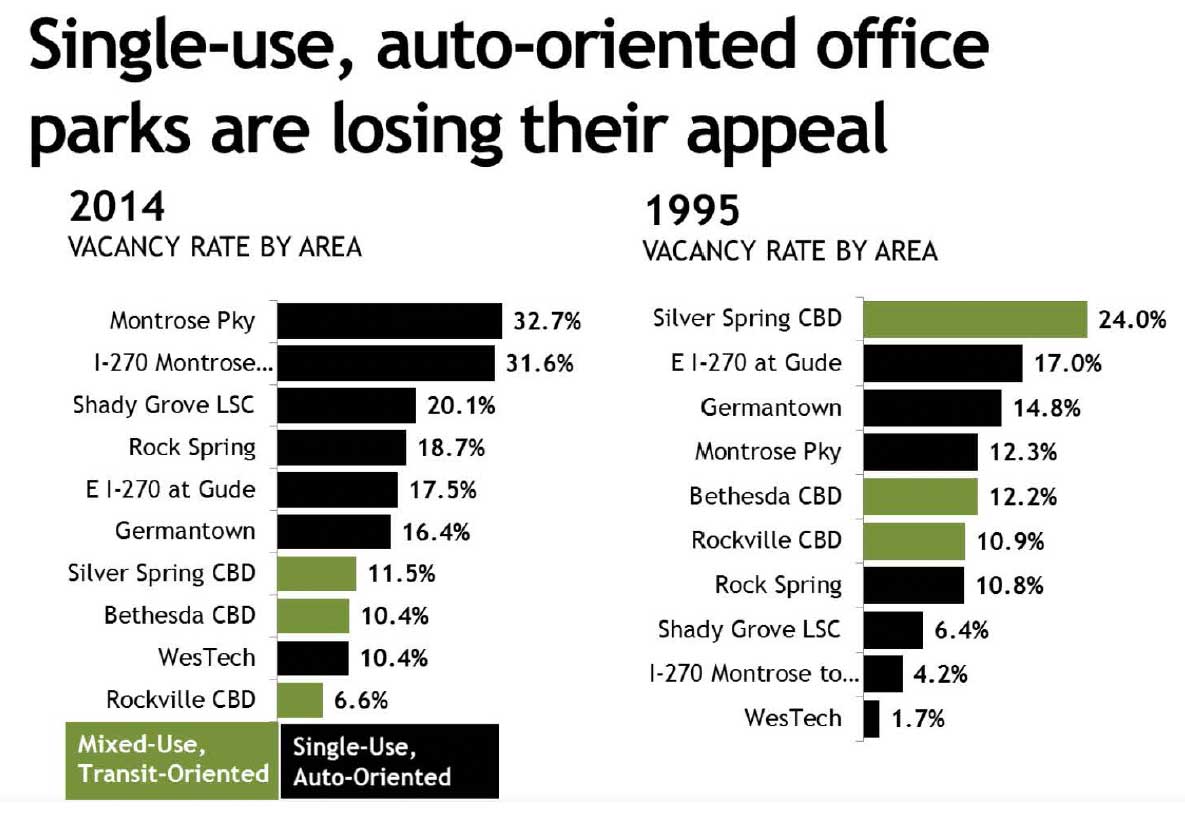 A recent article in The Week, "This is how the suburbs die," looks at the trend of corporate offices moving back to cities from suburban business campuses. "Some corporate campuses may remain for lower-paid back-office functions, but American companies, and the economic elite who must captain them, are returning to the city," writes Michael Brendan Dougherty.
Corporate behemoth General Electric (GE) moved out of Manhattan for Fairfield, Connecticut, in 1974, during the lowest ebb for core cities, Dougherty writes. GE recently announced it would move to the Boston waterfront to tap into a wealth of young talent. The Boston area has 55 colleges and universities.
Fully 83 percent of office employers want to locate in mixed-use urban places in cities and suburbs, according to a nationwide survey in late 2014 by the NAIOP, the commercial real estate association. Only 17 percent prefer late 20th Century "business parks."
Therefore, the trend is not just a competition between suburbs and cities—office parks are losing ground to walkable centers, many of which are located, or under development, in suburbs.
When Marriott Corporation announced last year that it would move from Rock Spring, Montgomery County's largest office park, it was clear that the potential impact could be catastrophic for the business park, notes Casey Anderson, the chair of the county planning board. Rock Spring already has three vacant buildings and an 18.7 percent vacancy rate. Marriott is the largest employer there. Marriott has not announced where they will move to, but CEO Arne Sorensen said that Metro access is essential. He told The Washington Post that moving to downtown DC is not essential—a transit-oriented location in the suburbs would do.
The Washington Business Journal offers a stark assessment Rock Spring and another North Bethesda office park: "Neither are well connected to amenities, pedestrian-friendly, or identifiable as a brand. They are largely obsolete, office-only destinations, void of any reason to visit outside of the daily grind."
Montgomery County, meanwhile, is scrambling to figure out how to reinvent these business parks, which provide major employment and tax base. The long-term solution is to convert these office parks into mixed-use centers, Anderson says. But the county does not have the luxury of carrying out a 10-year plan. Anderson likens the situation to "wilderness medicine," where the patient is likely to die if immediate and strategic action is not taken.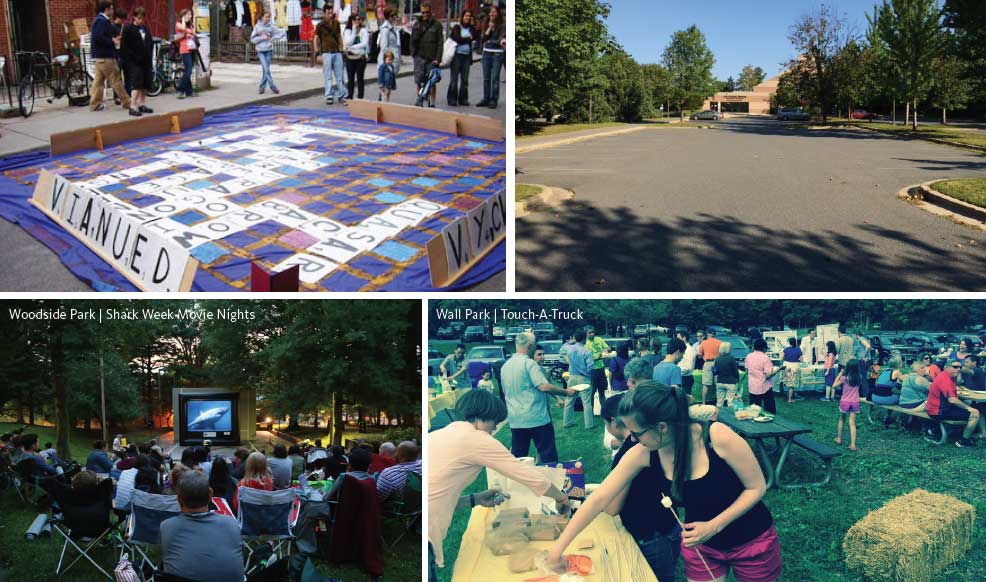 "We told Marriott: Just calm down and work with us before you make a final decision," Anderson says. "Why don't we see what we can do for this place right now?" The county has several advantages: It runs a transit system and parks and recreation program. The county's plan involves spending $800,000 to link the Metro station to Rock Spring and to nearby Westfield Montgomery Mall via a bus shuttle.
The county also immediately began activating public spaces in Rock Spring. They organized a public event called Touch a Truck, which drew 1,000 participants. They created a movie night, a Scrabble tournament with giant boards, and set up ping-pong tables in a park. "If we can't transform this place in one fell swoop, we can make some significant improvement and establish credibility with the tenants," says Anderson.