Reclaiming the median for development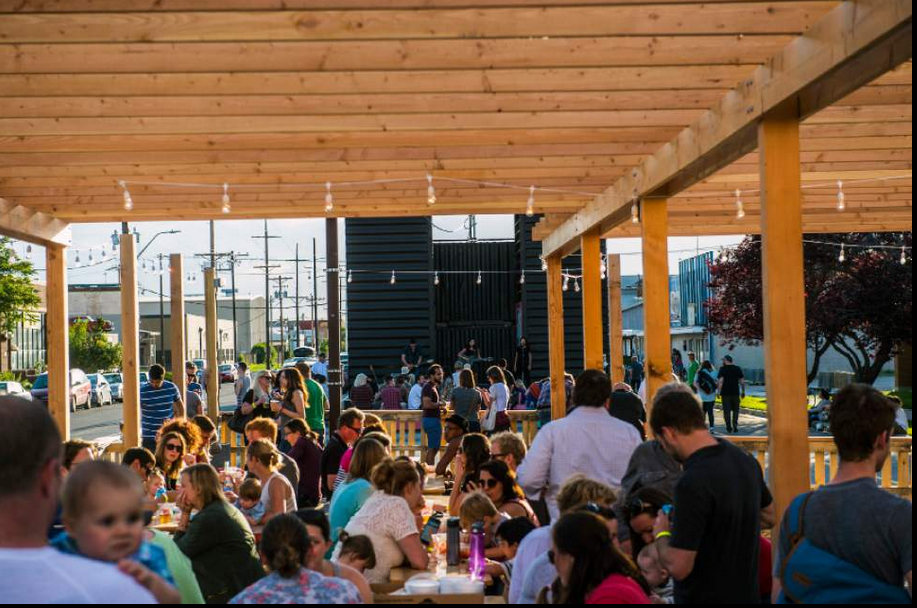 The width of streets in Salt Lake City are legendary. According to a popular story, Brigham Young, who led the Mormons in founding the city, wanted a team of oxen to be able to turn around in the street with room to spare.
Today, without the oxen, those over-wide streets mean wasted space, expensive maintenance, speeding cars, and major barriers to walking. So James Alfandre of the Kentlands Initiative had a creative solution: Develop the middle of the street.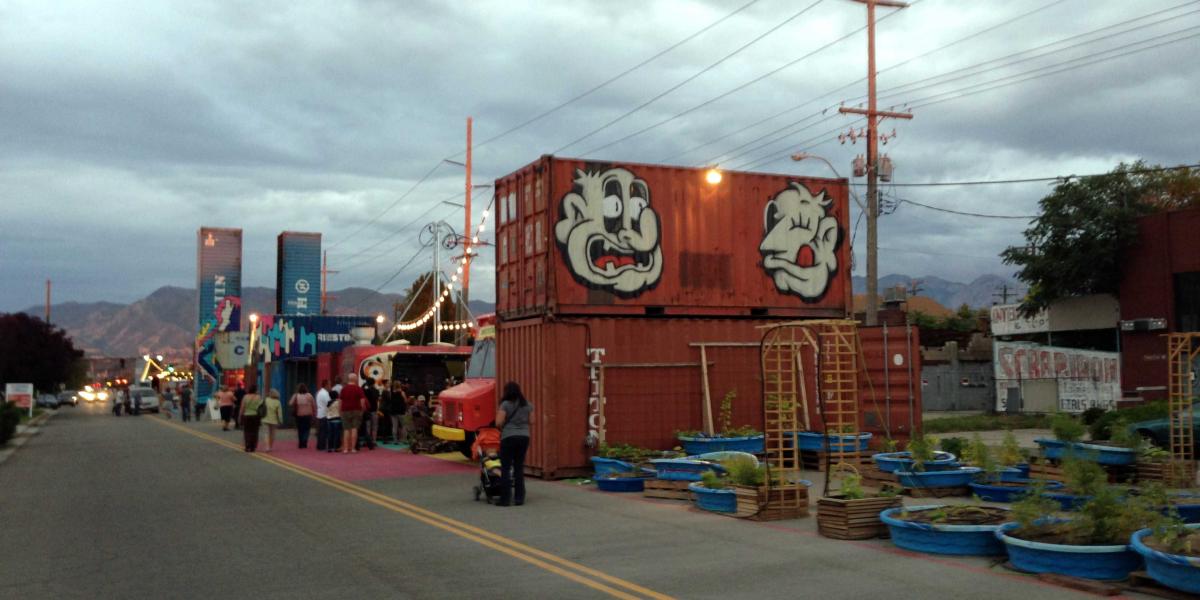 A showcase of different popup retail stores on Granary Row. Source: Courtesy of James Alfandre.
Now, Granary Row, a seasonal pop-up festival that has operated for two years, uses old shipping containers to create retail stores and a open-air stage, and a beer garden has been fenced off—all in the middle of the road, along a block-length section an old industrial area. On Friday and Saturday nights, the place is hopping with live music, food trucks, crowds of people, and beer supplied by Salt Lake's Uinta Brewing Co.
Alfandre is currently negotiating with the city for a long-term ground lease to build a more permanent "sticks and bricks" development in the median. "We're changing the economics of the street," he says. "Before, it sucked resources to be maintained, and now it's generating new tax revenues, jump-starting local businesses and catalyzing new investment in adjacent properties." The street maintains a lane of traffic in each direction with on-street parking. "By taking over the median and still having a functional road, you are creating something out of nothing," he says.
Alfandre's nonprofit takes its name from Kentlands, the traditional neighborhood development in Gaithersburg, Maryland, built by Alfandre's father, Joe. "Everyone thought Joe was crazy for what he did," says Alfandre.
After Kentlands was built, he says, people kept asking: "How do we build something like Kentlands in our town? Our fire department and the engineers won't let us." To help other communities overcome those barriers, the nonprofit—now run by James—was born.
Granary Row offers a pattern "that can be used and tweaked according to the needs of the neighborhood," he says. The idea has potential all over Salt Lake City—and also in the 700 cities and towns settled by Mormons in the West, which share Brigham Young's wide streets and big blocks. 
Granary Row has its roots in 2011, when Alfandre and others were trying to figure out how to pump life into Granary District, adjacent to downtown Salt Lake City. It is home to large silos, warehouses, and industrial facilities—many of which have gone vacant since the railroad moved to a new location. Entrepreneurs and residents are occupying some of these spaces, but the area still feels empty because of the scale of the infrastructure.
Alfandre and associates held a Tactical Urbanism event, bringing in street trees for a day and hosting a block party. "We just started doing stuff—we didn't even ask permission at first," says Alfandre. The idea for median development came out of a 2013 charrette led by Mike Watkins, the long-time town architect of Kentlands. Median development was tested in a one-day event visited by city officials, who gave the go-ahead for Granary Row, which was designed in detail by architects Blaylock and Partners.
Alfandre worked with the city Redevelopment Agency, who pointed him towards banks for donations. Salt Lake City has a big banking industry and firms are required to spend money toward community redevelopment. "I just started knocking on doors, and once I explained the concept, it was easy to sell them on the vision," he says.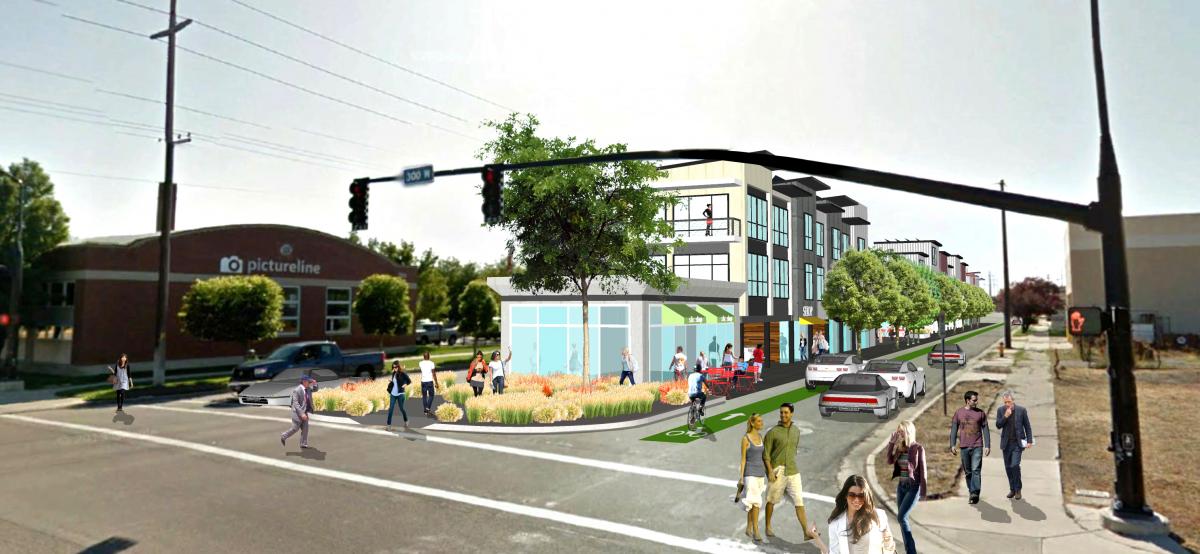 The vision for Granary Row. Source: Courtesy of James Alfandre.
Part of the vision is to create cheap space for local startup businesses, like a bike shop, vintage clothing, an art gallery, and jewelry store. The shops are 160-square-foot converted shipping containers. This past year six operated in Granary Row. Sweet Salt Records, a partner, books the entertainment. The entire project occupies about a half acre—36 feet wide by the length of the block. The charrette envisioned many potential alternative uses for medians—community gardens, parking, parks included.
"It's about building good neighborhoods planned around the human experience," says Alfandre. "My generation doesn't want to live in suburbs—it wants to live in city." 
Top Photo: 
The Beer Garden in Granary Row.
Source: 
Courtesy of James Alfandre
This article was also published on cnu.org.