The heart of Mashpee Commons at night. Source: Mashpee Commons
The first suburban retrofit gets a neighborhood
After two decades, Mashpee Commons is moving forward with 300-plus residential units, more shops, and civic spaces with support from the regional planning authority.
Transformation of the former New Seabury Shopping Center in Mashpee, Massachusetts, into a town center began 30 years ago. The early-1960s strip mall at the intersection of two state highways on Cape Cod was fading and needed refurbishment.
Mashpee, a suburban municipality located between two older towns, needed a heart at the time. The town consisted of a hodge-podge of retail areas surrounded by parking lots, condominium developments, and subdivisions.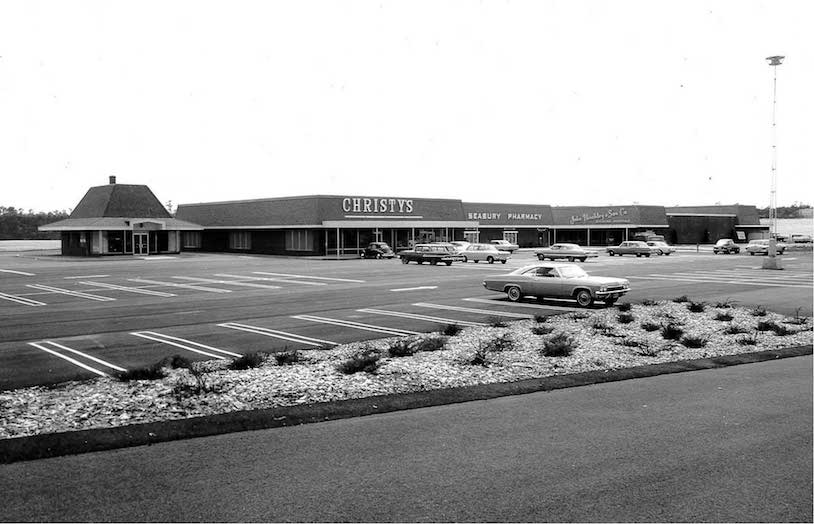 Buff Chace, the young owner of the shopping center, came up with the radical idea to convert the shopping center into a diverse, mixed-use town center surrounded by residential neighborhoods. Prior to that, nobody thought that possible. Chace brought in Andres Duany and Elizabeth Plater-Zyberk (DPZ Partners)—the planners of Seaside, Florida—to design the conversion.
Chace quickly won approval to transform the shopping center, but permission for the surrounding residential neighborhoods was put off to a later time. The developers used a bit of sleight-of-hand to get narrow, walkable streets approved: They called the thoroughfares "parking lots."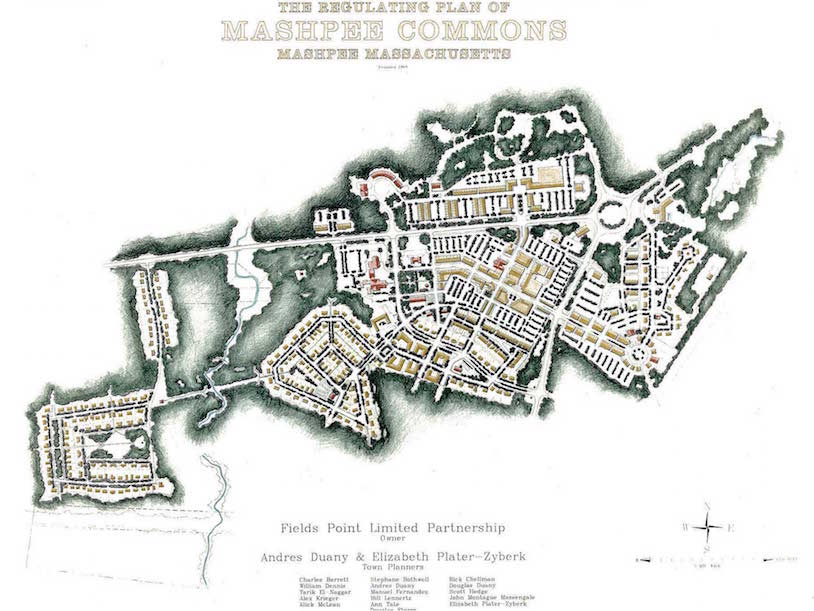 Some of the shopping center buildings were "re-skinned" to make them more pedestrian-oriented. The developers pioneered the concept of "liner buildings" to hide parking lots. They put residential units above the shops and used the traditional architecture of historic New England towns. Mashpee Commons made rapid progress for 10 years and became a key destination on the Cape, contributing to the town's identity.
Mashpee Commons became the locus of the town's civic buildings and public spaces like the post office, the Town Hall, a public library, a Catholic church, and the town green. It also took on the role of entertainment center—with restaurants and taverns, movie theaters, galleries, and bowling lanes. Events and live music are scheduled constantly. The Boston Globe called Mashpee Commons an "economic juggernaut," a description that would never have applied to the old shopping center.
Yet after the first 10 years of rapid change, growth in Mashpee Commons slowed down. Regulatory challenges, public perception, and finally the Great Recession halted the planned neighborhoods surrounding the center, shown in the DPZ plan, for 20 years.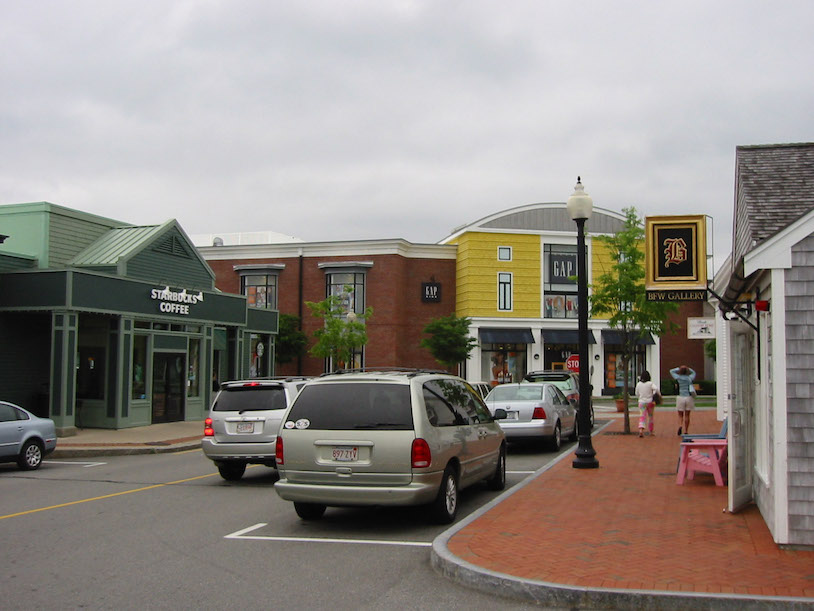 But now, after decades of promoting large-lot development on septic systems, the regional planning authority, the Cape Cod Commission, is supporting higher-density activity centers as a way to protect their watershed. Their analyses show significant environmental, financial, and regional traffic benefits from expansion of Mashpee Commons. The long-planned neighborhoods recently came under construction. The town planning board approved 300-plus residential units, including affordable housing. The first phase includes eight buildings, 52 residential units, and 12,000 square feet of shops.
The former shopping center is now growing into a complete village—a process that is expected to take another decade. Meanwhile, the idea of suburban retrofit—pioneered at Mashpee, has become a nationwide trend.