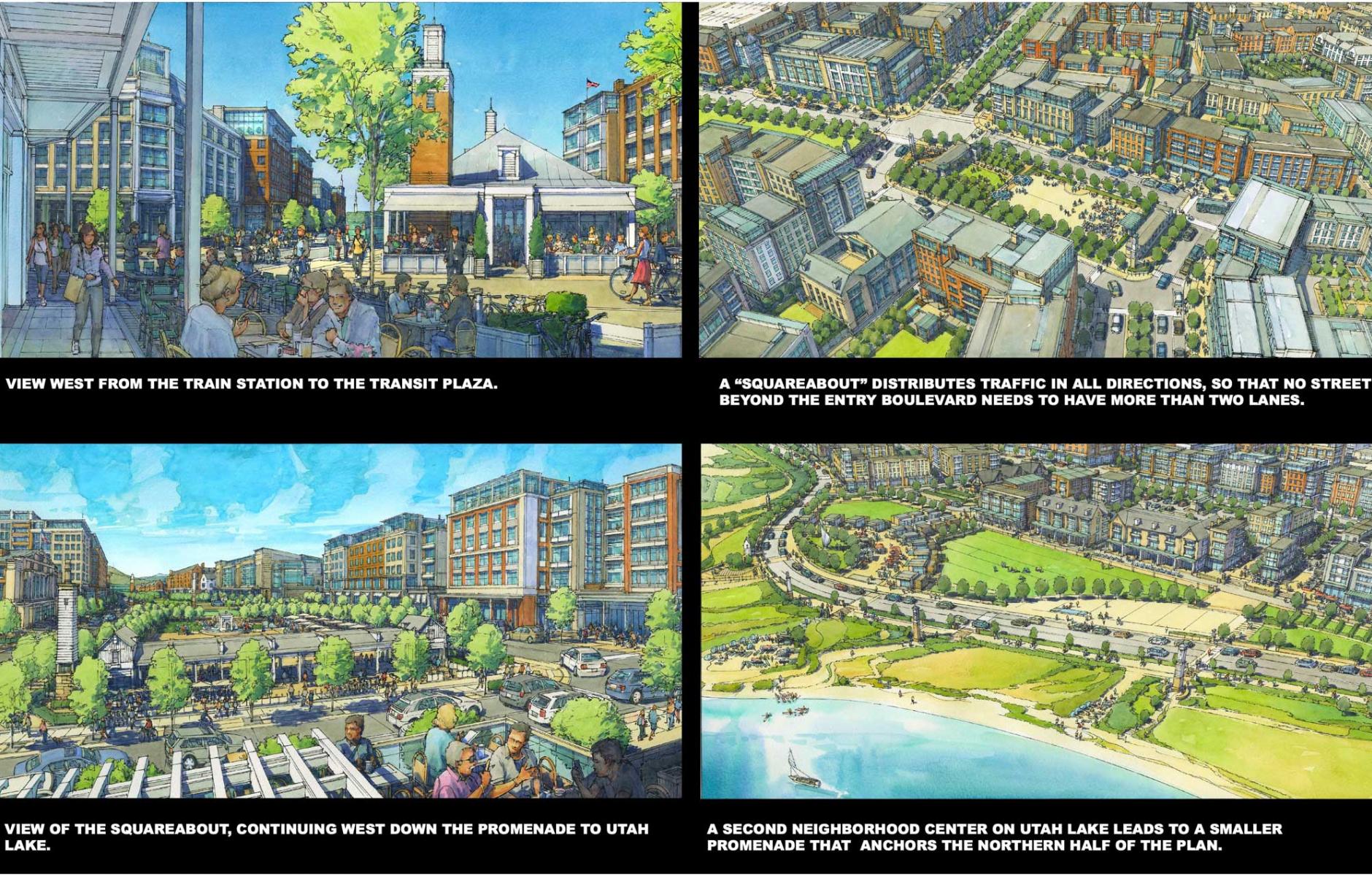 Perspective renderings. Source: Jeff Speck.
Utah City breaks ground, a very ambitious TOD
A new transit-oriented development in Utah is planned with the density and amenities of a big city downtown.
Utah City is the biggest and most ambitious transit-oriented development (TOD) that I have ever seen. Surprisingly, it is breaking ground not in New York, DC, or LA, but on a windswept, barren site near Provo, Utah.
"Located on the east shore of Utah Lake, this will be Utah County's largest sustainable, walkable, transit-oriented, mixed-use community. Utah City is being designed and developed to be the urban core of the county," the Daily Herald newspaper reported this week. To give an idea of how aspirational that goal is, Utah County has 660,000 people and contains the cities of Provo and Orem.
This 300-acre development is being built on the remediated site of the former Geneva Steel Works. A commuter rail station opened for the proposed urban center on the FrontRunner line, which runs 88 miles on the Wasatch front, connecting Provo to Ogden by way of Salt Lake City. 
Utah City is planned to hold more than 20 million square feet of new buildings of every use, according to Jeff Speck, the chief project planner since 2019. Its ultimate build-out will be similar to that of Daybreak (an important new urbanist development about 10 miles away as the crow flies), but on less than one tenth of the land area, he calculates.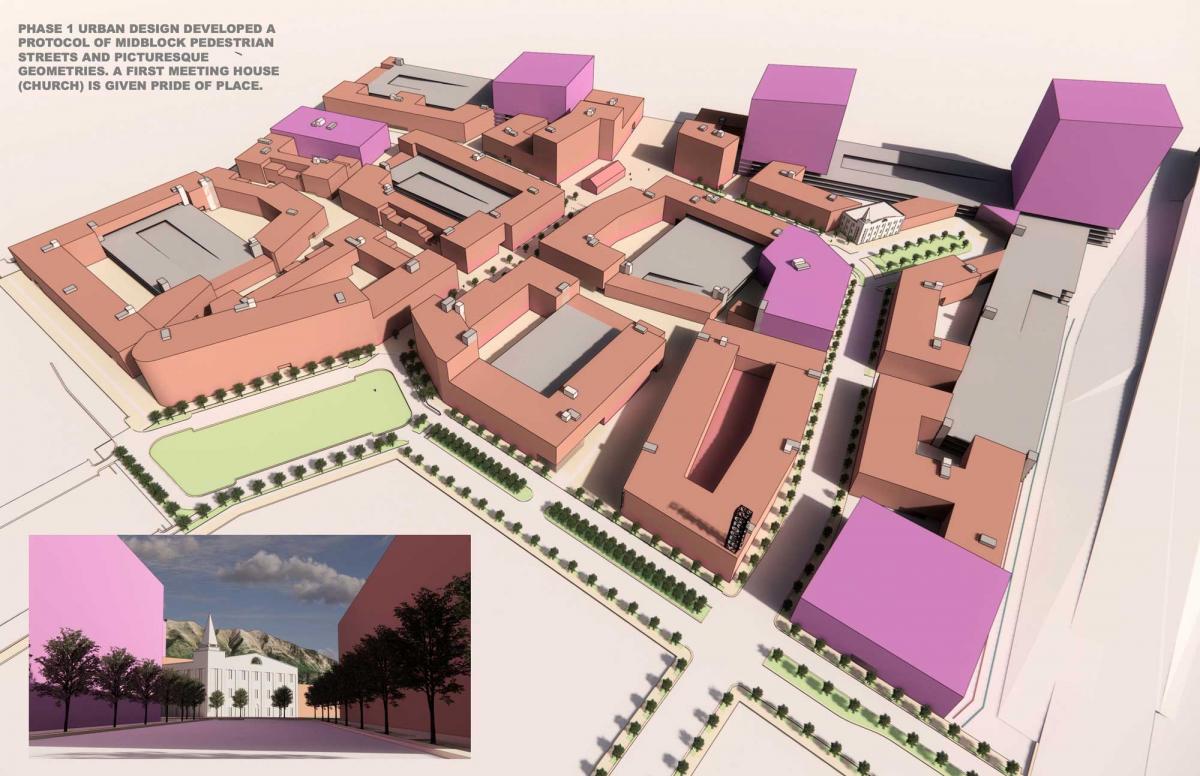 Planned for up to 17,000 residential units on under a half square mile of land, the development would achieve the density of a major big city downtown. The current master plan came out of a charrette run by DPZ CoDesign, brought in through Speck's recommendation in early 2020. Nelsen Partners is the architectural designer, and OJB and Dig Studio are working on the landscape design—including 47 acres of parks.
The Flagship Companies and Woodbury Corporation are developing Utah City. "Ground was turned last week on 450 units of multi-family dwellings, signaling the start of the project. The Huntsman Cancer Institute will break ground early next year," according to the Daily Herald, which covers the Provo-Orem area.
Utah City is a big deal on the fast-growing Wasatch Front, warranting a ribbon-cutting speech from Gov. Spencer Cox. He described the project as "Density done the right way … it is healthy, it's good, it's positive," adding that "we can't keep adding lanes to I-15." 
Anchors already include the station, which opened in August 2022, and the cancer research center that will provide over 150 patient beds and is expected to bring thousands of high-paying jobs to the county, reports the Daily Herald. The site is located in Vineyard, Utah, currently an automobile-oriented place, with typical sprawl development. But the town is embracing TOD. 
"This incredible site marks one of the greatest developments in Utah history, one that is shaping the future of Utah's upcoming development, and one that will drive Utah's economy for many decades to come," Vineyard Mayor Julie Fullmer says.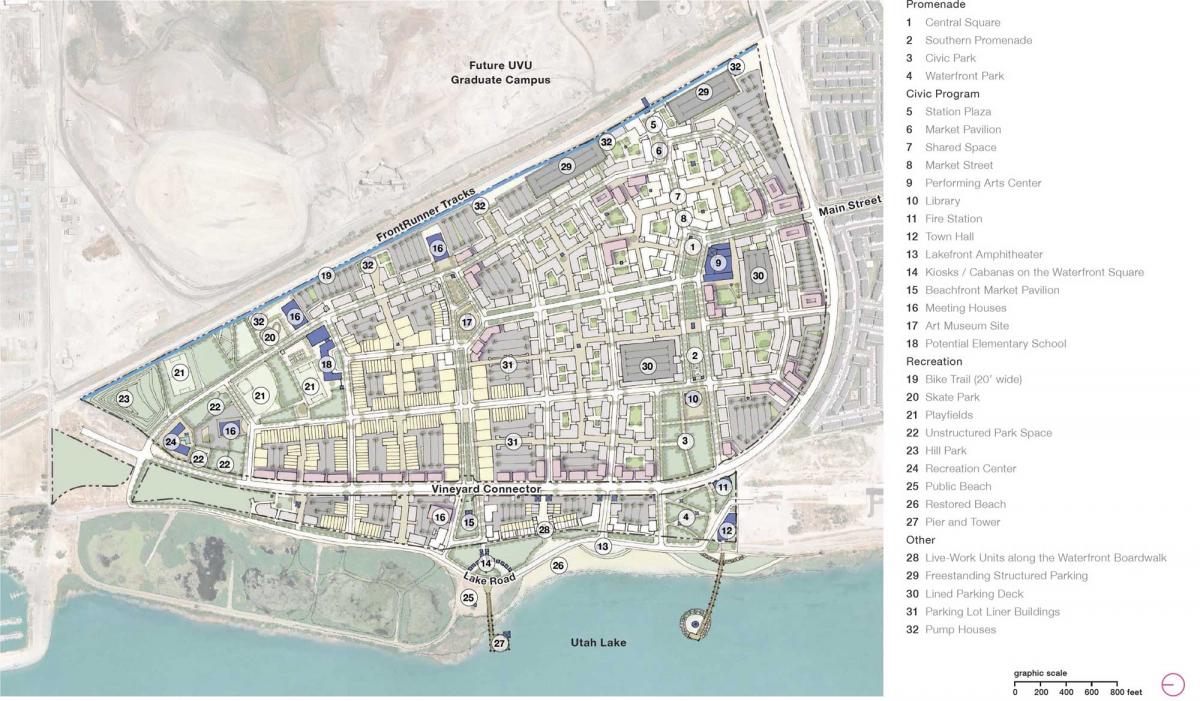 The design team is committed to include almost every aspect of daily life within walking distance, Speck explains. In addition to housing, offices, and retail stores, plans are moving forward for churches, a supermarket, a performing arts center, and a large school. The whole site will be within a 15-minute walk or five minute bike ride of commuter rail. A university campus is growing adjacent to the site, and is also accessible to the rail station. "People living in [Utah City] will rarely find themselves having to leave, and when they do, they can hop a train to Salt Lake City or Provo," he says.
The first streets have been built. The plans are fully approved, a form-based code (FBC) is adopted, and several hundred million dollars have been raised to support the effort, Speck notes.
Utah City advances CNU best practices for the public realm, Speck says. Driving lanes are narrow, cycling facilities are ubiquitous, and parking is hidden. Architecture is contemporary, but with traditional proportions. Street trees are everywhere. "The oversized Utah block is used to create a secondary pedestrian network that breaks each superblock into multiple blocks accessible only by foot," he told CNU.
While designers followed historic precedent in some ways, they ignored it in the shaping of blocks and streets. Most Utah towns have blocks that are too large and streets too wide for comfortable walkability, they found. Also, Utah settlements are built on a rigid grid typical of the Western US, which the planners rejected in favor of a more organic pattern. "We believe that intimate, idiosyncratic street spaces are more effective at supporting the formation of community than a monotonous grid of streets that run to the horizon," it was explained to CNU. 
Designers faced considerable challenges with fire access mandates, which insisted on "26-foot-clear" design for trucks downtown, and "20-foot-clear" in neighborhoods. This resulted in "some novel compromises," CNU was told. "For example, the pedestrian streets are designed as intimate cobblestone walks, but with mechanical bollards, 26 feet between tree allées, and broader areas at internal intersections that allow for fire truck staging. While we believe these outcomes to be satisfactory, they are not optimal. It would seem that modifying the Uniform Fire Code needs to become a greater focus of CNU advocacy."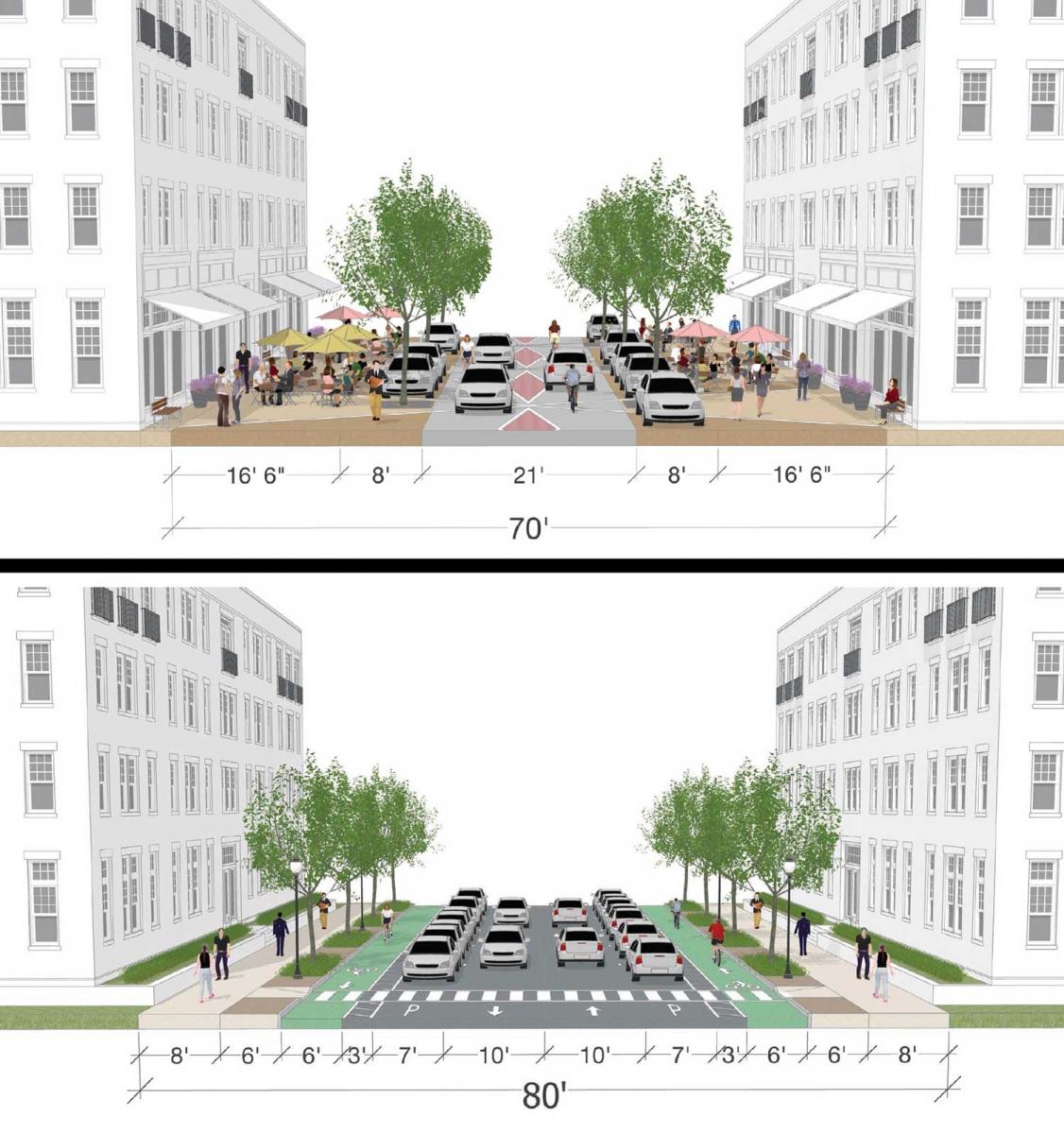 The 300-acre development is divided into three zones: The Town Center, including the train station and Market Street, the Mixed-Use Promenade, which will enhance the connection between the train station and the lakefront, and the Mixed-Use Village, connected to both the Promenade and Town Center, including a mix of residential and village commercial uses.
Green spaces include two waterfront parks, a central promenade, and a large collection of sports fields. The plan incorporates about four million square feet of office space and a million square feet of retail. The living spaces include rowhouses, condominiums, and apartments in a wide variety of configurations.
When Speck was hired, a plan and code were already in place, but they failed to meet some Charter of the New Urbanism principles. For example, an entire section was single-use office space, located a distance from the transit station, and some streets were automobile-oriented. "The design team was tasked with dramatically modifying almost every aspect of an already approved plan and code without voiding its permits," he explains. The original rudimentary FBC was modified for the current plan. The developer and the city cooperated on modifications, avoiding significant red tape. 
The development could have just been another park-and-ride stop along the route from Provo to Ogden. A much better plan came about, CNU was told, because "enlightened developers and a progressive municipality … wanted something different."
Editor's note: This article addresses CNU's Strategic Plan goal of working to change codes and regulations blocking walkable urbanism.