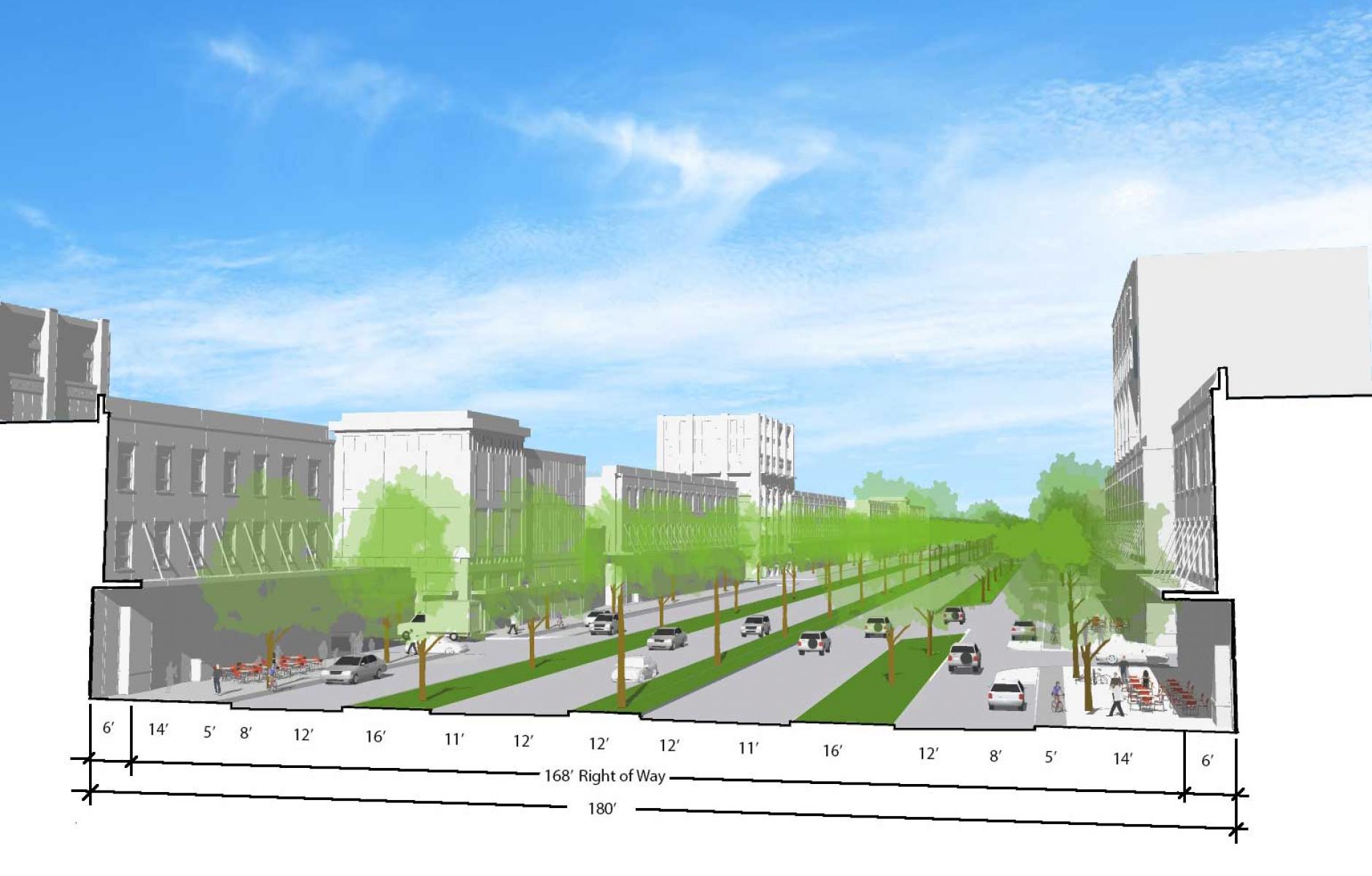 The Kammerer Road multiway boulevard cross section. Source: Torti Gallas + Partners
Toward a pattern language of corridors
These five design and implementation ideas could be repeated in many locations to create more equitable and sustainable, socially and economically robust corridors.
Automobile-oriented thoroughfares are the dominant form of corridors in modern urban America. Finding a way to tame those corridors—making them multimodal and valuable for many kinds of users—is a prime task for urban planners, jurisdictions, land developers, and traffic engineers.
These corridors suffer from the tremendous inertia of 20th Century planning and road building practices. Developing a pattern language1 of design strategies, from incremental street reform to building more walkable thoroughfares from scratch, is critical to making better corridors for the 21st Century. 
In this article, we describe five design and implementation ideas that could be repeated in many locations to create more equitable and sustainable, socially and economically robust corridors.
The multiway boulevard as an alternative to the freeway
Kammerer Road Urban Design Strategies in Elk Grove, California, was developed as an alternative to a freeway proposal for a future employment district. The second largest city in  Sacramento County, Elk Grove is growing rapidly. Some people who are priced out of the Bay area are moving to Elk Grove, about 70 miles northeast of San Francisco, with its own tech industry centered on a large Apple facility.
Prior to the pandemic, the city submitted an RFP for design of employment centers connected by the limited-access highway. Torti Gallas + Partners proposed that the corridor be re-imagined as a multiway boulevard with mixed-use development. The 2019 plan calls for five urban centers connected by a street grid. A light rail extension is slated to serve three of those centers. Development would be guided by Objective Design Standards (California's version of a Form Based Code) and Transect-based regulating plan. 
Most of this area is open fields today, and Kammerer Road is now a two-lane rural highway, so the plan is likely a fifty-year scenario. The general plan is coming up for adoption in September , and the Objective Design Standards are moving forward towards approval.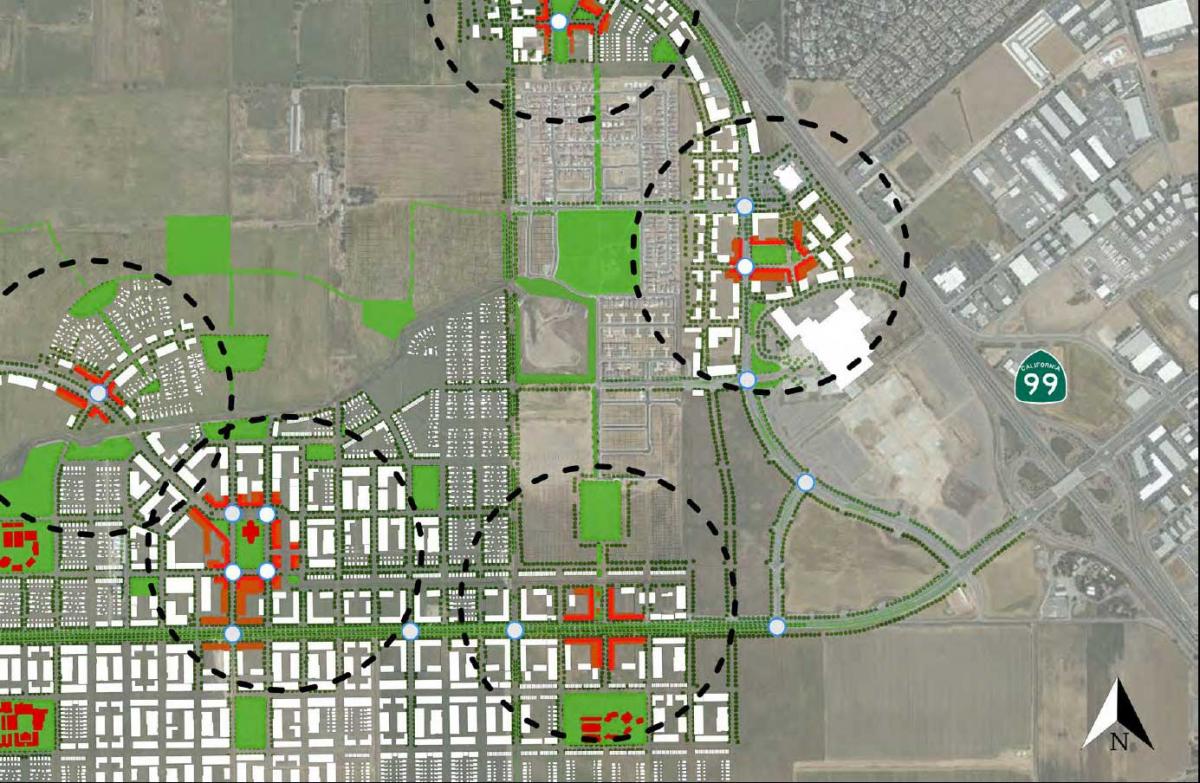 As originally proposed, the freeway included sound walls and six-to-seven lanes of traffic. The boulevard would have two through lanes in each direction, plus access roads with one lane and on-street parking. Three landscaped strips would be built between the outside curbs—separating the access roads from the through traffic, and dividing the boulevard at the center. Bike lanes, street trees, and sidewalks are designed on each side, facing buildings with pedestrian-friendly frontages. The boulevard would be built within the same right-of-way as the previous freeway proposal.
The approach allows for a pattern of growth supporting human activities—in addition to the movement of cars. This kind of employment area is not just about driving from one business park to the next—but about meeting people on the street, in public spaces, and in cafes and other third places. Technology investors have argued that "It's about running into people and building relationships, because people want to work with and invest in people they know and trust." The vision is designated the Livable Employment Area. 
The importance of a street grid
An urban expansion on the scale of the Elk Grove vision, with many property owners, has rarely been proposed with a connected street grid in the modern development era. Planners were anxious as the idea was submitted to traffic engineers for review. The engineers replied that the vision will work—but only if the street grid is built. The network of streets is necessary to take traffic stress off of adjacent neighborhoods, and is therefore a crucial component of the plan, the engineers found.

The street grid is proposed to connect to the multiway boulevard at regular intervals, dispersing traffic and offering many alternative routes. It also enables a more walkable place, with more opportunities for destinations and mixed-use.
The grid should have at least 150 intersections per square mile, according to the plan. The combined number of vehicle streets and pedestrian passages should exceed 300 per square mile. Cul-de-sacs and non-through-streets would be minimized. 
Key ideas:
Most of the traffic on Kammerer Road has an origin or destination along the corridor. But there will be through traffic—especially to employment centers. 
The proposed design does not cause a material change in operations (level of service), relative to the prior design, as modeled. The plan moves the right lanes over into slip lanes—the total lanes don't change—and the slip lanes handle right and left turns.
Implementation requires the complete development of the grid roadway network on both sides to be successful. 
The circumstances under which the grid network could be exempted are limited. The plan does allow for places when the grid will be disrupted for a school, or a zoo (this use is actually proposed), large parks, natural corridors, and the like. 
The boulevard will have three major intersections, with signals—otherwise the grid connects to access lanes.
The biggest challenge is forcing the street grid, which requires inter-parcel connectivity. Many commercial sites have multiple owners with lot lines that go every which way. Some parcels are large, some are small, and some owners are more enthusiastic about the plan than others. 
And yet, a connected network of streets is critically important in reforming a corridor. Regular connections are needed at block-length intervals. In places like Elk Grove, implementation requires the complete development of the grid roadway network to be successful. 
Retrofitting the overly wide arterial
A plan was drawn for a major boulevard in the Los Angeles region, where a subway is proposed. The thoroughfare is densely developed, but automobile-oriented. The redesign comes in two parts. First, a road diet makes the boulevard safer. Then, a linear park would be built center of the thoroughfare. This creates a usable green space that is currently lacking in the community. 
The plan was created for a private developer who has ambitions to do more than renovate buildings—he also wants to transform a place. The jurisdiction, which will not be named here, has already been looking to implement a road diet on the thoroughfare. 

The road carries three lanes each direction—with a center turn lane. The proposal calls for reducing that capacity to two lanes in each direction, with a center turn lane at intersections only. That design saves enough asphalt for a 30-foot-wide green space—big enough to serve as a park. 
The boulevard would still carry substantial traffic, although capacity is reduced. But the subway line in the works will increase capacity to move people. People will be able to walk, or take transit. Therefore, some capacity may be reclaimed for pedestrians. 
Currently, this major boulevard is a divider of communities. But it doesn't have to be. It could serve as a central focal point where neighborhoods come together. 
Incrementally retrofitting the common suburban artery
Torti Gallas was commissioned 15 years ago to study a three-mile-long section of US 101, the Coast Highway, in Oceanside, California. Oceanside has a working-class history, located next to Camp Pendleton Marine Corps base. The thoroughfare is the site of car dealerships, honky tonks, fast-food joints, and more. But it also is substantially served by mass transit—going to south to San Diego, north to LA, and east-west—and includes a number of distinct nodes and centers along the route.
Although the Coast Highway is unique, its 20th Century pattern is familiar to suburban communities nationwide as an automobile-oriented artery. The plan proposed incremental changes to make the road more pedestrian-friendly—and to support a varied development character. The total crossing distance was reduced to 65 feet, from 86 feet, by incrementally subtracting pavement and replacing it with landscaping, and adding crosswalks, bike lanes, and lighting. 

A FBC was adopted that is changing the character of the area. The incremental reform is a repeatable process on a corridor with a variety of sections, including a northern gateway district, a downtown, a seaside neighborhood, an arts district, a transit center, and a village. The corridor was zoned for more commercial space than was needed, and so the FBC concentrated mixed-use in the nodes of higher activity. Residential would be built in between.
A tactical roundabout was built to slow traffic about 10 years ago, and that roundabout is still being maintained today. One lesson from Oceanside is that commercial arterials have more variety than they appear to at first glance. An analysis of Ocean Highway revealed nodes that are treated differently in terms of coding and urban design. Allowable building heights vary, for example, from 36 feet to 65 feet along the route. 
Applying the Transect
Varied nodes require the application of the urban-rural Transect for coding and planning. The character of the proposed Elk Grove boulevard will vary as it passes through urban centers of different intensity—and also more pedestrian neighborhoods. Three of the six Transect zones are used—urban center, urban general, and sub-urban. All three zones include some degree of mixed-use.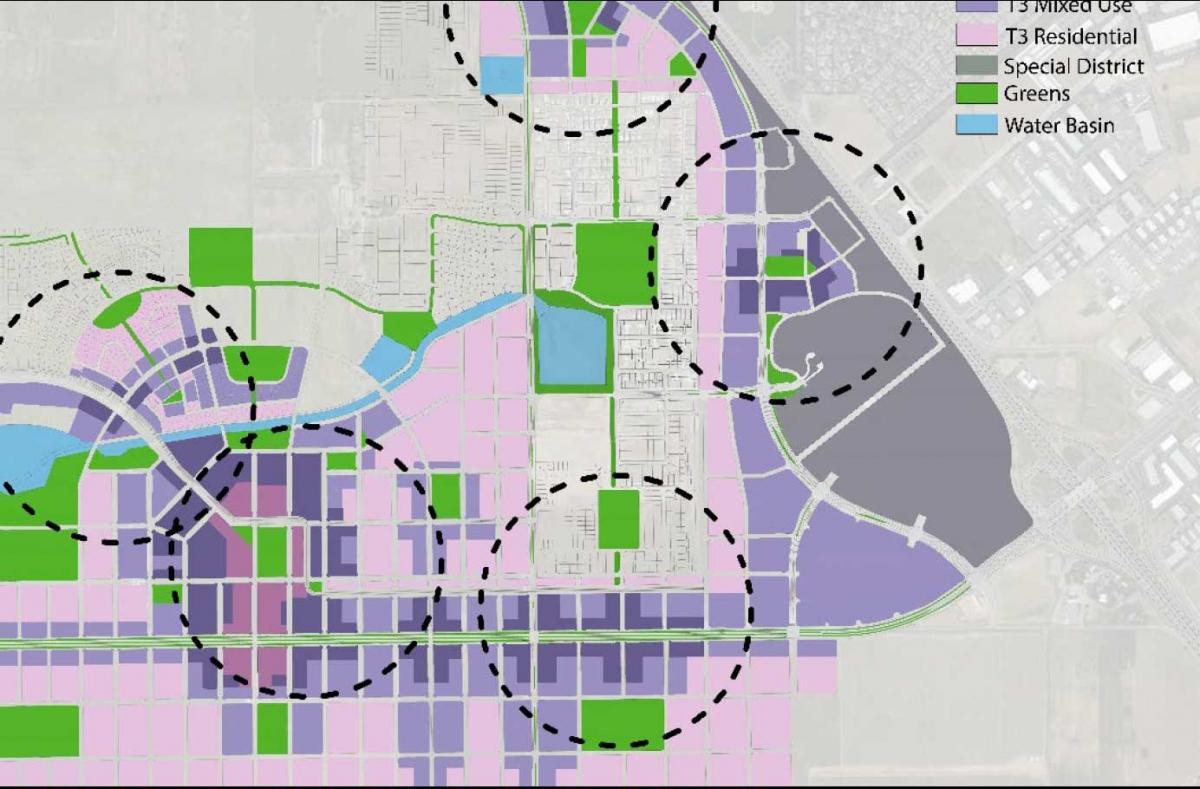 Simply put, a corridor isn't just one thing. The Ocean Highway, for example, includes many kinds of centers. The Elk Grove Boulevard will connect to multiple centers. The Transect zones are applied through regulating plans attached to form-based codes (FBCs), which will determine the development that is appropriate to support desired outcomes. 
In the case of Oceanside, the Transect responds to both current conditions and the future vision. For Elk Grove, it is all future vision—since most of the site is now open fields. 
The Transect zones affect everything from the heights of buildings, the types of sidewalks and street furniture (café tables in front of restaurants), the landscaping and trees, the number and width of travel lanes. In urban centers, buildings would have active frontages. Outside of the centers, residential frontages are less active but still provide an interesting face to the pedestrian. 
Sidewalks, in particular, will vary greatly along a boulevard. In a study for an existing corridor, it was observed that present day sidewalks are 12 feet but as redevelopment occurs they can be expanded to as much as 26 feet, depending on the conditions. This belies a common misconception that sidewalks should be a uniform width along a boulevard, yet no one-size-fits-all design exists. Designing the sidewalk involves calibrating the public realm for a pedestrian level of service. What activities will take place along various sections of the boulevard? The sidewalk should relate to the activities that will occur along the street, and the width and capacity of the of adjacent street.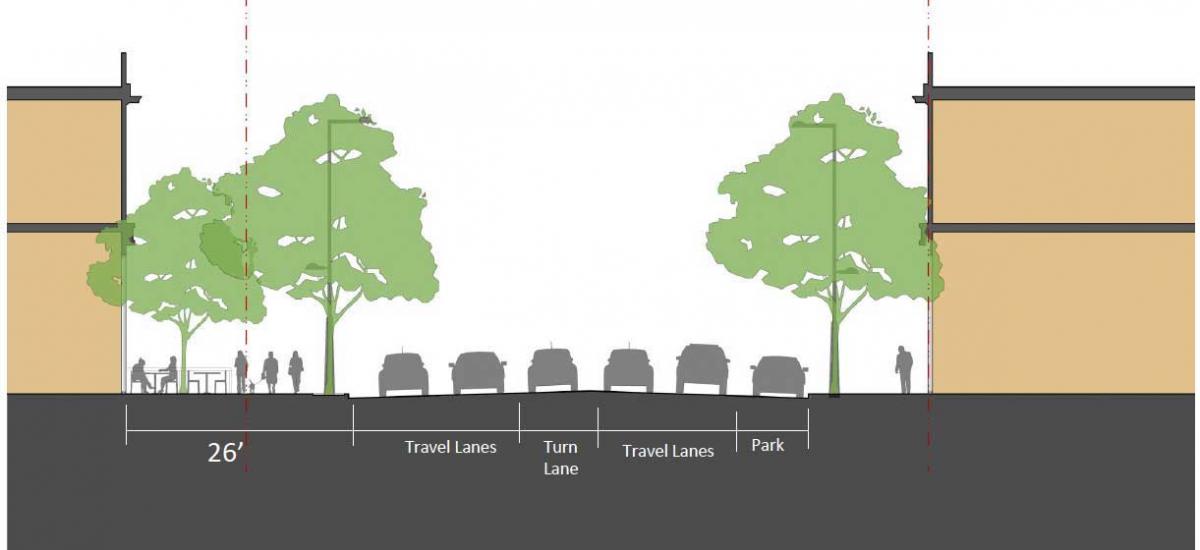 These five ideas could be applied, in some form, to commercial corridors in cities and suburbs across America. As planners propose design solutions, they don't have to start from scratch. An emerging pattern language will inform design decisions in all kinds of situations—from greenfield sites, to common suburban arterials, to dense urban arterials. 
1"A pattern language" was a term coined by the late Christopher Alexander for his seminal book A Pattern Language: Towns, Buildings, Construction.
Editor's note: This article addresses CNU's Strategic Plan goals of working to change codes and regulations blocking walkable urbanism, and to grow the supply of neighborhoods that are both walkable and affordable.