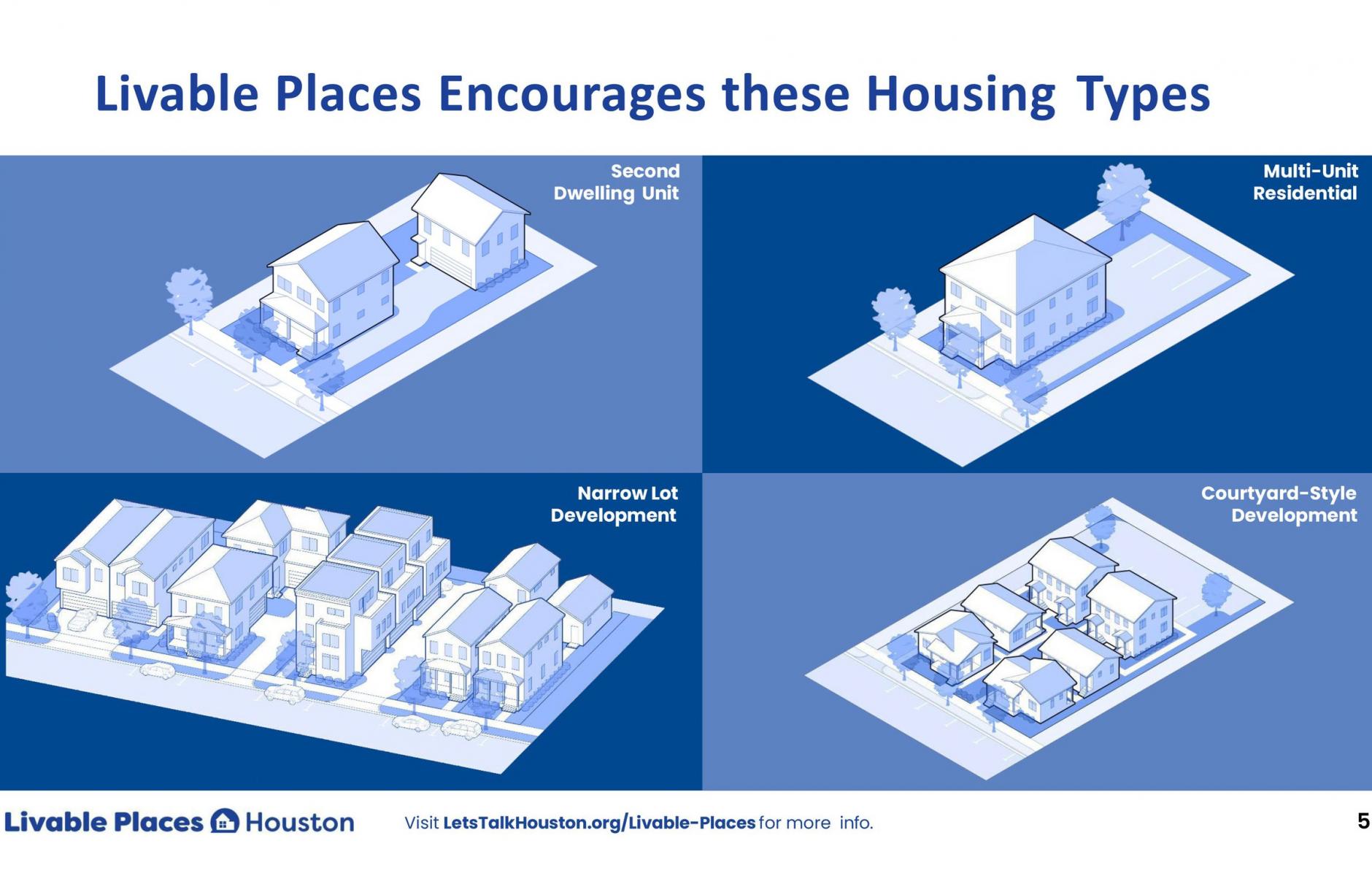 Source: Livable Places Houston.
Houston tackles missing-middle housing with code reform
Although Houston is famous for having no zoning, its land-use codes are nearly as complicated. Imminent revision of parking, dwelling, and lot size rules could trigger a wave of sorely needed missing middle housing.
Note: This article first appeared on Strong Towns.​
Houston has long been a poster child for urban planning ills. Mega highways cleave downtown, with an expansion potentially on the way. No zoning regulations have led to a free-for-all with endless rows of townhouses dominating prime neighborhoods. Houston's massive size and dispersed development have made it one of the most car-centric cities in America. 
Now Houston is set to pass a radical revision of its land-use ordinances that local advocates say could trigger a wave of construction for sorely needed missing-middle housing. The city's new omnibus legislation is the product of a three-year process by the Planning and Development Department's Livable Places initiative to better understand the city's housing needs and chart a policy plan to address them. The combined changes use a mix of parking, dwelling, and lot size rules to allow the private market to bring new housing types to residents.  
Jeff Boutte, a landscape architect and city planner with Windrose, is familiar with the challenges of building in Houston. He notes that with the current mix of high-end townhouses, high-rise condos, and single-family detached houses, "we lack affordable housing options near the city center." 
Boutte, who advocated for and participated in developing the new ordinances, said that even while the city has no formal zoning, there's a layer of approval at the subdivision level that's almost as ponderous for developers.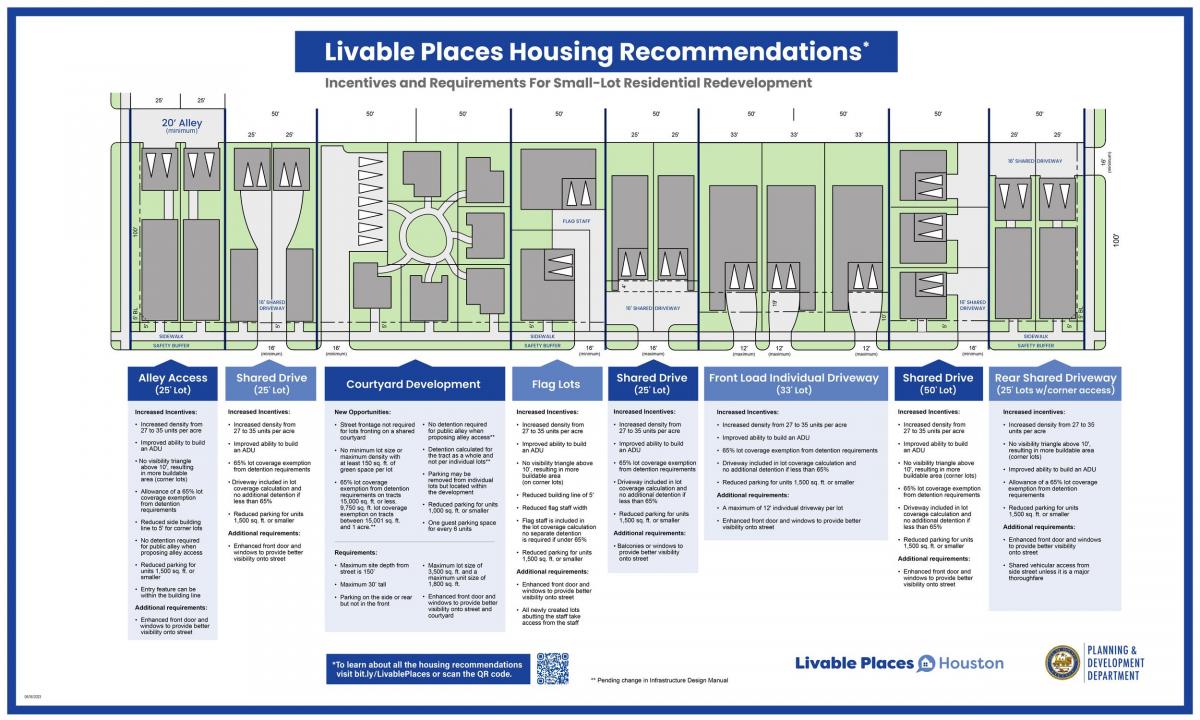 The new legislation is "a really huge deal," says Micah Erfan of the Houston Chapter of the Center for New Liberalism. His organization advocates for housing solutions in Houston and worked with the city throughout the multi-year process.
Erfan agrees that there are regulations in Houston, particularly around parking, that are tantamount to zoning restrictions and credits the city with being willing to rethink such rules in the face of a growing population—at 2,304,580 residents, Houston is the U.S.'s fourth most-populous city—and a housing crisis.   
Both advocates are enthusiastic about a new housing type called Courtyard Style Development. In this construction model, several dwellings can be built together around a central courtyard, with no minimum lot size or maximum density. Such an arrangement would have been illegal under previous codes because of parking and street frontage requirements, and stands to vastly increase the number of units per acre in core neighborhoods where they're built. "They're really opening up flexibility for developers to come in and build homes that people can own," says Boutte. 
Another promising change will allow multiplexes of 3–8 units in many more locations around the city. This will be accomplished by changes in maximum density, street frontage rules, and parking requirements.
The city is also changing its rules around accessory dwelling units, increasing the maximum size to 1,500 square feet, reducing parking requirements and allowing accessory dwelling units to be built by right anywhere in the city that doesn't have deed restrictions against them. Erfan notes that while accessory dwelling units were "technically legal" before, these changes will remove major hurdles and spur new construction.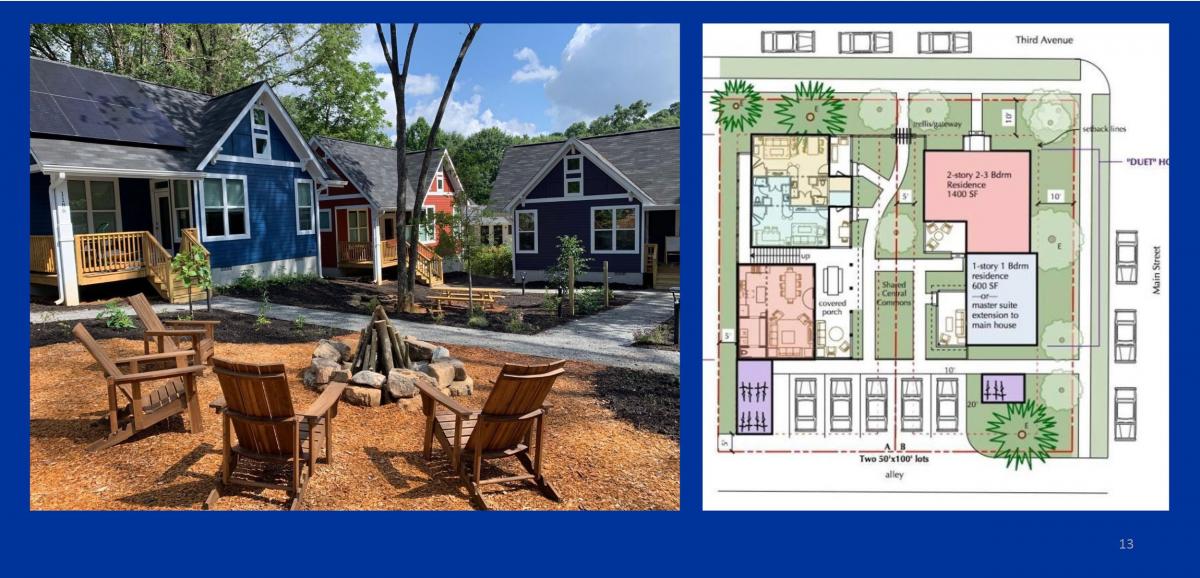 Houston Planning Director Margaret Wallace Brown says the combined rule changes will help ensure "new developments support neighborhoods in which they are built, provide safer pedestrian access, and most importantly, incentivize this development across all price points, creating homes that meet the needs of Houstonians from all backgrounds."
These changes, called Chapter 42, are expected to pass city council at an upcoming hearing. A substantial parking reform proposal is now on a separate track. A policy called "market-based parking" would reduce parking requirements for construction closer to transit and allow private paid parking to serve the market. It has proven controversial, but Boutte says Houston has an underrated system of bike trails and parks, and thinks there's a great opportunity for the type of development that could be encouraged near trailheads to reduce car dependence if the new policy is adopted.
Parking is also key to policy changes Houston is trying to tackle with what it calls narrow lot development. Under current patterns, so many townhouses have individual driveways and garages that walking is treacherous and street parking disappears. Solutions, including Y-shaped shared driveways to reduce street cuts, are still being negotiated. But even without the market reforms, the reductions in parking minimums and street frontage for all the new development types represent substantial changes that will enable more diverse housing construction.
Both Boutte and Erfan, who have been together in meetings and working groups, advise other citizen advocates seeking change in their communities to get involved early in the process and stay committed throughout. "If you're showing up to speak at a public hearing, you're too late," says Boutte, who says the most effective engagement comes before any policies are drafted. Erfan says he or a member of CNL has gone to "every public hearing and meeting" throughout the housing reform process, and also reached out to city council, the local builders association, and local neighborhood groups for whom early education was key to stave off potential opposition to the changes.
Boutte and Erfan can both point to examples where public participation and input affected certain provisions. They both also credit Mayor Sylvester Turner, city council members, and the Livable Places initiative for this result that addresses some of Houston's most urgent housing needs. Planning Director Brown also credits the process from "a diverse committee of developers, community leaders, and industry experts to change the development codes to provide a wider variety of homes to meet the needs of Houstonians while focusing on equity, affordability, and walkability."
Editor's note: This article addresses CNU's Strategic Plan goal of working to change codes and regulations blocking walkable urbanism.