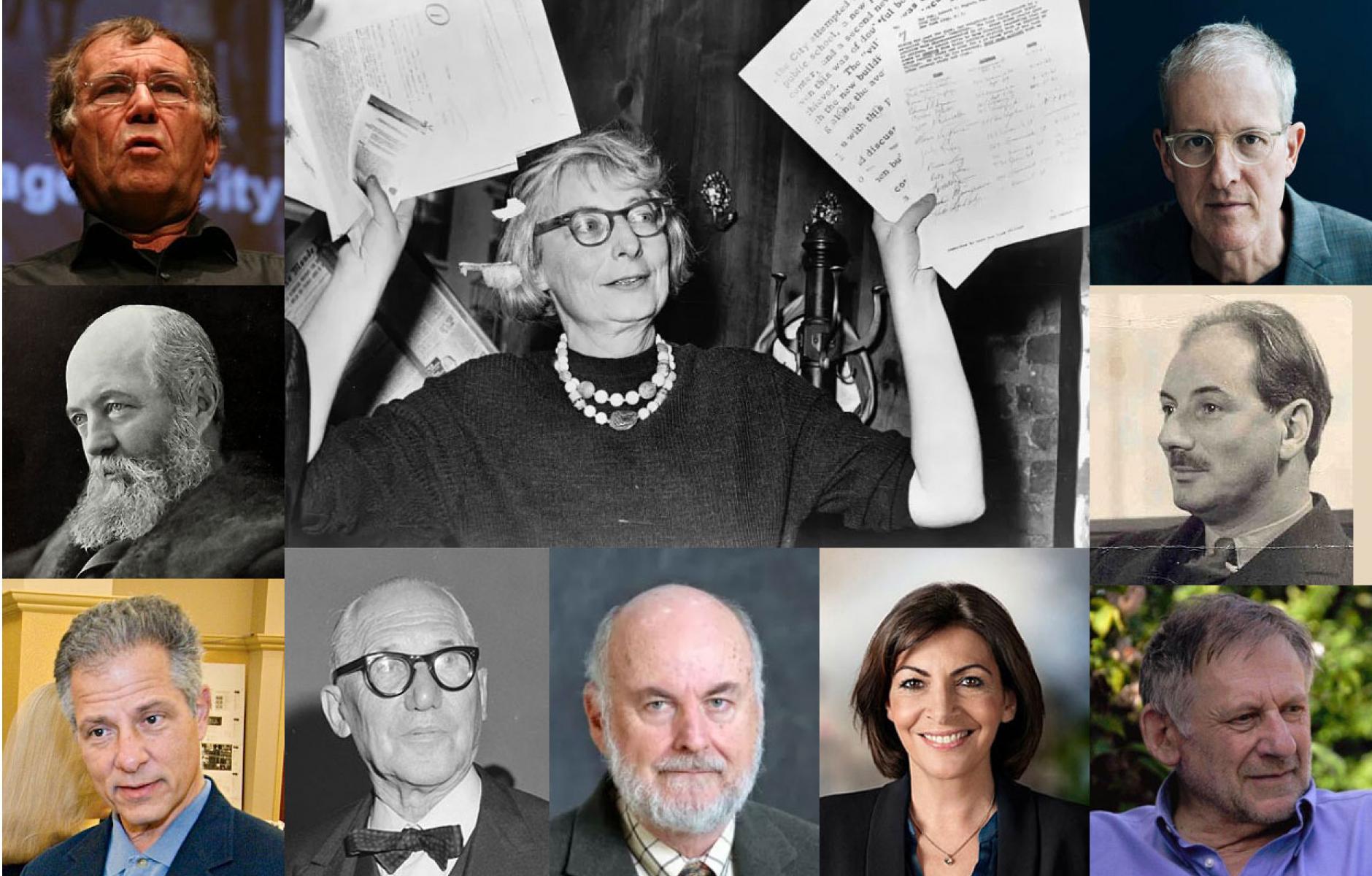 Jane Jacobs, center, and counterclockwise from upper left: Jan Gehl, Frederick Law Olmsted, Andres Duany, Le Corbusier, Donald Shoup, Anne Hidalgo, Christopher Alexander, Lewis Mumford, Jeff Speck.
CNUers rank among most influential urbanists, past and present
The Planetizen list of top all-time urbanists confirms the outsized influence of new urbanist ideas among planners at the moment.
Planetizen came out with a periodically updated list of the all-time most influential urbanists. I can't take this list too seriously and the rankings may cause considerable head-scratching (What do those ranked above Vitruvius, downgraded to number 67, think? If I could wager who on the list will be remembered a thousand years from now, I'd bet on the Roman architect).
One thing is clear, however—Planetizen confirms that New Urbanism is hugely influential now, at least among planners who are the website's primary audience. The list is full of practitioners and influencers associated with this trend. I count at least a score of currently active new urbanists, including four of the six founders of CNU (they should all make it, but I'm biased). Keep in mind that about half of the people on the list are dead, including many giants in the field—like Jane Jacobs (number 1), Frederick Law Olmsted (number 3), and Le Corbusier (number 5).
Jan Gehl is ranked the most influential urbanist currently alive, sandwiched between Jacobs and Olmsted. I am not aware that Gehl is a new urbanist, but his ideas are aligned and he has been influential to the movement. Andres Duany, CNU cofounder, is number 4. Donald Shoup, the parking guru and UCLA planning professor, may or may not consider himself a new urbanist but he won the Seaside Prize this year and shapes CNU thinking on parking. He is ranked at number 6. Jeff Speck, author of Walkable City and longtime new urbanist, is tenth.
The top 10 also includes Paris mayor Anne Hidalgo (7), the late architect Christopher Alexander (8), and urban writer and thinker Lewis Mumford (9).
Charles Marohn, the engineer/planner founder of Strong Towns and frequent CNU collaborator, comes in at number 15, just below Robert Moses (who was definitely no new urbanist, but that's quite a pairing of bottom-up and top-down thinking). Below are others on the list who are either active in CNU now or were associated with the trend for many years—with descriptions directly from Planetizen.
Brent Toderian (19)—Vancouver chief planner from 2006 to 2012, during the city's 2010 Winter Olympics-related planning and design process as well as the EcoDensity initiative and the Greenest City Action Plan. Toderian is now a consulting city planner and urbanist with TODERIAN UrbanWORKS and vocal advocate for livability initiatives. (#52 Most Influential Urbanist in 2017) 
Elizabeth Plater-Zyberk (22)—Co-founder of Arquitectonica and Duany Plater Zyberk & Company (now DPZ CoDesign). A leader in the New Urbanism movement and the co-author of Suburban Nation: the Rise of Sprawl and the Decline of the American Dream, and The New Civic Art. (#15 Most Influential Urbanist in 2017) 
Peter Calthorpe (23)—Founder of Calthorpe Associates, Calthorpe is also one of the founders and the first board president of the Congress of New Urbanism. More recently, Calthorpe has been advocating for a "Grand Boulevards" concept to retrofit defunct retail strip malls as housing. The concept was legislated in California by AB 2011, which allows residential construction by-right on lots previously zoned for commercial uses. (#22 Most Influential Urbanist in 2017)
Léon Krier (31)—A leading proponent of New Urbanism and provocateur or modern urbanism. Best known for the development of Poundbury, an urban extension to Dorchester, in the United Kingdom. (#35 Most Influential Urbanist in 2017) 
Joseph Minicozzi (33)—Principal of Urban3, LLC, Minnicozzi is an advocate for downtown-style mixed-use developments, especially as preferred to big box retail. (#60 Most Influential Urbanist in 2017) 
Kennedy Smith (43)—Expert on commercial district revitalization and development, independent main street businesses, and economically and environmentally sound community development. Co-founded the Community Land Use and Economics (CLUE) Group, LLC. Also the longest-serving director of the National Trust for Historic Preservation's National Main Street Center. (#91 Most Influential Urbanist in 2017) 
Mike Lydon (44)—Principal with Street Plans and a leading proponent of Tactical Urbanism and the Congress for the New Urbanism. Co-author of Tactical Urbanism: Short-Term Action, Long-Term Change, Vols.1-5. (#75 Most Influential Urbanist in 2017)
James Howard Kunstler (45)—Noted author and critic of suburban development patterns, best known for the book, The Geography of Nowhere. (#29 Most Influential Urbanist in 2017) 
James Rojas (52)—A leading proponent of Latino Urbanism and the founder of the Latino Urban Forum. Rojas has also championed a public-engagement and community-visioning method called PLACE IT! Rojas also co-authored Dream, Play, Build (2022).
Ellen Dunham-Jones (69)—Professor at the Georgia Tech School of Architecture and director of the school's urban design program. Authored, along with June Williamson, Retrofitting Suburbia: Urban Design Solutions for Redesigning Suburbs. (#71 Most Influential Urbanist in 2017) 
Mitchell Silver (71)—Commissioner of the New York City Department of Parks and Recreation. Past president of the American Planning Association (APA) and former chief planning and development officer and planning director for Raleigh, North Carolina. Co-editor of Local Planning: Contemporary Principles and Practice. (#64 Most Influential Urbanist in 2017) 
Dan Parolek (74)—Architect, urban designer, and the founding principal of Opticos Design, one of the busiest zoning and urban design consultants in the United States. Parolek achieved widespread fame and notoriety by coining the term Missing Middle Housing, one of the most prominent contemporary planning trends and the inspiration of numerous local and statewide legislative reforms around the country in recent years.
Dan Burden (75)—A leader in innovative transportation planning, working in the past as Florida's first state bicycle and pedestrian coordinator and as a co-founder of Walkable Communities, Inc. Burden is currently director of innovation and inspiration at Blue Zones, LLC. (#85 Most Influential Urbanist in 2017)
Stefanos Polyzoides (81)—Architect and urban planner described as the "godfather of New Urbanism." Co-founder of Moule Polyzoides, Architects and Urbanists as well as co-founder of the Congress for the New Urbanism.
Emily Talen (90)—Professor of urbanism at the University of Chicago, following previous faculty positions at the University of Illinois at Urbana-Champaign and Arizona State University. Author of numerous books devoted to the relationship between the built environment and social equity. (#97 Most Influential Urbanist in 2017) 
Henry Cisneros (92)—Mayor of San Antonio, Texas, from 1981 to 1989—the second Latino mayor of a major American city and the city's first since 1842. Cisneros also served as the secretary of Housing and Urban Development (HUD) in the administration of President Bill Clinton. (#85 Most Influential Urbanist in 2017)
Doug Farr (94)—Founding principal and president of Farr Associates Architecture and Urban Design. Farr also founded the U.S. Green Building Council's LEED for Neighborhood Development (LEED-ND) Core Committee and is a board member of EcoDistricts. (#88 Most Influential Urbanist in 2017) 
F. Kaid Benfield (97)—Former director for sustainable communities for the National Resources Defense Council and high-profile author, writing at numerous urbanism publications and authoring several books. Currently the Senior Counsel for Environmental Strategies at PlaceMakers LLC. (#79 Most Influential Urbanist in 2017)
Other new urbanists could be on this list, including CNU co-founders Dan Solomon and Elizabeth Moule. I will name one other glaring omission—Washington, DC, based architect Dhiru Thadani. Next time, Planetizen, please include these three and scratch off a few names that are not urbanists at all, such as the late chef Anthony Bourdain. Thank you.